The Handmaid's Tale: Season 3, Episode 10 "Witness" – Recap, Review (with Spoilers)
June takes on a major sacrifice to make a breakthrough in her goal to liberate Gilead's children. A plan which will test how competent Gilead's security and leadership are.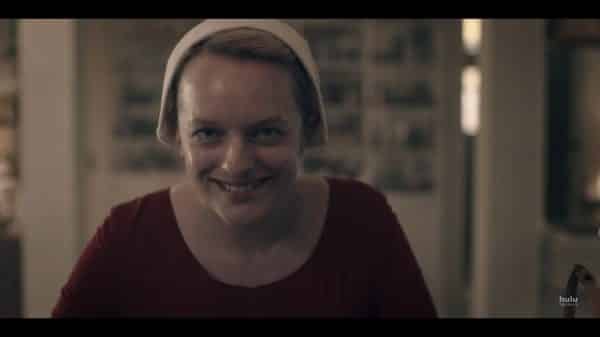 June takes on a major sacrifice to make a breakthrough in her goal to liberate Gilead's children. A plan which will test how competent Gilead's security and leadership are.
---
Network
Hulu
Director(s)
Daina Reid
Writer(s)
Jacey Heldrich
Air Date
7/24/2019
Images and text in this post may contain affiliate links which, if a purchase is made, we'll earn money or products from the company. Affiliate links and external links have an upward facing, superscript, arrow.
Recap
A Jealous Man & His Petty Ways: Fred, Commander Winslow, June, Aunt Lydia, Serena Joy, Commander Lawrence
Despite all June has done, Fred still has a thing for her. Something Serena notices but that is but many of her issues with Fred. The major one For Serena is that clearly Nichole has become a secondary objective for Fred. Meanwhile, she remains of the utmost priority for her. So Fred using his influence with Commander Winslow to coerce Commander Lawrence to commit to the ceremony as opposed to getting Nichole is noted. Yet, the power move is what Fred wants to set an example.
Well, and to punish June of course. Her not wanting to be transferred to DC is seen as a slight and considering how she has yet to have a child or get pregnant, don't think Aunt Lydia hasn't noticed. It's just, with increased scrutiny, which has made her seem even more empowered than ever before, including speaking to Commander Winslow directly, what is one Handmaid who can't get pregnant? Especially with it being the troublemaker who has birthed, at least, one child and hasn't been complained about by her Commander – yet.
Playing The Long Game: Eleanor, Commander Lawrence, June, Fred, Serena Joy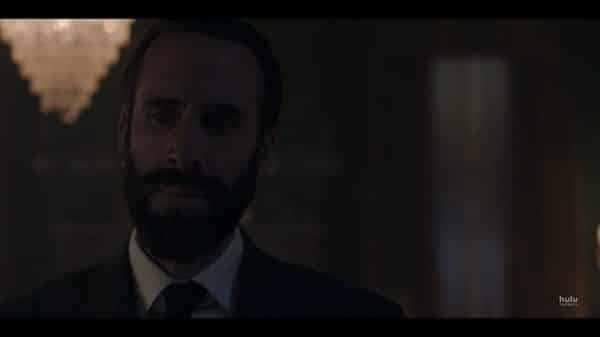 With being coerced to have the ceremony, Eleanor is flipping out. Joseph's promises of them being excepted from Gilead's more harsher policies no longer applies, she doesn't have her mood stabilizers, and they could be killed. Which, at first, Eleanor is fine with. She sees her husband as a war criminal and combine that with her guilt, dying doesn't seem that bad. Yet, with June informing them she'd die, and the Marthas, for not reporting them, she has yet another breakdown.
However, June sees this as an opportunity. Commander Lawrence has long just put up with June since she molds well with the household and Eleanor likes her. So keeping them alive, Eleanor's mental illness hidden and getting the others out of their business, that gives June leverage. Leading to her proposing to do the ceremony and using Commander Lawrence's fear against him.
You see, while being nosy, June was led to all of the documents of where the Handmaids' children are, their new names, and current status. This is something Eleanor leads June to, and she seems more than glad to help for June's rebellious nature excites her. Thus, after the ceremony, June convinces Commander Lawrence to take note Fred, and the rest, will be back and use that likely return to make him want to escape.
Problem is, considering how integral he was in making Gilead, it would mean his wife may go free, but he'd be locked up or executed. June counters that by saying if he gave them something they'd be less likely to prosecute him. What is that thing? Children.
We should note, however, Serena Joy too is trying to use her influence to and betray Gilead. But for her, she wants Fred to contact the man who hounds Serena whenever she enters Canada so they can get Nichole. Now, as for what Fred is to trade for the child, maybe even refuge, that isn't revealed.
Lost The Battle, Prepping For The War: June, Janine, Alma, Beth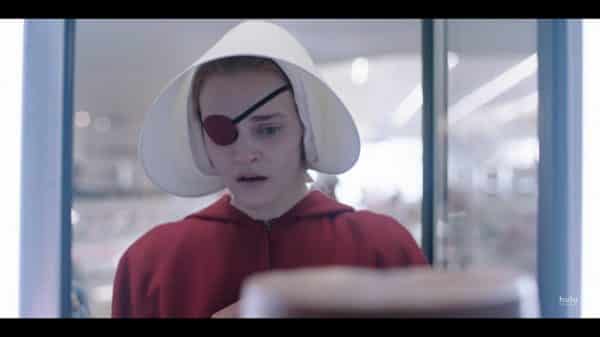 Getting back to June's plan, with Commander Lawrence secured, so comes the need of other Handmaids and Marthas. Now, being that June's reputation has soured, once again, many Handmaids don't treat her as this beacon of hope or leadership. She is a pariah again. But, with having information on their children, she is able to recruit Alma and even Janine. Someone she has to lie to about her son, and Janine probably knows she is being fed a lie. However, when has Janine not wanted to live in a more happy state of being? So who cares if she is being told a lie if she can maybe help these kids and even get freedom?
So with them secured, June turns to Beth who, to much surprise, finds many Marthas are more than willing to help traffic children out. Leading to the question: Who goes, who stays, and when will this all go down?
Other Noteworthy Facts & Moments
Hannah was born in 2009 and Nichole in 2017.
Janine's son is dead – traffic accident.
Question(s) Left Unanswered
If the Aunts have rankings, how high up is Aunt Lydia? Considering she got to speak and conduct things when Commander Winslow arrived, is she the top? Never mind the fact she was able to speak as if she could make decisions independent of Commanders. The primary example being her altering the dress code for those like Janine, due to situations which have happened beyond their control.
Does Commander Lawrence still allow June to choose who becomes a Martha, or other titles, when it comes to those captured by Gilead?
Review
---
Community Rating:
---
Highlights
This Could Be An Epic Liberation
For a moment, let's set aside how incompetent Gilead has to be for even 8 children being taken and ending up in Canada. Nevermind, based on the many muffin baskets we see, the idea of dozens of children being liberated. Instead, let's focus on how epic that could come off considering how large of a network Handmaids and Marthas have, never mind Commander Lawrence's influence.
Now, it isn't clear if Commander Lawrence may expand past a vehicle which could have 10 or so people in it. But let's say he gets a caravan, even a ship, while the possibility of their mothers joining them is slim, can you imagine the joy and perhaps also the shock of entering Canada? A place where there is some form of equality? Also, the conflict which comes from them being raised in a conservative religious place compared to the more liberal Canada also could be something to see. Not to forget, the reactions since, up until now, we haven't gotten to hear any of the children's point of view beyond Sydney Sweeney's character's last season. So to hear how other girls, and boys, see Gilead could be of great interest.
On The Fence
If June Succeeds or Commander Waterford Betrays Gilead, The Show Has To End The Next Season
With that said, if June succeeds, even to get some kids out, the show will need to end. There are only so many instances of incompetence Gilead can have before they become too much of a joke. For even with us seeing things stricter in the more southern districts, and Canada's fears of war, something has to give right? It isn't like the show has given Gilead any sort of nuance to make it seem like it is destined to be a permanent fixture and recognized government. So either they begin end game, or else they'll make it difficult to take anyone of power serious unless they kill off some major heroes. Not villains, since that won't fix the issue. They'll have to kill off Emily, if they refuse to touch June.
Follow Wherever I Look on Twitter, Like us on Facebook and Subscribe to the YouTube Channel.
[ninja_tables id="36752″]
This Could Be An Epic Liberation - 85%
If June Succeeds or Commander Waterford Betrays Gilead, The Show Has To End The Next Season - 70%
---
Follow, Like, and Subscribe
Community Rating: 0.00% (0) - No Community Ratings Submitted (Add Yours Below)