A trip to Canada temps Serena Joy, Nick meets Luke, and June searches for a godmother. Including Aunt Lydia who opens up to her.
---
Network
Hulu
Director(s)
Jeremy Podeswa
Writer(s)
Dorothy Fortenberry
Air Date
6/13/2018
Actors Introduced
Isaac
Rohan Mead
Mark
Sam Jaeger
Stuart
James Gilbert
The Search For A God Mother: Serena Joy, June, Janine, Rita, Aunt Lydia
With Serena Joy making it clear that once the baby is born, June is out, this freaks June out a bit. So she confides in Janine a bit, who gets frazzled to the point of a guardian hitting her with the butt of his gun. Then she looks towards Rita to look out for her daughter and even Aunt Lydia. Someone who, in a rare moment of talking about her life, likely before Gilead, mentions not only did she have a sister but she was the godmother to her nephew. Someone who died within a few days but she makes sure to note it wasn't her fault.
Commentary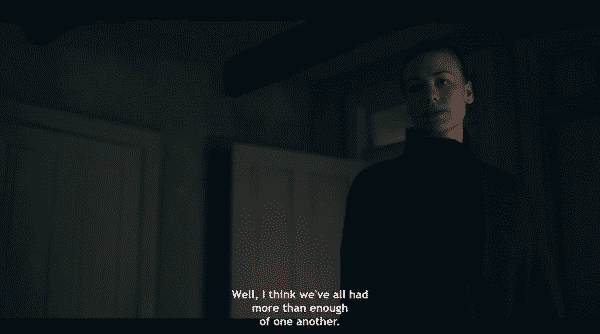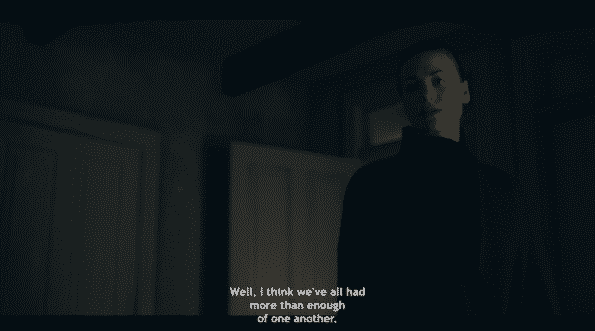 Perhaps the main thing to hone in on here is the fact Aunt Lydia opened up. Which is rather strange since she has always been very by the book and even when it comes to Janine, she has presented herself an authority figure. Like a teacher in middle or elementary school who can be caring but their personal life is relatively unknown.
Yet, she got cracked open by the request to be a godmother. Something said for reasons I think Aunt Lydia realized wasn't part of a con or game, but a genuine request. Which I guess knocked her off balance to the point of talking about a sister who is, who knows where, and a nephew who died. All to this one girl who she may admire the moxy of but has also been a huge pain in her rear end.
But I guess even Aunt Lydia can get sentimental.
Meanwhile in Canada: Serena Joy, Fred, Moira, Luke
With resources being what they are, be it produce, babies, and more, naturally countries are kind of warming up to Gilead, even as what remains of America, headquartered somewhere in Anchorage, Alaska, condemns the move. But, Canada needs resources and Fred, who brings Serena Joy to make it look like women aren't oppressed, wants better border security and even extradition. Now, whether that means extradition in the form of handmaids being returned, like slaves to confederate states, who knows?
For while Fred is wheeling and dealing, people like Mark are trying to seduce Serena Joy into defecting. Something that is a bit tempting, for while she supported the idea of Gilead, the way things are is far from how she wanted them to be. So seeing women who work, have hobbies which are actually stimulating, and things like that? Well, it is hard to not be a bit envious. However, she has come to accept things as they are and won't betray her country.
However, as you can imagine, the trip isn't necessarily smooth. Protests happen from the get-go and Luke even gets up in Fred's face. Moira of course also gets riled up but she is more so looking for legal proceedings to be done while Fred is on Canadian soil. However, with their pocket of America being guests and not Canadian citizens, while welcome to protest legal proceedings are treated as far too much to ask.
Commentary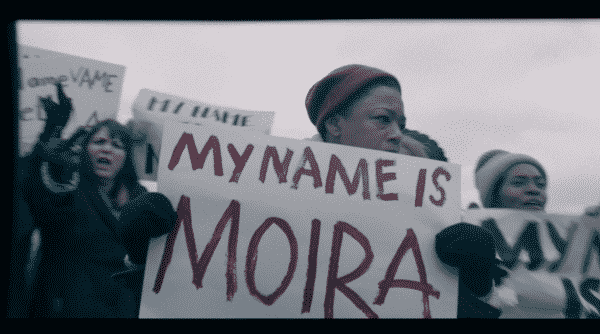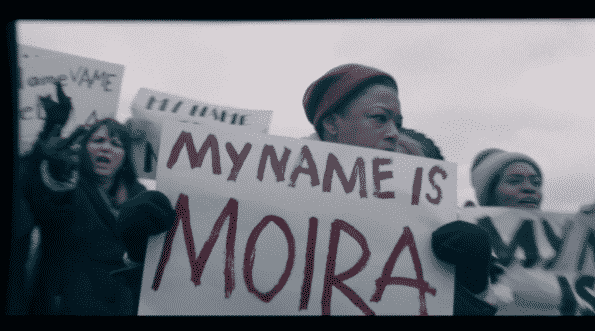 Serena, at this point, is either going to go down with Gilead or be one of the final ones who stab it in its heart. For she really does seem to be at a crossroad right now. She can't deal with how isolated she feels, how she has nothing to bring a sense of fulfillment, and belittling herself is increasingly becoming frustrating. Especially to Fred who, at one time, used her as a crutch.
So when Mark approached her, in a rather flirtatious way may I add, so came the question if he could have tempted her. But, I think what Serena wants to do is maybe try to change things from the inside. After all, her beliefs haven't changed it is just she finds the way the men warped them to be stifling.
Oh, and before we move on, how awkward must it have been for Fred and Serena Joy, never mind Nick, to come across Luke face to face? Especially with him holding a poster with June's face on it. I mean, at the very least, for Serena Joy, that had to be awkward right? The woman whose child you're about to take, who has fought you for maybe a year now, you are confronted with the life and husband she has kept trying to escape to. And damn if he isn't still ready to show up and fight for his wife after all this time.
The Whisper Revolution Continues: Nick, Luke, Moira, Fred, Serena Joy, June
After Luke's outburst, Nick meets him in a bar and of course Luke is a bit aggressive. However, with letting Luke know that June is fine, considering her circumstances, that brings Luke some peace. In return, he asks of Nick to tell June that Moira made it and before they part, Nick hands Luke all the letters from various people in Gilead to Luke. Which, after he, Moira, and Erin sort through them, they upload them online.
With that, a representative for the Canadian government, Stuart, he shuts down all talks and Fred and Serena Joy are asked to leave. Thus embarrassing Fred and likely that will lead to quite a few issues back home. But, while things are bad for them, June learns about Moira being alive, and that she made it across the border. Also, she learns about the letters getting across the border.
And with that, June has hope. Perhaps the kind of hope which may inspire her to try to run again. However, there remains the constant issue of not wanting to leave Hannah behind.
Commentary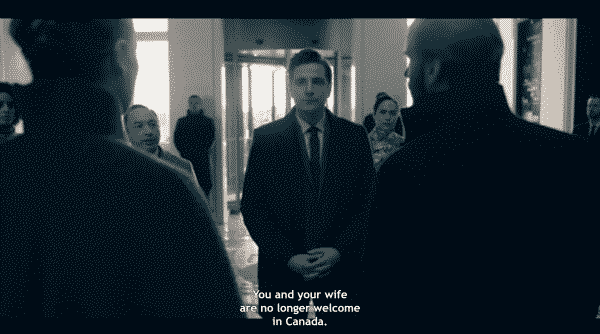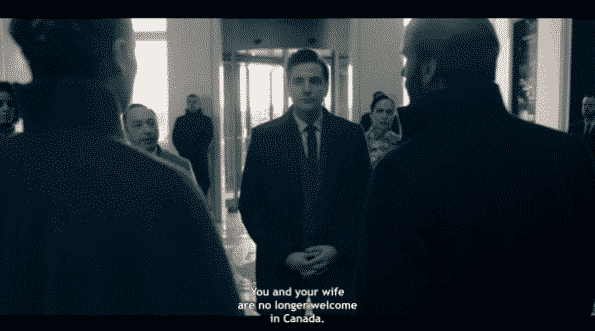 There is a serious need to wonder what will come of these letters besides diplomatic setbacks. Lack of resources is still an issue and who knows how long countries can maintain sanctions against Gilead. On top of that, as much as it would be nice to see June escape, Hannah being at an unknown location keeps that from happening. I mean, Nick could assist but what good is that when June doesn't want to leave her first child behind for the sake of the second?
Leading to the thought: Imagine how that reunion would be? Much less, how she might have adjusted to life in Gilead.
Other Noteworthy Facts & Moments
With Eden noting they had strawberries from California, one could say that Gilead's reach is coast
Question(s) Left Unanswered
Anyone else thought Eden and Isaac, the guardian who was watching over Waterford's house in his absence, were cute together?
Considering the refugees who made it across the border, were the letters just a reminder of how terrible things in Gilead were and that's why it became a big deal? Because, surely stories like Moira had to have hit the internet and were circulated right?
How will pissing off a guardian be handled in Janine's new home?
Highlights
Luke learning about June doing well, outside of being pregnant by rape, and June learning Moira made it across the border and found Luke.
Aunt Lydia, even a little bit, opening up.
Getting a bit more of an idea about the geography and diplomacy of the world. Be it that America might be based out in Anchorage, Alaska now or that Gilead maybe coast to coast.
The letters getting out, thanks to Nick, Luke, Moira, and Erin, and what that means for future episodes.
June having a renewed urge to escape.
Serena Joy, increasingly, seeming like she may sabotage Gilead in some form or fashion.
Follow Wherever I Look on Twitter, Like us on Facebook and Subscribe to the YouTube Channel.
---
Previous Episode's Recap
[visual-link-preview encoded="eyJ0eXBlIjoiaW50ZXJuYWwiLCJwb3N0IjoyMTQ1MiwicG9zdF9sYWJlbCI6IlBvc3QgMjE0NTIgLSBUaGUgSGFuZG1haWQncyBUYWxlOiBTZWFzb24gMiwgRXBpc29kZSA4IFwiV29tZW4ncyBXb3JrXCIgLSBSZWNhcC8gUmV2aWV3ICh3aXRoIFNwb2lsZXJzKSIsInVybCI6IiIsImltYWdlX2lkIjoyMTQ1NiwiaW1hZ2VfdXJsIjoiaHR0cHM6Ly93aGVyZXZlci1pLWxvb2suY29tL3dwLWNvbnRlbnQvdXBsb2Fkcy8yMDE4LzA2L1RoZS1IYW5kbWFpZHMtVGFsZS1Zdm9ubmUtU3RyYWhvdnNraS5wbmciLCJ0aXRsZSI6IlRoZSBIYW5kbWFpZCdzIFRhbGU6IFNlYXNvbiAyLCBFcGlzb2RlIDggXCJXb21lbidzIFdvcmtcIiAtIFJlY2FwLyBSZXZpZXcgKHdpdGggU3BvaWxlcnMpIiwic3VtbWFyeSI6Ik1hbnkgd29tZW4gZ2V0IGEgdGFzdGUgb2YgdGhlIG9sZCB3b3JsZCBhbmQgdGhlcmUgaXMgdGhlIHNsaWdodGVzdCBiaXQgb2YgaG9wZSB0aGluZ3MgY291bGQgZ2V0IGJldHRlciBmb3IgdGhlbS4gSG93ZXZlciwgc2FpZCBibGVzc2luZyBpcyBmaW5pdGUuIiwidGVtcGxhdGUiOiJkZWZhdWx0In0="]