The Good Doctor: Season 5/ Episode 7 "Expired" – Recap/ Review (with Spoilers)
The most exciting season of The Good Doctor ends its first half with an unexpected person of Dr. Glassman's past and a devasting ending that may change everything.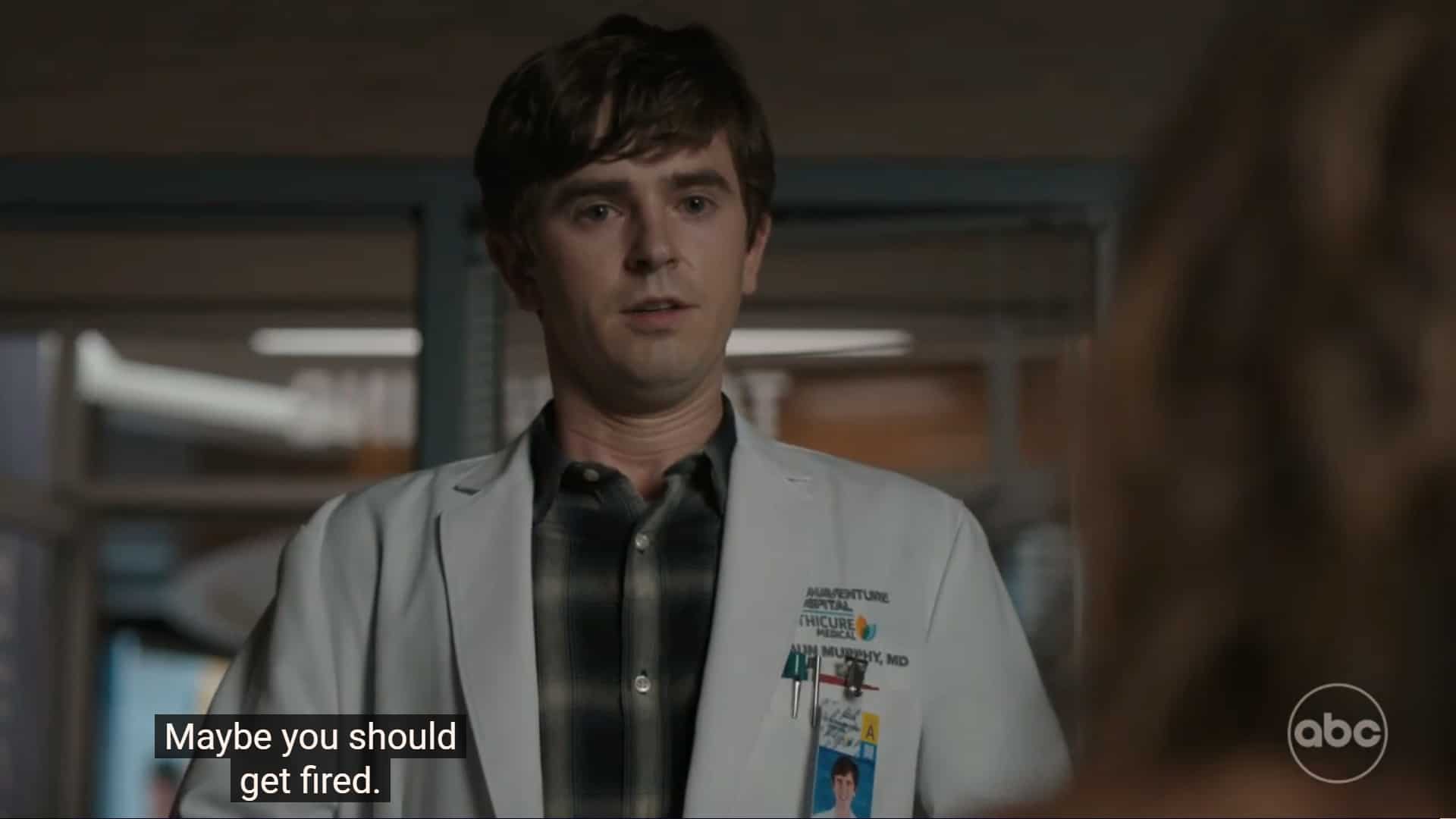 The most exciting season of The Good Doctor ends its first half with an unexpected person of Dr. Glassman's past and a devasting ending that may change everything.
---
Aired
11/22/2021
Network
ABC
Directed By
Mike Listo
Written By
Jim Adler, Mark Rozeman
Introduced This Episode
Ilana
Ann Cusack
Alma
Natalee Linez
Sunil
Sean T. Krishnan
Recap
Relationships Might Be About Compromise, But You Are Asking For A Lot – Salen, Marcus, Alex, Morgan
With Salen likely a few dates from saying she loves Marcus, she decides to have them go public and double date with her mentee Morgan and Alex. Marcus isn't happy Salen proposed this double date to Morgan before talking to him, but he comes around. As for Alex? He shoots that proposal down IMMEDIATELY!
This leads to Morgan trying to come up with every compromise or gift under the sun to get Alex to say yes, but it seems the idea of breaking bread with Salen is not something he wants to do or budge on. However, it seems, after Morgan makes a kind gesture that supposedly isn't a bribe, he comes around. After all, even if he isn't ambitious, he recognizes the woman he is with is, which means networking events are part of the package. So, with it being clear this could drive a wedge down the line, Alex settles for Salen likely paying for dinner as a means to will himself for the double date.
Hello To An Old Face – Ilana, Sunil, Dr. Glassman, Alex, Morgan, Shaun
While Dr. Glassman's ex-wife gets mentioned occasionally, like Maddie, she isn't one of his favorite topics, so he doesn't bring her up often, if at all. Yet, as he is prepping to sell his house, his ex-wife, Ilana Reeves, shows up and asks for Dr. Glassman's medical expertise. As you can imagine, seeing his ex-wife suddenly, as he is closing a chapter of his life, is random and unnerving. But, to add to how awkward things are, she wants him to do a procedure on her husband.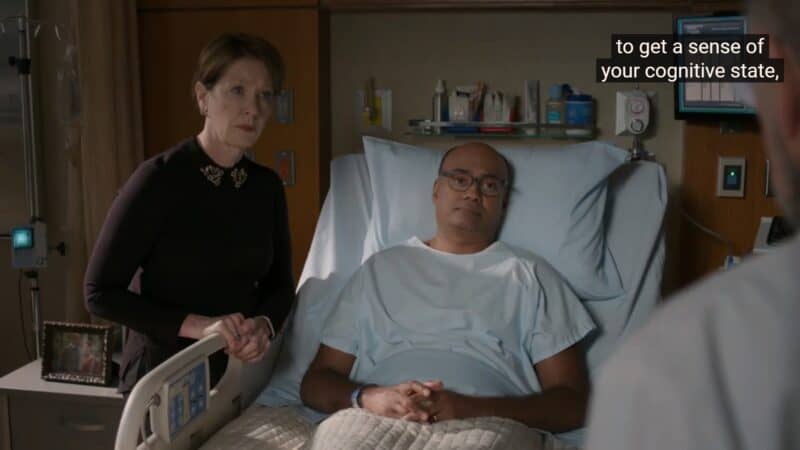 Now, for her, Dr. Glassman ends avoiding the hospital and shows up and clearly is in a mood. What kind? Well, when he learns Salen and Dr. Andrews are dating, he says that maybe that'll mean there is at least one soul between them. Then, when it comes to Morgan taking over the clinic, he is real curt about her turning his clinic into a for-profit part of the hospital. Which makes the only person he interacts with, that he isn't giving the business, Sunil, Ilana, and Alex.
However, Ilana does test Dr. Glassman. How? Well, by bringing up Maddie. That and dredging up how their marriage ended and just triggering a whole lot of bad memories. Yet, part of Ilana's reason for doing this is that she needs that egomaniac who put work before his marriage and family to save the family she found after him. And be it guilt or maybe some form of healing, he uses the drive she inspires to give Sunil a miracle surgery. One that makes it so he may no longer have symptoms of Lewy Body Dementia or need to worry about a cancerous lesion anymore.
But, before she heads off to the happy life she found and built, she does try to convince Dr. Glassman to stick around for Shaun. Now, the way she sees it, Dr. Glassman buried himself into Shaun's life in order to deal with Maddie's death. Dr. Glassman denies this, but you have no reason not to believe this is true. After all, where Dr. Glassman was in season one, overbearing and willing to put his job on the line, that is the type of thing a father does, and someone who needs someone to have that level of dependency. If not, to be more respectful of their relationship, a certain level of reliability that makes it so they feel safe around you and that you can fulfill various human needs.
Cuts & Lies – Alma, Shaun, Salen, Dr. Lim, Dr. Glassman, Lea
Thanks to her pestering Dr. Glassman and interfering in his life, he returns the favor. Rather than help Shaun with the semi-perfect wedding venue and take up his duties as best man, he plans the seed that Lea needs to talk to him about something. Thus, Shaun initiates the conversation, which leads him to learn that Lea deleted records from his reviews – and she cannot put them back.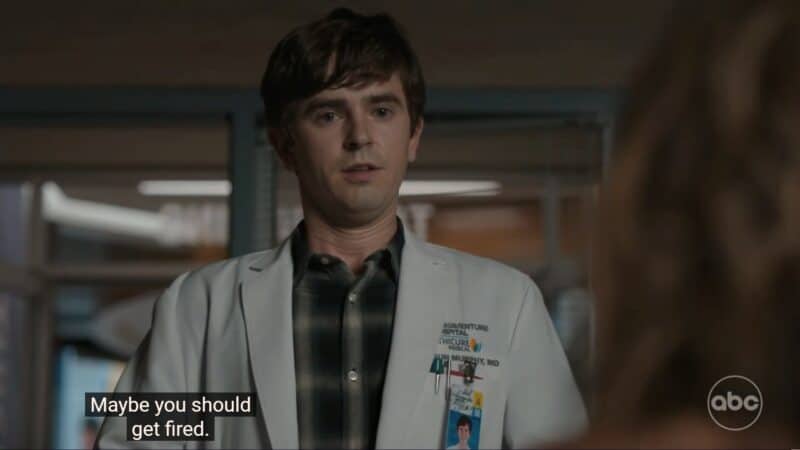 In doing this, Shaun feels terribly betrayed, especially since he thought he was improving with the numbers getting better. So her doing this stole a sense of pride from him, and as Shaun makes it very clear, he does not want his ASD to define him. So her talking to him like she is some caring mother and no one understands her baby because he is different, that doesn't fly with him. In fact, after a stressful day, it is one of the reasons he may have broken off their engagement.
But let's back up and tell the whole story. On the way to work, Lea and Shaun come across a car accident, and one of the patients, Alma, is pregnant and requires surgery. Throughout the day, Shaun is dealing with Dr. Glassman finally returning, Lea's lie, and her refusing to own up to her lie with Salen – which makes him say he thinks she, Lea, should get fired because of what she did.
So, with issues with the wedding venue, Dr. Glassman not trying to be the best man or mentor Shaun needs, and Lea's lie? It makes Shaun unable to save Alma's baby because of Salen's cost-cutting measures, being the straw that breaks the camel's back. It sends Shaun into a meltdown that has him call off the engagement, go off on Dr. Glassman for abandoning his job, and you left to wonder, when Shaun is calm, will he take anything he said, especially to Lea, back?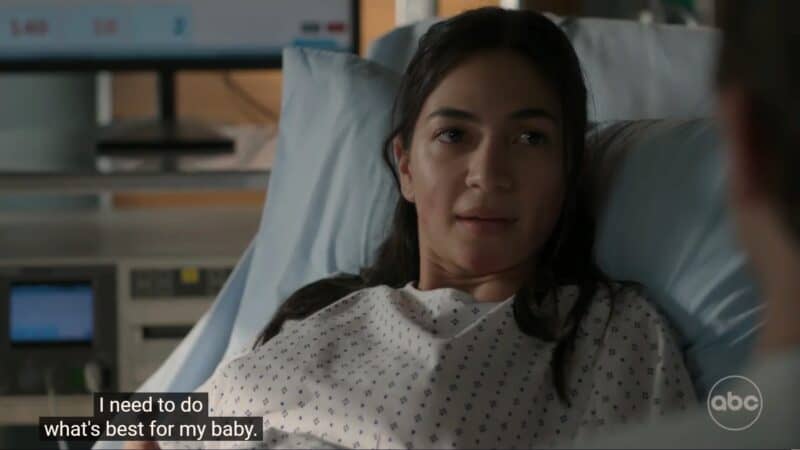 Oh, and we're not done. With seeing Shaun break down and failing in what would have been yet another genius save solely due to Salen? Dr. Lim decides it is GO TIME! Now, at first, she was just going to call out Salen, in an unfriendly tone, and let her know that she shares a part in this death. But, where Salen goes wrong is pushing the idea they will downplay what happened so that lawsuits don't go flying. Hearing that pushes Dr. Lim over the edge for it is Salen's system which led to the pharmacy having expired medicine and no backup! So, Salen being teary-eyed or not, Dr. Lim is ready to stop rolling her eyes about Salen and actually do something.
Things To Note | Question(s) Left Unanswered
Question(s) Left Unanswered
Call me ignorant, but surely there is technology out there that should have kept track of when those medicines would expire and the inventory. Considering how much Salen works in data, I feel like that should have been a very data-driven area. It is a hospital, for goodness sake!
Is anyone else still a bit confused about the timeline between Dr. Glassman becoming a notable part of Shaun's life and when Maddie died? Especially considering it seems Dr. Glassman didn't adopt Shaun and Shaun was in the foster system for a while. So, did Shaun age out, and Dr. Glassman happen to see him? Did Dr. Glassman seek him out and find him in foster care? There is a serious lack of details here, and it feels like we're overdue to fill in that gap between a flashback or conversation.
What Could Happen Next
Lim will go to battle with Salen and will soon learn who is on her side and who would rather keep their job.
I so badly hope we still get to see that double date between Alex and Morgan, alongside Dr. Andrews and Salen! Oh, and imagine if this is after it gets out that Salen wants to suppress information about why that baby died!
I think Dr. Glassman will continue to move and pursue starting over, mainly since what Ilana is advocating for is some form of dependency. That isn't what Dr. Glassman needs. His need to be needed and wanted led him to rush into a terrible marriage. What he needs is, as he said, a fresh start with no expectations or perceptions. He needs to get to put Aaron first, and not his title of being a doctor, a cancer survivor, and all the baggage each of those labels comes with. He just wants to be a retiree who enjoys baseball and wants to be part of the community.
Collected Quote(s) & .Gifs
Someone can love you and still let you down.
— Alma
Review
---
Community Rating:
---
Highlights
Dr. Glassman Making It Clear He Is Running Out Of F***s To Give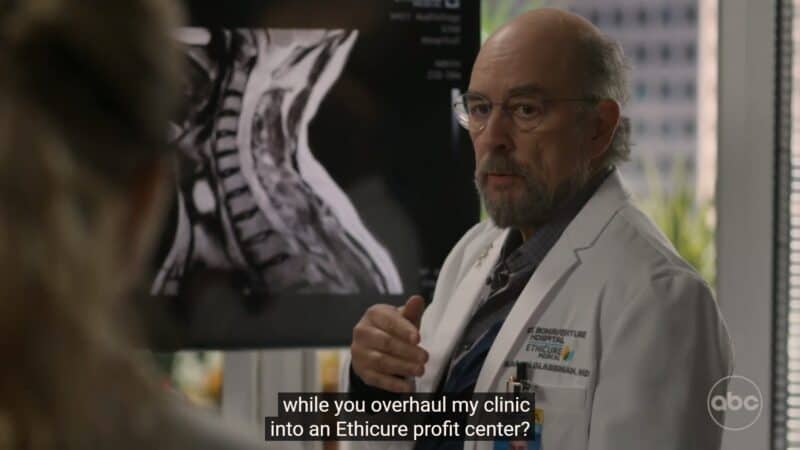 Can I just say, I like this Dr. Glassman who will publicly talk about people as if word can't get back to them? The lack of f***s to give needs to be in the hospital and not with him out somewhere in Montana. For just imagine him saying this kind of stuff to Dr. Andrews or Salen's face! Heck, considering he chided Morgan a bit, imagine him taking this to the next notch with her! We clearly are about to head towards a civil war, and it would be interesting to see more than Dr. Andrews align themselves with Salen and get on Dr. Glassman's bad side.
Meeting Dr. Glassman's Ex-Wife
I wouldn't say it was seeing Ilana in itself but more so getting some idea of Shaun and Dr. Glassman's past. As noted above, there remains such a mystery on what happened between Shaun's older brother dying, which is around the time he met Shaun, to him becoming his mentor in college. Through Ilana, we now know that Dr. Glassman got involved with Shaun after his daughter's death, and he likely discovered Shaun because, after a major failure in life, Dr. Glassman feels the need to move and start over.
Now, this doesn't explain how they kept in touch since it seems Shaun didn't stay at anyone's home too long, and Dr. Glassman didn't adopt him. However, these answers could come as Dr. Glassman and Shaun rebuild their relationship. Which, in a way, is a long time coming since the slap that changed it all. For now, it seems they are pushing towards being two independent people sharing time, knowledge, and love, vs. interdependency. At least, it seems, outside of notably stressful times, Dr. Glassman is trying to ease his need to be needed by Shaun, and Shaun is not as often looking for Dr. Glassman to be his co-sign in life and at work.
Admittedly, they aren't always on the same page about how to evolve their relationship, but they seem to be getting there.
Dr. Lim's War With The Administration
Notably, Dr. Lim has just kept her head down and done the work for the last couple of episodes, if she appeared at all. But, she has made it clear that she isn't fond of many of Salen's changes since the beginning. But now, with a baby dying and her bringing trauma to her star pupil, never mind Salen not trying to own up to the consequences of her actions? It's on!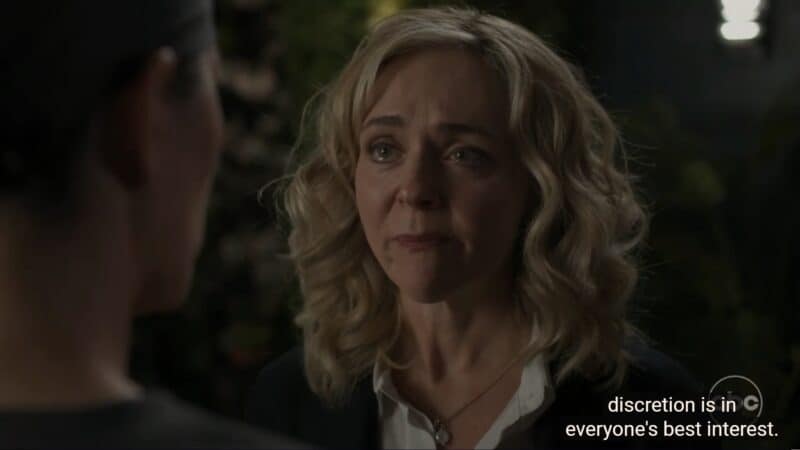 This is a bit bittersweet because, you know, someone has to get fired or quit by the end. On the one hand, we have Dr. Lim, who has been here since the beginning, but once her Melendez saga ended, has sort of fizzled out as a character. Add in Claire's exit, and you got a character who is around for continuity but isn't doing anything notable in her own life, in her career, or in pushing other people forward. I mean, even in terms of forcing Shaun to be a better mentor, that storyline is done. So if she quits or gets fired, it would be a grand exit to a character whittled away for years.
As for Salen? Her quitting or being fired would be devastating since she made The Good Doctor interesting again. She wasn't someone hyper-focused on Shaun and just made into another bigot who was trying to pop the bubble Dr. Glassman made for him. Salen had notable interactions with everyone. I'd even say she destroyed the stupor nearly every character was under.
Dr. Andrews has been on ice so long that it was questionable if the writers were just waiting for his actor's contract to run out. Morgan had been shackled to Alex, and after losing her ability to do surgery, she was a shell of her former self. Shaun, whose bedside manner was always an issue, once again found himself having to perfect the one area of medicine he isn't good at. And the beauty of these interactions is that you see Salen focused on the characters with the most drive and potential.
So imagine losing that. Yes, Dr. Andrews and Morgan will likely ascend and be in the positions they have sought, but so comes the question of: What's next? Like any show, The Good Doctor struggles under the weight of escalation and how to keep things interesting, and Salen is the answer to that question. But, if you remove her, then we're right back to having a notable problem.
Which is all to say, when the dust settles, I dearly hope Salen remains in control of the hospital, for I don't want to go back to Shaun being the only one with a notable storyline.
[ninja_tables id="46813″]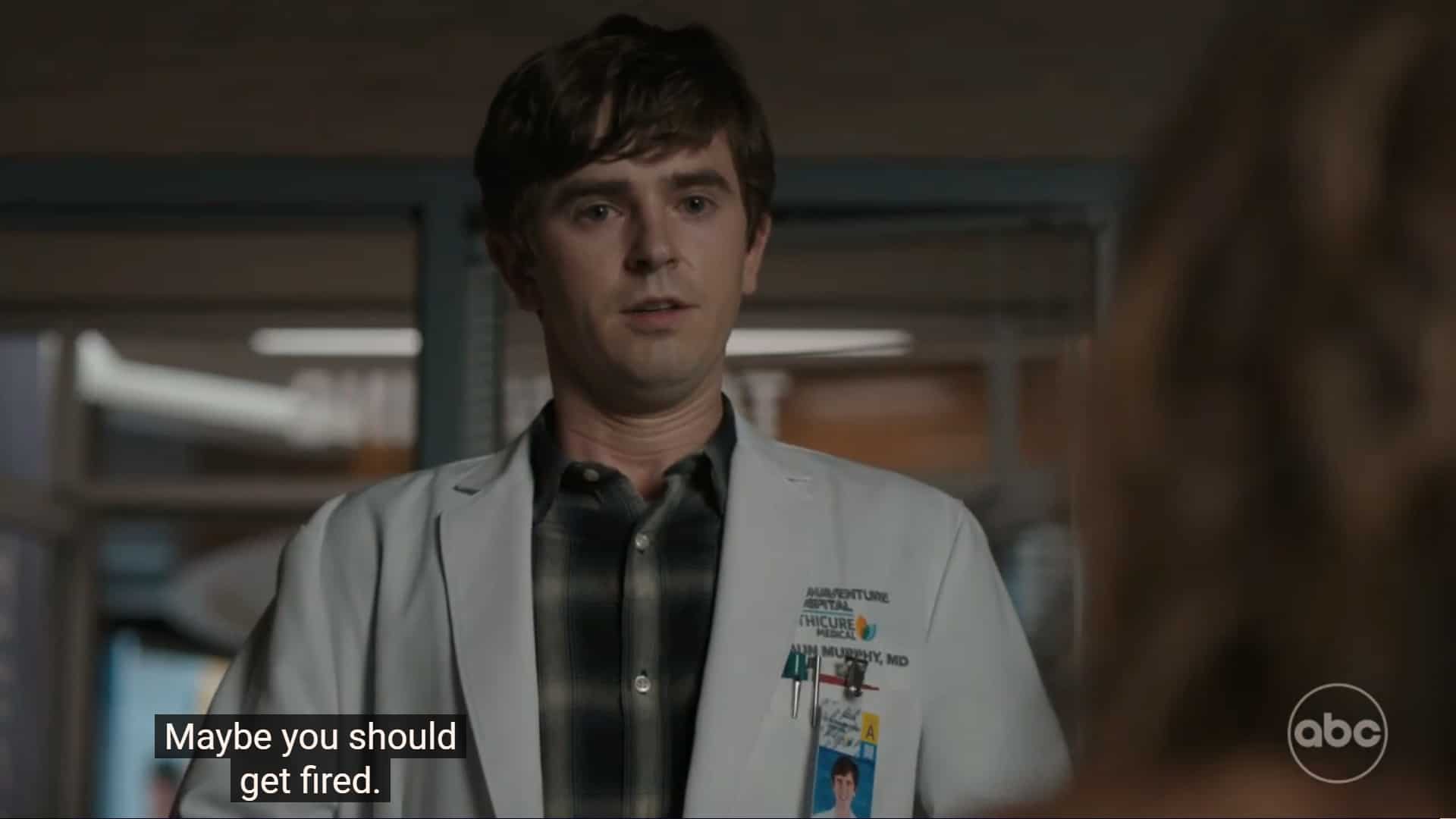 The Good Doctor: Season 5/ Episode 7 "Expired" – Recap/ Review (with Spoilers)
Trajectory: Climbing
The first half of The Good Doctor, almost entirely thanks to Salen, breaks the monotony of miraculous discoveries and miracle procedures. For with the changes she has implemented, it's like every character matters again and has a story to tell vs. this being Shaun's story, and everyone else being thrown a bone to not completely revolve around his wants and needs.
Highlights
Dr. Lim's War With The Administration
Dr. Glassman Making It Clear He Is Running Out Of F***s To Give
Meeting Dr. Glassman's Ex-Wife
---
Follow, Like, and Subscribe
Community Rating: 0.00% (0) - No Community Ratings Submitted (Add Yours Below)