The Good Doctor: Season 1 (First Half) – Recap/ Review (with Spoilers)
The first half of The Good Doctor is a consistently tear-inducing saga with very few issues to name. Summary Dr. Shaun Murphy is a person with autism who is a medical savant. Yet, as soon as his mentor Dr. Glassman mentions the autism, the board who decides who can and won't become residents almost instantly,…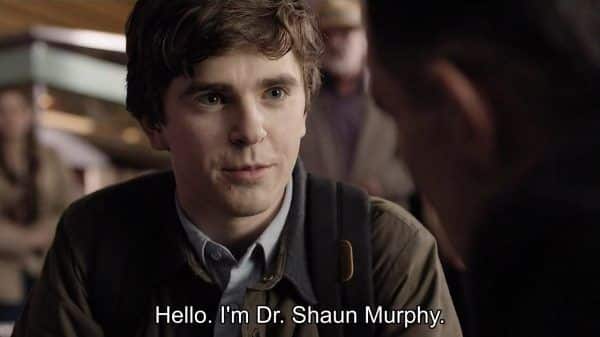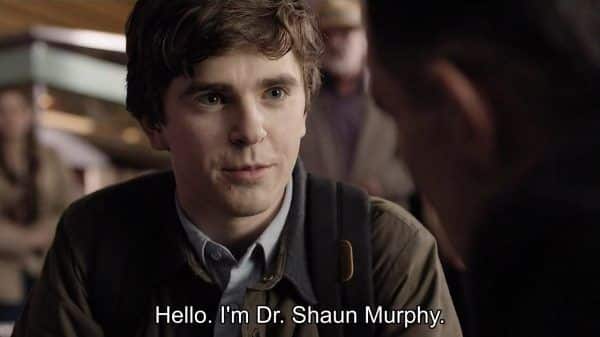 The first half of The Good Doctor is a consistently tear-inducing saga with very few issues to name.
Summary
Dr. Shaun Murphy is a person with autism who is a medical savant. Yet, as soon as his mentor Dr. Glassman mentions the autism, the board who decides who can and won't become residents almost instantly, universally reject him. But, thanks to a few impassioned speeches, as well as Dr. Glassman putting his career on the line, which for Dr. Andrews is too good to pass on since he wants Dr. Glassman's position as president, Shaun is put to work.
Problem is, Dr. Melendez, who Shaun primarily works under, isn't on the board and so he doesn't really care what they decide. In fact, he puts Shaun to do the dirty work – almost exclusively – until, of all people, Dr. Andrews, Dr. Melendez's boss, forces him to treat Shaun just like everyone else. Thus showing how reliable he can be and how not just his savant syndrome, but also him being sometimes a bit less emotional than the average person, can be of great use.
But, naturally, the show isn't just about this person with autism proving himself. There is also quite a bit of drama of both the personal nature and in terms of relationships. Take for example Shaun having dealt with an abusive family, sans his brother Steve. Someone who, for a few months, was taking care of Shaun and then died tragically. Yeah, there's that.
Though, Shaun isn't the only focus of the program. There is the aforementioned Dr. Glassman who, to compensate for the daughter who died, really hones far too much of his focus on Shaun. Also, Dr. Melendez is engaged to a woman, Jessica, the hospital's legal counsel, who also was partly raised by Dr. Glassman, and then there are Shaun's peers Jared and Claire.
Jared is the son of a wealthy British real estate developer who he turned his back on to become a doctor, with little help from him. He is in a sort of secret relationship with Claire who, at first, isn't that noteworthy. However, as she shows the type of compassion neither Shaun nor Jared have, bumps heads with her supervisors, and causes someone to die, she begins to really get built up as a character.
Thus giving us perhaps one of the strongest casts, sans Jessica, you'd probably ever find in a semi-brand new show (This is based off a Korean program).
Question(s) Left Unanswered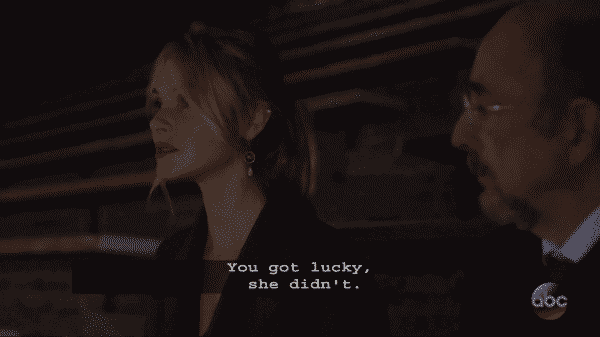 How did Dr. Glassman's daughter die yet Jessica live?
Considering Jessica's dad got money, and seemingly was part of her life, why was she in Dr. Glassman's house so much? He too worked a lot so it couldn't have been having a father figure there.
Did Dr. Glassman adopt Shaun?
Why is it Shaun is just learning about sarcasm and flirting now? He went through high school and college, med school on top of that! Are you telling me he didn't meet one person like Claire who took him under their wing and taught him about social niceties?
Why is it Shaun didn't try to stay in contact with Evan? Especially considering he looks just like his brother?
Will we meet Shaun's biological parents anytime in the second half of the season? Also, do they know where he is?
Whatever happened to the mother of Dr. Glassman's daughter?
Are we going to meet Claire or Jared's parents? Much less, see where they came from?
Outside of the Shaun and Steve flashbacks, featuring Dr. Glassman sometimes, flashbacks haven't been used much. Does this mean we won't see other people's pasts?
Will there be more of Carly? At one time it seemed she'd end up Shaun's love interest, before Lea showed up, and now I just wonder if she'll just be seldom seen.
Highlights
Shaun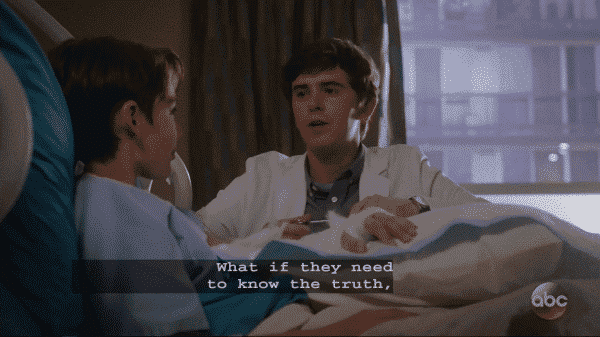 With shows like Atypical and Claws showing people with autism having lives, interest, finding love, and even some form of fulfillment, in many ways, The Good Doctor takes things to the next level. The idea of a doctor with autism, even if high functioning, is something hard to wrap your head around. Now, granted, Shaun, no matter Dr. Glassman's argument, is touted more so as an exception than a true possibility; yet, exceptions can become a rule after someone breaks down the door. After all, nearly every industry had to have a first something for others to be the second, third, fourth, and so on until the number no longer mattered.
Switching things up, we have to speak on Freddie Highmore. Now, I'm not going to hoot and holler about is acting since I've seen enough of his work to not see Shaun as much of a stretch. Introverted and awkward for Highmore comes as naturally to him as it does for Kristen Stewart. Yet, what does have to be praised is he knows what he is good at and knows how to tune it to fit the scene. To the point where, from episode to episode, especially when there was something which referenced Steve, I was crying to the point of not just needing to have tissue but water while watching. Just so that I was hydrated.
For really, Highmore gets you so invested into Shaun that who he likes you like and who presents themselves as a rival or adversary, you outright hate them. Yet, with time, you see how they come to love him and between the writing and Highmore, none of it feels forced. If anything, it comes off like a very carefully handled message of how much a person can learn, dispel their prejudice if you will, when they just give someone a chance.
Steve
Bringing back the topic of Steve, the reason why one of the "Question(s) Left Unanswered" deals with Evan, is because Steve, played by Dylan Kingwell, was such a presence in the first handful of episodes. I'm talking second to only Shaun and that kid's charisma really had me hoping when he came about as Evan, that he would become a reoccurring role. For you can see Shaun could not only use a friend but also someone like his brother again for guidance.
Not to say Dr. Glassman, and eventually, Claire, aren't people he can talk to, but Steve left this irreplaceable hole in Shaun that no one can fill. And despite all Shaun goes through with nearly killing patients, treating an autistic patient and more, one of the few times we nearly see him cry is when he realizes he can't save this kid who looks like his brother. Making him feel like he failed him twice.
Lea & Shaun Possibilities
What is a lead without a love interest right? Well, for some time it seemed Shaun would have a bit of choice. Claire at one time, even with her relations with Jared, seemed like a possibility. Yet, thankfully, they are just friends and some even see Claire as a Shaun translator. Which sort of seems offensive, yet it shows how empathetic her character is and also pushes further the idea that, while it may take some adjustments on your part, those like Shaun could easily integrate into your daily life.
Following that was Carly, one of the people who work in analyzing specimens. Now, I'm not sure if it was just me, but I saw chemistry. But, alas, Lea ends up the woman who Shaun may end up with.
Which, as also shown in Atypical and Claws is important. This idea that a person with autism is not without feelings – especially in terms of the need of someone reciprocating their feelings. Much less them being shown as potentially attractive partners. Now, like with Claire, it will require some understanding and adjustments on your part to make things work, but this doesn't mean you are the sole one doing the heavy lifting. As shown, while Shaun is lacking social intelligence, he is still capable of catching on once he translates things to what makes sense to him. Thus showing, more than just in terms of professions, also in terms of people with autism's personal life, they can find fulfillment.
The Evolution of Dr. Melendez and Dr. Andrews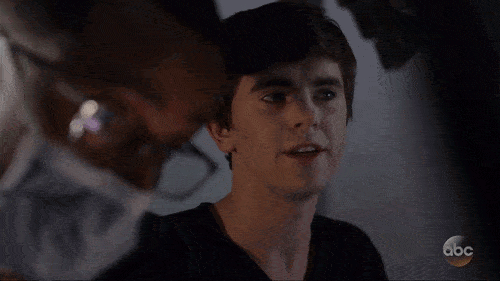 One of the things I feared early on was that Dr. Andrews, and Dr. Melendez in extension, would craft themselves as some kind of villains. Not in terms of sabotaging Shaun so that Dr. Andrews could become president, but just be bigots who consistently try to keep Shaun out of their hair and without getting a proper education. Thankfully, after maybe a few episodes, that wasn't the case. Though it was done cautiously, Shaun was allowed to do procedures, was repeatedly taught how to improve his bedside manner, and was treated equally, even favorably when it came to diagnosis, when it came to his work.
Heck, they even complimented him and when you see Shaun's smile when he realizes he wins them over, it may bring a tear to your eye. Full disclosure, just the memory is bringing a tear to my eye as I write this.