The End of the F***ing World: Season 1/ Episode 8 [Season Finale] – Recap/ Review (with Spoilers)
It seemingly is the end of the line but don't tell Alyssa that – no matter who you are. Network Netflix Director(s) Lucy Tcherniak Writer(s) Charlie Covell Air Date 1/5/2018 Catch Up or Follow Along [External] Who Knew You'd Become What I Always Wanted, Maybe Needed?: Alyssa, James After burying the dog at the…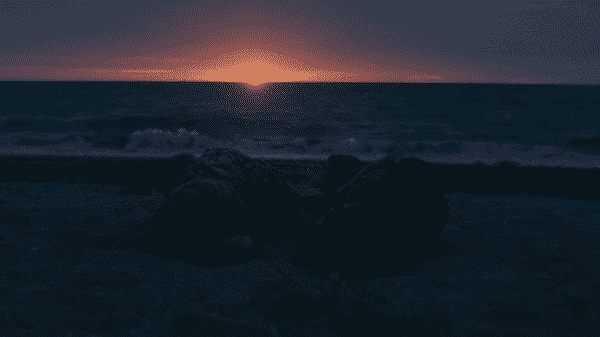 It seemingly is the end of the line but don't tell Alyssa that – no matter who you are.
---
Network
Netflix
Director(s)
Lucy Tcherniak
Writer(s)
Charlie Covell
Air Date
1/5/2018
Catch Up or Follow Along [External]
---
Who Knew You'd Become What I Always Wanted, Maybe Needed?: Alyssa, James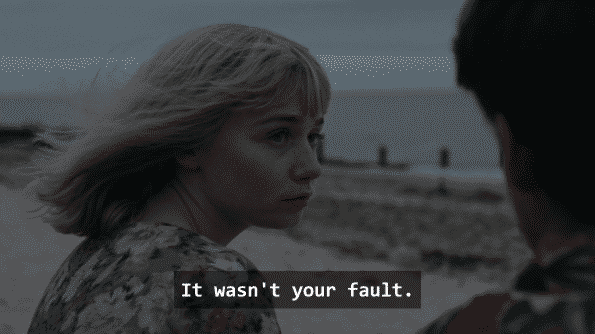 After burying the dog at the beach, a few lightly shocking things happen. First with Alyssa not caring about holding James' burnt hand, and then him initiating not just kissing, but even so far as going towards sex. Which doesn't happen because Clive still haunts Alyssa, and this is treated as A-OK. James doesn't make a big deal out of it and is just happy to spend time and be intimate – outside of sex.
Which includes him revealing the full details of his mother's death to her. Opening up in ways you couldn't even imagine episode 1 James doing. Leading Alyssa to be so sure about this dude that she is planning another go at running away with him – just now out of the county.
This Is Why No One Celebrates Father's Day: Leslie, James, Alyssa
Problem is, despite being a drug dealer, Leslie decides to call 999. This alerts the cops to where James and Alyssa are and, mind you, this is while Leslie seemingly is trying to salvage his relationship with Alyssa. However, once James reveals the truth, she stabs him in the thigh and confirms that the birthday cards weren't from him but her mum.
But You Can Visit Me In Prison: Eunice, James, Alyssa, Leslie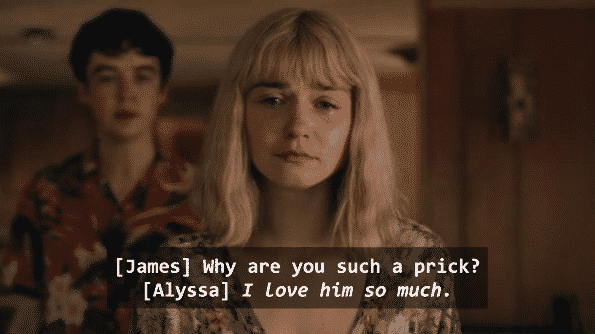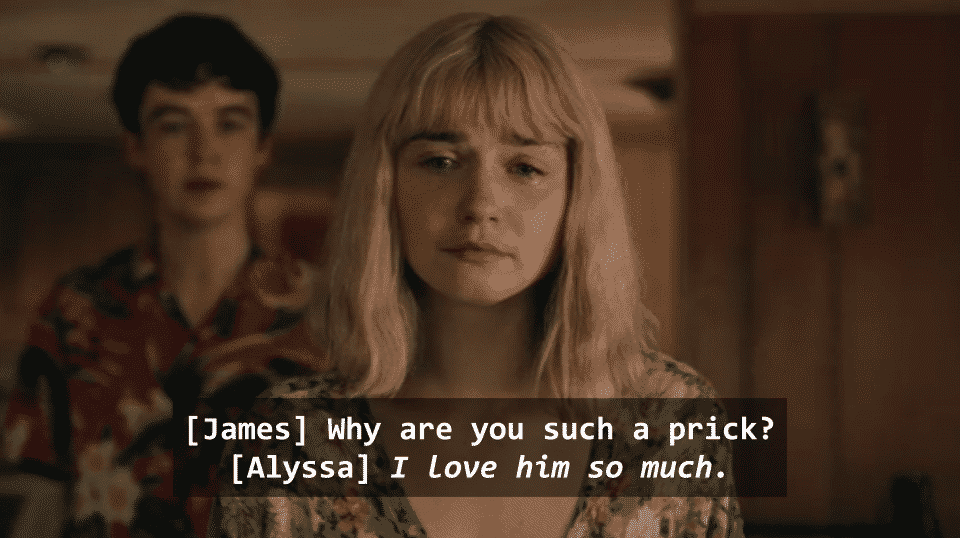 Oh, and did I forget to mention Eunice was there? Yeah, she was watching a good part of the situation go down and after Alyssa gets closure, she checks one thing: Will she and James at least be locked up close together? No? Well, off to the boat they go.
Problem is, with them assaulting Eunice, stabbing Leslie, and the boat being nowhere near tide, there is no more running. So, James decides to take the hit – as he tried to before. However, with him hitting Alyssa to make it seem real and running, it seems like he was really planning to give his life to the girl who reminded him what it meant to be alive. And with a gunshot, the season ends.
However, considering the way this show has had James and Alyssa talk, I doubt James is dead. After all, hasn't the show been a retelling of events since the beginning?
Collected Quote(s) & .Gifs
You shouldn't just make people if you're going to abandon them because they think they've done something wrong their whole lives.
Highlights
Ending With a Bright Black Bow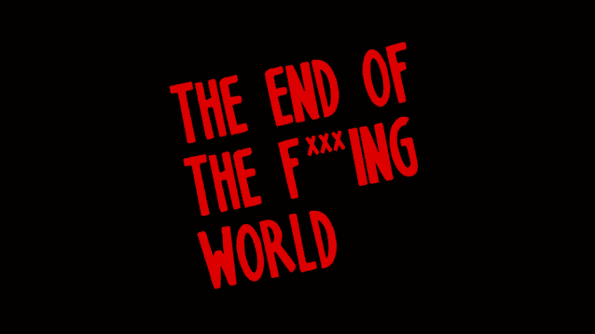 You have to appreciate how well developed James and Alyssa are in the end, and how James ends up challenging how Leslie became the way he is. We don't get a answer, but it does give you an idea of what the future could hold for the show. For yeah, James got shot at and may have been shot, but he likely isn't dead.
After all, there is still so much story to tell. Much less, what's keeping this show from pulling a Baby Driver and just having Alyssa wait for James while he is in prison? Though, even before prison, the title itself can easily apply to the days and weeks before going to prison, being in prison, and James getting out. Not to forget, how each part affects not just James and Alyssa, but their parents and even Eunice and Teri.
To put it simply, this is just the beginning of a long journey which can at least be three to four seasons filled with drama, romance, f***ery, and of course comedy.
Criticism
Why Would A Local Drug Dealer Call The Cops?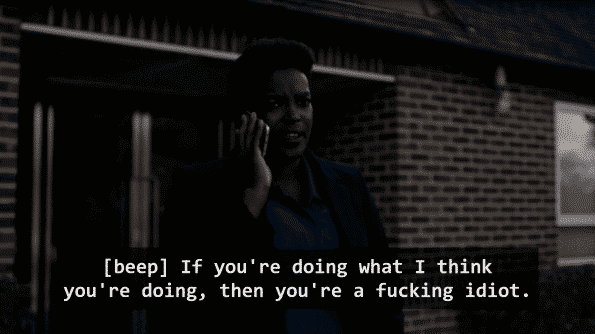 Perhaps the only thing which was a bit eyebrow raising is the idea that a local drug dealer, with priors, would call the cops for a reward. Really think about it, if his customers saw cops coming to his home, or even friends, wouldn't that mark him for life? Be it him being considered a snitch or just too high profile, that would effectively end his business. And yeah, he may get some money, but Leslie is an idiot. As soon as Debbie heard about that money, she may go beyond asking and may just seek child support. Thus zapping all of his money and considering Leslie likely hasn't paid taxes in who knows how long, you can be sure his movements would be watched for some time.
After all, for a short bit, he was harboring fugitives. Which, by the way, could snitch on him. It isn't like James and Alyssa didn't meet his peers and hear their names. So him calling the cops, also leading to them knowing his number, is so absurd that I cannot fathom the reason behind this.
Follow Wherever I Look on Twitter or Like us on Facebook.
---
Follow, Like, and Subscribe
Community Rating: 0.00% (0) - No Community Ratings Submitted (Add Yours Below)