Sweetbitter: Season 1/ Episode 6 "It's Mine" [Season Finale] – Recap/ Review (with Spoilers)
---
Community Rating: 0.00% (0) - No Community Ratings Submitted (Add Yours Below)
---
This post may contain affiliate links and spoilers. Please read our disclosure policy.
---
As we learn why Simone was said to not be trusted, Tess takes her trials and learns her fate.
---
Network
STARZ
Director(s)
Stuart Zicherman
Writer(s)
Jaquén Castellanos, Azie Dungey
Air Date
6/10/2018
What Am I Getting Myself Into?: Tess, Jake, Simone, Will, Ari, Heather
It's the day of Tess' trial and after leaving Sasha in the care of Heather and Ari she showers, studies up, does the written exam and damn is Simone and Jake aren't back. Bad enough, after the night before with Will that complicates things but now she has this distraction. One which becomes really difficult to deal with because Jake is being friendly, asking where Tess is from and also Simone is making plans with her to cook.
But then comes the drama with Fred showing up and Jake revealing Simone is having sex with him. Followed by Tess recommending a $1200 bottle for a celebration for people who can't afford that. Not to forget, Simone knowing what Jake said to Tess causes friction between them. To the point she talks about possibly dropping Jake from her life but, in the long run, it seems he convinces her otherwise.
Commentary
There is something about Simone which makes you question her need for power and influence. Like, there is this serious need to question if her reason for not leaving the restaurant is primarily because she has the influence of a manager without having to deal with the headache of the job. That is, on top of being this sort of Queen Bee type who is feared but just a tiny bit respected.
Which I say because, the way her relationship is with Tess before and after the secret is known, it shows Simone's benevolence when she feels unthreatened vs. when someone has something on her. Especially when she has little to nothing to keep them in check with.
Take Jake for example. Though a headache, who tries to rebel at times, notice he still went up the Cape with her. That power she has over him, that influence, as much as he might be annoying she seems kind of addicted to it. Which pushes you to wonder how was their childhood together like? She says she was like a mother to him but was that exactly how it played out? Hence his consistent obnoxious kid looks?
Decision Time:  Tess, Howard, Will, Simone
To be frank, Will thinks Tess isn't ready but with an extra week of training, she'd be fine. However, no sooner does he leave does Simone shoot his credibility by saying he and Tess are having sex. Followed by her mentioning the point of the trials and noting, ultimately Will said she failed them. But, despite that being said, Howard decides to initiate some back and forth.
Yeah, Tess may not be ready but he likes her moxy. She knows how to make guests feel comfortable. That is, as opposed to Jake who curses at them and almost causes a fight over someone's indiscretions. Leading to, in turn, Simone bringing up Howard's and presenting the idea that Howard is not going to touch Jake at all. Yet, at the same time, Simone will have to deal with someone at the restaurant knowing her secret. For while she is perhaps one of the few friends Howard has, a confidant if you will, at the end of the day it is his restaurant. A power check which you know doesn't come often.
Commentary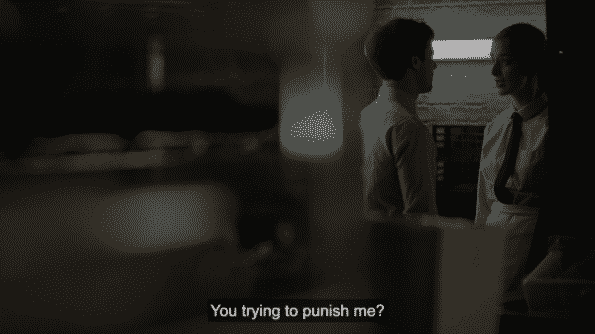 There is a need to wonder about Simone's rise in the restaurant. Especially with Howard noting her competition Serena which seemingly included the attention and affection of Fred. Really making you wonder, building off the need to question what her childhood was like, was she pushed to compete a lot? Was it, perhaps, because Jake was a boy he always got what he wanted and Simone had to fight for what she wanted? While also taking care of him?
There seems to be some real underlying issue here. For also, lest we forget, leaving your hometown for New York is an escape type of thing. It has been noted that is what Sasha did, Tess from Dayton, Ohio, and so comes the question of what was Simone running from that made her fight so hard to be able to stay? Much less, solidify her place to the point she has the ability to influence, if not manipulate to the point of blackmail, he boss?
Also, there is a need to question, taking note Ari tells Tess she can't have them both, if they were actively competing for Tess? For even if Simone's feelings weren't sexual, clearly there is an investment there and it could very well be, similar to The Kissing Booth, Simone just wanted something wholly hers for once. A person that she didn't have to share with Jake or couldn't be fully taken by him.
The Peeling of the Mask: Tess, Simone
Despite wasting an expensive bottle, dramatically falling down the stairs, and not finishing her written exam, Tess gets the job. Something Simone congratulates her on with a bit of sarcasm. Like bringing up how she doesn't get Howard, implying she wouldn't hire Tess. Alongside noting maybe it is because he finds her attractive, not because she has shown skill or talent. But, whether or not Tess picked up Simone's 180 turn on her is hard to say. Though she definitely is ecstatic about finding something to be passionate about.
Commentary
Tess hasn't, technically, done anything towards Simone so who knows if this animosity is being proactive to find a way to get her fired or not. Because, clearly, Tess can be overtaken by anxiety and can be emotionally manipulated. So, maybe this is all just the start of throwing Tess off her game? Who knows?
What is clear, however, is Tess found something to be passionate about. Now, as for where this passion may lead her? That's hard to say. Will she want to become like Scott, Simone, maybe even Howard? Well, only future seasons could reveal that to us.
Collected Quote(s) & .Gifs
It's time to give yourself permission to want things and to have them.
Highlights
Simone turned to the dark side.
Tess got the job!
On The Fence
With this only being 6 episodes, the story feels so incomplete and like it is ending just when it began.
Follow Wherever I Look on Twitter, Like us on Facebook and Subscribe to the YouTube Channel.
---
Previous Episode's Recap
[visual-link-preview encoded="eyJ0eXBlIjoiaW50ZXJuYWwiLCJwb3N0IjoyMTM4OSwicG9zdF9sYWJlbCI6IlBvc3QgMjEzODkgLSBTd2VldGJpdHRlcjogU2Vhc29uIDEvIEVwaXNvZGUgNSBcIldlaXJkIE5pZ2h0XCIgLSBSZWNhcC8gUmV2aWV3ICh3aXRoIFNwb2lsZXJzKSIsInVybCI6IiIsImltYWdlX2lkIjoyMTM5MCwiaW1hZ2VfdXJsIjoiaHR0cHM6Ly93aGVyZXZlci1pLWxvb2suY29tL3dwLWNvbnRlbnQvdXBsb2Fkcy8yMDE4LzA2L1N3ZWV0Yml0dGVyLVNhc2hhLTIucG5nIiwidGl0bGUiOiJTd2VldGJpdHRlcjogU2Vhc29uIDEvIEVwaXNvZGUgNSBcIldlaXJkIE5pZ2h0XCIgLSBSZWNhcC8gUmV2aWV3ICh3aXRoIFNwb2lsZXJzKSIsInN1bW1hcnkiOiJCYWJ5IE1vbnN0ZXIgc3BlbmRzIHNvbWUgdGltZSB3aXRoIHVuY2xlIFNhc2hhIHRvIGhlbHAgaGVyIGdldCB0aHJvdWdoIGEgYmFkIGRheSBhbmQgbWFrZSBoaW0gZmVlbCBsZXNzIGFsb25lIGluIHRoZSB3b3JsZC4iLCJ0ZW1wbGF0ZSI6ImRlZmF1bHQifQ=="]
Related Topics:
Azie Dungey
,
Jaquén Castellanos
,
Starz
,
Stuart Zicherman
,
Sweetbitter
,
SweetBitter: Ari
,
SweetBitter: Heather
,
SweetBitter: Howard
,
SweetBitter: Jake
,
Sweetbitter: Season 1
,
SweetBitter: Simone
,
SweetBitter: Tess
,
SweetBitter: Will