Thanks to Elizabeth Olsen, the full weight of emotion dealing with losing your spouse, while young, will weigh on you like a sandbag.
---
Network
Facebook Watch
Creator
Kit Steinkellner
Director(s)
James Ponsoldt
Writer(s)
Kit Steinkellner
Air Date
9/18/2018
Genre(s)
Drama, Romance
The Hook
The rare perspective of a 20 something, maybe early 30 something, widow.
Noted Actors
Leigh
Elizabeth Olsen
Jules
Kelly Marie Tran
Matt
Mamoudou Athie
Danny
Jovan Adepo
Amy
Janet McTeer
Images and text in this post may contain affiliate links which, if a purchase is made from those sites, I may earn money or products from the company. Most affiliate links contain an upward facing, superscript, arrow.
The Introduction
Matt was the love of Leigh's life. There was a certain amount of dependency there that, even seven weeks after the funeral, she can't shake. In fact, being asked to shake it off, move on, people trying to compare their grief? That's a trigger. Leigh will go off on you for daring to compare your grief to hers. She doesn't even let Danny, Matt's brother, dare compare what they are going through. For while Danny may argue that Leigh can find a new husband, Danny can't replace a brother, it seems he doesn't get it – no one does.
Matt was a sounding board, someone who knew how to bring some joy into Leigh's family which compromises her boss/ mom who she never really got along with. Alongside her sister Jules who, after about ten years, seemingly, just three months ago, finally got her act together. He was her light, her joy, and now he is gone and she is realizing, no one else really had that effect on her. I mean, she has a friend who she writes an advice column for but without Matt as a someone to bounce her work off? Can she even complete a paragraph?
And while it seems she may not move on this season, she will work through the pain. All while clueing us in on who Matt was and making his death reason a bit of a mystery. Since it doesn't get revealed in episode 1. We just get teased on a possibility which could explain Leigh's attitude towards Danny.
Question(s) Left Unanswered
Anyone else fear some kind of Gillian Flynn twist of Leigh murdering Matt for some reason or am I the only one that screwed up?
Collected Quote(s) or .Gifs
You never do anything nice for me without making me pay for it later.
— Jules
Highlights
Leigh's Relationships With Everyone/ Olsen's Chemistry With Every Actor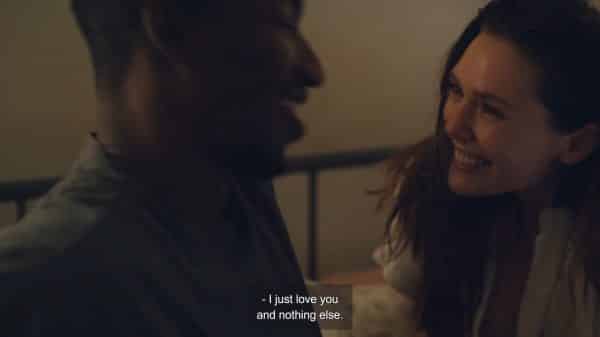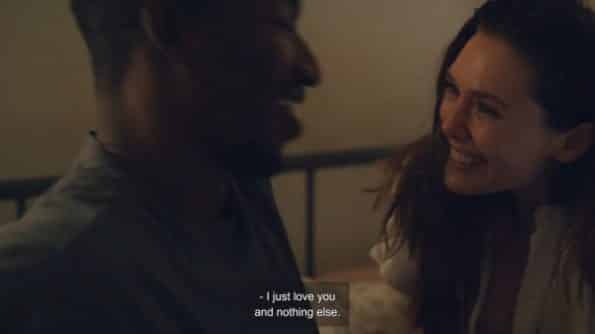 I feel like, as can be said with the majority of the actors of the MCU, while it raises an actor's public profile it also makes you expect less of them as actors. However, while I can imagine many of them flailing if their characters are killed off, they get replaced, or leave, Olsen is different. This show proves why, at one time, she was considered a major it girl of sorts.
There is something about her which makes you drawn in like a bug to something sweet or hot. Be it her eyes or attitude, it makes whoever her scene partner is interesting and yet not a villain. I think the best way to put it is, even though she is the lead actress, and executive producer, she knows how to share a scene. Take Olsen's scenes with Tran. All we know about Jules is she is likely adopted, is formerly an addict, and was a major screw up. Yet, through Olsen, you get this mixed feeling of being tired of this girl while hoping for the best when it comes to her sobriety. Just because you don't want her to become annoying.
Then with Danny? Oh my god, on one hand, you think you should feel bad for this dude since he lost a brother and, like he said, a husband is a title that can be assumed ten, twenty, maybe more years down the line by someone else. While someone can be called a brother, you can't replace a blood relation. Also, taking note Danny kind of sounds like Jules, in terms of being a long-term screw-up, you can't replace that guaranteed safety net either.
Yet, despite feeling for Danny, to a certain degree, Leigh trumps any and all feelings. Jules feared Matt's death could trigger a relapse, Danny says what he does, and yet even when she is cruel, you feel for Leigh the most. Athie and Olsen, within no time, have this enviable relationship a lot of romance movies, even during this year's renaissance, hell this summer, can't compare to. And that's with the grandest gesture being the man rubbing his wife's feet while she writes or her going nuts when he isn't home by 4:07 in the morning.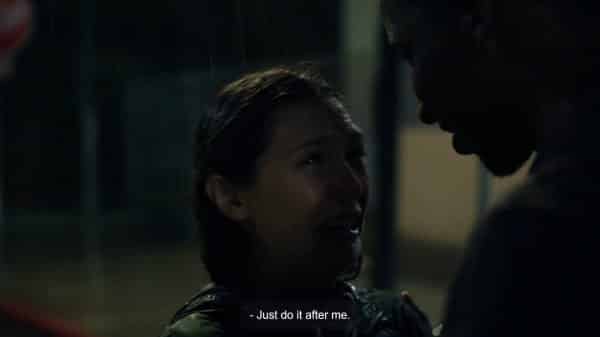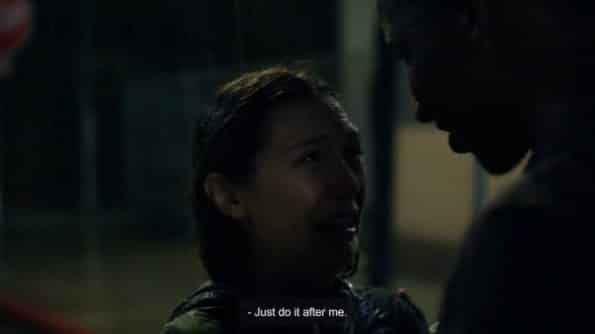 It presents the kind of love which is beautiful and you kind of want, but taking on how the loss of it devastates Leigh, it brings a realness rarely brought up in the romance genre. Not losing your husband to old age but while you're both still young, very much in love, and have already found a groove of dependence that works for you two but leaves neither feeling like there is an imbalance.
First Impression: Positive (Watch This)
If this show can keep this vibe and writing up, more than likely this will end up recommended. In a half hour, it will get you in your feelings, put you in awe of Olsen, and really make you think that Facebook Watch is not some vanity thing. It's a serious platform which could do in one or two years what Hulu and Netflix struggled to do when they first launched.
Leading to why the positive label: This show takes on a rare approach of addressing a young widow's grief. All the while having you fall in love with the relationship she was in so that you grieve too. So that you get why she is ready to bite people's heads off because they try to put their own grief at your level or empathize in ways you don't really want. You want to own your feelings, wallow in them, and not move on because moving on means dealing with the fact no one will ever be like that person. Which is more painful than counting the days, weeks, the lonely nights, and keeping their memory alive in the most morose way.
Follow Wherever I Look on Twitter, Like us on Facebook and Subscribe to the YouTube Channel.
---
Season/ Episode
Synopsis
Episode Information
Topics & Characters Featured
Season 2, Episode 6 "Weird Day"
As Jules gains a love interest, and Danny notes an argument with Matt, Leigh attempts to move on but ends up doing the unexpected.

Director(s)
Rose Troche
Writer(s)
Corina Maritescu
Air Date
10/22/2019
Introduced This Episode
Tommy
Briana Venskus
Ravi
Rene Rosado

Matt Wasn't A Saint: Danny, Bobby, Matt
I May Not Have Found Religion, But I Did Find Someone To Have Faith In: Tommy, Jules
Desperate People Do Desperate Things: Leigh, Ravi, Jules, Danny

Season 2, Episode 3 "What's Wrong With Your Chest"

Amy has a mid-life awakening, and it leads her to not only clear out some material things but what has taken up space in her heart and mind.

Director(s)
Ry Russo-Young
Writer(s)
Sheila Callaghan
Air Date
10/1/2019
Introduced This Episode
Evie
Daniela Leon

The Side Effects of Therapy:

 

Jules, Leigh, Amy
When You Grow Up Without The Family You Wanted, You Create It:

 

Leigh, Amy, Jules, Matt
A Mid-Life Awakening:

 

Amy, Sabrina, Jules, Leigh, Richard

Season 2, Episode 4 "Mr. Greer"

Lest we forget, Matt was a teacher, and with that said, we see how the students too suffered a loss.

Director(s)
Hanelle Culpepper
Writer(s)
Charles Yu
Air Date
10/8/2019
Introduced This Episode
Nina
Khalijah Joi
Lacey
Lyndon Smith

When Amy's Away, Things Become Disarray:

 

Lacey, Jules, Leigh
Honor Thy Brother:

 

Bobby, Danny
Sorry For Your Loss:

 

Nina, Leigh, Matt

Season 2, Episode 5 "Norway"

There are two reveals this episode which we're left to wonder, not the reaction of the person who receives the reveal, but what may come of it long term.

| | |
| --- | --- |
| Director(s) | James Ponsoldt |
| Writer(s) | Kit Steinkellner |
| Air Date | 10/15/2019 |

Things I've Wanted To Say, But I Worked Here:

 

Lacey, Jules
Abandonment Issues:

 

Danny, Jules, Leigh
I Think I Love You, And That's What I'm Afraid Of:

 

Leigh, Danny

Season 2, Episode 2 "I'm Here"

Danny has a reckless, but fun, encounter as Leigh takes drugs and Jules decides to tell Leigh about herself.

Director(s)
Chinonye Chukwu
Writer(s)
Etan Frankel
Air Date
10/1/2019
Introduced This Episode
Simone
Cleopatra Coleman

It Was A Crazy Day And Night, But So Worth It:

 

Jules, Simone, Danny
Onto A Different Plane:

 

Leigh, Amy, Matt
The Outsider:

 

Jules, Leigh, Amy

Season 2, Episode 1 "Middle Finger, Thumbs Up" [Season Premiere]

It is now 6 months from Matt's death, and while Leigh is slowly finding ways to move on, Danny's absence makes it hard.

| | |
| --- | --- |
| Director(s) | Azazel Jacobs |
| Writer(s) | Kit Steinkellner |
| Air Date | 10/1/2019 |

I Can't Do This Anymore:

 

Amy, Leigh, Richard, Jules
How To Move On From Your Dead Brother's Wife?:

 

Danny
We May Not Be In-Laws, But We Can Still Be Something:

 

Danny, Leigh

In the season finale, both Leigh and Jules find a sense of closure while Amy and Danny are left questioning their emotions

With a trip to Palm Springs, gifted by her dad, Leigh decides to get away from it all. Perhaps even begin the process of fully moving on.

It seems everyone is tired of being single and that means desperate times may mean desperate solutions.

We get to meet Matt's mom and dig a bit into his childhood as Leigh tries to find something, someone, to blame besides herself.

We finally learn how Matt died but the jury is still, kind of, out on whether he had an accident or it was suicide.

With the idea of Matt's demise not being an accident, Leigh decides it's time to break the funk or she may end up going under.

We learn what was the thing which triggered Matt wanting to propose to Leigh as well as see Jules struggle to rebuild her image.

As Leigh meets another young widow, and her best friend gets engaged, she finds herself digging more into the blemishes of her marriage.

As some of Matt's secrets come out, some even Leigh didn't know, we dive a bit further into the complicated family he was part of.

Thanks to Elizabeth Olsen, the full weight of emotion dealing with losing your spouse, while young, will weigh on you like a sandbag.
---
https://www.facebook.com/sorryforyourloss/videos/2149202915319848/
---
---