Saturday Night Live: Season 48/Episode 16 "Quinta Brunson/Lil Yachty" Review
Quinta Brunson shines in her comedy stardom with a loose and energetic SNL.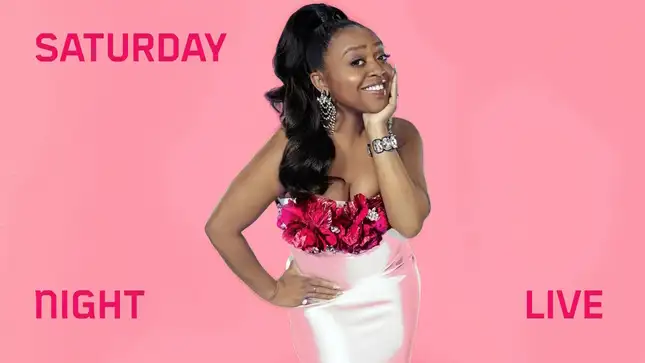 Aired (NBC)

April 1, 2023

Director(s)

Liz Patrick

Creator/Executive Producer

Lorne Michaels

Head Writer(s)

Kent Sublette




Alison Gates




Streeter Seidell

Host/Musical Guest

Quinta Brunson/ Lil Yachty

Cast

Michael Che




Mikey Day




Andrew Dismukes




Chloe Fineman




Heidi Gardner




Punkie Johnson




Colin Jost




Ego Nwodim




Kenan Thompson




Bowen Yang




Marcello Hernandez




James Austin Johnson




Molly Kearney




Michael Longfellow




Sarah Sherman




Devon Walker
Recap
This content contains pertinent spoilers. 
Writer's Note: Wherever I Look has offered me the chance to review Saturday Night Live, a sketch show I've been watching since I was 6. While thankful for the opportunity, covering a sketch show requires a different format than the scripted shows usually covered. I'll cover overall thoughts in the recap with a rundown of the show's standard structure and discuss sketch highlights, low lights, and performances.  
Saturday Night Live continues its hot streak of guests with Emmy Award winner/ Abbott Elementary star/comedy virtuoso Quinta Brunson. While Brunson has risen to fame with her feel-good teacher sitcom Abbott Elementary, she has a deep history of sketch comedy with her start in Second City and work in "A Black Lady Sketch Show"  (which I have the honor of reviewing soon). By embracing all the weirdness SNL can be, Brunson blended perfectly with the cast, had chemistry with all members, and was a season highlight that I hope we continue to see as a host in the future.

This episode looked unsure of happening a few weeks ago, as the show's editorial crew were to strike after being paid below industry standards. Some of SNL's most viral and shareable sketches these days are pre-filmed and rely heavily on the work of editors to catch the right tone for each satirical piece. But the crisis was averted as NBC agreed to pay the editors up to 60% more. You can see the amount of work the editorial crew completes in such sketches like this week's "Bridesmaids Cult" and "Street Eats." And remember: they complete these videos often in less than 48 hours.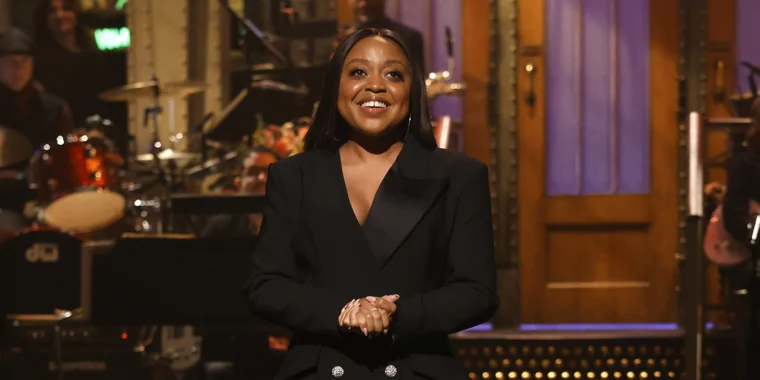 Quinta Brunson is known for playing the optimistic and cheerful teacher Janine Teagues. But she played against type throughout this week's episode with various weirdos, from her creepy drug dealer character in "Drug Dealer" to her sexist buffoon boss in "Bosses." Brunson knows comedy and made this week's SNL feel loose and exciting within each sketch. Personal expectations were high for this rising comedy star to get a chance to showcase her talents in a comedy institution. But Quinta Brunson delivered.
Rundown of the Week
Cold Open:
The Cold Opens often feels like a mandatory commentary on the week's biggest headline, and this one was no exception, but topical humor aged badly. Most comedy about Donald Trump always feels aged since comedy has covered every possible corner of Trump for the past 8(!) years. But Donald Trump is again in the news for being the first president ever to be indicted, so a Donald Trump sketch is what we get.
While James Austin Johnson gives a terrific Trump impression that feels equally alive and ad-libbed as the actual man himself, historical headlines do not make historical comedy. Though the "Succession" jokes about Don Jr. being the Kendall Roy of the family did crack me up, this cold open had no structure and felt even longer due to a Trump premise. 
Host Monologue
Quinta appeared confident and eager from the top. Many hosts explain how it's a dream to host, but knowing Quinta's background, her words hold that much more weight. She shared her personal story and a political message about teachers, making it all funny in one swoop. She's a comedy MVP now getting her deserved spotlight.
Weekend Update
Michael Che and Colin Jost continue to thrive as old coworkers in the office, and seeing them together now feels like comfort in a show that's experienced a massive cast change this year. The two veterans are now cheered just for saying their names. But instead of relying on the good graces of their celebrity status for easy jokes, the two hosts continue to make the show FEEL live by surprising each other.
This week, the most memorable moment wasn't any joke, but when Che pranked Jost by explaining midway through the segment that he told the audience not to laugh at Jost's jokes. In a rare moment of total lost composure, Jost turns red in embarrassment and laughter, making the audience laugh even more. With these two, we feel like part of the gang.
10 to 1 Sketch: Bosses
While technically, Please Don't Destroy had the last sketch of the night, "Bosses" was the final live sketch and utilized Brunson and Sarah Sherman as they became full cartoons of boss figures. Albeit sexist boss figures, but when you have a sketch that crescendos into playing bongos on a woman's breasts, you have to appreciate the pure commitment to absurdity. Sherman, in particular, fills each strange character with joy and always infuses a sketch with some mischief. 
Review
---
Community Rating:
---
Notable Performances or Moments:
Quinta Brunson fit naturally in with the rest of the cast. This was the season's first episode that felt as if I was watching comedy stars play with other comedy stars. Everyone had a chance to pop up in at least one sketch, but Mikey Day, playing an exasperated driver stuck in traffic, takes a special physical skill set while maintaining a straight face the entire time.
Once again, Sarah Sherman always knows how to grace a sketch with her own demented twist, and Marcello Hernandez' "Short King" monologue was another terrific showcase for the animated comedian.
Sketch Highlights: Traffic Altercation
In a 5-minute sketch with physical comedy, callbacks, and twists, "Traffic Altercation" was bursting with energy and wrapped in a timeless premise. Quinta Brunson and Mikey Day are so committed to their road rage antics that I'll be thinking about this sketch while stuck in traffic for many commutes to come. I'm still trying to decipher whether their hand motions were written on the cue cards, memorized, or improvised.

Low Points: Trump Indictment
James Austin Johnson is still fun to watch as Trump, but making Trump a focal point of a sketch feels strangely dated and tired rather than funny. And if this is the best they got, this upcoming presidential campaign will be rough. 
On The Fence: Street Eats & Please Don't Destroy
The Please Don't Destroy trio can quickly take a one-joke premise to an absurd level before delivering a final twist. Their writing is concise, their sets are imaginative, and most importantly, they're funny. But as they venture away from their office room sketches, they rely more on good editing than good jokes. "Street Eats" felt thrown in to fill time rather than earn its final 10-1 slot. 
[ninja_tables id="74655″]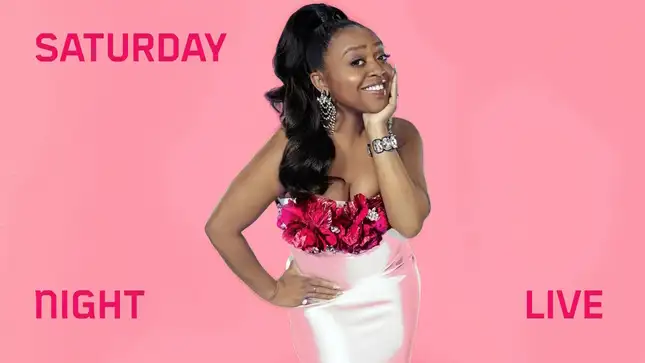 Saturday Night Live: Season 48/Episode 16 "Quinta Brunson/Lil Yachty" Review
Overall
Brunson's ability to be joyful, weird, and joyfully weird sets the tone for a classic SNL.
Highlights
Quinta's versatility in sketches like "Drug Dealer," "Traffic Altercation," and "Bosses"
Disputable
Political Cold Open feels dated and unstructured
---
Follow, Like, and Subscribe
Community Rating: 0.00% (0) - No Community Ratings Submitted (Add Yours Below)