Ozark: Season 1/ Episode 2 "Blue Cat" – Recap/ Review (with Spoilers)
Ozark makes a positive turn as Julia Garner shows up, we see these rural people ain't stupid, and Marty shows he isn't a complete ass.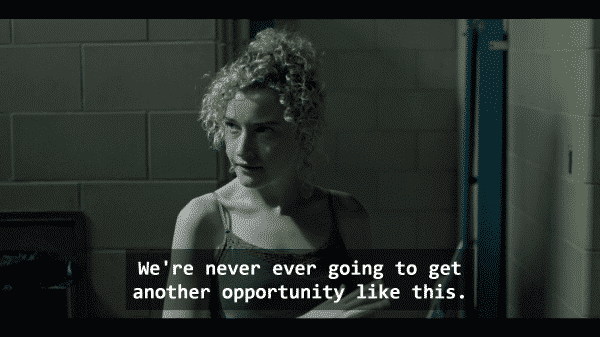 Ozark makes a positive turn as Julia Garner shows up, we see these rural people ain't stupid, and Marty shows he isn't a complete ass.
Meet Ruth: Ruth (Julia Garner), Marty, Charlotte
While Marty is trying to hunt for a place to wash money and Wendy a place to live, all that is asked of their children it to watch the room. After all, all of their stuff is in there plus roughly $8 million. However, Charlotte gets bored and ends up running off with some local boys. Then with Jonah, he too gets bored and while his interactions with locals lead to something positive, Charlotte doesn't get that chance at redemption.
You see, the two boys she hangs out with are related to Ruth. A girl of around 19 years of age who is very adept at breaking and entering. Which she does while the kids are gone and steals a suitcase full of money. Something Marty, after Charlotte is arrested for hanging with those boys on a stolen boat, has to get back.
Problem is, he has to battle wits with Ruth. Something which may have seemed easy at first, but she makes it very hard for him. And while Marty wins their battle of wits, you can tell it isn't over.
Commentary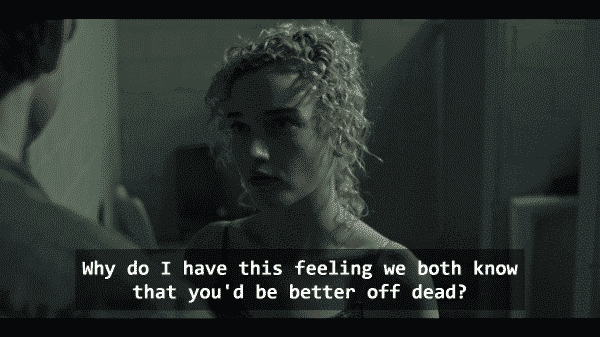 While watching Garner face off with Bateman, I realized the main thing this show is missing is someone to check him. For while the FBI are on his tail, the person who is assigned to him is an ass. So Garner makes the perfect foil. For, she is capable of going head to head with him and presenting a challenge. Which is something I don't think Marty has prepped for. So it should be interesting how Ruth acts knowing this man has all this money, knowing it is for something illegal, and with her perhaps desperate for cash, how she may plan to get some of it.
For, I should note, just because her family backed down, it doesn't mean they're stupid. They took at least $20,000 for their troubles knowing Marty was in no position to say he was a bad steward of their cash. Which brings up one last thing I love about Ruth and many of the rural characters on here, they ain't stupid. They don't live up to no southern stereotypes of being kind and gullible. Which, with Marty's city slicker ways and arrogant persona, I think will lead to more than just Wendy getting frustrated with him enough to slap or punch him. Something I'm so excited for.
Buying a House: Wendy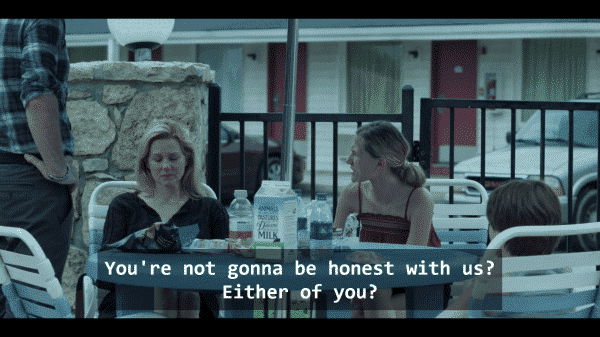 Wendy is tasked with buying a house. She has a good chunk of money but a lot of the stuff she sees, while in Marty's designated price range, isn't a place she is trying to make a home. That is until she sees one owned by Buddy (Harris Yulin). A man of 82 years of age, who is sexist, a bit creepy, but has a lovely home for sale. The only caveat is that he gets to live in the basement until he dies. Which, with heart failure pending, he says maybe a year to 18 months.
So, despite his attitude, Wendy decides this will be the family home. Oh, and I forgot to mention, after Charlotte asking one more time, "What is happening?" Wendy reveals the truth. That Marty launders money for a Mexican drug cartel.
Commentary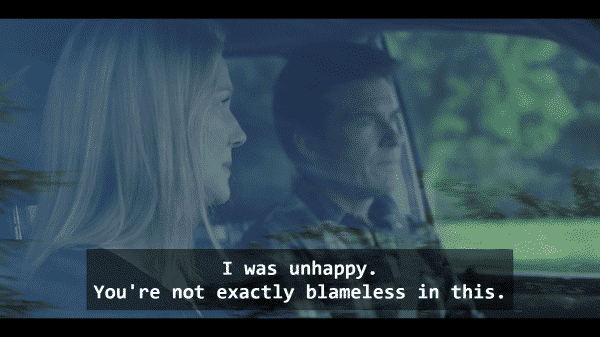 Wendy has a master's degree and has been a homemaker since Charlotte was born. She is willing to work to help Marty, and while she knows their relationship is over, they are in this BS together. I don't know about you, but Wendy's life is so perplexing that I can't even put myself in her mindset.
I mean, just think about it. One day you are having an affair and the next that same man is being thrown from his balcony. Now you get this vibe you are on the run with millions of dollars and you have no choices. She has been out of the workforce for 15 years raising her kids. What job can she suddenly get so she can take them, leave Marty, and live comfortably?
Not to forget, because Marty's employer Del knows that she knows about his business, she can never be free. She'll always have to look over her shoulder, worry whenever the kids are late, and so she is truly trapped and forced to make the best of things. Poor woman. Maybe Buddy, when not creepily looking at Charlotte, maybe someone she can vent to?
Finding a Place To Wash $8 million in 3 months: Marty, Jonah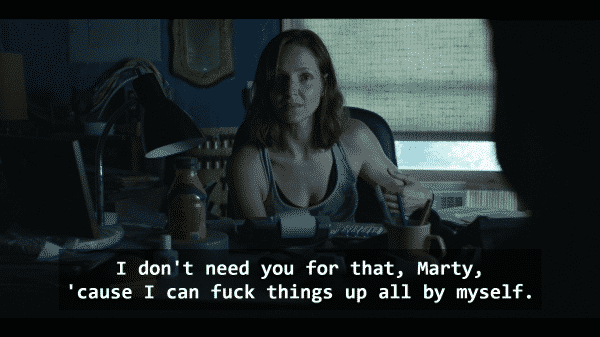 As noted, while in a rural area, these people ain't stupid. Some man suddenly comes into their life talking about investing in their business? Something has to be up. So, one after another, he is either told no or someone makes him aware that he isn't fooling anyone.
However, and this is when Jonah comes in, he mentions his new friend Tuck (Evan George Vourazeris) and this place he works at. A place where, after Marty realizes the insurance company won't pay out his life insurance if he commits suicide, he checks out. Which leads to another no by the owner Ms. Garrison (Jordana Spiro[note]I think[/note]), but when he defends Tuck in front of her, he may have just won her over. He lost a fight in the process, but sometimes you got to take a loss before making a profit.
Commentary
After showing him as calculated, and a low-key arrogant butt hole, I liked that, even if it was to manipulate Ms. Garrison, Marty's softer side came out. For while you could call Marty a victim of circumstance, there has been so very few reasons to feel bad for him. Even in terms of his wife cheating on him, you sort of get it. For the way Bateman plays him just makes it so when he gets hit, you leap for joy.
Yet, with him defending Tuck, you can perhaps understand why Wendy gave up his life for this man. If just a little bit. Now, here is hoping Tuck gets to become a fully developed character and isn't just a tool Marty used to get ahead in Ozark.
---
Follow, Like, and Subscribe
Community Rating: 0.00% (0) - No Community Ratings Submitted (Add Yours Below)