High School Musical: The Musical: The Series: Season 1, Episode 1 "The Audition" [Series Premiere] – Review, Recap (with Spoilers)
As Disney remakes its classic animated films for new generations, so comes them now tapping their classic Disney Channel original movies with High School Musical: The Musical: The Series.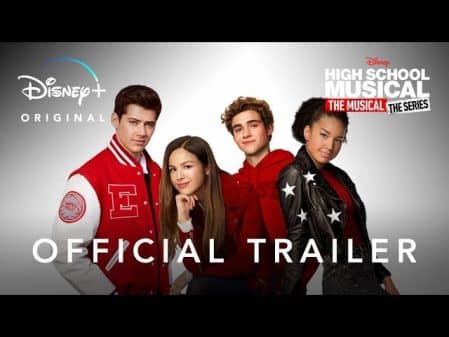 As Disney remakes its classic animated films for new generations, so comes them now tapping their classic Disney Channel original movies with High School Musical: The Musical: The Series.
---
Network
Disney Plus
Creator(s)
Tim Federle
Director(s)
Tamra Davis
Writer(s)
Tim Federle
Air Date
11/12/2019
Genre(s)
Musical, Comedy, Drama
Good If You Like

High School Musical
Shows Which Take Place In The Real World Focused On A Fictional Universe
Teen Drama

Introduced This Episode
Nini
Olivia Rodrigo
Ricky
Joshua Bassett
Miss Jenn
Kate Reinders
Mr. Mazzara
Mark St. Cyr
Carlos
Frankie A. Rodriguez
Gina
Sofia Wylie
EJ
Matt Cornett
Courtney
Dara Renee
Plot Overview/ Review
---
Community Rating:
---
It all begins with Ricky not saying he loves Nini after she makes an entire song to express she loves him and posts it on social media. Combine that with him asking for a break, her taking that as a breakup, and then dating a senior who has no issues with the idea of loving someone, and so begins the drama. Which, by the way, isn't helped by a new drama teacher, Miss Jenn, wanting to put on High School Musical at the school where the original movie took place. Which, for her, is a dream come true, especially after learning they never did the musical.
However, she doesn't seem to have a huge amount of support. If there aren't budget concerns, there are those like Mr. Mazzara who don't necessarily value arts education – for practical reasons. But, with a sophomore named Carlos by her side, who also gives her the in on who auditions, she seems ready to take on creating a musical.
What she doesn't know yet is that Ricky is using the musical to win over Nini, Nini may not be over Ricky as much as she says she is, Nini's new boyfriend EJ is caught in the middle, and then there is Gina. She is a transfer student who is used to playing the lead, and goes for Gabriella. However, despite her vocal and dance talent, Ms. Jenn likes better on the underdog, so Ricky and Nini are cast as the leads. Let's see if she may ultimately regret that decision.
Collected Quote(s) or .Gifs
How do you stop having a dream? You live it.
— Nini and Her Grandma
Question(s) Left Unanswered
What happened between Ricky's parents?
Highlights
The Documentary Segments
While getting one on one interview segments with cast members is nothing new, and is starting to feel a little too frequent, it works. For while the cast feels distinctive enough to differentiate Nini from Gina, much less who'd you pair as their High School Musical counterparts, getting this extra time to be in their heads is invaluable. Especially in regards to getting a better sense of who they are and not the façade they put out when at school or home.
It Seems Like A Decent Mix Between Glee And What Rise Tried To Do
While people don't break out into song, there is singing, and it is a mix of the songs from the original High School Musical as well as an original song that Nini sings. It's the one she uses to confess her love to Ricky, and it has strong King Grannis vibes. Meaning it is charming, a bit mellow, yet no less impactful due to the feeling behind it.
And with that, combined with the preview showing something wrong with Gina, and taking account Ricky's parents might be veering towards divorce, you get a good mix of the light stuff that Glee offered but this vibe that the more serious issues will be more consistent, like in Rise. But without it being a tad overbearing.
Criticism
Courtney Being The Sassy Black Friend
Maybe this is just me being sensitive, for there is something about Courtney which could certainly evolve, but right off the bat, red flags are being raised that we're going to get that classic big personality Black girl who is paired with this quiet person who her life revolves around. All the while, we learn a minimal amount about her despite her despite Courtney likely becoming one of the most interesting characters on the show. Partly due to mystery, but also since she is one of the few who seem the most personable.
Which, in itself, is the big issue with the whole "Sassy Black Girl" thing since there are many Black girls and women like her. However, the problem is, as real as Courtney may seem to some, there remains the question if she will be more than the best friend, a look, and gets to have consistently seen family, a life outside of Nini, and more.
On The Fence
Nini's Love Triangle
A senior who is a jock, and in touch with his emotions, versus your ex of a year who struggled with the idea of him saying you love him. I mean, I know they are young, and first love sets a precedent for everything but what is the challenge here? Much less, he is doing the most by auditioning for the musical you are trying to get in, just to force you to be around him.
Now, I get teen romance, if not most productions that dabble in romance, ignore that the way dating is often portrayed is a bit predatory and creepy. However, one of the ways things change is by media showing alternate routes. So High School Musical: The Musical: The Series doing what we usually see, and making it romantic, is lowkey problematic.
---
Community Rating:
---
High School Musical: The Musical: The Series, benefits from a talented cast, but struggles for a few reasons. First and foremost, it is as much a pilot to get you interested in the series as it is an advertisement as to why you should get Disney+. And, frankly, like with the Lady & The Tramp film, there is a need to question, what makes this good enough for a brand new service, but not for your already established platforms?
Because, if you aren't into Star Wars or the hyped stuff from the Marvel Universe, I can't say High School Musical: The Musical: The Series is the kind of title which pushes you to add another subscription service to your budget. If anything, with FreeForm now venturing towards having three hours of programming some nights, you'd think it would premiere there.
Leading to why the mixed label. What clips this show at its knee is the weight of it not being available on something you already pay for. With that, it makes Nini's love triangle and how Courtney is introduced as bigger issues than if this was made for ABC, FreeForm, or even the Disney Channel. So while, if you were already planning to get Disney+ this is a nice addition, I wouldn't say this is a selling point.
[td_block_11 custom_title="High School Musical: The Musical: The Series Directory" tag_slug="High School Musical: The Musical: The Series" td_ajax_filter_type="td_category_ids_filter" ajax_pagination="next_prev" limit="3″ td_ajax_filter_ids="11, 3606,36471, 25″]
The Documentary Segments - 85%
It Seems Like A Decent Mix Between Glee And What Rise Tried To Do - 86%
Courtney Being The Sassy Black Friend - 65%
Nini's Love Triangle - 70%
---
Follow, Like, and Subscribe
Community Rating: 0.00% (0) - No Community Ratings Submitted (Add Yours Below)