Fantasy Island: Season 2/ Episode 4 "Mystery In Miami" – Recap/ Review (with Spoilers)
---
Community Rating: 0.00% (0) - No Community Ratings Submitted (Add Yours Below)
---
This post may contain affiliate links and spoilers. Please read our disclosure policy.
---
As a group of friends search for a fourth member who went missing decades ago, Ruby is introduced to a loophole to get her off the island.
Aired (FOX)
January 23, 2023
Episode Title
Mystery In Miami
Director(s)
Diana Valentine
Writer(s)
Karine Rosenthal
Noted Characters
1985 Rosemarie
Meredith Jackson
Modern Day Rosemarie
Maureen McCormick
Norah Krawczyk
Daphne Maxwell Reid
Judy Jackson
Lynn Whitfield
Marcia Farrell
Brett Butler
Elena
Roselyn Sanchez
Ruby
Kiara Barnes
Javier
John Gabriel Rodriquez
Segundo
Daniel Lugo
Isla
María Gabriela González
Recap
This content contains pertinent spoilers. Also, images and text in this post may contain affiliate links which, if a purchase is made from those sites, we may earn money or products from the company.
You Only Know Half The Story – Rosemarie, Judy, Norah, Marcia
Judy, Norah, and Marcia come to Fantasy Island hoping to find their friend Rosemarie, who disappeared sometime in the 1980s. They weren't sure why, but they discovered it was because she was on the run from her ex named Bill. Someone who chased her from Miami to Minnesota, but it is in Miami in 1985, they learn the truth and get the kind of conversation that reminds them of why they miss and value Rosemarie so much.
For Judy, she needed the space and grace to be angry her husband died. Marcia needed to be free of the guilt of divorcing the father of her children and Norah? She just needed someone to vent to about how bored she was and admit that she likes mysteries, and Rosemarie's was the most invigorating she had.
Together, they learn about themselves and potentially nudge their timeline so that, in 2022 or 2023 (not sure what year it is on the show), Rosemarie can return to their lives and talk about her husband, kids, and even grandkids.
The Feeling Of Being Trapped – Elena, Isla, Ruby
With Helene going to the mainland with Javier, Ruby is reminded that she is essentially trapped on the Island. Which, in some ways, is fine. It is rarely anything but warm and sunny, but she is bored and knows that, in terms of meeting people, especially to help her forget about Gina, she has to exist beyond the Island's magic.
So, Elena opens the door to Ruby venturing into people's fantasies, and by going into the fantasy of Norah, Judy, and Marcia, she gets to see Prince and hang out with gay people, like she certainly didn't have the chance to in her first lifetime, and this revives her. Through getting to experience the life she couldn't, due to having 3 kids and a husband, she becomes bold. So when she sees Isla, she pretty much kisses her on sight.
As for what will happen between them going forward, however? That is anyone's guess since it still isn't clear whether Isla is real.
The Difference Between Lonely and Alone – Segundo, Elena, Javier
Segundo knows Elena has changed. She was an island within herself before, but now she has Ruby, Javier, had Mr. Jones at one time, and has really made the process of opening up not be a teeth-pulling practice. But, with her trying to support Javier and Helene in getting to know each other, there is a recognition of longing and loneliness there. Which Elena begrudgingly recognizes, and it leads to her committing to getting to know Helene more.
Things To Note
Question(s) Left Unanswered
Whether or not Isla is a real person or conjured by the Island.
What Could Happen Next
In two weeks, we see the early days of Elena on the Island, and it should be interesting to see if maybe she experienced a fantasy when she arrived
Review
Highlights
Ruby Getting To Be Gay With Some Gay People
Ruby's journey into queerness has been limited by what the Island is willing to give her. Be it Isla, who pops in and out, creating reasons for Gina to show up, or guests, who allow Ruby to embrace who she is and find community. But, with her now having access to people's fantasies, it should be interesting to see how often she, maybe with Isla, look for places where she can be all she didn't get to be in her past life and experience a sense of community she has been longing for.
Elena Evolving
There is a difference between being lonely and alone, and I think Elena became so adjusted to being alone, lonely became a foreign idea. And while she recognizes people have to live and experience their own lives, I think Elena might be coming to the point of wanting to participate in people's journeys.
Sometimes it might be on a small level, like we see with Ruby, where she plays the hostess role she has mastered. However, with Javier, there is her not wanting to guide, give a blessing, and expect a report, but perhaps get her hands dirty. Which, with Helene losing a mom, could mean a closer relationship than Elena may expect. Especially if Elena is expected to open up about her rarely talked-about lineage.
[ninja_tables id="60009″]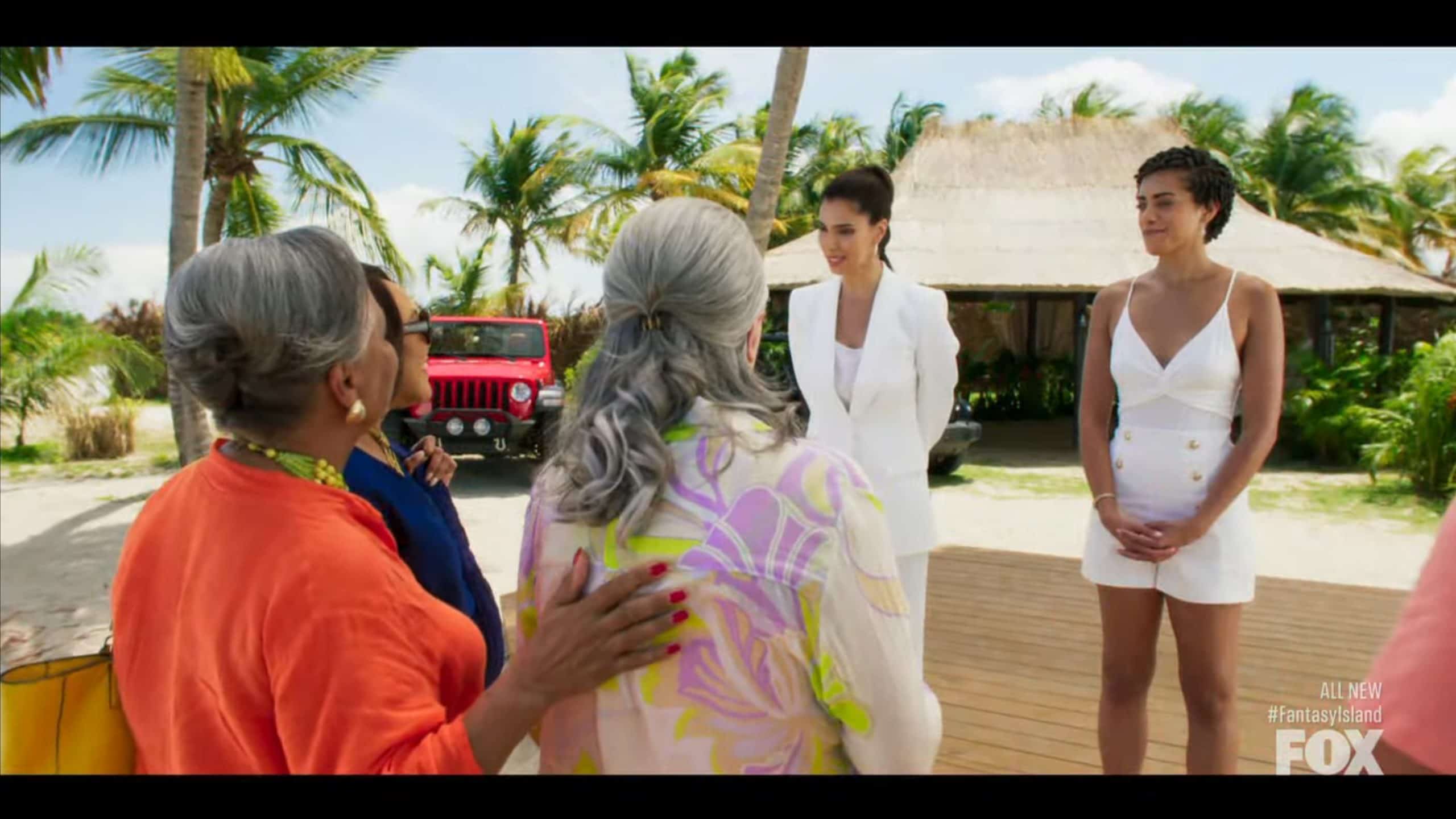 Fantasy Island: Season 2/ Episode 4 "Mystery In Miami" – Recap/ Review (with Spoilers)
Overall
While the guest star story may not have the highs we got from the first few episodes, the slow but steady journeys of the series leads do more than enough to keep things entertaining.
Related Topics:
Brett Butler
,
Daniel Lugo
,
Daphne Maxwell Reid
,
Diana Valentine
,
Fantasy Island
,
Fantasy Island: Season 2
,
FOX
,
John Gabriel Rodriquez
,
Karine Rosenthal
,
Kiara Barnes
,
Lynn Whitfield
,
María Gabriela González
,
Maureen McCormick
,
Meredith Jackson
,
Roselyn Sanchez