Fantasy Island: Season 1/ Episode 5 "Twice in a Lifetime" – Recap/ Review (with Spoilers)
We finally learn why Ruby gets weird around certain women as a new guest, and Javier, experience a fantasy.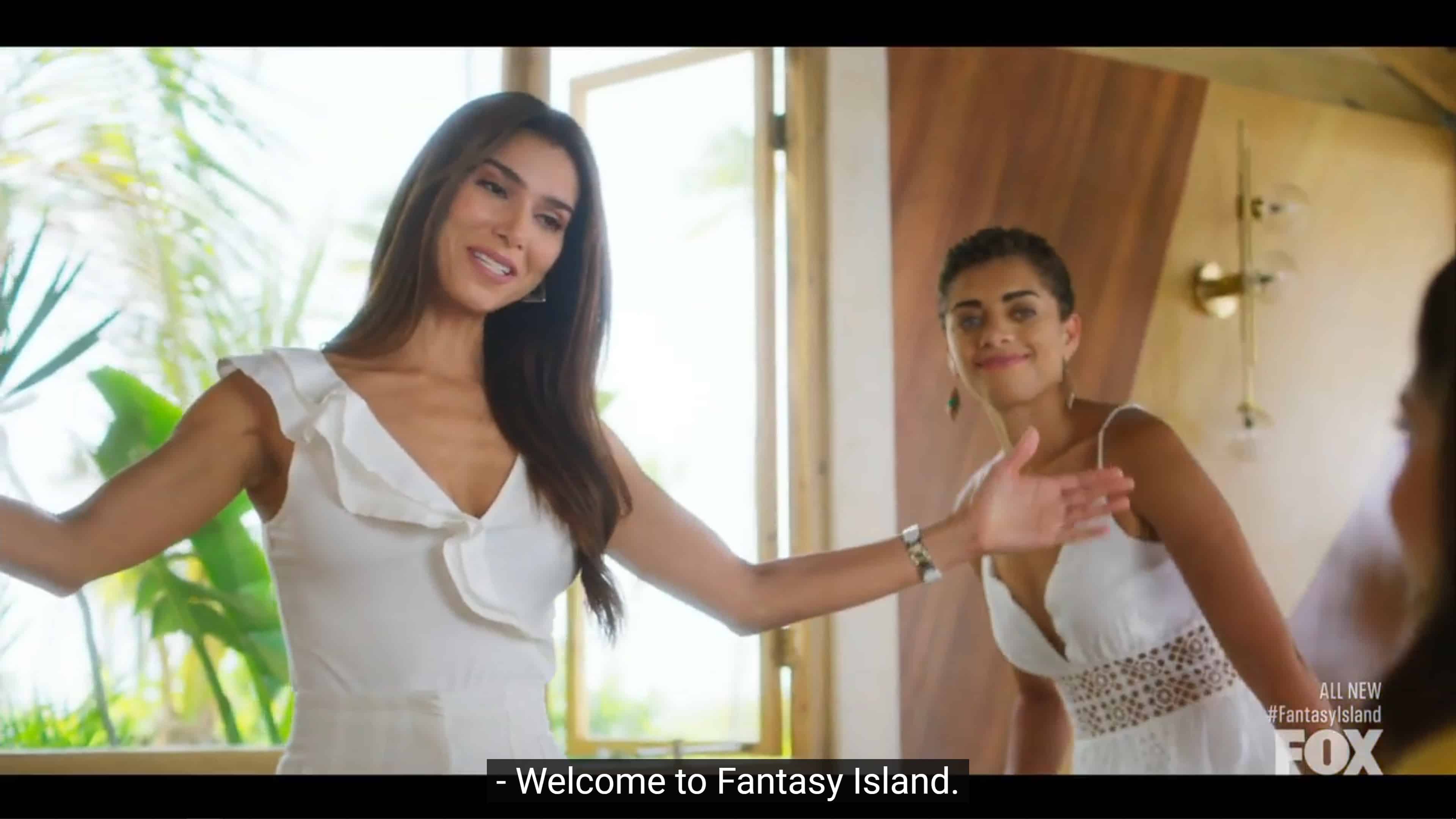 We finally learn why Ruby gets weird around certain women as a new guest, and Javier, experience a fantasy.
---
Aired
9/7/2021
Network
FOX
Directed By
Tara Miele
Written By
Sono Patel
Newly Noted Characters
Nisha
Anuja Joshi
Josh
Andy Favreau
Savin
Dhruv Uday Singh
Recap
You Don't Have To Be A Guest For Your Fantasy To Be Fulfilled – Javier, Elena
Javier has longed for some one-on-one time with Elena, but she has rebuffed him whenever possible. However, when her jeep gets stuck in the mud, and Javier's truck stuck as well, they spend an evening together, and Javier works his charms on Elena.
Mind you, for a bit, she is taken by Javier, but after a fun night, it seems she is ready to put things on ice again and end the fantasy the Island seemingly crafted.
Sometimes The Best Decision Is The Safest One – Ruby, Nisha, Josh, Savin
While Elena does check in on this week's guest, Nisha, Ruby assists Nisha's fantasy more. Now, what is her fantasy? Well, figuring out between her boyfriend of almost 4 years, Josh, or the man her parents are trying to arrange her to marry, Savin, who she should be with? This leads to the Island having her see what life would be like with both from the wedding day, trying to get pregnant, and her dad dying.
As all this happens, Ruby tries to guide her and even relates to her as we learn Ruby chose Mel over a woman she loved, Meredith, because, 50 years ago, it seemed like the safest decision. And considering the family she made with Mel, she doesn't regret her decision, but you can tell she is reminiscing a bit about what was.
I Choose Me – Nisha
In the end, Nisha decides she'd rather be single. Neither of the fantasies fit her perfect checklist of how her life or relationship should go, and so she never minds both men and her list as well. Now, instead of being a lawyer to finance her life, she is going to get into baking, which is her true passion, and enjoy herself.
Things To Note | Question(s) Left Unanswered
What We Hope Happens Next
I think we should meet Meredith and dig into Elena's past.
Collected Quote(s) & .Gifs
You can't hide from the hard parts of life. All you can do is find the people who will support you through them.
— Ruby
Review
---
Community Rating:
---
Highlights
Her Name Was Meredith
Finally, we learn who was the one who got away, and her name was Meredith. Hopefully, this has opened the door for Ruby to explore her sexuality and maybe her looking into Dr. Gina? If not, considering what the Island is capable of, bringing Meredith herself.
Another Strong Episodic Story
When the preview showed Nisha in bed with two men, I thought the show was going to take a step back, but it actually took a step forward. One, it featured an Indian woman as lead; two, it had two attractive men, one white and another Desi, who were interested in her; and three, it explored the challenges of an interracial relationship.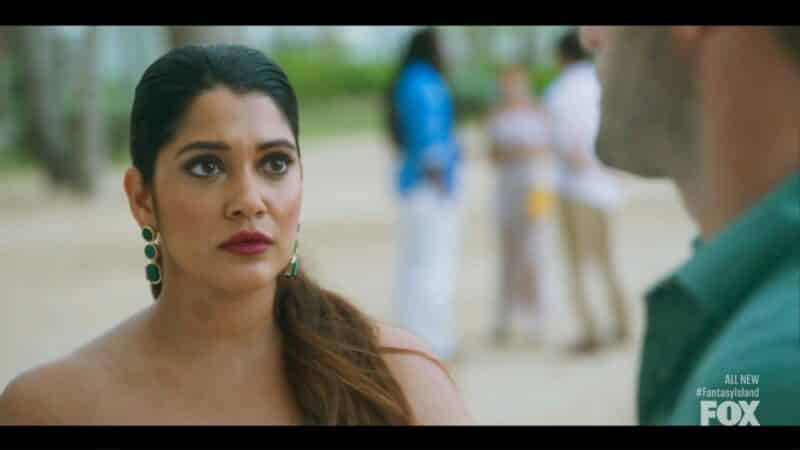 Alongside that, just seeing a 26-year-old with their entire life planned out freaking out because a decision is required, and they cannot autopilot their life – it was so relatable. Though, you could also add in how imperfect both relationships would be shown and Nisha ultimately choosing to be single. There was so much that went right and not a dang thing that went wrong.
The Need To Question Who Is And Who Isn't In A Fantasy
Something that I'm starting to wonder is who is and isn't part of a fantasy? Considering Javier willed his way into one with Elena, and it seems Ruby could be in a two-part fantasy, does this mean every character is in a fantasy, and the Island just extends some people's fantasies longer than others?
This is a highlight for us since, increasingly, we're being shown the dark side of the Island and how far it will go for the results it wants. So as it escalates things with the episodic guest, imagine how much it will push things for the long-timers like Elena, Javier, and now Ruby so that they become who the Island thinks they should be.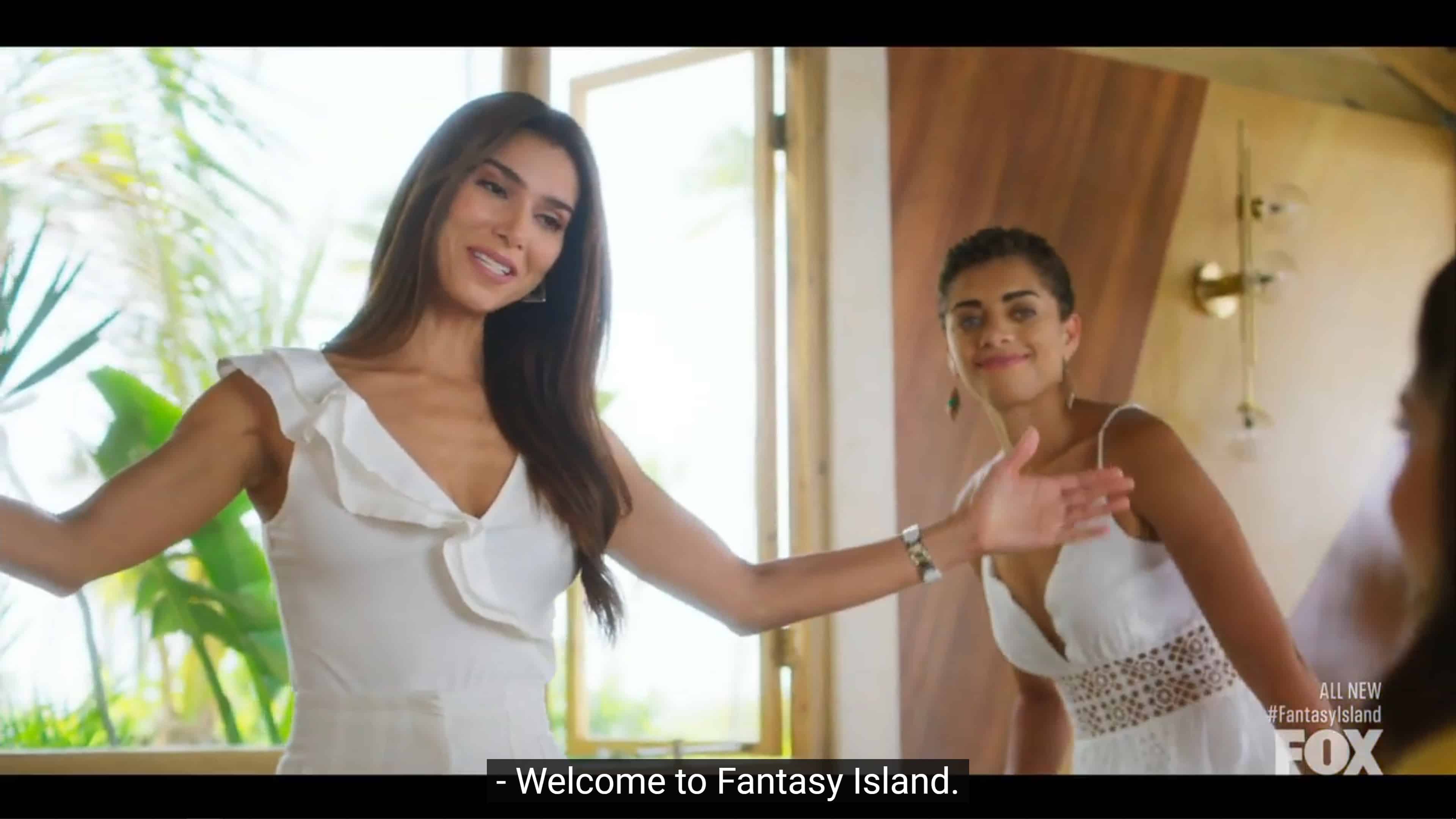 Fantasy Island: Season 1/ Episode 5 "Twice in a Lifetime" – Recap/ Review (with Spoilers)
Trajectory: Climbing
We value consistency and a show getting better in time. I think Fantasy Island is doing that, and while it won't win over everyone, I think it likely has found an audience who will dedicate itself to its continued existence.
Highlights
Her Name Was Meredith
Another Strong Episodic Story
The Need To Question Who Is And Who Isn't In A Fantasy
---
Follow, Like, and Subscribe
Community Rating: 0.00% (0) - No Community Ratings Submitted (Add Yours Below)