Black Lightning: Season 1/ Episode 11 "Black Jesus: The Book of Crucifixion" – Recap/ Review (with Spoilers)
Gambi may have found a way to not only buy Jefferson some time off the ASA's radar but also reconcile with him. Network CW Director(s) Michael Schultz Writer(s) Melora Rivera Air Date 4/3/2018 Actors Introduced Deputy chief Cayman Anthony Reynolds Detective Glennon Faron Salisbury Tavon Jasun Jabbar The Quota: Kara Though her main job is…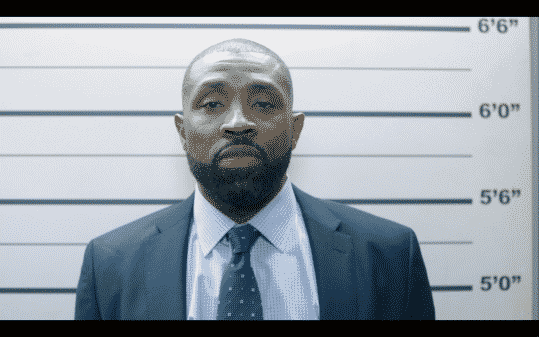 Gambi may have found a way to not only buy Jefferson some time off the ASA's radar but also reconcile with him.
---
Network
CW
Director(s)
Michael Schultz
Writer(s)
Melora Rivera
Air Date
4/3/2018
Actors Introduced
Deputy chief Cayman
Anthony Reynolds
Detective Glennon
Faron Salisbury
Tavon
Jasun Jabbar
The Quota: Kara
Though her main job is to monitor and facilitate, this doesn't mean Kara is just sitting around or just watching and waiting. From what it seems, she might be helping people get Green Light just to help with her numbers. Especially since, after the multiple moves to protect the metahuman assets, she ends up losing one.
The Setup: Kara, Jefferson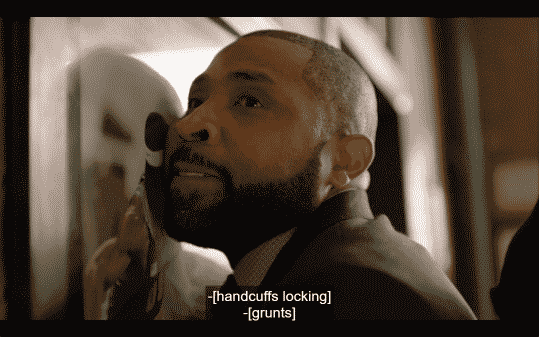 But what bigger catch could there be than Black Lightning who, with Proctor saying it is Jefferson, she has detective Glennon and Deputy Chief Cayman set him up with drugs so he can be arrested. Then, after he is humiliated and in a cell, from there he was supposed to be taken by "Federal Agents" to a black site. However, luckily for Jefferson, Anissa, Gambi, as well as Henderson, come with the save.
You Got A Friend In Me: Henderson, Jefferson, Gambi, Anissa, Kara
Remember how Henderson has spoken to Black Lightning that if anything happened to him, make sure he reveals the truth? Well, Henderson finally starts to make moves that would do more than ruffle feathers but disturb the whole system. Thus leading to Detective Glennon getting taken down and Deputy Chief Cayman. Which is half of the reason Jefferson gets out since Glennon admits to planting evidence.
The other half comes from the work of Gambi who, with Anissa, create this holographic image of Black Lightning and make it seems they are on the prowl, chasing after a dark van. Thus pushing the idea Black Lightning and Jefferson aren't the same person. Which, upon seeing that on the news, Kara immediately tries to push for the ASA to stand down but it seems that is not part of their plan. So while Jefferson maybe out of jail he isn't off the hook. After all, they know what Gambi is capable of so a parlor trick may confuse the masses, but they already know how the trick was done so they aren't as easily fooled.
Question(s) Left Unanswered
Whatever happened to Anissa's little Asian girlfriend?
Where the heck is Tobias?
Highlights
Henderson Moving On Up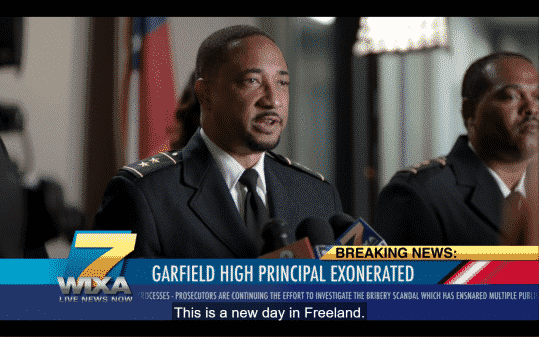 Though it increasingly pushes Batman vibes, you have to appreciate Henderson finally stepping up when it comes to handling corruption in Freeland. It has been something he has talked about for a while but it wasn't clear if he was ever going to make serious moves. But with taking two cops down, and getting promoted – which was a surprise – it seems he may start tracing where the corruption begins to see it end.
The only question is, will his life end before his investigation comes to light?
Jefferson Still Not Able To Easily Forgive Gambi
You have to love how one grand gesture didn't change things between Jefferson and Gambi. With that, there is a sort of realness you don't often see. Yes, you did protect me and my family, but you still are the reason I have these powers, why my dad is dead and essentially, we're cleaning up what is your mess. That is not something which can quickly and easily be forgiven. It can be water under the bridge, but just because we're past the emotions flooding doesn't mean the thought isn't still running in Jefferson's mind.
So, while one of the family again, it should be interesting to see how flare-ups are handled in the future.
Showing the Power of the ASA
While always noted as formidable, there was something about having this idea of "federal agents" come which made the ASA seem larger. In most comic adaptations, while there is a world outside the town or city our hero protects, it isn't really made into something they worry about. Yet, with the ASA having a federal presence and reach, that pushes the idea they aren't just dealing with some local or regional organization. This battle will be long-lasting and, as shown with the Kara reveal, it could be anyone that Jefferson deals with who could be undercover.
Slowly, But Steadily, Building up Kara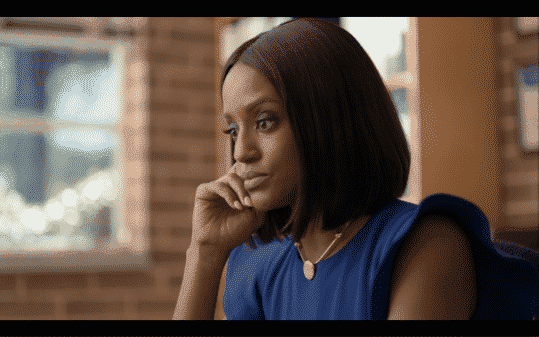 And speaking of Kara, though she isn't on a Lady Eve level, and never will be, she is crafting an interesting villain role for herself. On one hand, she seems to care about Jefferson and supports what he does for the kids, yet also is part of what threatens the kids' lives. She is part of the Green Light system and is monitoring who gets powers and who becomes an addict. Which is highly f'd up when you think about it. Especially since, for what we know, she may be more directly involved than we know.
---
Follow Wherever I Look on Twitter or Like us on Facebook.
---
Previous Episode's Recap
[visual-link-preview encoded="eyJ0eXBlIjoiaW50ZXJuYWwiLCJwb3N0IjoxOTYwMywicG9zdF9sYWJlbCI6IlBvc3QgMTk2MDMgLSBCbGFjayBMaWdodG5pbmc6IFNlYXNvbiAxLyBFcGlzb2RlIDEwIC0gUmVjYXAvIFJldmlldyAod2l0aCBTcG9pbGVycykiLCJ1cmwiOiIiLCJpbWFnZV9pZCI6MTk2MDksImltYWdlX3VybCI6Imh0dHBzOi8vd2hlcmV2ZXItaS1sb29rLmNvbS93cC1jb250ZW50L3VwbG9hZHMvMjAxOC8wMy9CbGFjay1MaWdodG5pbmctR2FtYmkucG5nIiwidGl0bGUiOiJCbGFjayBMaWdodG5pbmc6IFNlYXNvbiAxLyBFcGlzb2RlIDEwIC0gUmVjYXAvIFJldmlldyAod2l0aCBTcG9pbGVycykiLCJzdW1tYXJ5IjoiQXMgVG9iaWFzIHJlbWFpbnMgaW4gaGlkaW5nLCBMYWxhIGNvbnRpbnVlcyB0byByZWVzdGFibGlzaCBoaW1zZWxmIGFzIGEgdmlsbGFpbiwgYnV0IG5vdCBvbmUgdGhhdCB3aWxsIHN0YW5kIGluIEJsYWNrIExpZ2h0bmluZ+KAmXMgd2F5IHlldC4gSGUgaW5zdGVhZCBpcyBkZWFsaW5nIHdpdGggaGlzIHNlY29uZCBiZXRyYXlhbCBpbiBtb250aHMuIiwidGVtcGxhdGUiOiJkZWZhdWx0In0="]
---
Follow, Like, and Subscribe
Community Rating: 0.00% (0) - No Community Ratings Submitted (Add Yours Below)