It's Mother's Day and the eve of Sam's colonoscopy, and it seems she needs to let some s*** go.
---
Network
FX
Director(s)
Pamela Adlon
Writer(s)
Pamela Adlon, Joe Hortua
Air Date
4/11/2019
Images and text in this post may contain affiliate links which, if a purchase is made, we'll earn money or products from the company. Affiliate links and external links contain an upward facing, superscript, arrow.
My Middle Child: Frankie, Sam
It's Mother's Day and despite all Sam does, Frankie is the little monster she usually is. Be it ignoring Sam when she is trying to do something nice or asking for money despite how rude she is. Making it so when Frankie wants to slam her door and gets stuck, that seems like karma tipping her hat to Sam. Recognizing she needed to get away for a little bit.
The Only One Who Cares: Duke, Max, Sam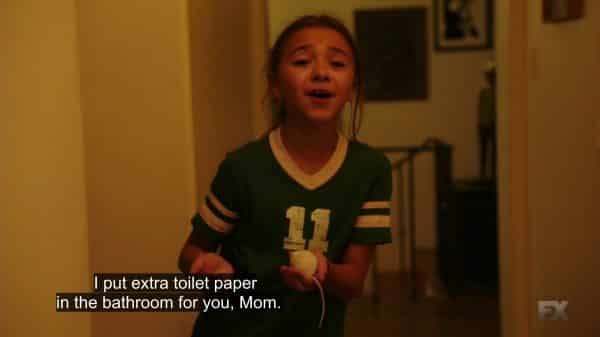 But, on top of being Mother's Day it is also the day before Sam's colonoscopy and while Frankie is being herself, and Max is apparently apartment shopping, Duke is showing she cares. She is making sure Sam has enough toilet paper, reminding her to use Vaseline, and is showing her uterus might have saved the best for last. For those other two? TRASH.
Physically Fine, Mentally/Emotionally Worn Down: Sam, Dr. Miller
Sam is a woman of a certain age, and so it is only natural polyps are found after her procedure. Luckily, nothing is found when they are checked, but while she is physically healthy, everything else? Maybe not so much. Then again, Dr. Miller seemingly has allowed his familiarity with Sam to get in the way and without a breakthrough on her marriage, family and other things on her mind, he gives up. Well, for because she won't mentally open up and he also would like to, romantically, pick up from where they left off. However, Sam curves him.
Question(s) Left Unanswered
Where was Phil during all this?
Did Sam's kids learn she was in therapy or is she ashamed of that?
Highlights
This Is Real Life
With live tweeting comes reading what people think and for some reason, the idea of watching Sam prep for a colonoscopy someone thought was disgusting and wasn't entertaining. Here's the thing: Better Things, on a fairly regular basis, is kind of disgusting. Also, while it can be seen as entertaining, I don't think the goal ever was to be the funniest or most dramatic show out there.
To me, Better Things has always been like a slice of life show which is almost modeled like a well-edited reality show. One which doesn't address the camera being there and just captures the best and worse of Sam's family. Including aspects of Sam aging and depicting what it means to be a woman of a certain age. Such as getting colonoscopies, cancer scares, and dealing with sometimes ungrateful children.
Which has always been the appeal. Better Things seems so natural that it doesn't feel scripted. If anything, it feels like a recreation of stuff which happened in each actors' life recreated and polished a little bit.
Follow Wherever I Look on Twitter, Like us on Facebook and Subscribe to the YouTube Channel.
---
---
Find Other Recaps/Review Of TV Shows & Specials On The TV Series Master List Page
---