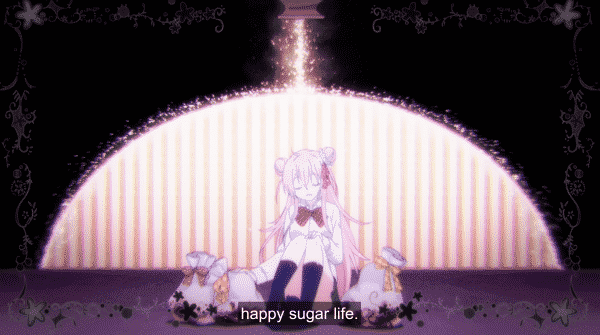 |
Happy Sugar Life is going to give you pause as we get to know Satou and why she is hell-bent on keeping this child, Shio, in her life.
---
Network
Amazon Prime
Creator
Tomiyaki Kagisora
Director(s)
Keizō Kusakawa, Nobuyoshi Nagayama
Writer(s)
Touko Machida
Air Date
7/14/2018
Genre(s)
Drama, Horror
Good If You Like
Psychological Dramas

Pink Haired Psychopaths

Childhood Trauma Stories

Shows Which Mix Chibi and Incredibly Dark Moments

Noted Actors
Satou
Hanazawa Kana
Shio
Kuno Misaki
The Introduction
Formerly, Satou was known to be a girl who had a revolving door of guys in her life. All because she so desperately wanted love that she'd try to find it in anyone and seemingly would be willing to do anything for it. But that is until she met Shio. From the looks of it, Shio can't be older than 7 or 8 and she adores Satou. In fact, her love for Satou might be the only thing keeping Satou sane and from doing bad things.
As for what is meant by bad things? Well, let's just say Satou's childhood has left her a little off-kilter. Because of that, she is capable of doing things most people wouldn't do unless pushed to their limits. Which Satou seemingly is already at.
Question(s) Left Unanswered
How did Satou met Shio and is her love for her in a sisterly, motherly, or more adult kind of way?
Does Shio go to school anymore?
On The Fence
It's Creepy Enough To Get You Interested, But Not To Think It Can Keep This Up For The Long Haul
I'm a strong believer in not trusting any anime which focuses on psychopaths and gore. Reason being, they don't know how to keep up or up the ante. They peak early on, sometimes in the first episode, and it is all downhill from there. However, what makes this particular pink haired psycho different is that it combines her crazy with something to live for. She doesn't kill and do shocking things for pleasure or money, it is to maintain her ability to protect and be with this child.
Which in itself raises many questions, and red flags, but then you have to take into account why she is psycho. Seemingly something happened with her mom that made her this way and add in her sleeping around to find love, you kind of get it. Not in a way you would accept in real life but for fiction? You get it.
That is, just as long as Satou's interest in Shio is protecting her and learning what love is through her. Much less, learning how to give that back in some big sister or maternal way. Otherwise, this very well may cross the line. Though, considering this is Amazon Prime and not a fansub, I think it is safe to say it likely won't be more than just violent.
First Impression: Mixed (Stick Around)
On one hand, I'm kind of weirded out to the point of questioning if I should watch this. Yet, anytime I'm not left indifferent or feeling I wasted my time, it makes me want to see more. Hope that a lack of excitement isn't from being jaded but just trust issues with decent to good first episodes.
Hence the mixed label because, Satou's background sets up something which, if explored the right way, could be interesting. However, this could easily just become about a psycho desperate for love and finding the love of a child being the only which seems pure. Without it getting deep into the why aspect and just focusing on the how she keeps this secret of hers alive. Which would be overworking herself until she snaps.
Follow Wherever I Look on Twitter, Like us on Facebook and Subscribe to the YouTube Channel.
---
Subscribe to Blog via Email
You Can Find The Podcast On All Major Platforms