As Chairman Aihara becomes aware of his new granddaughter, he questions who will influence who and makes some preemptive moves.
---
Network
Crunchyroll
Director(s)
Takeo Takahashi
Writer(s)
Naoki Hayashi
Air Date
1/13/2018
Catch Up or Follow Along [External]
Characters Introduced
Grandpa
?
---
Satiating Fleeting Lust: Yuzu, Mei, Harumin
With the academy being an all-girls school, one in which many of the girls are in pending arranged marriages, Harumin points out a lot of them are in same-sex scenarios. Ones often made to help with moments of lust. With this, Yuzu thinks she might understand Mei just a bit more. Especially considering, with the way she looks or talks when it comes to Amamiya, she sees that the girl isn't happy. Plus, with her being aware that she is just a come up for Amamiya, I guess whatever jollies she can get with Yuzu and maybe even her followers, for what we know, is just prepping for a loveless marriage.
One in which Amamiya may only be planning for two years together, but a lot can happen in two years. All of which won't benefit Mei much.
Recognize Me!: Yuzu, Mei, Grandpa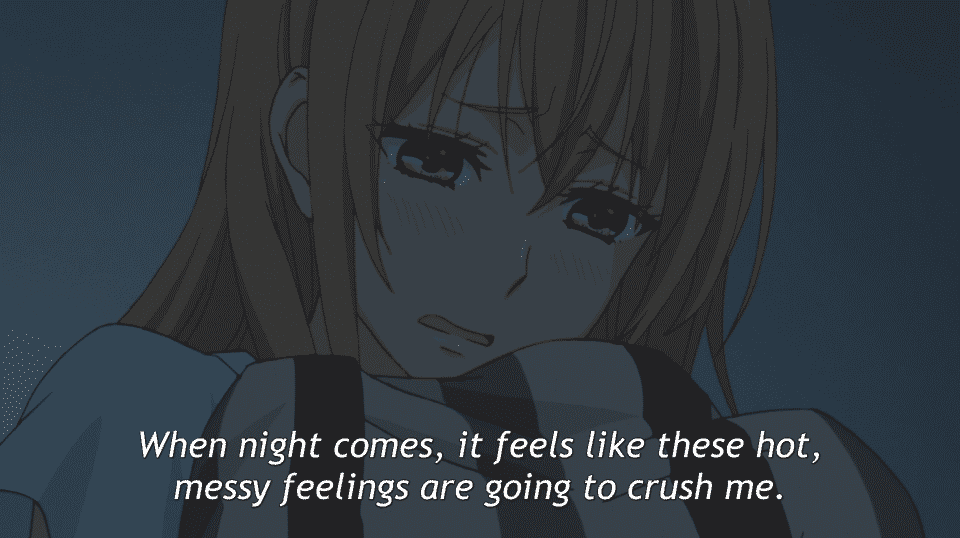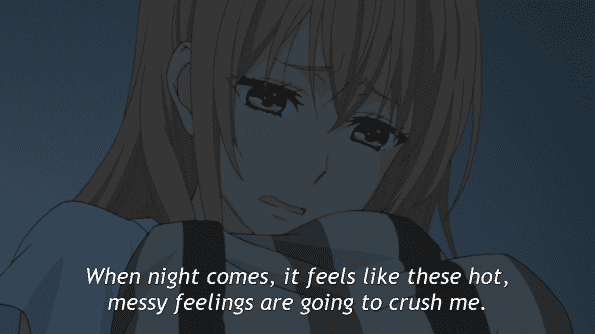 Despite the punishment Yuzu is threatened with, what pressure it may put on Mei, and the embarrassment it would place on Mei and her grandpa, she still dresses out of uniform. Then, to make matters worse, she publicly calls out the chairman being her grandfather and whatever relationship, planned or assault, Mei and Amamiya have – thus resulting in him resigning.
But, with Yuzu doing that, Mei is taken from Yuzu's home and forced to live with her grandfather. Something which seems to only bring her misery. Leading to Yuzu trying to make it right but, with Mei very much about appearances, and her grandpa not wanting her to associate with Yuzu, she begins icing her out.
Commentary
Taking note of the two topics above, I do wonder where Mei is on the spectrum. That, alongside whether or not Yuzu is the first girl she has been with. For I can fully picture Mei having a full on harem, considering the popularity she has. But, I also ask this question for you go to wonder how Mei discovered her feelings. Could it be Yuzu is the first one and while Mei may have looked and maybe played around, she never got into anything too serious because of her position?
Yet, being that Yuzu is new, her step-sister, and they have the privacy of a bedroom or bathroom shared, she feels free to explore? Especially since Yuzu, despite saying verbally she may not like what is happening, seems to give consent by not telling? At least, with the way Mei acts, that might be her point of view.
A Knight In Pigtails & Glitter: Mei, Grandpa, Yuzu
With Yuzu showing her emotional intelligence is greater than, pretty much everything else, she attempts to see if this is what Mei truly wants. Does she want to live with her grandpa instead of her and her mother? Of which the answer appears to be no, but she can't truly bring herself to say it. Yet, Yuzu pushes on rather than backs away and despite a distance Mei may have chosen, to avoid homosexual urges, things get complicated quick.
You see Yuzu shows up at grandpa's mansion with the stuff Mei left behind. With that happening, rather than take her stuff and leave Yuzu at the door, she lets her come up to her room. This leads to their usual passionate conversations and then Yuzu gets pushed by Mei onto her bed. Leading to buttons being popped off, tears flowing, from Mei, and just as Yuzu gives some form of reassurance Grandpa walks in.
This leads to Yuzu promptly being expelled and Yuzu wondering how to tell her mom all that happened. Well, at least the expulsion part. The rest she might just keep to herself.
On The Fence
The Complications of Consent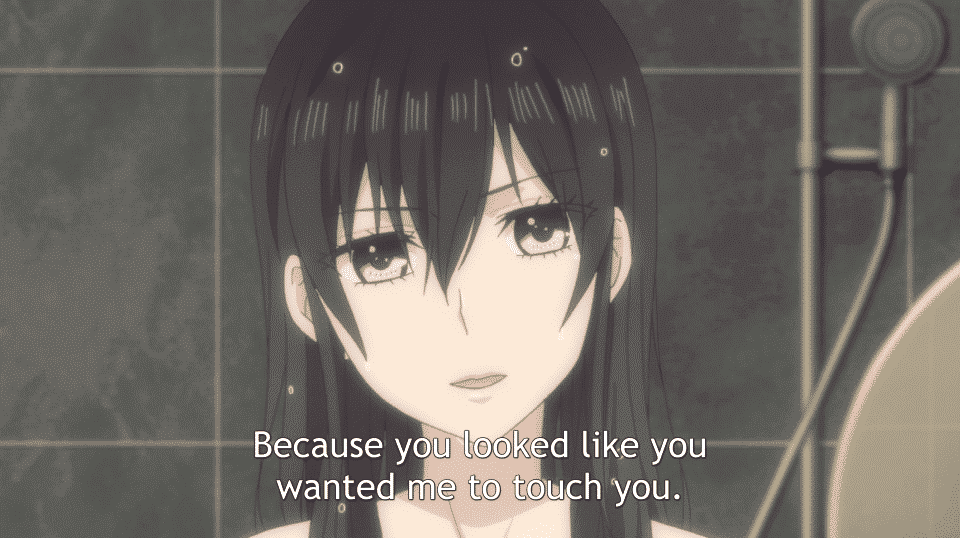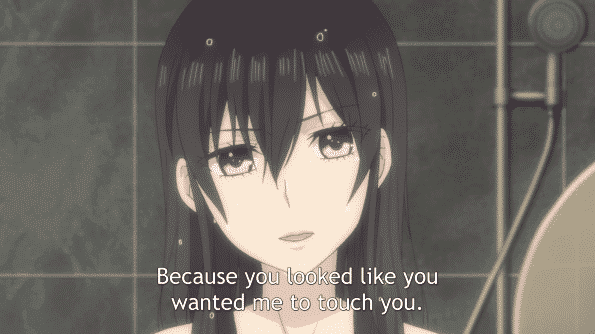 Like with Netsuzou Trap, there is a very complicated display of what consent is. Yuzu has shown that she is rather uncomfortable with Mei's advances, yet she keeps pursuing or allowing herself to be in Mei's intimate space. Thus causing this weird relationship. One in which, it is clear Mei wants something from Yuzu. It isn't clear if it is just to let off some steam or a relationship, emotional and/or sexual, but she is in pursuit of something. Of which we can hear Yuzu is interested in.
However, there is a question of if Yuzu is ready and willing to go there? Also, considering the way Mei is aggressive, usually by trying to pin Yuzu down, should we consider this assault? I mean, it fits what I'm sure most would define it as, but Yuzu's follow up is when people get a bit lost and confused. Though with it being clear they'll end up together eventually, it sort of ruins the conversation that could be birthed from this.
Question(s) Left Unanswered
Did Grandpa not know his son got married? Also, what was Mei expecting her father to do in this situation considering she has not seen him in 5 years?
Follow Wherever I Look on Twitter or Like us on Facebook.