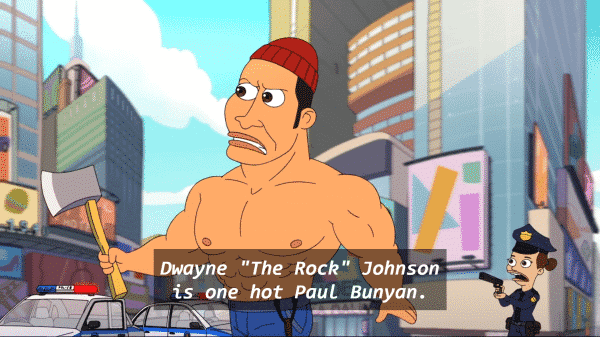 After Andrew's sexual awakening comes the question of what does he want to have sex with? Alongside Jessi and Nick trying to devolve their relationship back to a friendship.
Am I Gay?: Andrew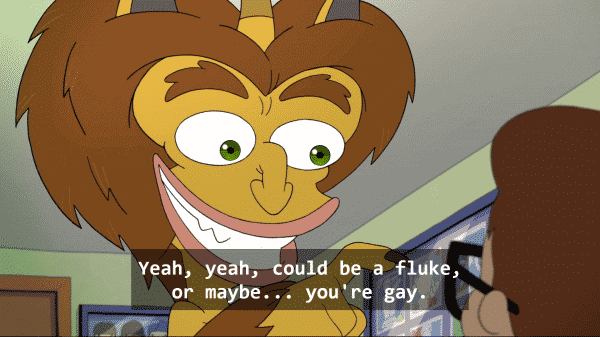 After a very homoerotic movie trailer, featuring Dwayne Johnson, gives Andrew a boner, he questions his sexuality. Leading to him seeking advice from Matthew, Duke Ellington, taking part in a music number with Freddie Mercury, but ultimately decided he isn't gay. If only because Matthew pushes the idea Nick would be his first love and after kissing Nick, he gets nothing out of it. Making it seem that either, A) Andrew is just not into Nick or B) Andrew is gay for The Rock. [note]Fun Fact: Matthew is quite close to the Hormone Monster and gave him the nickname of Morrey.[/note]
A Long Time Ago, We Used To Be Friends: Jessi, Nick, Andrew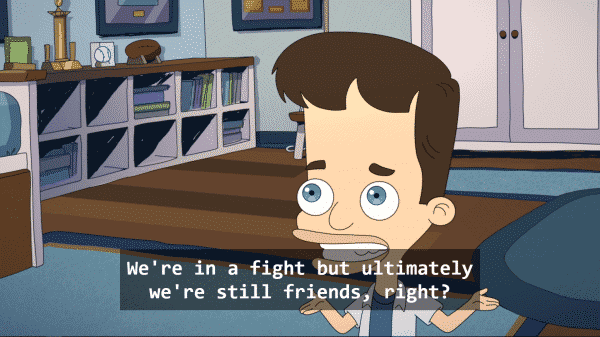 Jessi, with influence from the Hormone Monstress, decides to break up with Nick. Something that doesn't click in his head until his family reveals he was indeed dumped. So, due to ego, all on his own, he announces on Matthew's morning show he dumped Jessi. Thus starting a war.
Well, maybe that is going a bit far, for really it is just Jessi v. Nick. However, it does push Jessi to realize how, if there is a fight, everyone seemingly will gravitate to Nick before her. Thus leaving her with the female equivalent of Jay, Missy, to sit with. Who isn't a terrible friend but still very much a placeholder.
Luckily for Nick and Jessi, however, Andrew has enough maturity to push these two together and it leads to them reconciling. Even after Jessi thoroughly and publicly destroyed Nick.
Highlights
The Music Number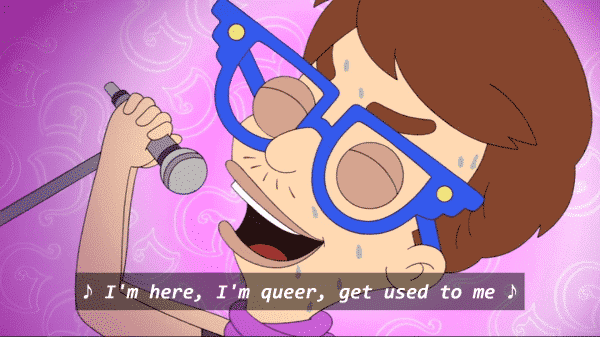 The music numbers on this show I think are going to become a consistent highlight. If only because they are so weird, yet catchy, and while I can't imagine them becoming iconic like some of the songs we've heard on South Park, give this show a few seasons. I bet you a few will get stuck in your head and have you wishing for a soundtrack.
On The Fence
It Is All A Spectrum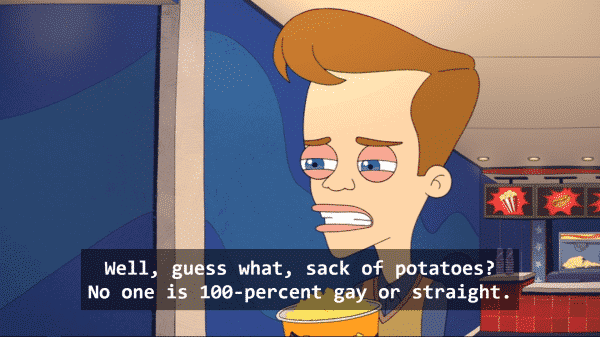 Though the episode heavily pushes the idea you are either gay or straight, and even mislabels Freddie Mercury as gay, at least Matthew cleaned things up in the end. It didn't lead to a conversation on the spectrum or what being bi means, but it is better than nothing I guess.
If only because, in the end, I think Andrew realizes he is a sexual being and hot people turn him on. But I do have to mention how low-key shocking it was that Nick kissed Andrew. On one hand, I get it is because he was trying to see if Jessi's criticism holds universally. However, at the same time, I get he'd do anything for his friend but that seemed a bit next level.