Alexa and Katie seems like something Netflix stole from the Disney Channel in terms of both the way the comedy is set up and Disney's new venture into more mature topics.
---
Community Rating: 0.00% (0) - No Community Ratings Submitted.
---
---
Network
Netflix
Creator
Heather Wordham
Director(s)
Andy Cadiff
Writer(s)
Heather Wordham
Air Date
3/23/2018
Noted Actors
Alexa
Paris Berelc
Katie
Isabel May
Gwenny
Kerri Medders
Lucas
Emery Kelly
Lori
Tiffani Thiessen
Dave
Eddie Shin
Jennifer
Jolie Jenkins
Jack
Finn Carr
The Introduction
Coming towards the end of her cancer treatment, Alexa is excited to be starting high school the same time as everyone else and keeping her treatment a secret. However, as she begins to lose her hair, she decides to do some drastic maneuvers and drags her friend Katie into her shenanigans. Thus leading to, before their first day of school, them both being suspended. Something, for naïve and sweet Katie, makes her quite mad at Alexa. Not just because she got her in trouble, but also because Alexa hid she was losing her hair.
But, to show solidarity, she shaves off her head and reaffirms, despite the troublemaker Alexa can be, as long as they are best friends, she'll be with her until the end.
Question(s) Left Unanswered
What is with Alexa's beef with Gwenny?
Collected Quote(s) or .Gifs
On The Fence
Same Cancer Story, But Different Age
Between Chasing Life and Life Sentence, young women with cancer isn't necessarily a new topic. What hasn't been done is showing how it affects a teenager. So while the comedy is written for tweens, it should be interesting to see how the show approaches Alexa dealing with cancer. Especially since it has this weird vibe, thanks to the narration, that pushes the idea that Alexa could relapse.
Outside of the Cancer, It Is Wildly Generic
Fully taking note shows like this aren't made for people of my age group, it is still hard to not question why this show has so many tropes. Be it one friend who is a troublemaker and the other who is sweet, naïve, and a bit out there. Oh, and the mother who is high strong and dad who, outright says, isn't as involved. Thus making him seem kind of absent-minded. Which reminds me, let's not forget the brother aspect.
Now, Lucas is the self-absorbed big brother of Alexa, who naturally Katie has a crush on, and Katie has her little brother, Jack. Someone we don't get to know all that well in the first episode, but I'm sure you'll feel like you've met him dozens of times, depending on your TV viewing habits.
But, despite the beginning, there is hope that the familiarity is just to set a foundation. Something which can evolve into characters who are complicated and only superficially seem like tropes. Especially considering Katie's mom, Jennifer, being a single mother, as well as Alexa's mom Lori, and husband Dave, not seeming like the most lovey-dovey couple. In fact, low-key, the way the mom talks, she had to grow to love Alexa's father. So there could always be an exploration of love being more than looks perhaps?
Am I being too optimistic about where this could go?
First Impression: Mixed (Stick Around)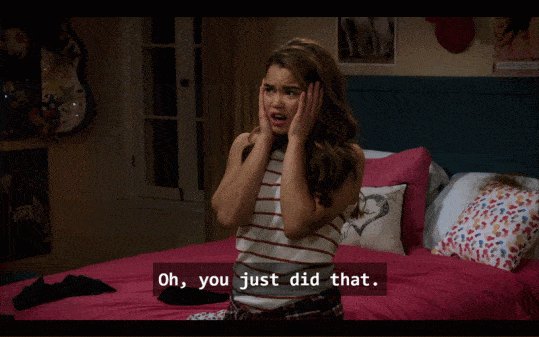 With every time I watch a show starring tweens and focusing on their issues, there is the question of maybe I'm just too old to be watching it. After all, in the case of Alexa and Katie, likely the shows I mentioned aren't programs the target audience has heard of. On top of that, what are tired tropes for me maybe won't seem old hat for the desired audience.
Yet, even with those two things given a pass on, the issue at hand is how deep will this show get? With programming like Andi Mack, Girl Meets World and Raven's Home out there, the bar has been raised. The question is, or ultimately will be, is Netflix going to treat this as a program used to increase their quantity or may we actually get a quality series with Alexa and Katie?
---
Follow Wherever I Look on Twitter or Like us on Facebook.
---
---
Watch: Here [External]
Alexa & Katie | Netflix Official Site
Alexa is battling cancer. But with her best friend, Katie, by her side, she's also starting high school — and ready for whatever comes next.