A Back Lady Sketch Show: Season 4 – Review
A Black Lady Sketch Show may be missing some old cast members, but Robin Thede, Gabrielle Dennis, and
Skye Townsend become comedy all-stars.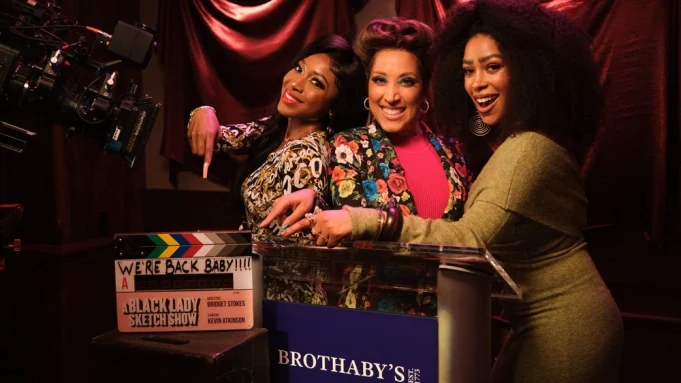 Network

Max

Created or Developed By

Robin Thede

Based On

N/A

Executive Produced By

Issa Rae,

 

Robin Thede, 

Dave Becky,

Jonathan Barry, 

Tony Hernandez, Brooke Posch

Genre(s)

Comedy

Cast (Playing Various Characters)

Robin Thede,

Gabrielle Dennis,

Skye Townsend,

DaMya Gurley,

Tamara Jade,

Angel Laketa Moore
This content contains pertinent spoilers.
Summary
What Makes "A Black Lady Sketch Show"?
A love of improv, silly yet sharp premises, goofy characters, a satirization of social issues, and an embrace of Black culture. While the first four traits can be found in many sketch shows, the fifth element is rare, and even more rare when it's from a female perspective. But "A Black Lady Sketch Show" is more than identity politics. It feels as if it's a joyous and liberating show with contagious laughs.
"A Black Lady Sketch Show" Season 4 may have only two of its original cast members, but it continues to be stronger and more confident than ever before. The editing is tighter, the cutaway reactions are more memorable, the guest appearances are smoother, the writing is concise, and the wisecracks are just as cutting as ever. The show knows its distinct voice, and while it's difficult to summarize a sketch show, each episode contains about five sketches that last no more than five minutes. Like any variety show, even if you don't like one comedy sketch, there's potential to like another just a few minutes away.
As Robin Thede wraps up her fourth season as creator, star, and executive producer, she has voiced that she sees the show continuing for as long as possible. Season 4 shows it has staying power with new cast members and can even continue long after Thede.
Review
---
Community Rating:
---
Our Rating: Positive (Watch This)
Who Is This For?
Any fan of comedy. But if you're looking for Black representation or just a quick, comforting comedy to make you laugh at the end of the day, take a chance on A Black Lady Sketch Show.

Notable Performances, Moments, or Episodes
Gabrielle Dennis and Skye Townsend take turns stealing the show in each episode. Their bursts of physicality, endless accents, and rubber faces create a fearless and funny performance within each sketch. When they're together, the sketches elevate to an astral improv field and they tap into an energy only they could access.
Episodes to Anticipate: 4.2 "What Kind of Medicine Does Dr. King Practice?" and 4.5 "Peek-A-Boob, Your Titty's Out"
Highlights
Smart Premises Explored and Escalated Quickly
"A Black Lady Sketch Show" knows how to quickly set up a concept and never outstay its welcome. You know, "the game" of a sketch within the first minute, and within the next 3 minutes, the sketch explores every avenue within the tiny comedy world it creates. Like in a sketch about cavemen housewives or a detective mystery about "Whose man is dis?" The writing cleverly knows when to take its bow and leaves the audience wanting more.
Unique Comedy Voice Can Blend the Line Between Nerdy, Black, Goofy, and Relatable
In what other show will you find sketches about the importance of a Black woman's plastic bags, the wives of the three wise men, outrageous British accents, and a soap opera about the office? This blend of character, culture, and history trusts the audience to know what they're talking about. The comedy doesn't hold our hand or waste time justifying itself; it tries to make itself laugh first, and by doing so, it makes others laugh.
On The Fence
Recurring Characters Have Smaller Laughs
While "A Black Lady Sketch Show" may be well known for certain characters like Dr. Haddassah, What Up I'm 3, Non-Committal Chris, and Courtroom Kiki, by returning to old characters, we miss the chance for new ones to be born and the same jokes made with the old premises.
What I Hope To See:
If "A Black Lady Sketch Show" gets renewed for season 5, I hope they give more screen time to its newest members like DaMya Gurley and Tamara Jade. They may have been in sketches, but they were usually used to play straight characters. They need a chance to let loose and develop their own characters. Also, it's time to retire or use fewer recurring characters! The recurring sketches may get more views, but the audience starts to expect what happens next rather than be surprised.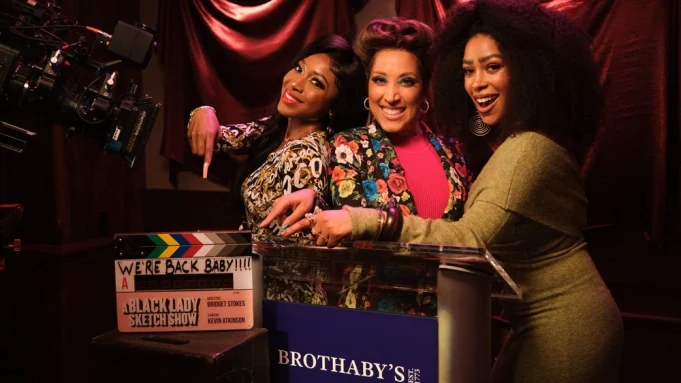 A Back Lady Sketch Show: Season 4 – Review
Overall
Season 4 proves the show has lasting power and even makes a case to have a rotating cast. As long as the writing, editing, and improv stay sharp, A Black Lady Sketch Show will become a comedy staple.
Highlights
Clever and Sharp Writing That Leaves Viewer Wanting More
Unique Comedy Voice that Blends Black Culture and Goofiness
Quality Performances that Feel Live
Disputable
Recurring Characters Start to Feel Stale
---
Follow, Like, and Subscribe
Community Rating: 0.00% (0) - No Community Ratings Submitted (Add Yours Below)