Two pawns in Ezequiel and Marcela's war nearly cause a massacre. However, in the end, only one ends up dying.
---
Network
Netflix
Director(s)
Philippe Barcinski
Writer(s)
André Sirangelo
Air Date
4/27/2018
Actors Introduced
Gerson
Bruno Bellarmino
Cassia
Luciana Paes
Ivana
Roberta Calza
Interrogating Rafael: Joana, Ivana, Rafael
After quite a bit of back and forth, it is decided to separate Rafael and Michele to figure out which one is the liar. Since both being liars or both telling their assumption of the truth isn't an option. To begin, we have Rafael who, with Ivana recruiting and training him, she finds hard to believe to be a liar. For while, yes, he is a soldier and it is assumed he was brainwashed by Marcella, both of their egos make it hard to accept he betrayed her or she picked a traitor.
Interrogating Michele: Ivana, Ezequiel, Michele, Rafael
Michele's interrogation is a bit harder since she is trying to use this lying technique Ezequiel taught her. However, while he may have taught her to be a more convincing liar, he didn't tell her how to avoid giving it away she is lying through body language – such as eye movement. Thus making it so, when she lies about her brother being alive, a move in her eyes proves to Ivana she is lying and this sets Michele back.
So, to attempt to win over Ivana, Michele reveals Ezequiel formerly was of The Cause. Thus leading to Ivana questioning why Rafael didn't say anything for it seems to be assumed both should know everything. However, in the end, with lying about her brother, Ivana knowing the Old Man was captured due to Michele, and frankly favoritism, Michele was the one bound to be handled.
Tough Choices: Ezequiel, Joana, Fernando, Rafael, Ivana, Marcella, Michele
While Ivana is toiling away on a decision, Marcella learns one of her people, a new one at that, has been kidnapped so she is ready to move her militia in. Something Ezequiel is trying to hold off but with Marcella not giving a damn about Ezequiel, and his part of the process, she moves in. Thus putting a real rush on Michele who, as noted, is floundering. That is, until Marcella's people move in and this gives Joana the time she needs to go with Michele to safety. For, in coordination with Fernando, it is assumed the only way to stop the bombing is with Michele's help.
As for Rafael? Well, for The Cause, Ivana offers herself as a sacrifice. Mind you, before saying anything which could help guide him or not make it appear to Silas that Rafael has betrayed them. However, Marcella is happy and perhaps that is all that matters.
Commentary
So Silas conveniently missed an interrogation which seemingly lasted for about an hour or so? One which, surely, he needed to be part of for while Ivana is a senior member, Silas seems to be the absolute head honcho at the moment. Plus, with him already trying to kill Michele, did she not think, on sight, he'd kill Rafael in a soldier's uniform?
I mean, I get that Ivana probably had some kind of feelings for Rafael. Be it romantic or sentimental. However, more and more it feels like this show is dragging certain things out way past their point of interest. But, as noted in the past recaps of this season, it's mostly because they haven't really pushed a method to consistently invest in these characters.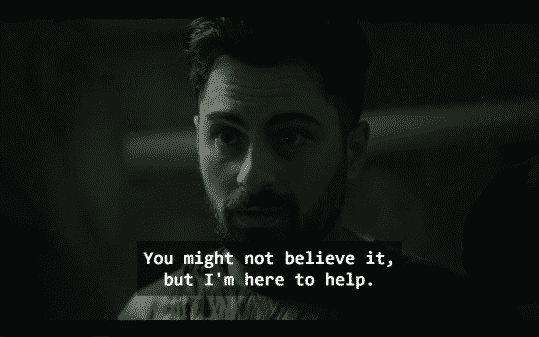 Don't get me wrong, I get Andre means the world to Michele and she'd do anything for him, but without her being in the process, without anyone being in the process, something about them feels so dry. Like, Cassia still hanging about trying to ruin Ezequiel just leads you to roll your eyes. Learning Marcela works with Gerson, explaining why he has offshore materials, doesn't present a shock but a bit of a head nod. Like, "Oh, well that makes sense."
And with checking ahead and it being more about each character's past, as well as the founding couple, I'm just going to drop this. For I feel like the show, while by no means terrible, may have honestly only seemed good because the process amplified everyone's personality and created interesting dynamics between everyone. Something which is utterly missing now and not even in a way which is so bad you want to see if it gets better. It just pushes you to indifference.
---
Follow Wherever I Look on Twitter or Like us on Facebook.
---
Previous Episode's Recap
[visual-link-preview encoded="eyJ0eXBlIjoiaW50ZXJuYWwiLCJwb3N0IjoyMDQwNiwicG9zdF9sYWJlbCI6IlBvc3QgMjA0MDYgLSAzJTogU2Vhc29uIDIvIEVwaXNvZGUgMyBcIkNoYXB0ZXIgMzogU3RhdGljXCIgLSBSZWNhcC8gUmV2aWV3ICh3aXRoIFNwb2lsZXJzKSIsInVybCI6IiIsImltYWdlX2lkIjoyMDQwOCwiaW1hZ2VfdXJsIjoiaHR0cHM6Ly93aGVyZXZlci1pLWxvb2suY29tL3dwLWNvbnRlbnQvdXBsb2Fkcy8yMDE4LzA0LzMtU2Vhc29uLTItRXBpc29kZS0zLUNoYXB0ZXItMy1TdGF0aWMtRmVybmFuZG8tYW5kLU1pY2hlbGUucG5nIiwidGl0bGUiOiIzJTogU2Vhc29uIDIvIEVwaXNvZGUgMyBcIkNoYXB0ZXIgMzogU3RhdGljXCIgLSBSZWNhcC8gUmV2aWV3ICh3aXRoIFNwb2lsZXJzKSIsInN1bW1hcnkiOiJGZXJuYW5kbyBhbmQgSm9hbmEgYXJlIGRvaW5nIGFsbCB0aGV5IGNhbiB0byBwcmVzZW50IGFuIGFsdGVybmF0aXZlIHRvIHRoZSBib21iaW5nIGJ1dCwgdGhlIHF1ZXN0aW9uIGlzLCBpcyB0aGF0IHRoZSBzb2xlIHNvbHV0aW9uIFNpbGFzIHdhbnRzPyIsInRlbXBsYXRlIjoiZGVmYXVsdCJ9″]