Somehow an hour and 19-minute film feels so much longer by means that is hard to explain, but we're going to try.
---
Director(s)
Elisa Fuksas
Screenplay By
Elisa Fuksas, Lucio Pellegrini
Date Released (Netflix)
12/26/2019
Genre(s)
Drama, Young Adult, Non-English
Duration
1 Hour, 19 Minutes
Noted Cast
Niccolo Melfi de Vals "Nick"
Vincenzo Crea
Eva
Jessica Cressy
John
Romeo Pellegrini
Ophelia
Greta Scarano
Maria
Maya Sansa
This content contains pertinent spoilers.
Plot Summary/ Review (Spoilers on 2nd Page)
Nick, an heir to an Italian fortune, by means of food production, has a girlfriend named Eva and a potential film career on the horizon. However, with Eva on the path to becoming a psychologist, one focused on dating in the social media/ app age, she pushes herself and Nick to use a new dating app. One that ends up becoming a destructive obsession.
Highlights
At First, It Seemed Interesting – 80
Being that when you think of most apps, there is the assumption that they are mostly for hooking up, though some people do find love and relationships, so came the thought this would be sensual. You know, something that truly earns its MA rating and gets you hot and bothered. Especially considering, early on, there is a decent amount of nudity, more so of women than men, if that matters to you. However, it seems "Sex sells" was the idea here for those early on shots of Eva and Ophelia's breasts, and some random women, were Trojan Horses to a very dull experience.
Criticism
Nick's Obsession With "Maria" – 65
Despite Nick's initial discomfort with Eva's experiment and all the red flags that pop up, he continues. And while the idea of a torrid affair with some Italian girl seems like the kind of drama you need in your life, it never goes anywhere. In fact, the way Nick decides to put everything and everyone aside for a girl he never meets, it sounds ridiculous. It sounds like the scams you hear older women and men get into, just without Nick giving Maria any money.
Ophelia – 64
There is something about Ophelia that, for the entire movie, makes you think she is going to be some femme fatale that is going to ruin Nick's life. That doesn't happen – at least in the way you expect. Instead, she is just their weird religious character who self-harms and seems like the type of character who likely had more scenes, but because they didn't make sense, they were cut. Following that, there was possibly the idea they should just cut the entire character but because it would have left too many awkward scenes that would further tarnish the movie, she was left in as needed.
On The Fence
Nick's Relationships With Eva, John, and His Absent Parents – 75
In many ways, you can see so much potential with Nick's relationship. Eva, his girlfriend, even as the film reaches its end, is someone you wished we got to see more of and also that she and Nick had a stronger on-screen connection. The same goes for his juvenile brother John. Someone who gets involved in Nick's issues with his parents, who we never see, but seem to strongly disapprove of his lifestyle. And yet, despite the potential here, and what could have been done with Maria, we instead get a wild goose chase that makes the viewer seem like the fool.
Overall
Met Expectations – 66
Not at all. "The App" seemed like it could be either a horror film with some sense of sensuality or the kind of movie that took advantage of the fears many have when it comes to dating apps. It meekly attempts to do both and fails in execution.
Would Watch Again? – 63
Absolutely not. Being strung along like that and ultimately getting no kind of pay off? Just seeing Nick about to experience a potential major downfall? It just isn't worth it.
The best thing about "The App" is the potential and ideas you may have for where things could go. But, once it becomes clear your assumptions are just making an ass out of you, and nothing remotely as interesting as you came up with will happen, you're left bored and wondering how is this only an hour and 19 minutes? For, believe me, it feels longer.
[mrp_rating_form]
The App Ending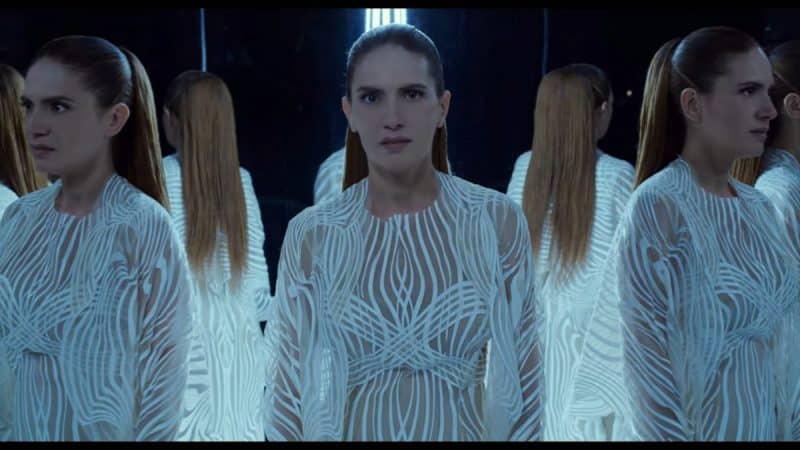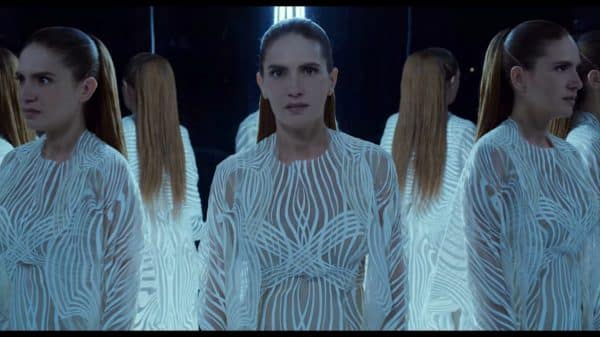 In the end, after Nick has conversed and tried so hard to meet Maria in real life, he learns she is artificial intelligence. This digital being who knew him so well because she installed herself every place she could, listened to his conversations, and basically figured how to toy with him. Including how to mess with him when he tried to break things off.
However, in the end, it is the combination of Ophelia going on Nick's computer, chatting with a minor, who she likely didn't know what a child, and someone exposing all of the app's members, that did Nick in. For with him being an heir to a fortune, with his name associated with the company as a potential successor, him using that app is a scandal. Add in child prostitution and harassment, Eva being pregnant, and promptly breaking up with him, and him losing his movie role due to him stalling to see Eva, making it appear he had a nervous breakdown, while Nick probably isn't even in his mid-30s yet, it seems his life will be ruined for a long time.
Is A Sequel Possible?
We could see the aftermath of the app's data being exposed and continue Nick's downfall but after this entry, who wants a follow-up?
At First, It Seemed Interesting - 80%
Nick's Obsession With "Maria" - 65%
Ophelia - 64%
Nick's Relationships With Eva, John, and His Absent Parents - 75%
Met Expectations - 66%
Would Watch Again? - 63%