After a 6 year bid, a young man comes home to a party featuring all the people he took a fall for.
---
Director(s)
Josh Marble
Screenplay By
Steve K. Hellmann
Date Released (Digital)
4/9/2021
Genre(s)
Drama, Young Adult
Duration
1 Hour, 43 Minutes
Rating
Not Rated
Noted Cast
Tyler
Munro Chambers
Justin
Roland Buck III
Kate
Katie Gill
Zachary
Jonathan D. King
Allison
Avalon Penrose
Peter
Chris Sturgeon
This content contains pertinent spoilers. Also, images and text may contain affiliate links, which, if a purchase is made, we'll earn money or products from the company.
Film Summary
Thanks to Tyler taking the fall for his group of friends, he ended up with a felony charge, and his friends got to graduate college and have lives. But, 6 years later, he returns, and things are a bit weird amongst the group. Well, most of the group. When it comes to Tyler's best friend Justin, things are awesome, and while Tyler doesn't appreciate him and Tyler's ex-flame, Kate, throwing him a party, he gets over it.
Well, at least until Kate's fiancé, Zachary, decides to pick fights with him, Peter, the kid who should have shared blame with Tyler, gets on Tyler's nerves, and Allison? Well, like most in the group, the way her life turned out makes Tyler question was his sacrifice worth it? Which becomes a major crux during the party.
Things To Note | Question(s) Left Unanswered
Reason(s) for Film Rating: There is drinking, the occasional curse word, smoking, but nothing to be worried about.
Jump Scares/ Laughs/ Tear-Jerking Moments: N/A
Collected Quote(s) & .Gifs
The same people that call me out for my failures are the same ones who are too afraid to fail.
— Justin
Review
Highlights
Tyler and Justin's Relationship
Despite all the BS that goes on in one night, you never forget Tyler and Justin's relationship. One which is platonic, before you get any ideas, but has that brotherly love to it which helps you understand why, despite all the nonsense, Justin is forgiven for having a hand in setting everything up. For if there is one thing Tyler appreciates is that Justin, out of everyone, is making something of himself, and it is inspiring. Add in him helping Tyler out, and you see a real deal friendship there. One that, with being released, may allow Tyler to get back on his feet and avoid putting his foot up certain people's asses.
Established Supporting Characters
To understand why Tyler made his sacrifice requires getting to know his friends who benefitted from it. Be it Allison, who wouldn't have had her daughter if not for Tyler. Then Peter, who should have went down with Tyler, he now makes 85K and is dating his boss' daughter. Justin has a clothing line that's doing well, Kate is engaged, and with hearing how everyone did, at first, Tyler's sacrifice doesn't seem all bad.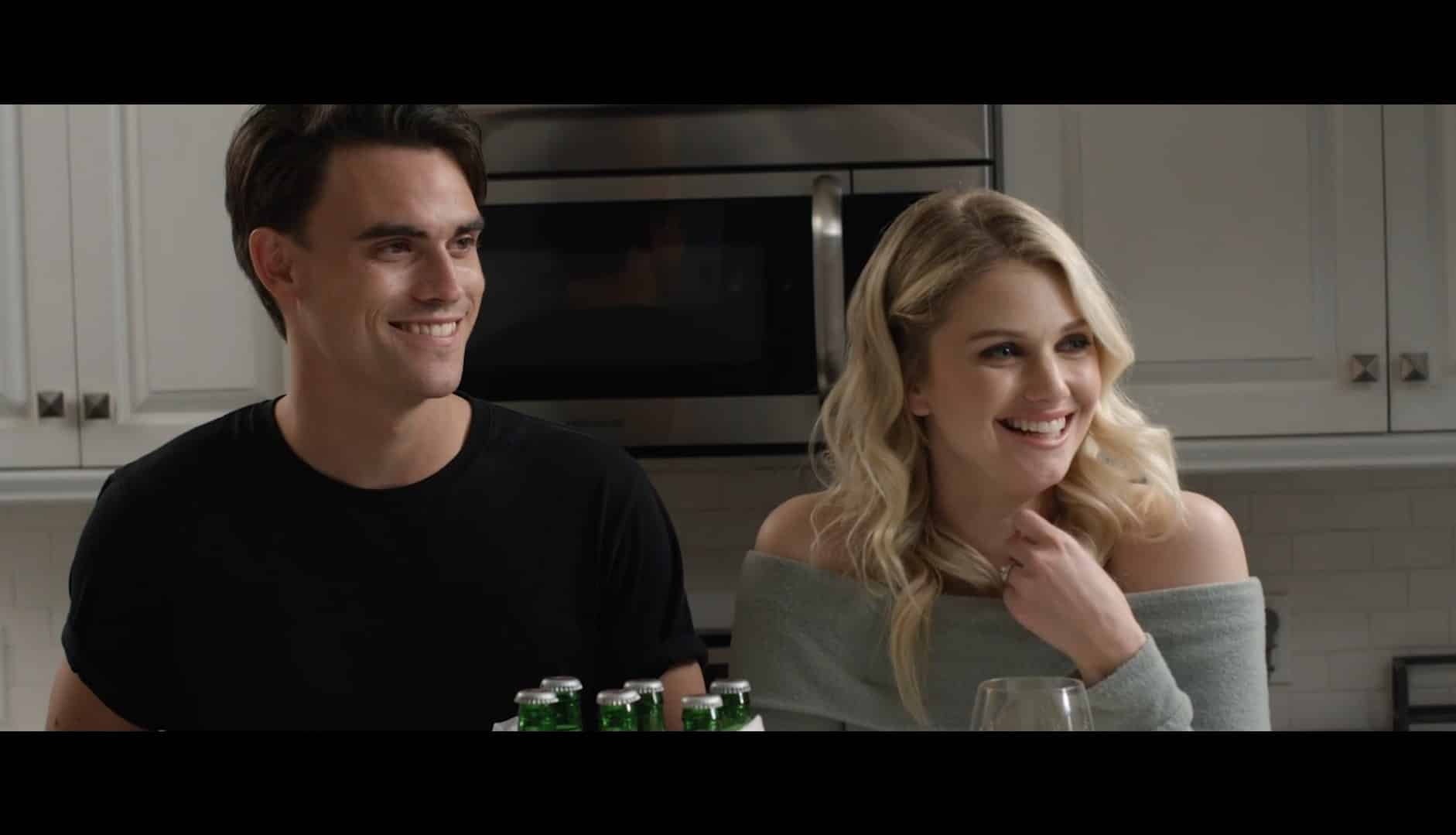 Granted, the connections amongst the friend group are frayed but, 6 years is a long time, and everyone is at a different life stage right now so, it makes sense.
Munro Chambers As Lead
Yet, despite all that is going on, Chambers holds it down and doesn't feel like a Trojan Horse escorting us to all these different lives, but the gracious host. For despite us hearing him talk the least about his life, you never find yourself wanting the camera to wander and focus on this person or that person. You may want to see some, like Kate or Justin, interact with Tyler more. Maybe see how far Allison will take her flirting with Tyler, but no matter what, Tyler is at the center of everything, and that's the way you'll want it.
Overall
Rating: Positive (Worth Seeing)
Taking The Fall pushes Munro Chambers to be someone you should know as he handles, with ease, a nearly two-hour movie with charm, passion, and making every scene partner he has raised to his level in the moment. This isn't to say his scene partners, ranging from Roland Buck III as Justin or Katie Gill as Kate, are slouches. However, like any good lead, Tyler's connection to everyone and how he feels is transmitted to you in the moment. Thus making you his and you willing to follow him wherever his story goes.
[amazon box="B08Y5V5BTG"]
Movie Directory
On The Radar
---
Ratings
---
Special Categories/ Tags
Summary
Tyler and Justin's Relationship - 84%
Established Supporting Characters - 83%
Munro Chambers As Lead - 85%
Taking The Fall pushes Munro Chambers to be someone you should know as he handles, with ease, a nearly two-hour movie with charm, passion, and making every scene partner he has raised to his level in the moment.