Roxanne Roxanne is a story which needed to be told, but there might be some who wished it was told better.
---
Director(s)
Michael J. Larnell
Screenplay By
Michael J. Larnell
Date Released
3/23/2018
Genre(s)
Biopic, Drama
Noted Actors
Shante
Chanté Adams
Marley
Kevin Phillips
Cross
Mahershala Ali
Peggy
Nia Long
Summary
Since she was 9 years old, Shante has been battle rapping in Queensbridge, NY and off UTFO's "Roxanne, Roxanne," at 14 she took to the song and thanks to a DJ named Marley, so gave birth to Roxanne Shante of "Roxanne's Revenge" fame. Yet, arguably, the film is barely about Shante's rap career. We see her with her modicum of success and get an idea of why she got some fame, but then a man named Cross enters her life and the biopic largely becomes about domestic abuse. That and Shante's tumultuous relationship with her mother Peggy which wasn't necessarily abusive, but because of her mother's drinking, it is implied Shante had to grow up fast to take care of her family.
Collected Quote(s) or .Gifs
Highlights
There Are Some Quality Performances Here
There is no denying that Nia Long and Chanté Adams give the type of performances which put you on notice. The veteran actress, Long, commands damn near every scene she is in and almost makes it seem the fear that we think is Shante's, may actually be Adams from being talked to as she is. Perhaps triggering some memories of interactions with her own mother.
And speaking of Adams, while her character's story is a little bit too all over the place, there is no denying that this is just the beginning for her. It isn't clear what may follow this performance, which is heartbreaking enough to be notable but not a tearjerker, but you will find yourself pinned to her IMDB page to see what's next.
On The Fence
It's Just The Story Was Dull
Considering the veterans involved, including recent Academy Award winner Mahershala Ali, this is a surprisingly dull film. Note, it has moments of high energy but for those who watch urban dramas on a regular basis, Roxanne Roxanne may have the theatrics of people yelling and abuse, but those just act as some sort of alarm buzzer. Seeing Ms. Peggy become an alcoholic does bring a side to Nia Long that seems to place a marker, in terms of her evolution as an actress, but once you get used to it, you're left wondering what's next.
Then, in terms of Shante, her rise to rap stardom gets clipped at the knee just as she starts to kind of get big. Then, in terms of the songs we hear, none of them are at that level where you feel compelled to head over to iTunes or Amazon to buy them, much less listen to the originals for free on YouTube. But the kicker here is that, after a certain point, her music career, which is remarkable in terms of hip-hop history but doesn't necessarily convince you it is so, ends and we just watch her be in an abusive relationship with Cross.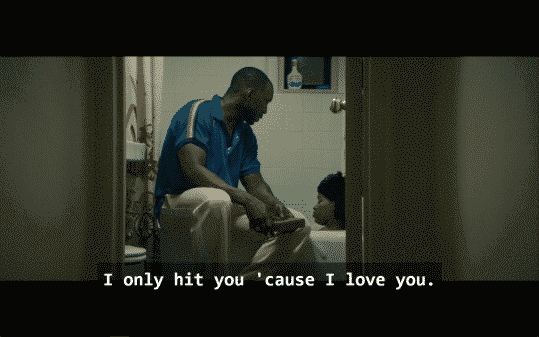 Thus crafting this weird dynamic where the story is boring and barely holds your attention and yet when you do pay attention, you recognize these people are talented actors. Which I know sounds like contradicting statements but I think it sort of testifies to the idea that the Netflix platform, while excellent for binge-watching a show, drastically reduces the values of dramatic movies. For what the actors give you here are straight performances and while there are bells and whistles to keep your attention, they aren't trying to be charismatic or loveable, they are being real. And reality isn't always something that is optimal to watch in the comfort of a bedroom, living room, or during your commute. It needs the dedication only a theater can require.
Overall: Mixed (Divisive)
While the performances are noteworthy, Shante's story doesn't push you to think this story needed its own movie. Maybe an episode of Unsung, a part of a hip-hop documentary, or something like that, but not something similar to a biopic. For there honestly just seems to not be enough here to craft the type of narrative to be both educational, in terms of who Roxanne Shante is, alongside entertaining enough to make those not hip-hop heads to care.
Hence the mixed label. While the actors put on wonderful performances, their abilities are wasted on a script which doesn't push why Roxanne Shante matters. Which isn't to imply she doesn't, but you think for what essentially is a biopic, it would push the idea that this figure demands your attention and their pedestal. Versus making her seem like any ole girl who had a little bit of success and giving her a movie just because.
Something I really hate to say, but this movie is that disappointing. Especially in comparison to listening to her talk about herself on The Breakfast Club.
---
Follow Wherever I Look on Twitter or Like us on Facebook.
---
Stream By Clicking The Link or Image Below
Roxanne Roxanne | Netflix Official Site
She grew up in a tough New York neighborhood in the '80s and made history with "Roxanne's Revenge." The story of teen battle rap champ Roxanne Shante.