Little Women (2019) Review/ Summary
Greta Gerwig, Saoirse Ronan, and Timothée Chalamet prove themselves to be a formidable trio and a grouping we should expect for decades to come.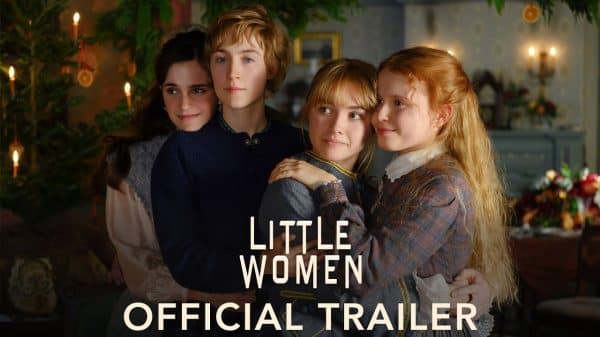 Greta Gerwig, Saoirse Ronan, and Timothée Chalamet prove themselves to be a formidable trio and a grouping we should expect for decades to come.
---
Director(s)
Greta Gerwig
Screenplay By
Greta Gerwig
Date Released (Theatrical)
12/25/2019
Genre(s)
Drama

Romance

Duration
2 Hours 14 Minutes
Noted Cast
Jo
Saoirse Ronan
Meg
Emma Watson
Amy
Florence Pugh
Beth
Eliza Scanlen
Mr. Dashwood
Tracy Letts
Theodore "Laurie"
Timothée Chalamet
Marmee
Laura Dern
Aunt March
Meryl Streep
This content contains pertinent spoilers.
Plot Summary/ Review
---
Community Rating:
---
Little Women takes place over two time periods, 7 years apart. In the younger years, it focuses on the sisterhood between Jo, Meg, Amy, and Beth, as Meg comes of age and Beth, the quiet one, finds her place. Meanwhile, Jo and Amy, rivals as much as opposites, find challenges in trying to be loving sisters yet also recognize they cannot see eye to eye.
Then, to make things further complicated, there is Theodore, often called Laurie, who becomes like a brother to the girls, despite him wanting more at times. For Jo especially, she finds his desires hard for she is of the mindset of a modern woman. She doesn't necessarily want to marry and recognizes marriage is an economic thing, one that she might be obligated into.
Yet, in the end, as the publisher she is trying to get approval from, Mr. Dashwood says, "A story featuring a woman can only end in two ways, marriage or death." A crossroad Jo is hellbent on avoiding as she forges her own path.
Collected Quote(s) or .Gifs
"I can't afford to starve on praise."
— Jo
"It's possible to be right and foolish."
— Aunt March
"I may not always be right, but I'm never wrong."
— Aunt March
Other Noteworthy Facts, Moments and Commentary
The film takes place in and around 1869.
Highlights
Saorise Ronan – 95
Greta Gerwig and Saoirse Ronan are a match made in Hollywood heaven. They are the kind of pair that you can imagine, at least once or twice a decade, reuniting in the same way Spike Lee and Denzel Washington do, Leonardo DiCaprio and Martin Scorsese, amongst many other legendary pairs. For what they bring out of each other is the kind of stuff that deserves marquees and instantly builds trust.
Focusing on Little Women, Ronan, as Jo, is a force. Not just because she is a feminist in an age where even the suffrage movement hasn't picked up yet, but she is an inspiration even for modern times. Her advocacy for her sisters, valuing her person beyond what she can offer in a marriage, it strikes you. It pushes you to see a woman, a female character, beyond what is the common end goal for them and see them as a person who is, paraphrasing Jo, more than beauty or what they can offer a man. All the while never tossing aside or dismissing what it means to be a woman – even if it makes life harder.
The Chemistry Between Saorise Ronan and Timothée Chalamet – 89
But what also is a big-time selling factor of "Little Women" is Ronan and Chalamet's connection. Their second go-around is as wonderful as the first and through Chalamet as a love interest, Ronan gets to show her versatility as an individual, a sister, a daughter, and an inspiring writer. Making him an excellent supporting actor and while he is but one of many lifting Ronan up, he does have his shining moments where he gets a well-deserved spotlight.
The March Family Chemistry – 90
Honestly, the March family dynamic is so strong that you could cut out Laurie and all the drama he brings, and the romance. For just watching Jo and Amy as rivals was so juicy – even when they were separated by the Atlantic ocean. I'd also say, as "Lady Bird" explored the complicated relationship that a mother and daughter could have, "Little Women" takes note of the highs and lows of sisterhood.
Now, mind you, the focus was mainly about Jo's relationship with her sisters, so we didn't necessarily get to see much of Meg and Amy together or Beth, who was the quietest of the four, with her sisters. However, like Chalamet, the connection between Pugh, Watson, Scanlen to Ronan uplifted her.
But, let me say, as much as Ronan is the one you remember, don't take this as me saying everyone was forgettable. As a leading lady, Ronan gives and takes, and whether it is Jo's relationship with Amy, that is sometimes volatile, to her relationship with Beth, that is much more solemn, she doesn't absorb the attention and energy and give nothing back.
Also, in terms of Laura Dern and Meryl Streep, let me just say that they don't play major roles, but when they are on scene, they make their presence known. Dern as Marmee makes is clear that these are her daughters' and you can see, through each one, how her influence made them to be. Then with Streep as Aunt March, she is barely in it but you can see Gerwig did her best to honor her by giving her zingers and scene-stealing moments. Not the kind that could lead to yet another Oscar nomination, but you'll definitely remember she was in the film.
On The Fence
At Times, The Time Jumps May Require Adjustments – 75
When it comes to going 7 years forward and 7 years back, you have to take note of key things to remember if you are in the past or their present. Things like Jo's hairstyle, which is a clear means of differentiating periods, or other little things. Otherwise, you may need a little bit of time to adjust and won't get majorly confused, but might be thrown off at times.
Overall
Met Expectations – 88
The only way "Little Women" didn't meet expectations is that some of the emotional moments didn't hit as hard as I thought they would, despite the relationships being strong and your connections to the character. But, it could very well be that, because the film isn't too dramatic, I wasn't pushed to the point of getting beyond teary-eyed.
Would Watch Again? – 85
Not immediately because you will feel the full weight of the film's time length. However, with never watching other adaptations, this seems like a good go-to in the future.
For those who enjoy period dramas that maintain some sense of liveliness, that have wonderful supporting character and a strong lead, "Little Women" is for you. It makes it clear Gerwig and Ronan are a pair we should expect to see for decades to come, and whether the books were part of your education or not, you will surely be entertained, inspired, and fall in love with nearly every character on screen. Whether they get much screen time or not.
Saorise Ronan - 95%
The Chemistry Between Saorise Ronan and Timothée Chalamet - 89%
The March Family Chemistry - 90%
At Times, The Time Jumps May Require Adjustments - 75%
Met Expectations - 88%
Would Watch Again? - 85%
---
Follow, Like, and Subscribe
Community Rating: 0.00% (0) - No Community Ratings Submitted (Add Yours Below)