While there are times when Klaus may feel it is overstaying its welcome, it's Santa Klaus origin story gets you into the holiday spirit.
---
Directed By
Sergio Pablos, Carlos Martinez Lopez
Written By
Sergio Pablos, Jim Mahoney, Zach Lewis
Date Released (Netflix)
11/15/2019
Genre(s)
Family, Animation, Comedy
Noted Cast
Jesper
Jason Schwartzman
Klaus
J.K. Simmons
Plot Summary/ Review
---
Community Rating:
---
Jesper, a spoiled young man whose personality may remind you of Emperor Kuzco from The Emperor's New Groove, finds himself forced to take the family business of delivering mail seriously – or being cut off. But, to add a challenge to Jesper's task, he is sent to the remote area of Smeerendburg where an eons-long feud between the Krum and Ellingboes has created a stagnant town. One that doesn't seem to have any real economy and has seemingly survived strictly out of the spite both families have for one another.
So, in terms of Jasper delivering 6000 letters within a year, it seems like he is screwed and will soon find a home in the gutter. That is until, out of desperation, heading to the most remote part of the island and meeting Klaus. Someone who is an old woodsman, widowed, and has a vast swath of toys for children he never got to have. Jesper ends up partnering with Klaus, originally using him to get the children to write letters, but in the long run finds himself in the middle of a multi-generational war that its current leaders don't want to end.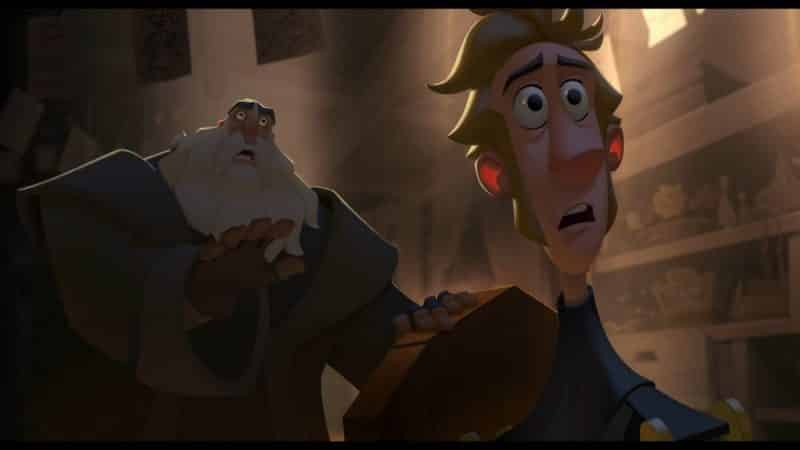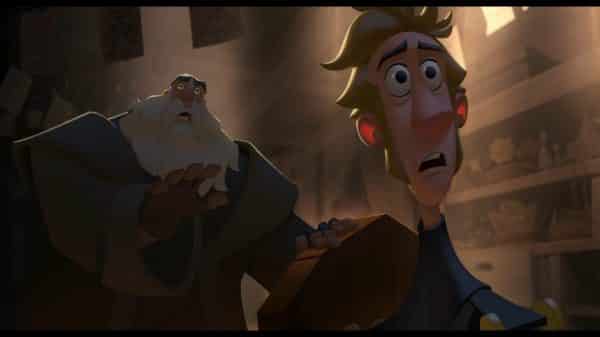 Collected Quote(s) or .Gifs
A true selfless act always sparks another.
— Klaus
Question(s) Left Unanswered
What started the war between the Krum and Ellingboes?
Highlights
It'll Make You Emotional
The heart of the film is seeing the joy of the children once the toys start coming in and how appreciative you see them. For with Christmas becoming so commercialized with children wanting gifts that are hundreds of dollars, seeing children happy over basic toys, playing with one another, and getting a sense of simplicity, it reminds you of when the holiday was simpler. Add in how you see them, to get toys, wanting to be good, learn, and how it triggers a sense of community, it leaves you a little teary-eyed. That and when Klaus talks about his wife.
Understanding How Kids Learn To Hate
I really don't believe it was said why the Krum and Ellingboes were at war. It was made clear the fight existed since the stone age, but what started it is a mystery. So to see the kids be taught that they should just hate the dark-haired or red-haired people just because it's a reminder of how seeds are planted. Heck, the fact a single bell could cause a fight really pushed how dumb both sides were and how strong their hive mentality was.
Yet, again, in seeing the kids reject what was taught since they had no personal reason to hate someone else, you get a rather beautiful story.
On The Fence
For A 90 Minute Movie, It Feels A Bit Long Sometimes
One that feels long as hell sometimes. Why? Well, for one, Jesper doesn't illicit any real strong reactions. He doesn't come off funny, or overly annoying, he is just the person we're stuck with. And when it comes to most of the adults, you don't really find yourself investing in their story. The head of the major families are simple villains who may tickle the funny bone of kids, but adults? Probably not.
Then, when it comes to the kids in the film, I don't think any of them are actually named. So despite how they are one of the major sources of you feeling something, what you feel for them is due to them as a collective rather than as individuals. Which creates a further disconnection.
Klaus is a decent holiday movie. One that presents an interesting origin story of why gifts are circulated during Christmas and while it doesn't necessarily have a stand out character, the story compensates for that. Hence the positive label. For while Klaus may not be on the level of last year's The Christmas Chronicles, it is still a good one and done film to justify your Netflix subscription.
Images and text in this post may contain affiliate links. If you make a purchase, we may earn a commission or products from the company.
For A 90 Minute Movie, It Feels A Bit Long Sometimes - 75%
Understanding How Kids Learn To Hate - 85%
It'll Make You Emotional - 89%