Champions (2023) – Movie Review
Coach Marcus ordered by a judge to coach a team of disabled athetes for 90 days gets more than he bargained for in this heartfelt comedy.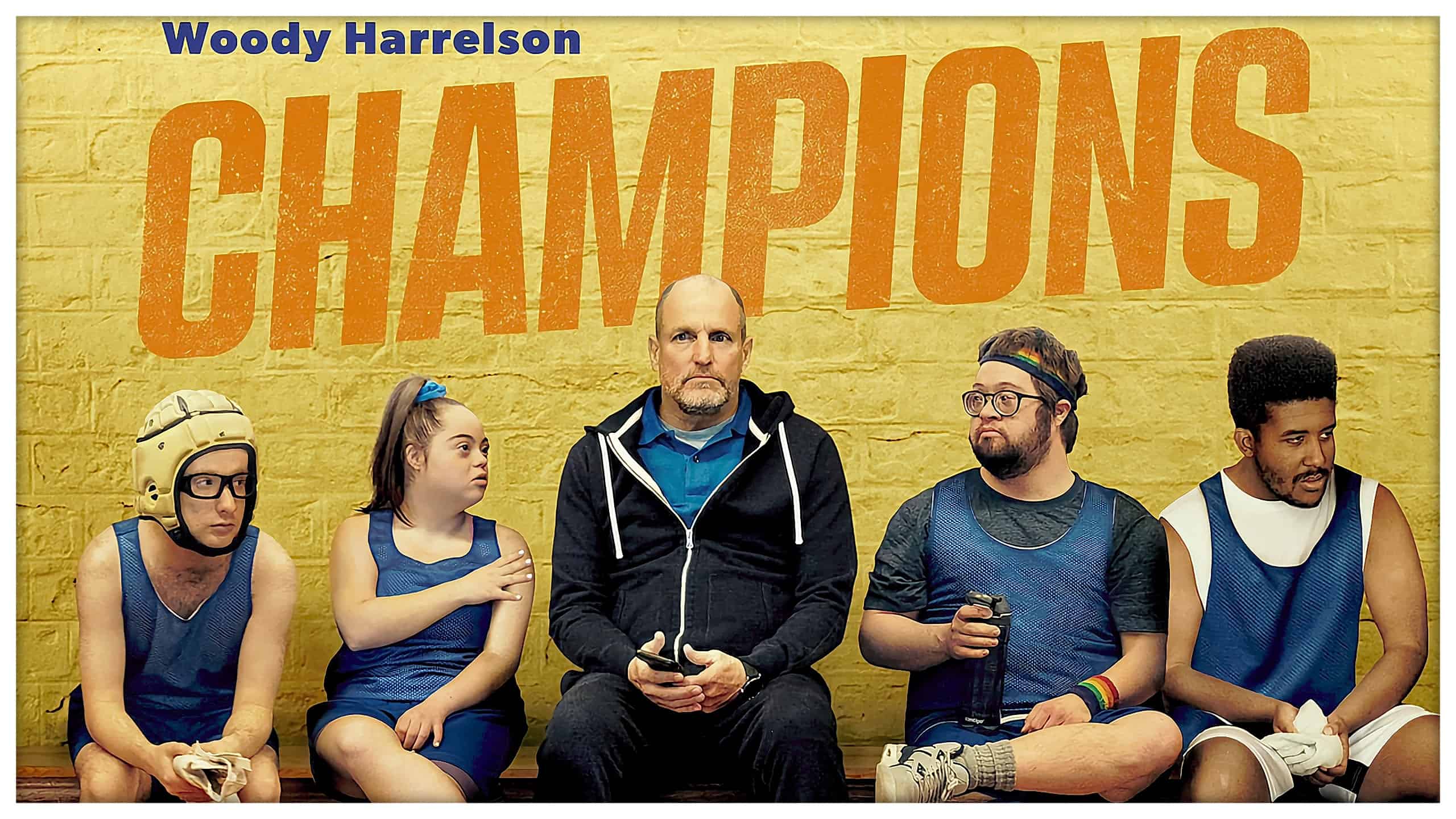 A combative, self destructive, down on his luck screw-up of a minor league basketball coach with professional NBA potential hits rock bottom only to find redemption in coaching a team of learning disabled athletes.
---
Director(s)
Bobby Farrelly
Screenplay By:
Mark Rizzo
Date released (In Theatres)
March 10, 2023
Genre(s)
Comedy
Duration
2 hours and 3 minutes
Content Rating
PG-13
Noted Cast
Marcus
Woody Harrelson
Alex
Kaitlin Olson
Sonny
Matt Cook
Coach Phil Perretti
Ernie Hudson
Julio
Cheech Marin
Cosentino
Madison Tevlin
Darius
Joshua Felder
Johnny
Kevin Iannucci
Cody
Ashton Gunning
Craig
Matthew Von Der Ahe
Blair
Tom Sinclair
Benny
James Day Keith
Arthur
Alex Hintz
Marlon
Casey Metcalfe
This content contains pertinent spoilers. Also, images and text in this post may contain affiliate links which, if a purchase is made from those sites, we may earn money or products from the company.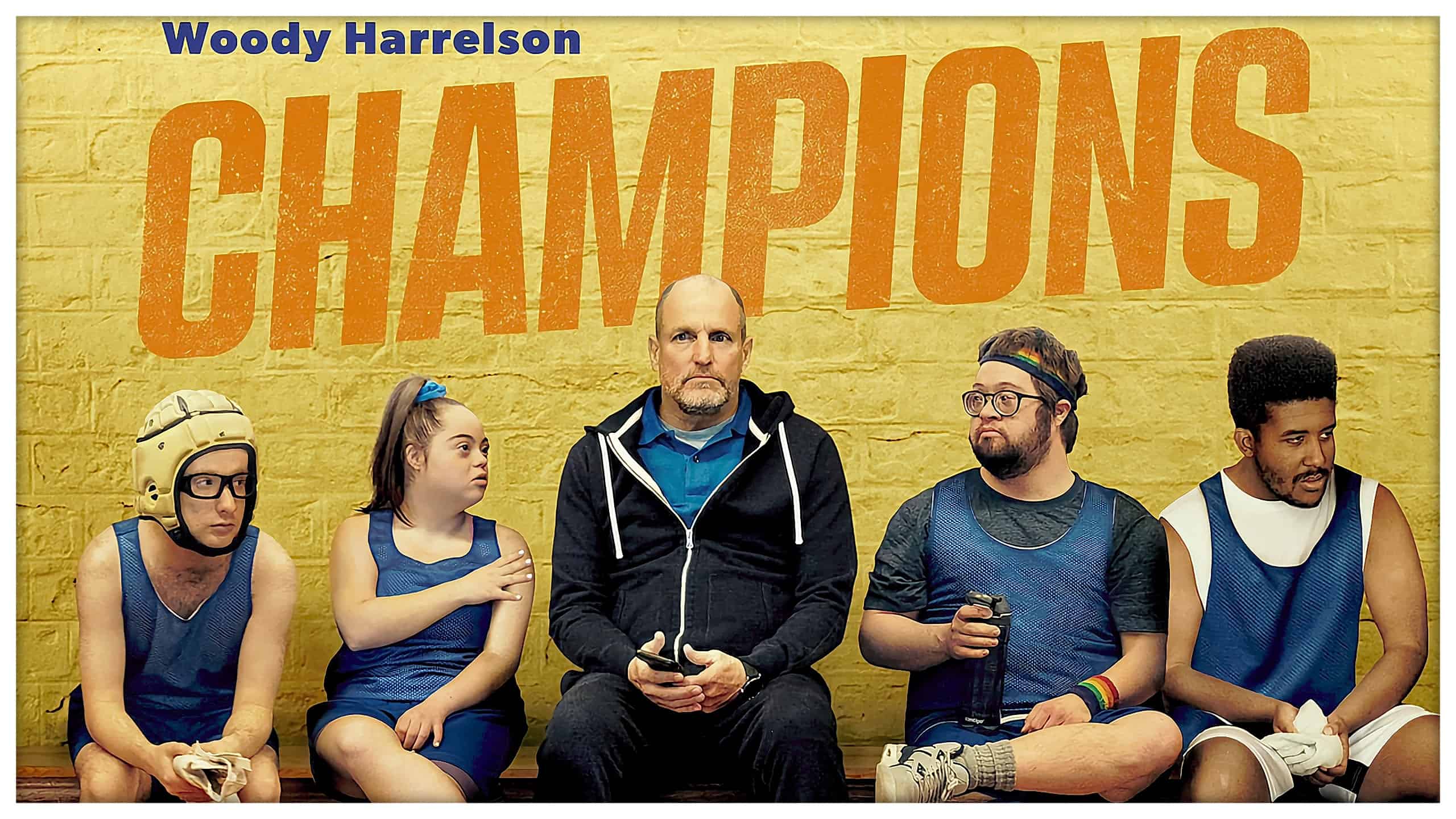 Summary/Review
---
Community Rating:
---
Woody Harrelson plays a boozy, combative, self-destructive minor league Iowa basketball coach who once again lets his temper erupt, pushing the head coach Phil Perretti (Ernie Hudson) to the floor, which consequently ends in him being fired from his position. Marcus drunkenly leaves a bar and, while driving under the influence, crashes his car. The hardline judge gives him a choice between jail and serving community service as a coach for an Iowa rec center basketball team called the "Friends," consisting of a team of a myriad of disabled athletes. The screenplay is based on the 2018 Spanish film "Campeones," inspired by a true story from Spain.

Champions is an atypical inspirational and heartfelt comedy revolving around an underdog sports team led by a loser coach who finds redemption and life-altering experiences in his time with this gifted team. It is interesting enough in this retread premise, albeit it does not have the successful telling of a comparable movie such as "Bad News Bears," which was much more successful in its approach.
Harrelson is well cast in his portrayal of this disheveled, flawed, yet endearing characterization of coach Marcus, but the true stars of this movie shine with the members of the "Friends" team. The stand-out performance is by Madison Tevlin as Cosentino, the only female team member, as a well-intentioned, no-holds-barred, in-your-face delightful dynamo of reckoning. Johnny (Kevin Iannucci) is the heart of the story in his struggles with a fear of water, which has a root in trauma over a past potential drowning threat and in relinquishing his dependency on family. Darius (Joshua Felder) funnily retorts a simple "Nope" in coach Marcus's every solicitation of his joining the team even though he was the most accomplished member of the team previously. As it turns out, Darius is handicapped due to a hit-and-run accident and is reluctant to maintain his previous role on the team, now coached by a drunken driver. The other characters are less well-drawn.

This movie has several heartfelt moments, but the treatment of disability handicaps could have been more reverent in its approach. Woody Harrelson's character Marcus asks the judge if he should refer to the team members by using the "R" word. This movie had the opportunity to give a true rendering of the world of a disabled individual rather than giving a tiny glimpse of their capabilities wrapped in clichéd stereotypical nuggets.

Overall, "Champions" is enjoyable and delivers as an underdog triumph movie, although it could have delivered more. It does redefine what constitutes a win. The actors portraying the "Friends" team members are refreshing and would be a welcome addition to other screen gems ushering in more diversity and inclusion in the film industry.

Things To Note
Why Is "Champions" rated PG-13
• Dialog: strong profane language
• Violence: drunk driving car crash and fist fights
• Sexual Content: crude/sexual reference
• Miscellaneous: DUI is presented/drinking of wine.
Character Descriptions
Please Note: This character guide is not an exhaustive list of every cast member, and character descriptions may contain what can be considered spoilers.
Marcus
A self-destructive and combative minor league assistant basketball coach with NBA potential who struggles with developing and maintaining interpersonal and intimate relationships.
Alex
Marcus's love interest, a disillusioned and emotionally repressed woman, is sour on romance but unconsciously seeking it just the same. She uses her relationship with her disabled brother as a perceived block to seeking true happiness.
Sonny
He is a well-intentioned yet slightly lonely young man looking for friendship and something fulfilling to add to his life. He serves as a conscious to Marcus.
Coach Phil Perretti
Seasoned, wise, and accomplished minor league basketball coach who invests in people.
Julio
Rec center manager for the "Friends" team who extols wisdom as a sage character.
Johnny
Member of the "Friends" team and Alex's brother who suffers from a fear of water and some emotional dependency fears. He serves as the heart of the film.
Cosentino
She is the only female member of the "Friends" team who does not let Down Syndrome define her. She is strong, assertive, sassy, witty, and thoroughly charming in her brass in-your-face way.
Darius
Reluctant member of the "Friends" team who struggles with forgiveness after a hit-and-run driver robbed him of his basketball potential, ergo his reason for not wanting to be a member of a team coached by Marcus, who has been sentenced to 90 days of community service in his role as a result of a guilt sentence for a DUI.
[ninja_tables id="46802″]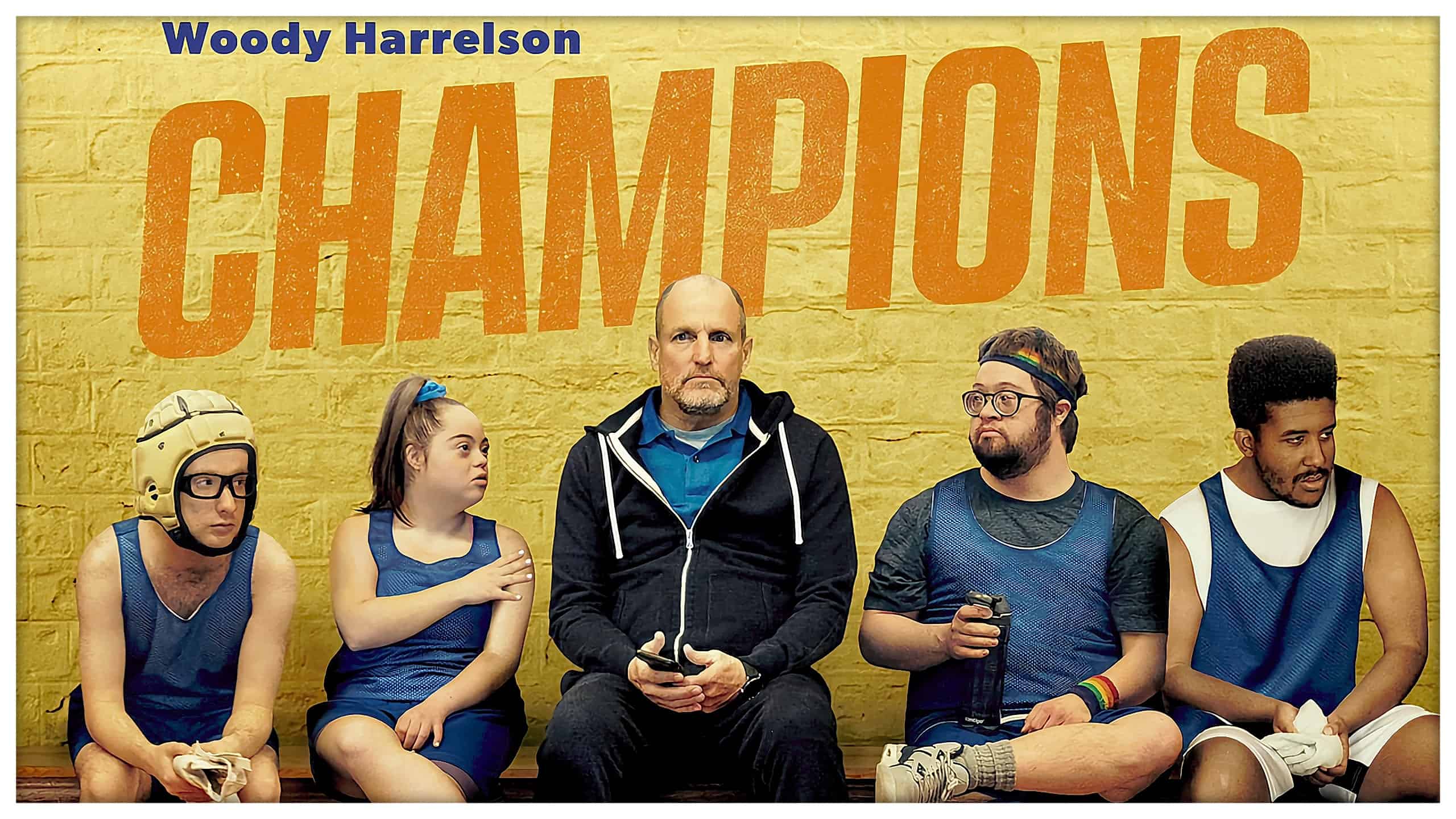 Champions (2023) – Movie Review
Overall
Champions delivers as a heart-felt inspiring underdog basketball team comprised of athletes with varied disabilities scoring its own version of a win. The deliberation could have been better and the sensitivity to individuals with handicap disabilities could also have been better served.
Highlights
The camaraderie and heart-felt shared moments by the members of the "Friends" team.
Regrettable
The stereotypical and cli·chéd portrayal of individuals with handicap disabilities.