The Little Mermaid Live! – Summary, Review (with Spoilers)
While an odd choice, considering they are making a film version within the next few years, The Little Mermaid Live is acceptable but far from remarkable.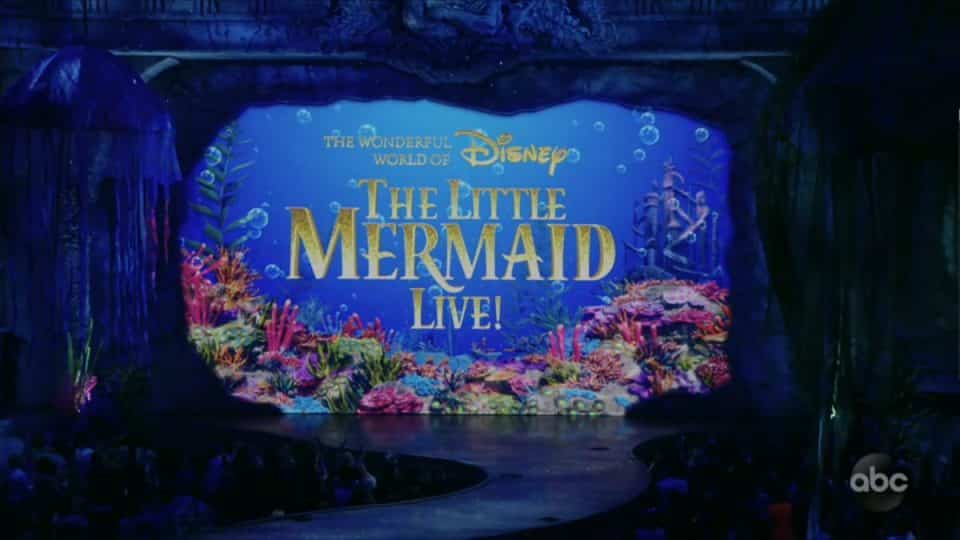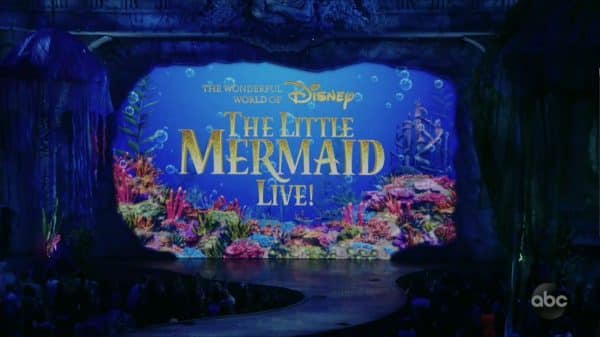 While an odd choice, considering they are making a film version within the next few years, The Little Mermaid Live is acceptable but far from remarkable.
---
Director(s)
Hamish Hamilton
Screenplay By
N/A
Date Released
11/5/2019
Genre(s)
Musical
Good If You Like?

Live Musicals
Are Willing To Listen To Both The Movie Songs And Their Broadway Adaptions
A Touch Of Camp

Noted Cast
Ursula
Queen Latifah
Chef Louis
John Stamos
Ariel
Auli'I Cravalho
Sebastian
Shaggy
Daughters of Triton Emcee
Amber Riley
Images and text in this post may contain affiliate links which, If you make a purchase, we'll earn a commission from the company.
Plot Summary/ Review
---
Community Rating:
---
Using the animated movie as a backdrop, each time a musical number is meant to come on, we get Queen Latifah, John Stamos, Auli'I Cravalho, and others performing it live!
Highlights
Queen Latifah's Outfit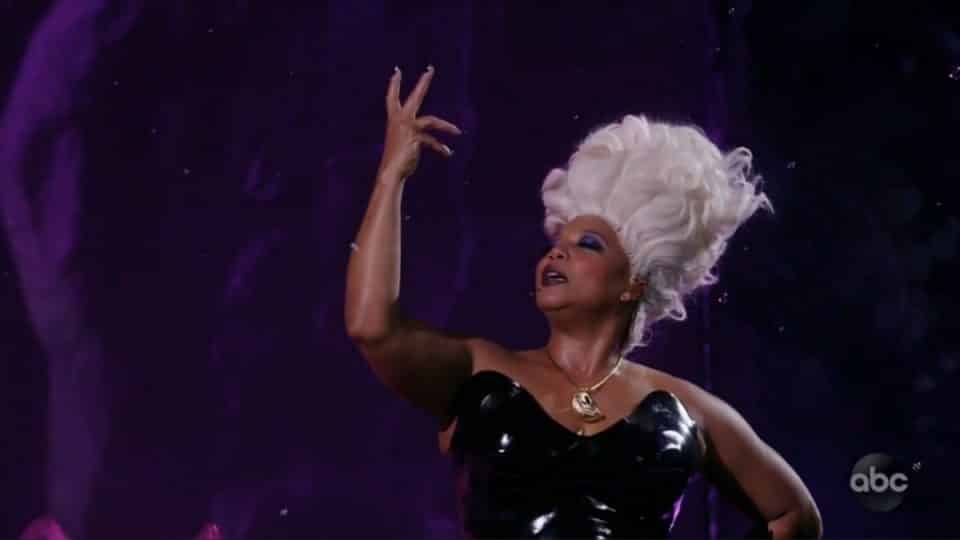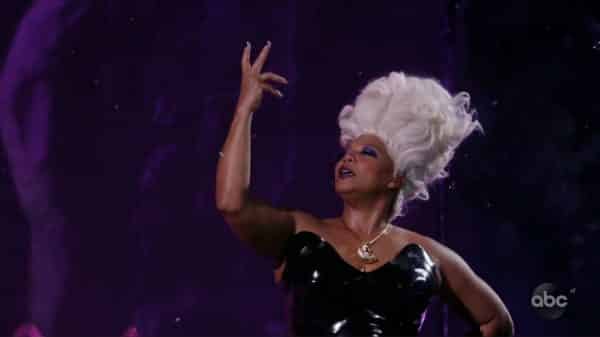 Generally speaking, from the wigs to wardrobes, most didn't seem like they were part of a production which has a multi-billion dollar company attached. Well, outside of how Queen Latifah was done up.
For her, whether we are talking about her white wig, her dress, the tentacles she had, it was all ace. Truly what you'd expect for a production like this, and with the time and effort put into her look, it makes you wonder what happened to everyone else?
John Stamos Had Fun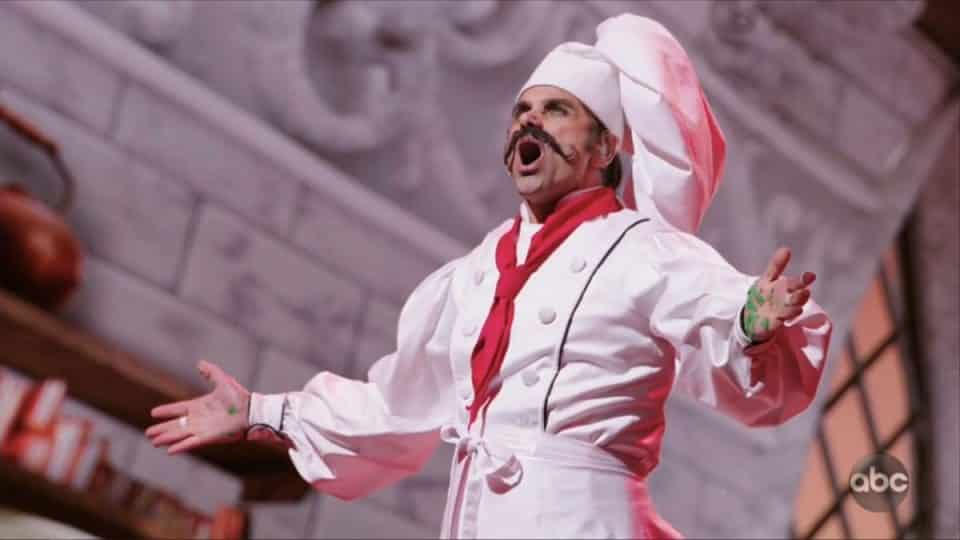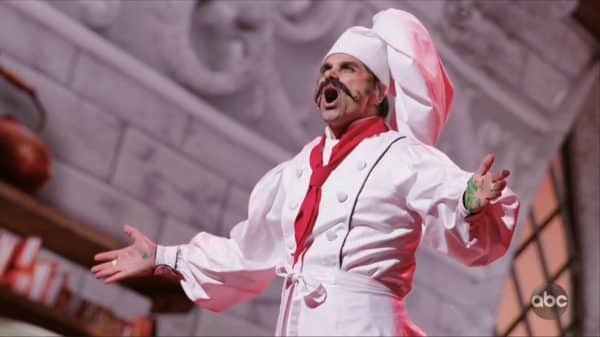 While Queen Latifah went camp, John Stamos seemingly was just focused on having fun. For whether he was being cheeky, throwing food, or battling off with dancers, for not a minute, did you feel he was overly choreographed or playing up the ridiculousness of his character. He was just there to have a good time, be part of the cast, and enjoy working for his check.
Mixing The Animation With Live Performances
The difficulty of competing against a classic is already hard, so the musicians being given a break and just singing the musical numbers was a blessing. But, also, you have to appreciate how using the animated movie essentially buttered you up for the performances. Most of which were good, though Shaggy was a little iffy. Mind you, it was more so him being an odd choice, since he would be singing not acting, than anything else.
As for everyone else? Oh, whether singing songs from the Broadway musical or the ones from the animated movie, they could sweep you off your feet.
Auli'I Singing Beautifully Despite How Uncomfortable You Know She Was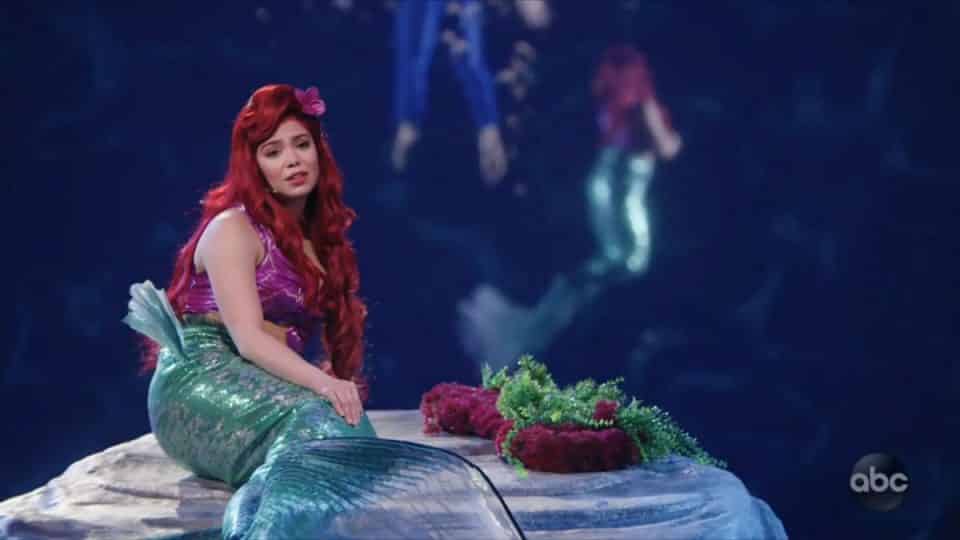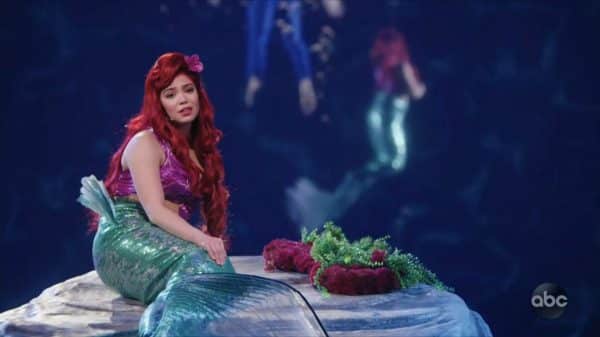 I want you to imagine sinking the songs of one of the classic Disney princesses, live, with Jodi Benson, who originally sung the songs, in the audience, and you are wearing a mermaid outfit. Oh, and on top of that, some parts of your song have you lifted in the air. That combination is something we only know P!nk for because of how ambitious she is as a performer. So one can only hope this performance reminds everyone of Cravalho's talents and gets them ready for her role in Spring Awakening and the oddly titled Sorta Like a Rock Star.
Amber Riley
Ms. Amber Riley only had one number, one performance, and I'd be damned if I wasn't waiting on her to show up again after it. Truly, like Cravalho, Riley's performance leaves you wondering why this is one of the first major things she has done on television in a while. Why is it, despite her talent, which is known to be more than just singing, we see her for things like this, The Wiz, a part in a Tyler Perry movie a year or more ago, and that has been it since Glee?
Which isn't to downplay her success on the West End in Dreamgirls or the shows she does, mostly, in the LA area. It's just, should we expect her to be relegated strictly to the stage? Be it in a theater or as shown with this and The Wiz?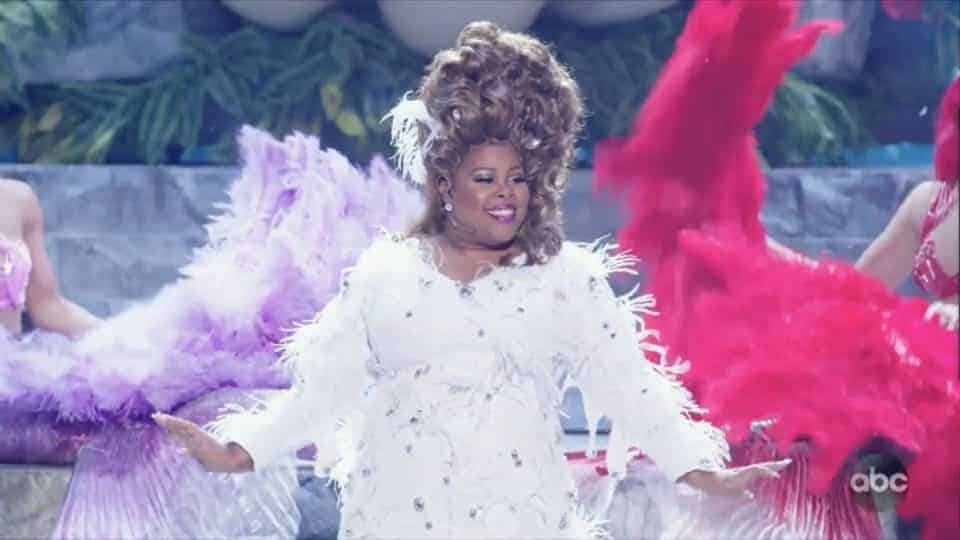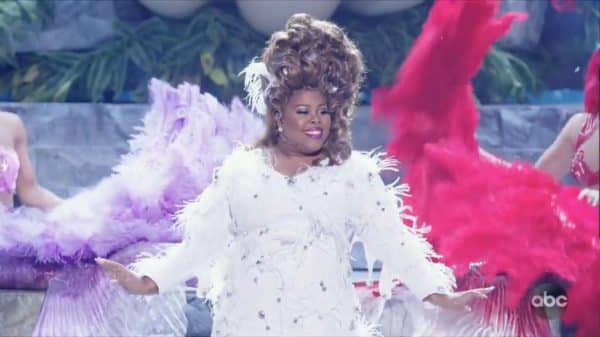 Criticism
The Musical Numbers From The Broadway Version Are Nowhere As Good As The Movie Version
Fully taking note of the work that goes into writing music, never mind performing, I gotta say, the numbers from the musical version of The Little Mermaid just weren't that good when compared to the animated songs. Even the extensions for certain songs just felt like they should have left well enough alone. Heck, not to be rude, but the music from the musical paints a picture as to why the show isn't on Broadway anymore. Even with the Disney brand name or the love many have for The Little Mermaid.
On The Fence
Most Of The Wardrobe
From Shaggy to Caravalho's wig, her mermaid outfit as well, there was a need to question why were the outfits so inconsistent? How on the same show, which has Queen Latifah's character decked out, you can have Shaggy in what looks like a rejected concept piece from a Missy Elliot video? If not a knockoff of a jacket Michael Jackson would wear, just all in the color red. Also, taking note this could be considered a warm-up for the live-action movie, why wouldn't you go all out? Especially considering an already established Disney princess is part of the show?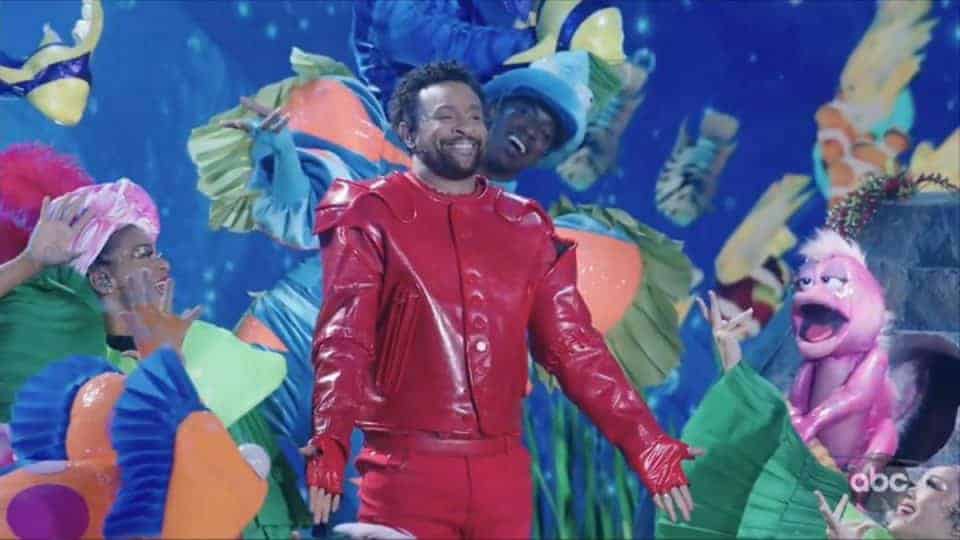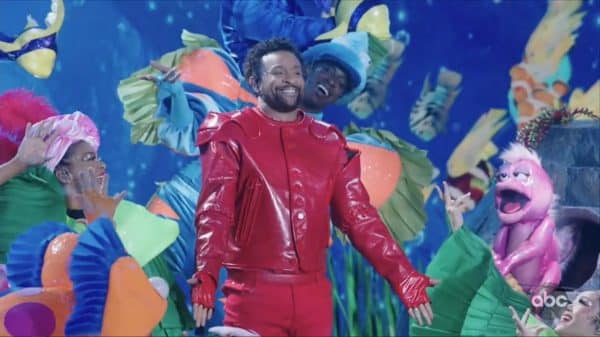 Queen Latifah Being A Bit Campy
While Stamos was having fun, it seems Queen Latifah was having fun to the point she decided to tap into the fact Ursula is based on a drag queen. Hence making her a bit camp and someone who seems less sinister than the cartoon version. I'd even say Queen Latifah's Ursula was like Cesar Romero's Joker. Acceptable, yes, but perhaps not the go-to portrayal or expectation for the character.
---
Community Rating:
---
What saves The Little Mermaid Live! is that you are given such a limited ability to compare the actors to the animated version. That and, when the performances were good, they were excellent. However, when they weren't, while far from terrible, they were a bit of a disappointment. Yet, I'd ultimately say a lot of things someone may or may not like is far more subjective than what we've gotten from FOX and their live musicals.
So, with that in mind, The Little Mermaid Live! is being considered something to watch. With a bit of a asterisk, but nonetheless if you are into Disney or most of the people involved, you'll get a kick out of this.
[td_block_16 td_ajax_filter_type="td_category_ids_filter" ajax_pagination="next_prev" custom_title="Season Reviews & TV Specials" sort="random_posts" category_id="24988″ td_ajax_filter_ids="47, 1944, 101, 1343″ category_ids="24988, 4042″]
Queen Latifah's Outfit - 85%
John Stamos Had Fun - 84%
Mixing The Animation With Live Performances - 86%
Auli'I Singing Beautifully Despite How Uncomfortable You Know She Was - 87%
Amber Riley - 89%
The Musical Numbers From The Broadway Version Are Nowhere As Good As The Movie Version - 65%
Most Of The Wardrobe - 75%
Queen Latifah Being A Bit Campy - 76%