Megan Thee Stallion P.I.: Hottieween – Review, Summary (with Spoilers)
In the comical horror series, Hottieween, rapper Megan Thee Stallion taps into her love of horror and pays homage to the great Black heroines of yesteryear.
---
Director(s)
Teyana Taylor
Screenplay By
Megan Thee Stallion
Date Released (YouTube)
10/31/2019
Genre(s)
Horror, Comedy
Good If You Like
Campy Horror
Noted Cast
Megan Thee Stallion P.I
Megan Thee Stallion
Janine
Jay Cole
Archimedes
Dave East
Images and text in this post may contain affiliate links. If you make a purchase, we may earn a commission or products from the company.
Plot Summary/ Review
Megan Thee Stallion P.I (insert air horns) specializes in tracking down fuccbois but ends up the victim of one of the biggest, Archimedes. Leading to her working her way through his army to get to him. But not without the help of the Watson to her Sherlock, Janine.
Collected Quote(s) or .Gifs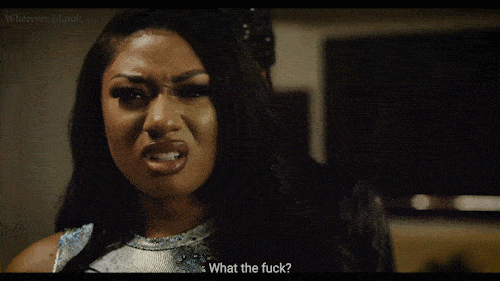 Highlights
It's Funny
I want you to imagine the likes of Vampire In Brooklyn and other movies featuring Black folk as the monsters, and ham it up. I'm talking about making it campy, kind of ghetto, but crafted to the point that, as long as you don't take it too serious, you'll enjoy it. That is what Megan Thee Stallion gives you.
For she clearly isn't trying to be seen as a serious actress or comedian, nor her peers in the mini-series. Instead, they are just having fun, and in that, you get to experience a different take on horror not seen often. Well, at least since the Wayans family stopped making Scary Movie.
The Story Is Good Enough
While it isn't clear what led to Megan becoming a P.I, why there is a Fuccboi epidemic, nor the origin of vampires, you get enough to understand the point. Vampires plague Stallion County, their leader is Archimedes, and he targeted Megan for a specific reason. Be it to be his bride, loyal to him, or to continue his legacy.
Either way, what he thought was going to happen was not part of Megan's plan.
The Animations Weren't Terrible
From fangs growing, people turning into bats, and the film trying to be creepy, there is the use of animation and cuts to bring a fear factor. I won't say it is strong, but considering how this appears to be low budget, a passion project, if you will, it's pretty good all things considering.
By no means will this launch the acting career of anyone involved, but considering Megan has noted varied interests, which include horror, anime, and cosplay, Hottieween becoming a perennial thing wouldn't be a bad thing. Heck, considering the different personas Megan has, including Tina Snow, her doing a little online web series each season could be brilliant marketing. Even if it is something just for her fans who get her humor and style.
It's Funny - 85%
The Story Is Good Enough - 80%
The Animations Weren't Terrible - 81%