Elder Millennial has the vibe of a YouTube video. It isn't hilarious but the way things are talked about are comical and insightful enough to make you want to subscribe for more.
---
Director(s)
Steve Paley
Screenplay By
Iliza Shlesinger
Date Released
7/24/2018
Genre(s)
Comedy, Comedy Special
Good If You Like
Dating jokes

Jokes about Meeting People At A Club

Comedians who use voices and make animal sounds

Noted Actors
Herself
Iliza Shlesinger
Summary
At 35, Iliza Shlesinger finds herself engaged and happy. That is, until she deals with the question of "How did you guys meet?" For she knows that question is less about her and more about giving advice. So, that acts as the catalyst for all she talks about in Elder Millennial. It is all about the preparation and madness which goes into finding someone acceptable as a woman. Also, why women don't really hit on men and what it is like in the early stages of dating.
Alongside those topics, there are conversations about insecurity, birds, and of course feminism. Mostly in the form of noting, rather quickly, how much inequality is bulls***. Nothing that gets really preachy.
Highlights
She Has Her Own Voice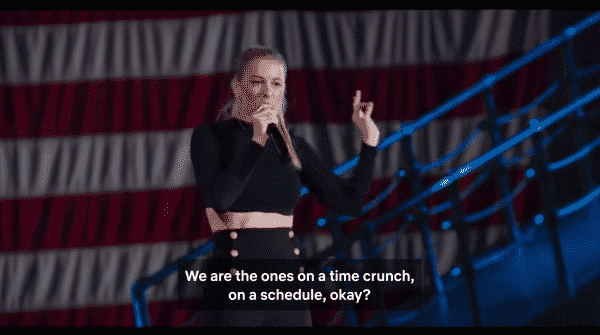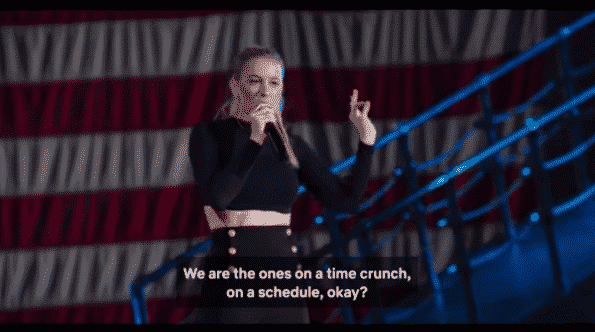 Because of the type of comedy I'm into, it often seems like everyone is slowly, but surely, following a trend of who can talk about bodily functions in the grossest way? If not, who can make it seem they need a therapist more for self-esteem issues? Shlesinger sidesteps that and while she may not present the most unique takes on dating, in its various stages, she finds a way to twist it and make it comical. Be it by dropping the tone of her voice to sound menacing, walking about like she has a hunch back, or trying to break down the conflict of being a feminist yet dating not really having changed much in generations.
For example, a huge part of her special deals with why women don't ask out men and rejection. Her twist on it deals with more than all the work women put into going out and using that as a reason. She breaks down, using her love for animals, why it is weird and not that favorable to women. Be it because men usually like easy targets, where they feel empowered, or simply because men are brought up to become adjusted to rejection. Mostly because they seek quantity over quality.
Now, none of what she says is deep and you may not agree with it all, but she seems so sure of what she says and believes that it's comical. For she gets, so it seems, how absurd the whole thing is yet at the same time she recognizes she isn't really up for changing things and, with a rock on her finger, she doesn't have to. So this is just her explaining to guys what girls go through and trying to get girls to see how ridiculous all the effort they make sometimes is.
On The Fence
It Continues To Make You Question What Is a Comedy Special In Modern Times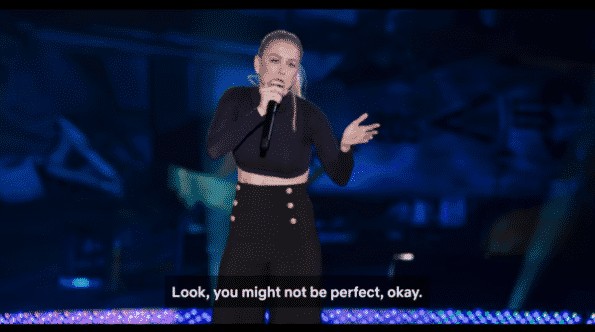 At this point, around every two years Shlesinger comes out with a special. Now, I will admit I am very tempted to watch the others to see if they are good but I must also admit that Elder Millennial doesn't feel like an exclamation point. What I mean by that is, it doesn't necessarily seem like the end of a chapter, even if it does represent the end of Shlesinger as a single woman. More so, it feels like a series of YouTube video monologues performed in front of an audience. Just now monetized to the point Shlesinger could make some real money. Well, that and now the graphics are gone.
And this topic isn't to discount the humor and what Shlesinger says. More so, I, unfortunately, have to say that Elder Millennial contributes to the argument that Netflix is really watering down what it means to have a comedy special. Not in the sense of, as long as you are willing to be paid what the algorithm says you are worth you can have one. No. The issue here is more about the special not being built up as some kind of event.
Like, compare how this was handled to Chris Rock or Dave Chappelle. Outside of maybe one trailer being released, where is the marketing for this? As noted, Shlesinger releases a new special biennial, so is this more so an hour-long series that takes a long time to release new episodes? The gist of what I'm trying to say here is, what makes Shlesinger's voice one which deserves to be put on a pedestal? To have so many specials and be put on one of the largest networks in the world? Just because she is cheap or is it because she represents the zeitgeist in some way other comedians don't? This doesn't really get answered.
Overall: Mixed (Stick Around)
I can imagine, on a day I have nothing to watch, checking out her earlier specials to see how she has grown as a comedian. Maybe even checking out her work outside of comedy specials. But, as much as I am on the brink of saying I'm a fan, I won't pretend that I am far from the point of paying anything to see just her.
Hence the mixed label. While Elder Millennial has its moments and you'll enjoy Shlesinger point of view, her content sounds familiar. On top of that, as much as she has her own spin, it isn't at that point where her take is the perspective you will find yourself referring to. If anything, she is like a Youtuber who, as long as it is free, you'll enjoy her. But, once you have to deal with a paywall, you'll move onto someone else who is similar and doesn't cost you extra.
---
Follow Wherever I Look on Twitter, Like us on Facebook and Subscribe to the YouTube Channel.