Ms. Pat at The Stress Factory (11/2/2018) – Recap/ Review (with Spoilers)
Alongside a comic who seemingly is waiting for a Judd Apatow call, we get Ms. Pat, who performs on the level of an unofficial Queen of Comedy, Venue Stress Factory Comedy Club Venue Address 90 Church St, New Brunswick, NJ 08901 Date 11/2/2018 Genre(s) Stand Up Comedy Good If You Like Vulgar Comedy Jokes About…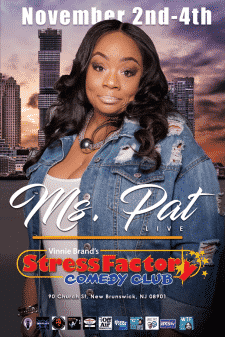 Alongside a comic who seemingly is waiting for a Judd Apatow call, we get Ms. Pat, who performs on the level of an unofficial Queen of Comedy,

---
Venue
Stress Factory Comedy Club
Venue Address
90 Church St, New Brunswick, NJ 08901
Date
11/2/2018
Genre(s)
Stand Up Comedy
Good If You Like
Vulgar Comedy
Jokes About Life and Struggles
Urban Comedy
Total Time
Almost Two Hours

(15 minutes – James Camacho)

(20+ – Vinnie Brand)

(60+ – Ms. Pat)

Noted Performers
Himself (Opening Act)
James Camacho
Himself (Opening Act)
Vinnie Brand
Herself (Headliner)
Ms. Pat
Images and text in this post may contain affiliate links which, if a purchase is made from those sites, I may earn money or products from the company. Most affiliate links contain an upward facing, superscript, arrow.
The Venue
With a parking deck right next door, which will likely run you $8 to $10, and with the New Brunswick train station within a moderate walking distance, getting to the venue is easy. As for the inside? There aren't really any bad seats. I paid for VIP just in case and that'll lead to you sitting in the front so be aware of that since both the comedians and the venue will crack on patrons. Specifically, there is a camera which will pan the room and crack jokes on people. It's all in good fun but if you are the type who is thin-skinned or scared, be forewarned.
The Opening Act(s)
James is a comical guy. The half Chinese, half Puerto Rican comedian is in his mid-20s so expect from him what you get from a lot of mid-20s comics. That is, him talking about clubbing, drinking, trying to get laid, and things of that nature. But, this is this sort of awkwardness to James which is why he seems like he will end up working with someone out of the Judd Apatow camp. For while he isn't that vulgar or gross, he has this pleasant everyday guy mix with someone who probably gets a little weird when drunk – which I mean in a good way.
One of the things you have to like about how the show built up to Ms. Pat is because it began with James, who is youthful, engaging, and keeps it light, then Vinnie comes on. He really warms you up to what Ms. Pat is going to say for with him talking about how he handles Halloween, you feel eased into what's coming. Yet, you don't feel like he is trying to compete with the acts which come before or after. He makes it clear there is a reason why he owns a comedy club, but isn't on stage to prove anything. Just to make it so from James to Ms. Pat, you don't feel like you are dealing with night and day.
The Headliner
You know how most places claim someone is going to be big and you just roll your eyes? That can't be said for Ms. Pat. There is something about her, especially as you hear her story, which makes her seem like the daughter Bernie Mac and Adele Givens didn't know they had (though, age-wise, they couldn't be Ms. Pat's parents). For as she goes into getting a nipple shot off, raising her niece's kids, translating for white folk in the audience, amongst other things, you see a queen of comedy who deserves more recognition.
Highlights
The Order of Performers
I'm not sure if it is Vinnie or someone else who decides on the order of comics, but it felt kind of genius. With James, you get someone who is funny but lacks being offensive in any way. Even as he sprinkles a few race jokes here and there. Making it so people can learn to laugh at things which are inappropriate but not feel forced out their comfort zone.
Then comes Vinnie who cranks it up and gets vulgar, let's you know kids aren't off limits on that stage and gives you a taste of Ms. Pat's comedy. Thus making the crowd warmed up for who is about to appear in ways most live performances don't do.
Ms. Pat
After seeing Ms. Pat on The Breakfast Club, I knew I had to see her once live. For there is truly something about her which reminds you of when Def Comedy Jam and Comic View were the top shows for comedic talent. Her standup method and topics mix the styles of a lot of 90s comedy legends with modern issues they didn't touch back then. Like, for example, Ms. Pat having a lesbian daughter and how she deals with that. All the while making jokes about being shot, a dealer, a teen mom, and so many other things covered in her auto-biography Rabbit
.
Really giving you someone who I may say sounds like this or reminds me of this other person, but truly is paving a way for herself. Making her surely someone who not only deserves to become a breakout comic but must. If for the sake of the future of comedy.
While I wouldn't say I'd pay to see James nor Vinnie as headliners, I'd have no issue dealing with a two-drink minimum wherever Ms. Pat is headlining. She is a storyteller comedian rather than one who seems to be relying on a series of jokes. Something which feels rare since it seems everyone is trying to create that moment which can become a meme or catchphrase. With Ms. Pat, like that down ass aunt of yours, she tells it to you straight and finds humor in the darkest, even weirdest, of things. Making life not necessarily seem not as bad as it is, or was, but definitely helping you find the joke in it.
Hence the positive label. I don't know when this long-gestating sitcom featuring Ms. Pat is supposed to come out on Fox, but now I'm fiending for it. Heck, I bought her book in anticipation just to be ahead of the game. So, if Ms. Pat comes to your area, make sure to catch her stand up. For on top of being a hilarious comedienne, she also is quite nice.
Check out future stops she has on tour, and keep up to date on her career, here: Website, Instagram, Twitter or Facebook
---
Follow Wherever I Look on Twitter or Like us on Facebook.
---
---
Follow, Like, and Subscribe
Community Rating: 0.00% (0) - No Community Ratings Submitted (Add Yours Below)