With Ryan Coogler set to begin writing Black Panther 2 around the same time Disney/ Marvel gains access to the X-Men, in early 2019, is it too early to speculate who could play Storm?
---
Community Rating: 0.00% (0) - No Community Ratings Submitted.
---
---
| | |
| --- | --- |
| Subject | Black Panther 2 |
| Category | Movies |
| Type of News | Casting Speculation/ Ideas |
Summary
According to the Hollywood Reporter, Ryan Coogler, the mastermind behind the phenom that was this year's Black Panther, is set to begin writing the sequel the start of next year. This just so happens to coincide with Disney finishing up its purchase of FOX's assets, particularly the X-Men franchise. Which, if you believe multiple outlets, is likely to receive a reboot before it is inevitably integrated into the MCU (Marvel Cinematic Universe).
Leading to the grandest idea: Of the X-Men, there are a handful of characters who are iconic enough to be presented as the ones to introduce a new age. Wolverine, who is going to be hard to cast, due to Hugh Jackman playing that character for more than a decade, Professor X and Magneto, and then Storm. Now, Storm has long been a bit of a contentious figure in the FOX Marvel universe because of her being played by light skinned and bi-racial actresses. Thus giving Disney/ Marvel the opportunity to do two big things.
The first being the possibility of outdoing the first Black Panther by presenting, without question, the top Black female superhero.
Also, by Disney/ Marvel taking note of the criticism FOX chose to ignore, by bringing us someone who more closely aligns with Storm they can avoid being called out for colorism.
Lastly, while Black Panther has the most prominent Black actors in the MCU, outside Falcon, having Storm act as the one who introduces the X-Men to the MCU would be almost as huge of a moment as the original Black Panther being announced.
But, the problem with this idea is, Marvel Studios President, Kevin Feige, has yet to be given the green light by Disney to start developing with FOX's, soon to be former, properties. Meaning, likely, whether Coogler is interested in including Storm or not, he couldn't integrate Storm into the story just yet. However, this doesn't mean, as Marvel is famous for, a post-credit scene isn't possible.
Question(s) Left Unanswered
Who Should Play Storm?
Let's first set aside the idea of an unknown. While possible, it seems Marvel/ Disney more so cast indie and unknown writers and directors than actors. Granted, some of their stars, like Dave Bautista, weren't necessarily huge, regarding being known in the mainstream, before working with Marvel/ Disney. Yet, you cannot discount he had a following, due to WWE and industry experience.
So, while not an extensive list below, here are a few ideas of reasonably known actresses who could, and should, be cast as Storm.
Anika Noni Rose
With Rose already working with Disney in the past, it means there is already a relationship built there. On top of that, considering how she handled the Wreck-It Ralph 2 controversy, dealing with her character, Tiana, being lightened, it seems she can both work within the system and deal with public outrage. Though, perhaps one of her greatest assets is her voice.
I don't mean her singing voice, but who is to say they couldn't use that as well. What I mean is Rose's talking voice. With a hint of regal decor but a tone which can both work in being a destructive goddess but also function as a possible rival to Nakia. At least, in terms of having T'Challa's attention. Maybe even Shuri's admiration as well.
Oh, and did I mention she does Krav Maga training? So if anyone dares to bring up her age (Chadwick Boseman is but a few years younger), I'm pretty sure she could whoop their ass. Also, what better feather for Disney/ Marvel to put in their cap than to say they don't discriminate based on age?
Emayatrzy Corinealdi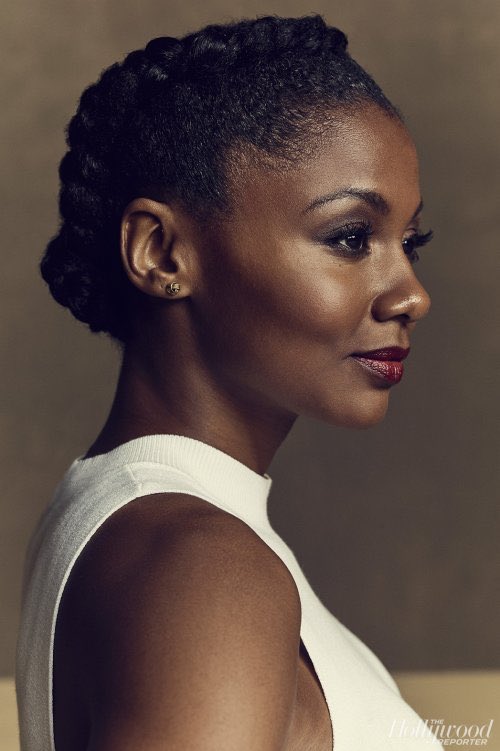 While her career may not have afforded her the same recognition as the two she is sandwiched between, Corinealdi still seems like a potentially perfect storm. One of the things she has over the other two is that she is the tallest of the three, at 5'7, which isn't close to Storm's reported 5'11 structure, but of the tall Black actresses out there, she seems the most qualified. Add in she is Afro-Latina (Panamanian father and African-American mother), she can be a hero to both Black girls and Latin and Caribbean girls who currently lack a hero who has a similar ethnic/ cultural background to them.
But, there are some possible issues. One of them are that she isn't that active on social media and with the way the industry is becoming, that could be a mark against her. Also, with her having a lead role in the soon to premiere CBS series Red Line, similar to DeWanda Wise with Captain Marvel, she could have scheduling conflicts which would limit her participation. Something that CBS may not accommodate since their parent company actively competes with Disney on multiple fronts.
Aja Naomi King
Similar to Rose, who is my front-runner in all this, King has the benefit of synergy since she works on ABC, a Disney property. On top of that, she is the youngest of the three named so if ageism is an issue for casting, she sidesteps that issue. Plus, with her being active on social media, and an advocate for social causes, it puts her a bit ahead of Corinealdi if you want to factor in how socially active she is.
Also, unlike both Rose and Corinealdi, she has fewer commitments to get in the way of her becoming dedicated to the role. Currently, she has one movie in post-production and is working on How To Get Away With Murder. Rose has a potential TNT series on the horizon which could complicate things for her. But, for King? While I'm not 100% sure what is going on with HTGAWM, considering how it was up to season 3 (when I last watched) she could easily be written off, or killed for dramatic effect, and transition into playing Storm.
Yet, it is a bit harder to be gung-ho about her in comparison to the other two. It isn't a talent issue, but more so that she may have more of a mountain to climb to play the role convincingly. For King, the problem for me is her look. Her presence more so pushes girl next door, college sweetheart or up and coming bad ass. She doesn't necessarily have a brooding storm (no pun intended) look to her. Not to imply she can't do it. The oft-cited example of Heath Ledger, who was commonly known for roles which were dissimilar to The Joker, presents a good retort. Especially considering his performance is often seen as the live action Joker portrayal to match. However, of the three on this list who could be Storm, while a bit of a wild card, she still has the potential to pull it off.
Do you have any picks for potential Storms when she inevitably enters the MCU? Leave them in the comments below.
References
Ryan Coogler Signs On to Write and Direct 'Black Panther' Sequel (Exclusive). (2018, October 11). Retrieved from Hollywood Reporter: https://www.hollywoodreporter.com/heat-vision/black-panther-2-ryan-coogler-write-direct-sequel-1151626
Simon, J. (2018, December 28). Disney Could Begin Developing New Marvel X-Men Films In The First Half Of 2019. Retrieved from Shadow & Act: https://shadowandact.com/disney-could-begin-developing-new-marvel-x-men-films-in-the-first-half-of-2019
---