I've come to realize that Wayne is the American equivalent of The End of the F***ing World but with more off-kilter characters.
---
Community Rating: 79.63% (3)
---
---
Network
YouTube Premium
Director(s)
Steve Pink
Writer(s)
Shawn Simmons
Air Date
1/16/2019
Introduced This Episode
Tracey
Janet Porter
Jay
James Earl
Sgt Geller
Stephen Kearin
Images and text in this post may contain affiliate links which, If you make a purchase, I may earn money or products from the company. Most affiliate links contain an upward facing, superscript, arrow.
Meanwhile, Back Home: Bobby, Jay, Seargent Geller
As you can imagine, Bobby is pissed, and a bit embarrassed, Wayne came into his life, whooped his sons' asses, bit his nose off, and took his daughter. However, with Sargent Geller having a cancer scare, he isn't as gung-ho as Bobby. In fact, he wants to give Wayne a chance. You know, because his dad died of cancer, Wayne's, and Geller now has a bit of a soft spot. One which Jay, one of his deputies, seems to want to protect like Geller is his dad.
Commentary
These three men are ridiculous. I can't even tell you which one the most because they are all actively competing. But the funny thing is, none of them are going over the top. Each one is weird, but no one is doing physical comedy, having ridiculous lines, they are just a step before the line before being eccentric becomes being a comedic character.
Well, except Jay. Jay is dancing on that line with his antics, like tasering Bobby for smoking around Geller. Though I love him for doing so since it provided such a cathartic release.
You Abandoned Me: Del, Wayne
It is becoming increasingly clear that Wayne had an odd childhood. Between not having waffles before, being unfamiliar with Lord of the Rings, and things like that, there is a need to question what kind of childhood did Wayne have? What did Wayne Sr do with his son? Well, with him dead, we'll have to wait for Wayne to answer that question.
But, while Del begins to question who's this weirdo she had been with, she learns her period has come to say hello. Which sucks for her since, on top of having no tampons, Wayne is rather uncomfortable with getting them as well. In fact, he goes to three stores before someone eases the pressure off him and helps him choose the right set. However, that took him an hour and led Del to think Wayne abandoned her in her time of need.
Commentary
Again, there is the need to ask what did Wayne do as a child? His mom left when he was 5 and then his dad, assumingly, raised him, alongside Gail to a point. Also, while we don't know anything about Orlando, it seemed like the two hanged out outside of school and talked. Are we to believe there was never a mention of having waffles, Lord of the Rings, and stuff like that?
I mean, granted, it could just be Del is a secret nerd who spent all her time watching movies all day. However, while that would explain Lord of the Rings, it doesn't explain waffles. But let's not harp on that for it could be the case of Wayne Sr. not having time to make waffles or being able to afford the kind Wayne may have wanted as a kid.
I'd Do Anything For Love: Tracey, Del, Wayne
With Wayne taking an hour to find some tampons, Del abandoned the diner they were eating at and figured she was on her own. Leading to her wanting to book a bus ticket to LA. Why LA? No idea. The only thing we find out is about a woman named Tracey.
Now, who is Tracey? Well, she was the waitress at the diner, that Del gave attitude to, and also the ticket taker at the bus station, who Del pissed off to the point of fighting. Mind you, Del is 15 and Tracey 41. But, after all is said and done, Tracey tries to speak to Del, woman to woman, specifically when it comes to Wayne. At least in terms of giving him another chance for he is showing effort. Yeah, he is a little slow to take, but between drinking coffee, despite hating it, and eventually getting what Del asked for, he is struggling but trying.
Something Del sees first hand when she finds him bounded for trying to cross a golf course to win her back and then trying to buy a shopping cart full of feminine products. This touches her so deeply it seems she is going to try like he is. Meaning she'll stop stealing and while she iterates they are going to take things slow, just be friends, for now, it seems she is slowly falling for Wayne.
Commentary
This show is going to make me cry. One reason being Wayne clearly not knowing what to do, what to say, but trying his best. Basically playing catch up to where he should be at as a 16-year-old. But, there is also a need to address that while he is ignorant, he is not only willing to learn but be given help. That surprised me a bit since you'd think a guy like Wayne would lash out when he felt uncomfortable or insecure, but he actually let someone help him. Showing that it isn't that Wayne doesn't want to be better or is only doing so for Del, it could just be no one took the time to expose him to things, explain them to him, and really invest in his development. I mean, you saw his school, who knows how many kids slipped through the cracks.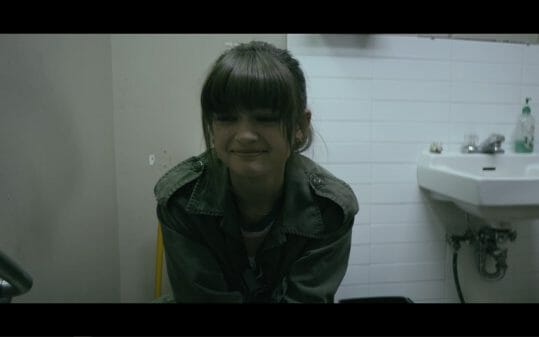 Then with Del, while we see her father is protective, and brothers to a point, they aren't nurturing. Hence why she knows about Lord of The Rings and stuff like that. For similar to Wayne, she didn't have anyone take time up with her, so she had to venture and learn about things herself. Heck, in terms of her stealing, one could contribute that to her also not being given money and her dad not even buying the basics. Remember her talking about being cold and saying she should chop some wood? While made for a comedic moment, it also shows how much she had to do things for herself.
Thus making the idea of Bobby being so "worried" now more about ego than anything else. If not a sense of ownership since he clearly doesn't really give a damn about her. Heck, depending on how her mom truly is, having custody of Del might be a way to punish the mom for leaving him.
Highlights
Wayne and Del showing a willingness to change, if not be better people, when they feel like they are part of something. Especially when it is something mutually beneficial.
On The Fence
While a part of me appreciates the comedic side of the show, like with Bobby and Sgt Geller, I wouldn't say that part of the show feels as well done as Wayne and Del's. It helps add layers to their journey, but couldn't stand on its own.
---
Follow Wherever I Look on Twitter, Like us on Facebook and Subscribe to the YouTube Channel.
---
---
Season/ Episode
Synopsis
Director, Writer, and Introduced Actors
Topics & Focused Characters
Season 1/ Episode 10 "Chapter Ten: Buckle The F**K Up" [Season Finale]

Reggie and Wayne finally fight, and we learn whether Wayne and Del get to have a happy ending or not.

| | |
| --- | --- |
| Director(s) | Steve Pink |
| Writer(s) | Shawn Simmons, Greg Coolidge, Kirk Ward |
| Air Date | 1/16/2019 |

She's Having Puppies!:

 

Principal Cole, Orlando, Maureen, Del

You Got To Find Your Skates & Your Strength:

 

Sgt. Geller, Wayne, Del, Reggie

First Love:

 

Del, Wayne, Bobby

Season 1/ Episode 9 "Chapter Nine: Thought We Was Friends"

Del comes to realize Wayne had his eye on her past when she came to his door. Also, Geller and Jay come face to face with Calvin and Reggie.

| | |
| --- | --- |
| Director(s) | Michael Patrick Jann |
| Writer(s) | Kirk Ward, Greg Coolidge |
| Air Date | 1/16/2019 |

A Life Filled With Disappointments & Lashing Out:

 

Del, Calvin, Maureen, Reggie, Wayne, Cole, Orlando

Blackmail & Cookies:

 

Cole, Orlando, Del
Showdown:

 

Jay, Sgt. Geller, Calvin, Reggie, Wayne, Maureen

Season 1/ Episode 7 "It'll Last Forever"

Wayne and Del hit another milestone in their relationship as they barely miss Jay and Sgt Geller.

| | |
| --- | --- |
| Director(s) | Stephanie Laing |
| Writer(s) | Shawn Simmons |
| Air Date | 1/16/2019 |

Daddy Issues:

 

Bobby, Carl, Teddy, Geller, Jay

Saying Goodbye:

 

Trish, Jenny, Del, Wayne
I'll Be There For You:

 

Del, Wayne, Bobby, Sgt. Geller, Jay

Season 1/ Episode 8 "Chapter Eight: Musta Burned Like Hell…"

We meet Wayne's mom this episode, and the man who has distracted her for 11 years, as well as learn a few things about Orlando.

Director(s)
Michael Patrick Jann
Writer(s)
Spencer Sloan
Air Date
1/16/2019
Introduced This Episode
Reggie
Francesco Antonio
Maureen
Michaela Watkins
Calvin
Kirk Ward

The Responsible One:

 

Orlando, Principal Cole

Ma?:

 

Maureen, Calvin, Reggie, Del, Wayne
Where Is My Place In All This?:

 

Wayne, Maureen, Del

Season 1/ Episode 5 "Del"

The reigns of 

Wayne

 are given to Ciara Bravo, and she takes control in such a way you could forget she isn't the title character of the show.

Director(s)
Tessa Hoffe
Writer(s)
Lauren Houseman
Air Date
1/16/2019
Introduced This Episode
Donna
Abigail Spencer
Natalie
Abigail Winter

My Mom Was the Best:

 

Donna, Natalie, Bobby, Del

But Then She Went Away:

 

Del, Donna, Bobby


Season 1/ Episode 6 "Who Even Are We Now?"

The question of where and what to do after Wayne eventually gets his car is asked, and Wayne may have found one option.

Director(s)
Stephanie Laing
Writer(s)
Sophie Pustil, Paul Jaffe
Air Date
1/16/2019
Introduced This Episode
Trish
Odessa Adlon
Jenny
Zoé De Grand Maison

On The Road Again:

 

Bobby, Carl, Teddy, Jay, Sargent Geller
Speak From The Heart:

 

Orlando, Principal Cole
Popping The Bubble:

 

Bobby, Del, Wayne, Trish, Jenny

Season 1/ Episode 3 "Chapter Three: The Goddamned Beacon of Truth"

While things remain a bit of a bore in Brockton, Wayne reveals something which helps Del realize how screwed up he is.

Director(s)
Steve Pink
Writer(s)
Rhett Reese, Paul Wernick
Air Date
1/16/2019
Introduced This Episode
Principal Cole
Mike O'Malley

We Gotta Save Wayne:

 

Orlando, Principal Cole
Second Chances:

 

Jay, Principal Cole, Sgt Geller
Never Call Me A P***y:

 

Wayne, Del

Season 1/ Episode 4 "Chapter Four: Find Something Black To Wear"

As Wayne gets his first job, Del decides to live vicariously through a family she came across. Oh, and it is the twins birthday.

Director(s)
Tessa Hoffe
Writer(s)
Sarah Jane Cunningham, Suzie V. Freeman
Air Date
1/16/2019
Introduced This Episode
Carl
Jon Champagne
Teddy
Jamie Champagne
Ramon
Juan-Carlos Velis
Eric
Maxwell McCabe-Lokos

What About Our Birthday?:

 

Carl, Teddy, Del, Bobby
A Working Man's Blues:

 

Wayne, Eric, Carl, Del
You Can't Fix It, But You Can Be There:

 

Del, Wayne

I've come to realize that Wayne is the American equivalent of The End of the F***ing World but with more off-kilter characters.

Director(s)
Steve Pink
Writer(s)
Shawn Simmons
Air Date
1/16/2019
Introduced This Episode
Tracey
Janet Porter
Jay
James Earl
Sgt Geller
Stephen Kearin

Meanwhile, Back Home: Bobby, Jay, Seargent Geller
You Abandoned Me: Del, Wayne
I'd Do Anything For Love: Tracey, Del, Wayne

Wayne may very well be the first show that makes you want to have YouTube Premium.

Creator
Shawn Simmons
Director(s)
Iain B. MacDonald
Writer(s)
Shawn Simmons
Air Date
1/16/2019
Genre(s)
Comedy, Drama, Young Adult
Good If You Like
Teenage Debauchery

Teen Psychopaths With A Heart of Gold

Road Trip Shows

Isn't For You If You
Find Bad Ass Kids Annoying

Don't Like A Lot Of Vulgarity

Aren't Much For Violence

Introduced This Episode
Wayne
Mark McKenna
Wayne Sr.
Ray McKinnon
Del
Ciara Bravo
Orlando
Joshua J. Williams
Gail
Lisa Berry
Bobby
Dean Winters
---