Emma learns the state of Vida's books as Lyn searches for some answers out of Lupe about life.
---
Community Rating: 56.02% (1)
---
---
Network
Starz
Director(s)
So Yong Kim
Writer(s)
Tanya Saracho, Santa Sierra
Air Date
5/13/2018
Actors Introduced
Lupe
Elena Campbell-Martinez
Tlaloc
Ramses Jimenez
Nelson
Luis Bordonada
Cruz
Maria-Elena Laas
Mari Got A Lot Going On: Mari
Between her activism, a possible crush on this woke guy named Tlaloc, and the fact her father is on dialysis, don't take Mari as someone who is just yelling into a void. She has things she is fighting for and probably trying to prevent. After all, who is to say her landlord isn't days, weeks, or months away from raising their rent and pushing them out. Something which, with her dad sick, Johnny likely being gone soon, and her on her own, means losing her neighborhood beyond gentrifiers, but also because she has to leave it.
Commentary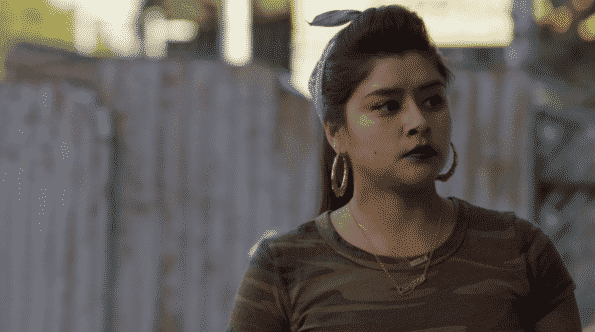 It's hard to not appreciate showing Mari as this local activist while also presenting why she is one. It isn't because she doesn't necessarily like white people. More so, it's because, as they are courted and attracted, the old bearers of the neighborhood are pushed out indiscriminately. Which could include her! So, it is immensely personal and since she can't rattle at the door of her landlord, she cathartically lashes out at the newcomers. Which, I know, many will find to not be right for it isn't their fault the price was good for them, but such is the issue of gentrification. Something we saw in [tooltips keyword='She's Gotta Have It' content = ' Spike Lee's modernized She's Gotta Have It finds the middle ground between shows like Insecure and the TV programming of Lee Daniels and Mara Brock Akil.'] in terms of people coming in, changing things, but taking note that often their change is wiping out a community in the process.
It's So Hard To Really Let Go: Johnny, Emma, Lyn, Juniper
After a bottom tongue lashing, Juniper decides he wants a break from Lyn and she takes it as a breakup. Which, with it being just a few days after Vida's death sends her to Lupe for answers. Of which, she ignores a lot of what Lupe is saying about love being home and hones in on Johnny being her true love and him still loving her. Which he does, by the way, problem is, he has a fiancé, is soon to be a father, and the way he looks at her, it isn't blissful love.
Looking into Johnny's eyes, that love has so much fear and trauma that you can tell, even as he has sex with her again, it's because there is this desperate need for her. Why? I can't really say. Especially since he makes it seem he was always the reliable stand by while she found men like Juniper who seemingly financed whatever life she wanted at the time. But let's see what happens. Also whether Mari tells Johnny's wife to be about the multiple instances of cheating.
Switching to Emma, it seems her noting Vida being a hypocrite is starting to be explained through Emma's relationship with Cruz. If not, the one she could have had and Cruz seems ready to begin or continue. For there is something about Cruz and Emma which all but says, "We could have been something magical if you just took the leap with me."
Yet, between Vida's words or actions, alongside Emma deciding to get the hell out of the neighborhood, what could have been the love of Emma's life seemingly got put on pause.
Commentary
I feel so bad for Johnny and his fiancé. His fiancé because, well, he is smashing another girl almost at a consistent basis at this point. Yet, also for Johnny because, clearly he wants no parts of Lyn, even if his anatomy says otherwise. It's just, there seems a part of him that maybe didn't get closure and so, he is being messy.
Sort of like how a lot of women get to be in shows like this, the one that got away comes back and the timing is all wrong, but the feelings are still there. And no matter how bad you recognize they are for you, they still have this thing which makes everyone else seem like someone you're settling for. Just because, as Johnny has felt, and Lynn has seemingly searched for, you can't be with the ideal.
Pushing the question of whether it has always been money, in terms of the reason Lyn would leave Johnny for someone else.
Switching to Emma, now that Lyn and Johnny are pretty much established, I want more on her and Cruz. Especially in terms of their relationship in high school since it seems Cruz had a bit of a spell on Emma. Making you wonder, when it came to leaving the neighborhood, was Cruz a factor or one of the reasons Emma wanted to quickly handle her business and leave? Could it be, maybe somewhere, deep-down, she wanted Cruz to fight for her to stay?
Because, it is kind of being pushed that Vida not being pro-Emma being queer was a strong factor in her leaving but what if it was because Cruz refused to come out? So, with that in mind, she figured her mom won't accept her, her girlfriend doesn't want to be open and out, and combine that with Lyn who she isn't all that close to and she found the strength to leave. Much less, not contact Cruz by phone, social media, or nothing. Just a clean break.
Standing Against Adversity: Emma, Lyn, Eddy
As Emma has said, she isn't trying to stay. So, she sees Nelson and ends up learning her mom was on her second mortgage and that she was given a predatory loan by Nelson. Terrible situation but just cleaning her hands of her mom's property seemed like an option. However, as Nelson starts working his hand from Emma's knee to mid-thigh, it becomes war. No matter the debt, Emma is going to get her mom's properties out of it and prevent the impending foreclosure. How exactly? Good question but something tells me that rent which hasn't been raised in decades will be going up.
But, alongside the information passed on from Nelson comes learning part of the bar's issues came from Vida coming out and that killing business as well. So, with properties which are deeply in debt, Eddy a hard worker who knows nothing about the books, and Lynn who is… well Lyn, it seems Emma has her work cut out for her.
Commentary
I'm already anticipating Mari's wrath when Emma raises rent and starts moving in people not from the neighborhood. It has to be done right? Rent has stayed the same since Vida's dad passed on? That is decades! No adjustments for costs and inflation. Never mind new amenities in the neighborhood and Vida seemingly even having the inside of the building remodeled. Though, and maybe this is just me watching too many dramas, something tells me between Lyn's actions and maybe local homophobia, someone is going to try to commit arson or there is going to be some incident around the property.
That thought aside, I feel like the more I think about this show the more ways I can see Mari getting involved with everything. There will likely be an Emma fight, then her approaching Lyn and calling her a slut, and then comes the question of how will Mari interact with Eddy? For, with Eddy likely having no one but the girls, I can foresee her becoming very protective. Maybe even her background gone into.
After all, Eddy is a bit of a curious person. Clearly the girls didn't grow up with her, and she is the key to understanding Vida being queer. Was it something she rejected in herself and tried to suppress in Emma or was it, as thought of in the first episode, simply something to keep Eddy in the country? And just speaking of Eddy specifically, what was her upbringing like? Was she someone who came out later in life or tried to be hetero but then decided to pursue love like Vida? Heck, where did they even meet?
There is a love story there I want to hear and hopefully, we don't have to wait too long to hear. After all, this show only has a handful of episodes. Like it's a web series.
Question(s) Left Unanswered
So, will we see the spirit of the neighborhood, the girl in the dress, again?
Highlights
Mari being shown as a rebel with a cause.
Johnny and Lyn's relationship dynamic being laid out.
The possibility of Emma and Cruz renewing their romance.
Eventually learning more about Eddy.
Mari may be having a love interest.
Emma perhaps being ready to go to war with Nelson and maybe not just saving her property but working to help the whole neighborhood. Since, clearly, while people know how to run the day to day of a business, book-wise? Seemingly there are few who get what they are doing.
Addressing homophobia in the Latinx community – especially in regards to lesbians. Gay men are usually the focus of homophobia, coming out, and etc. So showing it isn't just a guy thing is [tooltips keyword='refreshing.' content = 'Which I say acknowledging there was The L Word, and programs since which has addressed this.']
Follow Wherever I Look on Twitter or Like us on Facebook.
---
Previous Episode's Recap
[visual-link-preview encoded="eyJ0eXBlIjoiaW50ZXJuYWwiLCJwb3N0IjoyMDY0NiwicG9zdF9sYWJlbCI6IlBvc3QgMjA2NDYgLSBWaWRhOiBTZWFzb24gMS8gRXBpc29kZSAxIFtTZXJpZXMgUHJlbWllcmVdIC0gUmVjYXAvIFJldmlldyAod2l0aCBTcG9pbGVycykiLCJ1cmwiOiIiLCJpbWFnZV9pZCI6MjA2NTEsImltYWdlX3VybCI6Imh0dHBzOi8vd2hlcmV2ZXItaS1sb29rLmNvbS93cC1jb250ZW50L3VwbG9hZHMvMjAxOC8wNS9WaWRhLVNlYXNvbi0xLUVwaXNvZGUtMS1TZXJpZXMtUHJlbWllcmUtVGl0bGUtQ2FyZC5wbmciLCJ0aXRsZSI6IlZpZGE6IFNlYXNvbiAxLyBFcGlzb2RlIDEgW1NlcmllcyBQcmVtaWVyZV0gLSBSZWNhcC8gUmV2aWV3ICh3aXRoIFNwb2lsZXJzKSIsInN1bW1hcnkiOiJXaXRoIFNUQVJaIGJhcmVseSBmZWF0dXJlZCBpbiDigJx3YXRlciBjb29sZXLigJ0gY29udmVyc2F0aW9uLCBpdCBzZWVtcyB3aXRoIFZpZGEsIHRoZXJlIGlzIGEgcHVzaCB0byByZWFsbHkgYmUgdGFrZW4gc2VyaW91c2x5IGFzIGEgbmV0d29yayB3aGljaCBwcm9tb3RlcyBkaXZlcnNlIHN0b3JpZXMuIiwidGVtcGxhdGUiOiJkZWZhdWx0In0="]
---