The Queen's Gambit: Season 1/ Episode 2 "Exchanges" – Recap/ Review (with Spoilers)
---
Community Rating: 0.00% (0) - No Community Ratings Submitted (Add Yours Below)
---
This post may contain affiliate links and spoilers. Please read our disclosure policy.
---
After finding a home, Beth moves on to the next thing she needs to find joy in her life – chess tournaments. The thing she has been deprived of for so long.
---
Director(s)
Scott Frank
Writer(s)
Scott Frank
Aired (Netflix)
10/23/2020
Introduced This Episode
Jolene
Moses Ingram
Allston
Patrick Kennedy
Alma
Marielle Heller
Harry
Harry Melling
Annette
Eloise Webb
DL Townes
Jacob Fortune-Lloyd
This content contains pertinent spoilers.
Recap
Goodbye to Old Friends – Jolene, Beth, Ms. Deardroff
It took until she was 16, but Beth finally gets adopted. Granted, it comes with a bit of guilt since Jolene, who lovingly calls her "Cracker," still hasn't been adopted, but Jolene knows what's up. Who will adopt a Black girl, way past the cuteness of the tween stage, that isn't going to be lied about like Ms. Deardroff lies about Beth's age? I mean, Jolene can't pass for a 13-year-old like Beth, who is 16.
My New Family – Alma, Allston, Beth
Yet, things aren't necessarily a colossal switch when it comes to Beth. Yes, she now has a family and lives in the suburbs, but some things don't change. Like when she was a kid, before Ms. Deardroff came into her life, she has an absent father in Allston and Alma? Well, like her mother, she can see this brilliance that is, for some reason, smothered.
Though, unlike Alice, we get to know Alma just enough to know that between the death of a child and a husband on his way out, that's why she seems ghostly. However, with her emotions not leading to her lashing out at Beth, just sometimes being a bit out of it and not necessarily the mother she could be, Beth is okay with the arrangement. After all, she has her own room, and that's a luxury that compensates for everything else.
Hello Old Friends – Beth, Harry, Annette, Townes, Mr. Shaibel, Alma
But what Beth really longs for is the ability to play chess, practice, study, and competition. For after the incident that ended the last episode, it seems Beth's punishment was no more chess and Mr. Shaibel being forced to shun her. However, with her free from Methuen Home, she ventures to her new school to find a chess club, but there was none.
Luckily, while getting Alma's tranquility pills, which you know Beth eventually stole, she came across a local competition in Kentucky and asked her dear friend Mr. Shaibel for entrance money – which he sent to her! Leading to her first competition in which she faces ranked players like Harry Beltik, and defeats him, alongside possibly making a friend named Annette, another girl into chess, and one Mr. Townes.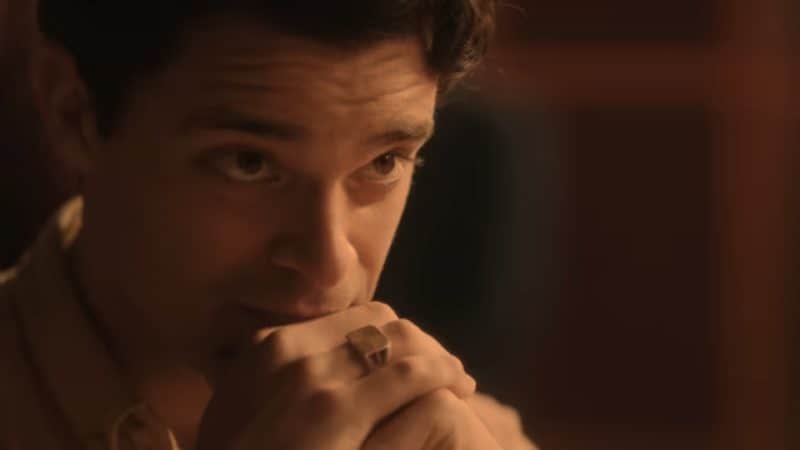 Now, special attention is paid to Mr. Townes solely because Beth is at that age where she now has her menstrual cycle alongside an interest in boys. Lest we forget, Methuen was an all-girls home, so while boys weren't far, they weren't accessible without possibly getting oneself in trouble. So, at the time, they had to be avoided. Now? Oh, it could be on like the yet to be created Donkey Kong.
Things To Note | Question(s) Left Unanswered
Did Beth ever write Jolene?
Is Alma, after learning Chess tournaments lead to prize money, going to use and abuse Beth to be the breadwinner of the household?
Review
Highlights
Never Realizing How Tense Chess Can Be [86]
Whether you are talking about sexual tension, like what Beth and Townes had, or the intensity between Beth and Harry during their finals match, "The Queen's Gambit" is doing a lot for chess. Granted, are they making it a bit dramatized? Probably. However, one of the things the show benefits from is it doesn't really have peers.
Think about it, how many movies or shows, in recent memory, about chess, have come out? Never mind, focusing on a girl's quest to be a grandmaster? The utter lack of competition to compare it to makes it so Taylor-Joy can have a field day and simply enjoy the process of working.
Of course, not to downplay her being a lead, and having to live up to expectations of fans of the book. However, you can almost see her channeling the pressure all into Beth's performance, and it makes it so you get that same feeling in your shoulders and neck as Beth wants to prove herself.
Understanding How Much The Basics Matter In One's Ability To Flourish [88]
It can never be underestimated how much a person can flourish if their basic needs are met. If one has a roof over their head, a version of love that they can accept, food, and even a modicum of support, so much can be done. This isn't to disregard one's own initiatives, but the less you have to worry about one's needs, the more you can focus on your wants.
Case in point, with Alma being who she is, she may not have been Beth's cheerleader when it came to chess, at first, but once she learned she was good – so good she got in the paper – things changed. Now she is ready to never mind school for competitions and is acting like a manager. Not only that, she did speak on, now that it is just her and Beth, being more like a mother than ever before.
Does this make you wonder why she waited so long, never mind how conditional this newfound desire of motherhood is? ABSOLUTELY! But, it isn't like the Methuen Home seemed like the place where one had an abundance of maternal love. Plus, who knows, beyond the trauma she left, how much Beth remembers of her own mother. So this could be the start of something new for both parties.
[ninja_tables id="53658″]
Summary
Never Realizing How Tense Chess Can Be - 86%
Understanding How Much The Basics Matter In One's Ability To Flourish - 88%
The Queen's Gambit proves itself to be able to hold one's attention as it dives into the psychological nature of chess as well as has the reigns given to Anya Taylor-Joy, who surely is one to watch.