The Quad: Season 2/ Episode 7 "#MiddlePassage" – Recap/ Commentary (with Spoilers)
---
Community Rating: 0.00% (0) - No Community Ratings Submitted (Add Yours Below)
---
This post may contain affiliate links and spoilers. Please read our disclosure policy.
---
As Eva hits the canvas, Cecil learns why Clive did what he did and Coach Hardwick's debt hits a dangerous point.
---
Network
BET
Director(s)
Robert Adetuyi
Writer(s)
Sara Finney-Johnson, Jazmen Darnell Brown
Air Date
3/13/2018
Taking Things to The Next Level: Bryce, Ebonie, Cedric
With Cedric and Bryce are officially done pledging and are frat brothers. Meaning, Cedric can now redirect his attention back to music. Of which, naturally, his homegirl Ebonie is his partner and she comes to the idea of him needing a singer on the track. Something that seemingly will lead Bronwyn to return.
Commentary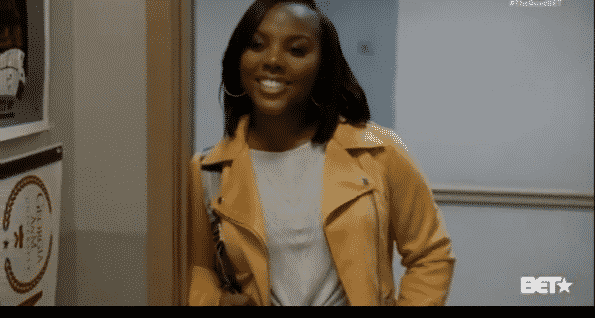 Thank the lord the pledging storyline is over and the show can drastically diminish its importance. Especially if it is in favor of Cedric's music for while not a fan, I do appreciate what it brings to the character. Though, considering previews make it seem this is going to lead to some love triangle drama, I must admit I'm already prepping to roll my eyes. Yet, because I enjoy Bronwyn, it will still be nice to see the character on screen again.
Though, on a separate note, I would love to see her and Noni's dynamic in the room. Especially since Bronwyn didn't know anybody but Cedric and with them through, you'd have to assume she is all up in Noni's armpit now.
What Do You Call The Devil's Trusted Assistant?: Clive, Cecil, Noni, Ebonie
Speaking of Noni, she is officially done with her Cecil infatuation. Not just because she got the smoking gun to take Clive out, who steals songs from small school bands who can't afford to sue, but because Ebonie finally gets through to that thick head of hers. Cecil doesn't care about you and the man likes to play ignorant. In fact, that is the main reason Clive is so upset with Cecil.
You see, like Ebonie, he was a victim of hazing in Cecil's band but he didn't quit thereafter. He stayed, got one shot at the first chair, and with how callous Cecil was about his injuries, so began this long-gestating hatred. Which, now with this new information, makes you almost feel bad for Clive's desperate maneuverers to get back at Cecil.
Commentary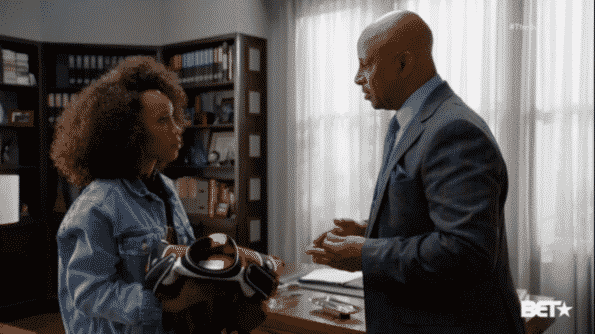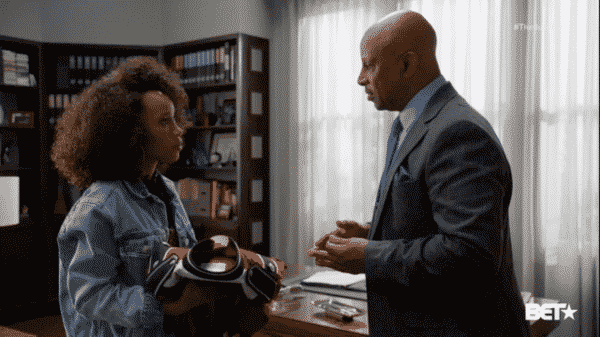 Another storyline bites the dust and it leaves you wondering what is next for the character. Noni's storyline has been at the hip of Cecil's since the beginning and with her through with him, what will she do? She is a hacker who likes starting trouble, so her options pretty much are unlimited. Yet, again, it would be nice to see her develop some of her relationships and maybe even get into a romantic one, if possible.
"You Didn't Lose, You Just Ran Out Of Time.": Coach Hardwick, Eva
The merger ends up happening. Not because Eva wants it to but because the board has lost as much faith in her as her so-called friend Ella Grace. Which is but the start of her issues. Her anxiety is kicking up, she is getting messy about it, and then there is trying to salvage her reputation. Something Dr. Chambers isn't making easy for while she respects Eva's handling of keeping things going as long as she did, she isn't going to let her naturally maintain course. After all, as much as she respects her, she doesn't want to empower her to repeat her mistakes or implement new ones. So now Dr. Chambers has immense oversight including when it comes to admission. A major craw for Eva and it could be what leads to some burned bridges between her and many people.
Luckily, while everyone else may have turned their backs on Eva, or stabbed her in the back, Coach Hardwick remains supportive. Albeit, not work wise since he isn't poaching Dwight as tasked, but when it comes to supporting Eva during these hard times, he is a godsend. Unfortunately, though, he doesn't open up to Eva as she does him and it makes it where his debt to Ramil becomes a bigger and bigger problem. Now to the point of violence being threatened and Ramil coming into Coach Hardwick's house with a gun. Something Coach tries to wrestle out of Ramil's hands leading to a gunshot.
Commentary
This is how I need the show to stay to be good. Don't dig too much into Eva's issues, or any of the staff. Make it clear they have stuff going on outside of work, but make the main bits of their characters be about their work. That is when Eva is at her best and the majority of the staff. Even Carlton and Cecil. Carlton trying to talk to Dwight's father was a good decision. Cecil confronting Clive was a good decision. Now, let's see how all these players handle this merger.
As usual, Cecil is probably going to sit back and observe but with Dr. Chambers talking about cuts and reorganization, maybe the staff might become as active as the students about all this. Maybe do more than be offended when Eva doesn't ask for their advice but instead present some solutions rather than finding problems.
Collected Quote(s) & .Gifs
"You didn't lose, you just ran out of time."
Highlights
The pledging storyline is over and Cedric is back to focusing on his music, and Ebonie.
They seem to found a good way to maintain the fact Anika Noni Rose is the lead without oversaturating her on the show.
Clive making it clear his beef with Cecil isn't petty.
Low Points
Cecil's son nowhere to be found and not mentioned.
It being unclear who is Eva's supplier since he has yet to be named or us told how she knows him.
On The Fence
How Noni might be handled in the future, now that she is free of Cecil's influence.
How the merger will be handled.
The entire plot about Dwight coming to GAMU or not.
Bronwyn rejoining the fold but likely causing a love triangle or drama.
---
Follow Wherever I Look on Twitter or Like us on Facebook.
---
Previous Episode's Recap
[visual-link-preview encoded="eyJ0eXBlIjoiaW50ZXJuYWwiLCJwb3N0IjoxOTAwMCwicG9zdF9sYWJlbCI6IlBvc3QgMTkwMDAgLSBUaGUgUXVhZDogU2Vhc29uIDIvIEVwaXNvZGUgNiBcIiNNYXJjaFwiIC0gUmVjYXAvIFJldmlldyAod2l0aCBTcG9pbGVycykiLCJ1cmwiOiIiLCJpbWFnZV9pZCI6MTkwMDUsImltYWdlX3VybCI6Imh0dHBzOi8vd2hlcmV2ZXItaS1sb29rLmNvbS93cC1jb250ZW50L3VwbG9hZHMvMjAxOC8wMy9UaGUtUXVhZC1TZWFzb24tMi1FcGlzb2RlLTYtTWFyY2gtVGl0bGUtQ2FyZC5wbmciLCJ0aXRsZSI6IlRoZSBRdWFkOiBTZWFzb24gMi8gRXBpc29kZSA2IFwiI01hcmNoXCIgLSBSZWNhcC8gUmV2aWV3ICh3aXRoIFNwb2lsZXJzKSIsInN1bW1hcnkiOiJUaGUgUXVhZCwgdGhhbmtmdWxseSwgc3RlcHMgYXdheSBmcm9tIHRoZSBhZG1pbmlzdHJhdG9yc+KAmSBkcmFtYSBhbmQgcmVmb2N1c2VzIG9uIHRoZSBzdHVkZW50cyBhbmQgdGhlIHNjaG9vbCB0aGV5IHNlcnZlIGFuZCBhcmUgdHJ5aW5nIHRvIGtlZXAgb3Blbi4iLCJ0ZW1wbGF0ZSI6ImRlZmF1bHQifQ=="]