The Quad: Season 2/ Episode 4 "I Am Not Your Negro" – Recap/ Review (with Spoilers)
The Quad tips its hat to Sandra Bland and Eric Garner as Eva has a confrontation with the law.
---
Network
BET
Director(s)
Ruben Santiago-Hudson
Writer(s)
Randy Huggins
Air Date
2/13/2018
Characters Introduced
Officer Early
Jim E. Chandler
Kevin Carter
Brandon Dirden
Miles
Quentin Plair
Trigger Warnings: Needles, Police Brutality
The Curve: Sydney, Miles, Jason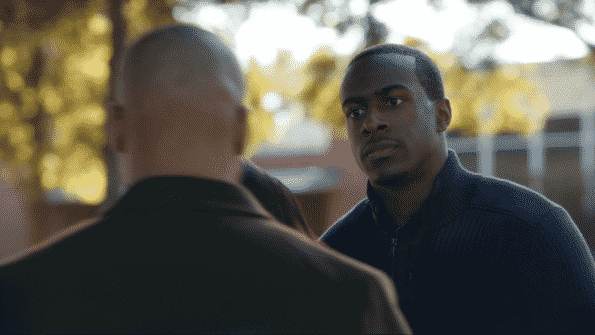 It seems like there is a love triangle going on and Sydney is in the middle of it. However, there still seems to be a certain game element to this. Though Jason made it clear he wants no parts of Eva anymore, his original pursuit of Sydney, back after Eva rejected him, has not been forgotten. Leading you to wonder, before he supposedly leaves the campus, will he do something to Sydney just to get back at Eva? On top of that, what did Miles exactly do?
I ask this because there is a part of me that wonders if because Miles is of the same skin tone as Terrence, that may be a factor in Sydney liking Jason. For while bougie, I can't recall Sydney ever being color struck. Yet, considering Miles has pretty much been a decent guy, I wonder what the problem is here.
Make Your Move Carefully: Bronwyn, Eva, Cecil, Cedric, Ebony
Ebony and Cedric have quite a bit of drama this episode. For Cedric, it is basically dumping Bronwyn for Ebony and those two getting intimate. But, that isn't the only thing on Ebony's mind. Cecil decides to approach her about rejoining the band and when her father catches wind, or he gives Cecil a piece of his mind.
But, it isn't just relationship drama, romantic or professional, focused on here. With Bronwyn talking about Cedric's ex and that triggering old feelings of when he got arrested, alongside what happens with Eva, it seems he wants to do something. Of which Eva hopes will just be a song but he says that will only be the beginning.
I Am Not Your Negro: Eva

Addressing the Sandra Bland and Eric Garner police brutality cases, Eva finds herself recovering from her anxiety attack, which she thought was a heart attack, and finding herself being pulled over on DWB (driving while Black). However, it doesn't just end with her getting pulled over. Officer Early, not appreciating how Eva talks to him, escalates the situation and not only pulls Eva from her car but roughs her up. Then, later on, at the station, forces her to get sedated, postpones her getting her phone call, and just really pissing her all the way off.
Leading to her, since she is so frustrated over the Terrence situation, GAMU's finances, and now this, to decide it is time for her to fight. She had to back down and deal with Terrence suing the school – okay. When it comes to GAMU's finances, she is being backed into a corner since apparently pursuing more donors isn't an option, she can't lease or sell land, and her staff are conspiring against her. However, this battle, the one against Officer Early, she isn't going to step back or cower. She is ready and rearing for a fight, even if that means her friend Lila, who provides her with an attorney, will be on the other side of the courtroom. Eva wants justice and that means more than a suspension and a review.
Collected Quote(s) & .Gifs
"You think too much and know too little."
"We can't choose our parents, but we can choose what traits to take from them."
Highlights
Dark and Lovely
In general, there aren't a huge amount of medium to dark skinned Black women on television. On top of that, there aren't many who find themselves in relationships you can consider good for them and not filled with drama. Making what we see with Sydney and Ebony really something. Sydney and Miles, who aren't together but seemingly on decent enough terms that he can approach her, are cute. On top of that, his pursuit of her, even if now a waste of time, is admirable for how often do you see a man, Black man at that, pursuing a woman like Sydney? Not just in terms of her being dark skinned, but also a little bougie and not much for putting up with people's BS?
And can we add to the equation two men have an interest in her? Granted, Jason could be full of crap and may have a long game involved with hurting Eva, but what if that isn't the case? Yes, he did say he was leaving for another school, but until then he clearly has feelings for Sydney and seeing her part of this love triangle has me a little bit giddy.
Then, of course, there is Ebony. Another girl who doesn't fit that demure, or even Bronwyn type we are well accustomed to. Ebony is a little rough around the edges, raps, can play sax, and is a daddy's girl. On top of not seeing girls like her often, them being romanced and having real chemistry with the dude, and no drama? I mean, I'm not saying it doesn't exist in media, it is just finding it on a consistent basis isn't easy unless you are actively looking for it in advertisements and TV guides. Alongside within web series.
Addressing Police Brutality
A part of me believes that the writers of The Quad, as they get more comfortable with the characters and direction the show can go in, are making it so the handling of tentpole issues, like police brutality, don't come off sensationalized. Unlike how Sydney's rape was handled, in my opinion, there isn't this sense that shock value is part of the equation. For Eva's dealing with the police, it is addressing something the people of her culture deal with and through her fighting back, it gives the audience this vicarious ability to feel empowered. For many of us may not feel we have the resources that Eva has to do even half of what she did when arrested.
---
Follow Wherever I Look on Twitter or Like us on Facebook.
---
Previous Episode's Recap
[visual-link-preview encoded="eyJ0eXBlIjoiaW50ZXJuYWwiLCJwb3N0IjoxNzMyOCwicG9zdF9sYWJlbCI6IlBvc3QgMTczMjggLSBUaGUgUXVhZDogU2Vhc29uIDIvIEVwaXNvZGUgMyBcIk15IEJvbmRhZ2UgQW5kIE15IEZyZWVkb21cIiAtIFJlY2FwL1JldmlldyAod2l0aCBTcG9pbGVycykiLCJ1cmwiOiIiLCJpbWFnZV9pZCI6MTczMzYsImltYWdlX3VybCI6Imh0dHBzOi8vd2hlcmV2ZXItaS1sb29rLmNvbS93cC1jb250ZW50L3VwbG9hZHMvMjAxOC8wMi9UaGUtUXVhZC1TZWFzb24tMi1FcGlzb2RlLTMtTXktQm9uZGFnZS1BbmQtTXktRnJlZWRvbS1Db21tZXJjaWFsLnBuZyIsInRpdGxlIjoiVGhlIFF1YWQ6IFNlYXNvbiAyLyBFcGlzb2RlIDMgXCJNeSBCb25kYWdlIEFuZCBNeSBGcmVlZG9tXCIgLSBSZWNhcC9SZXZpZXcgKHdpdGggU3BvaWxlcnMpIiwic3VtbWFyeSI6IkFzIENvYWNoIEhhcmR3aWNr4oCZcyBleCBzaG93cyB3aHkgc2hlIGlzIGFuIGV4LCBFdmEgZmluZHMgaGVyc2VsZiBtb3JlIGFuZCBtb3JlIHdpdGggaGVyIGJhY2sgYWdhaW5zdCB0aGUgd2FsbCBhbmQgc2hlIG9mZmljaWFsbHkgYnJlYWtzLiIsInRlbXBsYXRlIjoiZGVmYXVsdCJ9″]
Whole Season's Recaps
[visual-link-preview encoded="eyJ0eXBlIjoiZXh0ZXJuYWwiLCJwb3N0IjowLCJwb3N0X2xhYmVsIjoiIiwidXJsIjoiaHR0cHM6Ly93aGVyZXZlci1pLWxvb2suY29tL3RhZy90aGUtcXVhZC1zZWFzb24tMiIsImltYWdlX2lkIjoxNzA3MywiaW1hZ2VfdXJsIjoiaHR0cHM6Ly93aGVyZXZlci1pLWxvb2suY29tL3dwLWNvbnRlbnQvdXBsb2Fkcy8yMDE4LzAxL1RoZS1RdWFkLVNlYXNvbi0yLUVwaXNvZGUtMi1UaGVJbnRlcnJ1cHRpb25vZkV2ZXJ5dGhpbmctRXZhLWFuZC1Db2FjaC1IYXJkd2ljay5wbmciLCJ0aXRsZSI6IlRoZSBRdWFkOiBTZWFzb24gMiIsInN1bW1hcnkiOiIiLCJ0ZW1wbGF0ZSI6ImRlZmF1bHQifQ=="]
Related Topics:
BET
,
Brandon Dirden
,
Jim E. Chandler
,
Quentin Plair
,
Randy Huggins
,
Ruben Santiago-Hudson
,
The Quad: Bronwyn
,
The Quad: Ebony
,
The Quad: Jason
,
The Quad: Miles
,
The Quad: Season 2
,
The Quad: Sydney