The Handmaid's Tale: Season 3, Episode 9 "Heroic" – Recap, Review (with Spoilers)
As June is pushed to the brink of utter madness, murder even, she snaps. But, in snapping, she may have found a new purpose for her life.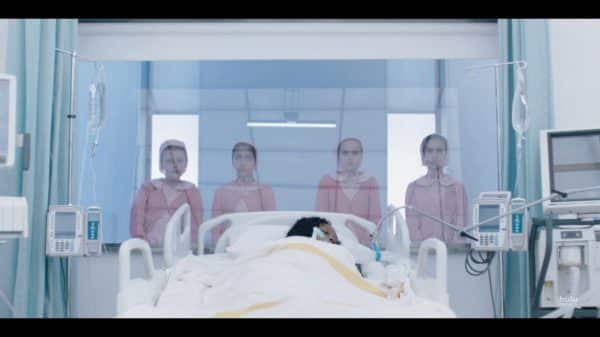 As June is pushed to the brink of utter madness, murder even, she snaps. But, in snapping, she may have found a new purpose for her life.
---
Network
Hulu
Director(s)
Daina Reid
Writer(s)
Lynn Renee Maxcy
Air Date
7/17/2019
Images and text in this post may contain affiliate links which, if a purchase is made, we'll earn money or products from the company. Affiliate links and external links have an upward facing, superscript, arrow.
Recap
Watching, Waiting: Natalie, June
With being Natalie, OfMatthew's, walking partner, and as punishment for her cruelty, June is forced to wait for the comatose Natalie to give birth. She does that for over a month, and between her own thoughts and the sound of machines and body fluids, June slowly goes mad.
Stir Crazy: June, Janine, Serena Joy, Natalie
How mad? Well, to the point you may think she may become obedient for a spell, as we saw in an earlier season. However, rather than take that route, she goes mad. Crazy even for she contemplates murdering Natalie for her freedom and even tries to convince Janine, who visits since her eye got infected, to help.
Unfortunately for June, Janine isn't of the same mindset, and while she keeps June from killing Natalie, she can't take away the scalpel June took. One she uses on a very foolish Serena Joy but not to the point of killing her. With a wobbly lunge, she does cut Serena but more so harms herself.
A Renewed Purpose: Natalie, June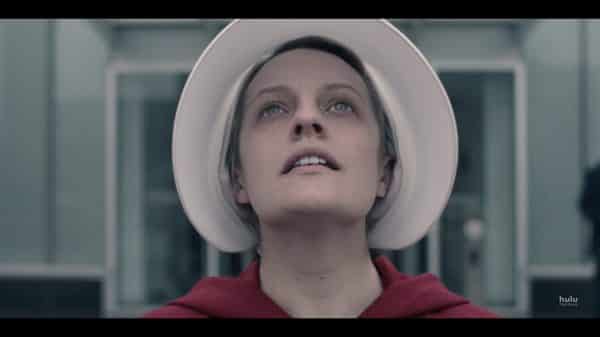 Which, luckily for her, the doctor doesn't report and instead just stitches her up. Then, perhaps with her prayers answered, Natalie soon starts bleeding, possibly on the verge of a miscarriage, and an emergency C-section is done. One which saves the baby and triggers something in June.
What exactly? Well, during June's stay, she has seen doctors come and go, but also children. Young girls, to be specific, who come to the hospital for their pelvic development to be tracked and to see who may and will be able to have children. As you can imagine, with Hannah close to the age of the girls, this causes discomfort in June. So, rather than abandon Natalie's corpse, which, after the C-Section, isn't being kept on life support but being allowed to fade to death, June makes a promise. One she isn't sure how she will keep, but she promises to free the children of Gilead, and stick it to the country where it hurts. Seemingly to get revenge for both her children, June's, Natalie's, and all Handmaids separated from their children.
Review
---
Community Rating:
---
Highlights
The Connections You Can Draw
With the episode being so tightly focused on June, it pushes you to take note of not just her journey so far, but those who she has been closest to – willingly or not. For example, when it comes to Natalie, there is the possibility her conflict with Natalie has long been rooted in seeing Hannah in her. This woman, so obedient, yet also scared and unsure of the Gilead regime and what it calls for. Making Natalie's lack of desire to fight back scary since that could be Hannah. Someone who, rather than fight, run, or scale a rebellion, she would just go along with what she was trained to do.
Thus, seeing Natalie, being close to her, may have been a huge source of guilt. Leading to why, in the end, June decided to spend time with Natalie as she passed. For if she couldn't be there for her daughter, she'd at least be there for Natalie and promise, even if she can't save her, Natalie or Hannah, she'd save a lot of children. While forcing the elite to know their, June and Natalie's, pain.
But it doesn't end there. One could say Aunt Lydia's relationship with Janine, who she still dotes on, could be reminiscent of her relationship with Noelle. Maybe even her trying to atone in a way for how that relationship went sour. If not considering Janine like Noelle if Noelle would have listened and heeded to Aunt Lydia's influence?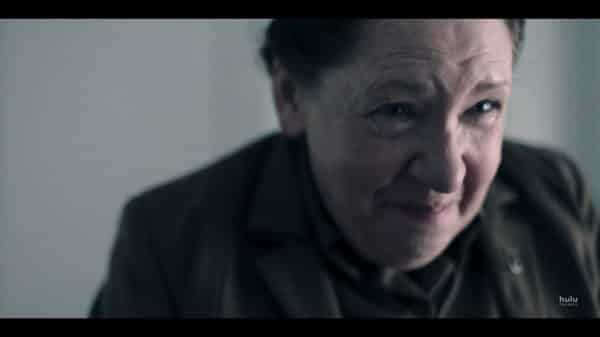 Lastly, one also must note in Janine keeping June from murder, she saves June from her moment of madness just like June saved Janine a long time ago. Making for a lot of full-circle moments which make you wonder where are we to roll to from here?
Low Point
Everyone Is Far Too Trusting Of June
So you're telling me after June insulted you in the worst way possible at the Lincoln memorial you'd come to her if she called out to you? Get close if she said she had a secret to tell you? Really Serena? Weren't you just back to some form of common sense, or is it just June puts such a spell on people you become naive as a child around her? Curious even, as if she is the pied piper and you some dunce kid who has no idea she is about to make you turn into a jackass.
Though the same could be said about Aunt Lydia. June speaks in ways which clearly you disapprove of, even seem suspicious, yet you let her go back into the hospital unattended? As if there aren't so many things she can do as she faces returning back to someone's house, awaiting a rape ceremony. For whether it is going back in to kill herself, a doctor, or so many other options, it increasingly becomes clear that Aunt Lydia's faith that people can change might be her biggest weakness. One that, eventually, will lead to her being murdered as Natalie almost committed.
On The Fence
The Liberation Of Children
We've seen the walls and amount of security which have surrounded children. So how exactly June, who is on the verge of a mental breakdown, is going to rescue children is beyond me. Especially since they, like Eden, probably won't be easily convinced to listen to a Handmaid. For if they grew up in Gilead, how much time and effort would be needed for them to believe Canada is a better place for them? Never mind June, of all people, will be able to get them there safely?
Follow Wherever I Look on Twitter, Like us on Facebook and Subscribe to the YouTube Channel.
[ninja_tables id="36752″]
The Connections You Can Draw - 85%
Everyone Is Far Too Trusting Of June - 65%
The Liberation Of Children - 70%
---
Follow, Like, and Subscribe
Community Rating: 0.00% (0) - No Community Ratings Submitted (Add Yours Below)