The Good Doctor: Season 5/ Episode 18 "Sons" [Finale] – Recap/ Review
The Good Doctor decides to tease multiple characters being written or killed off because ending things on a happy note is not an option.
---
Aired (ABC)
5/16/2022
Directed By
David Shore
Written By
David Shore, Jessica Grasl, Nathalie Touboul
Introduced This Episode
Steph
Kiera Allen
Julian
Matt Clarke
Miriam
Kathe Mazur
Yosel
Richard Topol
This content contains pertinent spoilers.
Recap
This Might Not Be Enough For Me – Alex, Morgan, Steph, Julian, Dr. Lim
Morgan is excited about an interview at NY Medical, with the pretense that being wanted elsewhere could give her a leg up for her future at St. Bon. However, when she gets a job offer, it complicates things between her and Alex.
Lest we forget, Alex's son is in the next state over, so going to New York isn't really an option, and he just moved in with Morgan. So her even contemplating this job means shaking up their relationship and Alex's life. Just when he got comfortable with not being the breadwinner in his relationship. But, as Dr. Lim notes to him, Morgan will always be plagued with the history of who she could have been if she stayed, while she can start fresh in New York with nothing but her resume.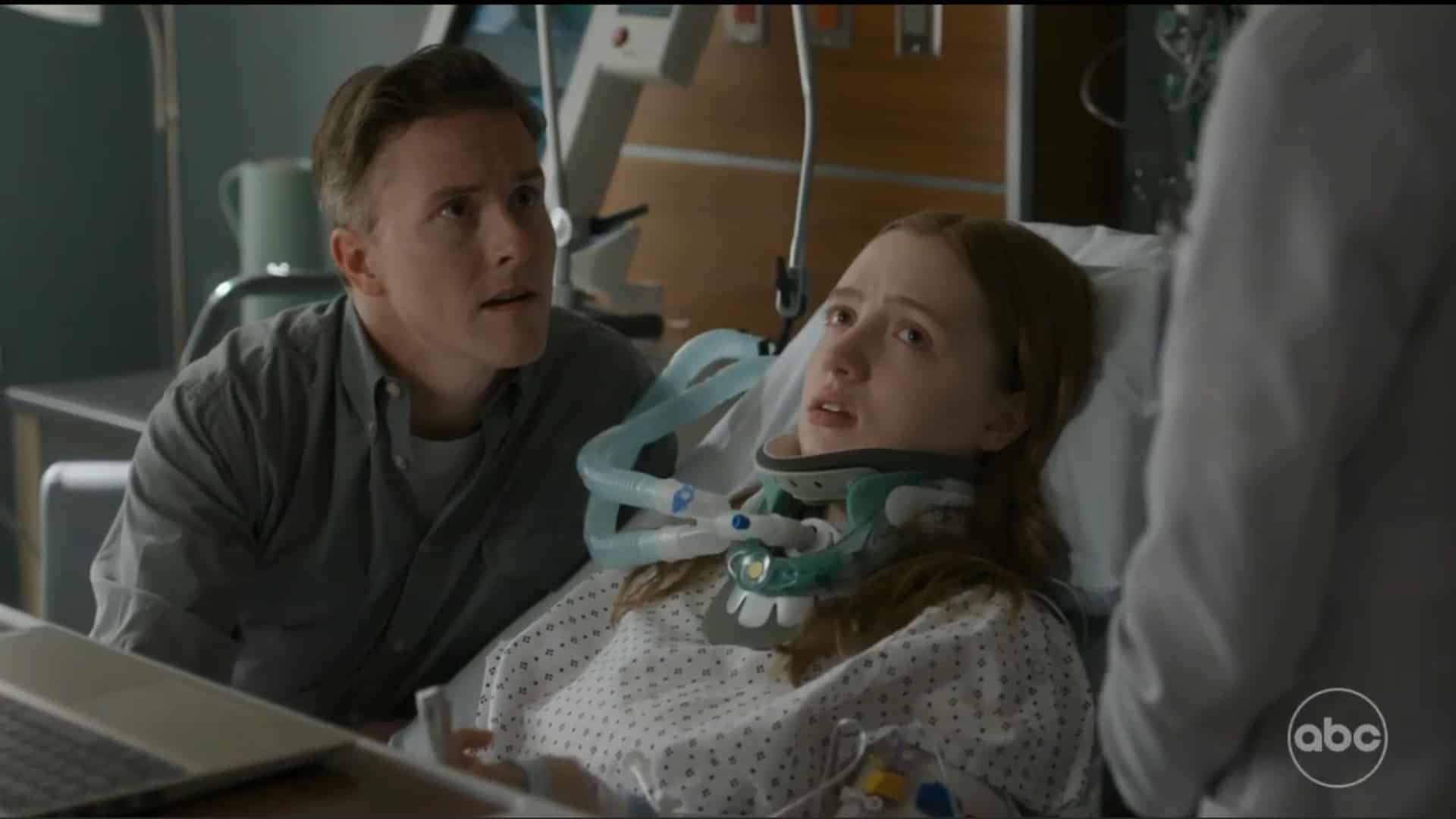 Which is why she so intently focuses on her patient, Steph. With Steph being paralyzed from the face down and a surgery going awry which took away her ability to communicate as she had become accustomed to, Morgan felt the need to step in. After all, being that Morgan can no longer be a surgeon, giving a woman who once could walk, talk, and giggle the ability to speak again would be a great sign-off. And damn if she doesn't succeed and allows Steph to say she loves her husband Julian in her own voice.
Reconciling Is All That Matters – Shaun, Dr. Glassman, Yosel, Miriam, Asher, Jerome, Jordan
With Asher's parents arriving, thinking his medical knowledge could save his father, Yosel, from Stage 4 cancer, it pushes Asher to deal with his issues with his parents. Be it how he is gay, how he left them, or that he rejects God. All of it makes him caring for his dad and mother, Miriam, in extension, and trying to come up with a solution complicated. For even with Shaun with him, there is so much bad blood that even with his parents extending an olive branch, Asher is all too sure the branch has thorns hidden behind the leaves.
This, naturally, catches everyone's attention, from Jordan, who doesn't like how Asher is treating his parents, to Jerome, who at one point goes from being a secret to a means to upset Asher's parents. But, Shaun reminds Asher that his dad coming here means something, and their father wouldn't do half as much. Which is why he is thankful for Dr. Glassman, who he honors with the title of father since he has done so much for him.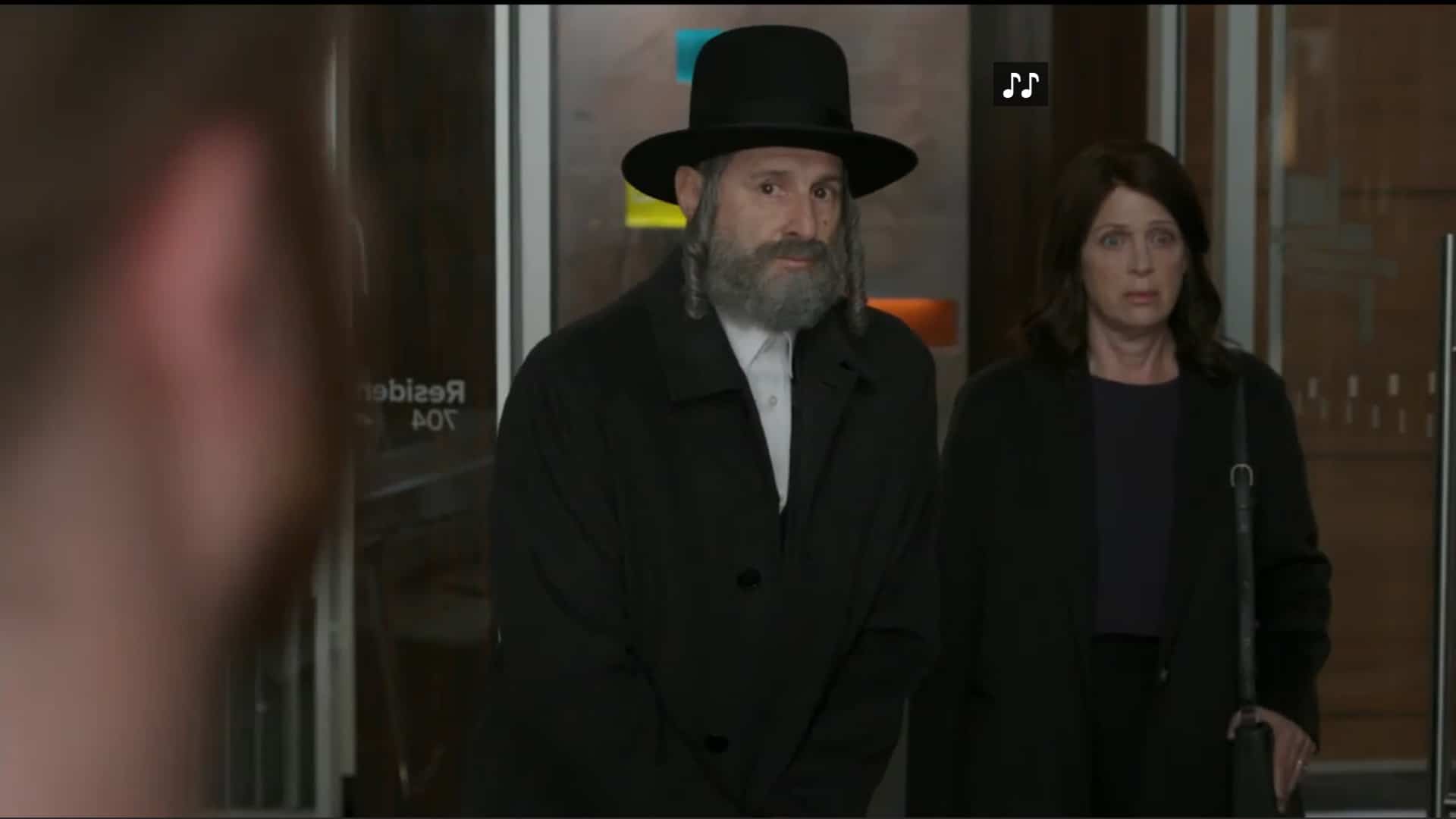 And in the long run, Asher acknowledges the criticism he receives from everyone, and while neither he nor his parents may have a perfect relationship with one another, they honor the fact they do have a relationship. So with his dad having weeks to live, they reconcile, as does Asher with his mom, and he says what might be his final goodbye.
You Can Appreciate The Highs Without The Lows – Dr. Lim, Nurse Villanueva, Shaun, Dr. Glassman, Dr. Andrews, Lea, Jordan
Thanks to Dr. Glassman, with help from Dr. Andrews, Lea and Shaun FINALLY get married. Originally, they were going to do a justice of the peace thing at City Hall, but with Jordan presenting Lea with a picture of herself in a wedding dress, she plants a seed and watches it grow. Thus leading to Dr. Andrews officiating the wedding on the roof.
Sadly, things don't end with Morgan leaving being the only saddening topic. Nurse Villanueva, who Dr. Lim has enjoyed living with, has filed a restraining order against her ex and seemingly was in the process of moving on. Because of this, on Shaun's wedding night, she gets stabbed, and when Dr. Lim was heading to the breakroom for more glasses, she gets stabbed, and we see her begin to bleed out. Leaving us to wonder, with the area of the hospital they are in dark, how long will it be before someone finds them, and will it be too late?
Things To Note
Unexpected Content Advisory: Violence (Blood and stabbing)
Question(s) Left Unanswered
They're not going to eliminate 3 characters at once, are they? I can imagine ending Nurse Villanueva, for killing off nurses might be a pattern of the show, but having Morgan leave (a la Clair style) and Dr. Lim die? That's a bit much
So is anything from the documentary going to be used regarding Shaun and Lea's relationship?
If the hospital is a 24-hour hospital, why is there a dark area and no one questioning who turned the lights out? Also, isn't there, or shouldn't there be security?
What Could Happen Next
Lim lives, Nurse Villanueva dies
Morgan becomes reoccurring, and Alex latches onto someone new
There becomes a stronger focus on multiple characters looking for a job due to it being their final year
Glassman properly retires
Hopefully, with seeing a young Shaun again, we get more flashbacks
Review
Highlights
Asher Reconciling With His Dad
One of the core storylines regarding Asher was his feeling disowned by his parents, mainly due to his sexuality, which disintegrated his relationship with God. So to see them come to him for help, humble, mostly loving, yet still firm in their beliefs, was a challenge. You could see the hurt as Asher, of course, wanted to find a way to keep his dad alive, but at the same time, knowing he'd keep someone alive who couldn't love him for who he is, there was a crux there.
It reminds you of how imperfect nearly every parent/child relationship is on The Good Doctor and how, whether it is Clare, Shaun, or many others, everyone seems to seek out the relationships they didn't have growing up in the hospital. For beyond co-workers, they are chosen family.
Shaun and Dr. Glassman Sharing A Moment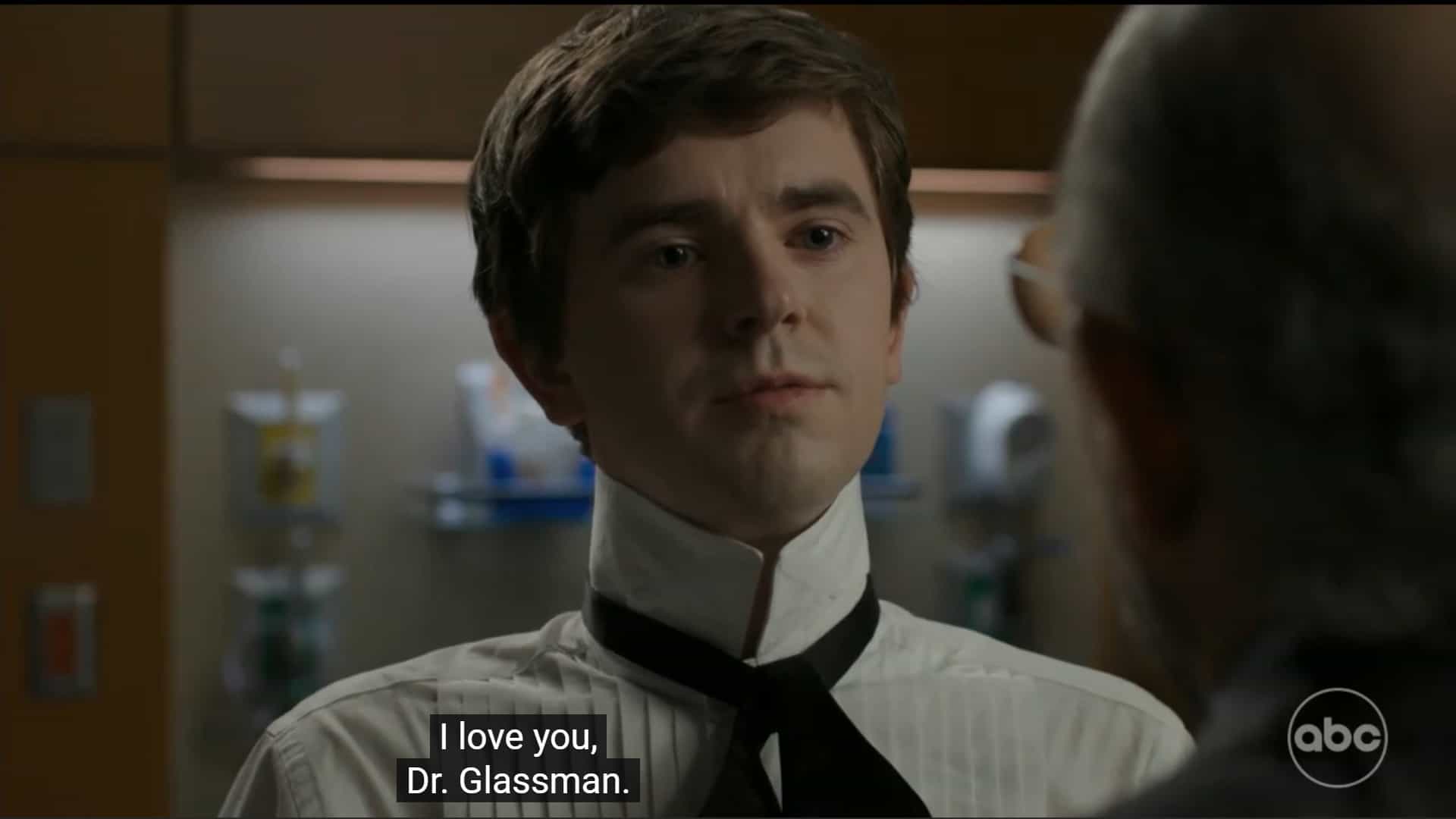 Case in point: Shaun and Dr. Glassman. As we've seen, Shaun has gone from being treated as a child, a rebellious teenager, to a full-blown adult over 5 seasons. Dr. Glassman now respects Shaun beyond his medical knowledge, and with him giving his family ring, Shaun referring to Dr. Glassman as his father, and a long-overdue flashback of them making a memory together? This was surely an episode meant to bring all to tears.
Lea and Shaun are FINALLY Married
I don't know about you, but I was getting sick of them delaying the wedding. So with the nuptials done, so comes the question if they may try for a child again? They are having sex, as the show makes that clear to us, but are children still a desired part of their future? Be it near or distant?
On The Fence
The Tease Of Killing Off or Writing Off Characters
With 9-1-1 ending its 5th season the same night as The Good Doctor, it is hard to not compare. Now, yes, 9-1-1 heavily relies on action sequences, dramatic rescues, and zany situations to keep people entertained, so it isn't the best comparison. However, with both well-established and hits on their network, I wonder why that show can end a season without a dramatic end, despite how generally dramatic it is, and The Good Doctor can't?
Don't get me wrong, I get the show has to shake things up to not get monotonous, as any show needs to when it lasts as long as The Good Doctor. However, teasing the death of characters feels rude. Granted, with killing off Dr. Melendez, we know that The Good Doctor is willing and able to kill off Dr. Lim. However, I must ask why?
Yes, she is a bit of a floater who, similar to Dr. Andrews, doesn't necessarily have much going on. But with her and Nurse Villanueva growing closer, it seemed like they were going to usher in nurses playing a more prominent role on the show. But now we get Dr. Lim and Nurse Villanueva potentially dying on the floor, in a dark area for reasons I don't understand since I thought the hospital operated 24/7.
Then with Morgan, I get it. She and Alex bicker to the point where their relationship is a ticking time bomb because he is too insecure to be with her. Heck, I'd even say, considering her job opportunity in New York, if they start off season 6 together, there will be questions of whether he is holding her back (he is). But, lest we forget, Alex is coming to the end of his residency, so moving to New York could be an option. Also, considering The Good Doctor will always need new blood, maybe writing off the character whose potential was wasted and one who didn't live up to the various chances given might be for the best?
[ninja_tables id="46813″]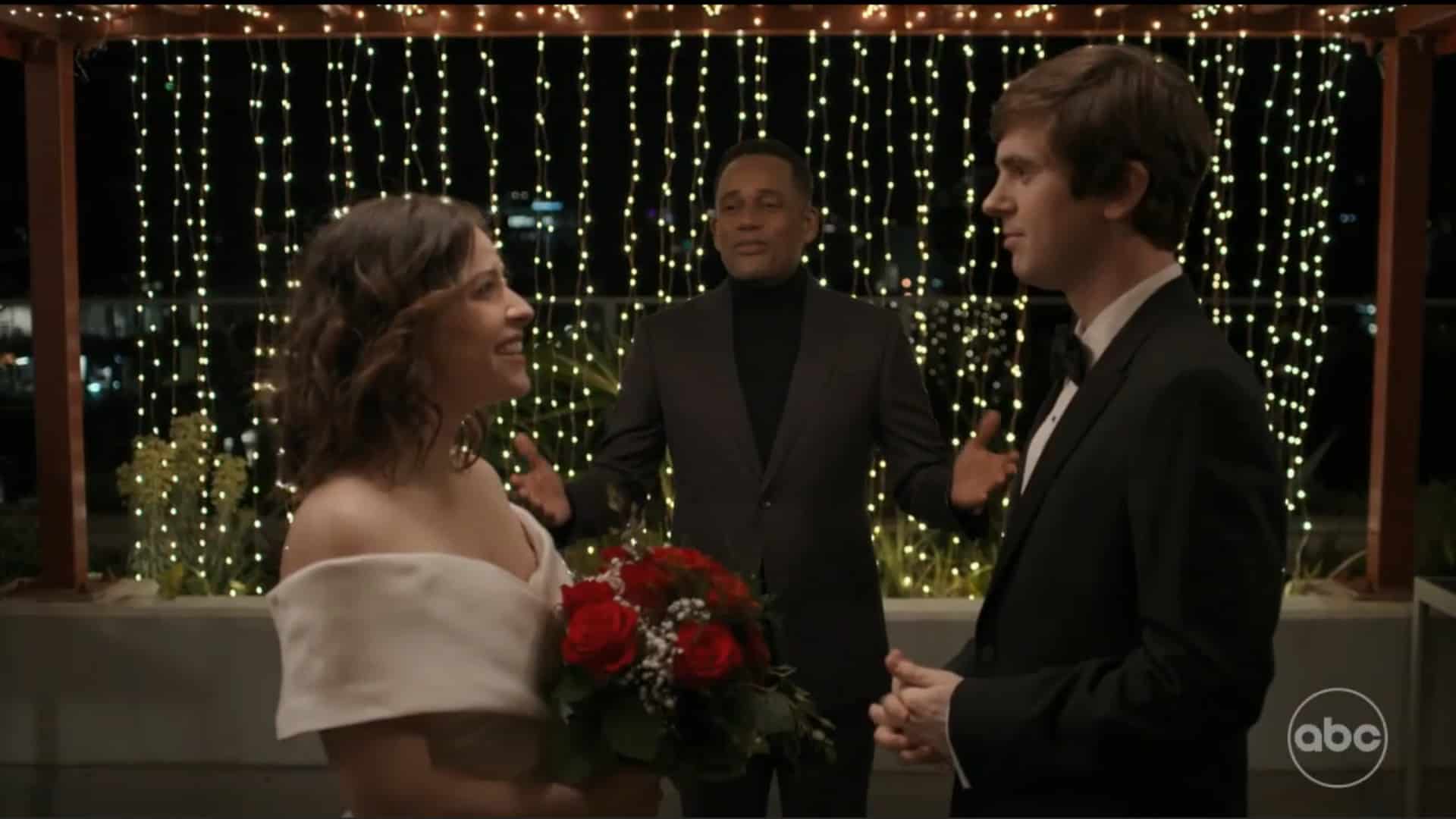 The Good Doctor: Season 5/ Episode 18 "Sons" [Finale] – Recap/ Review
Overall
While a bit annoyed by the cliffhanger, at the very least, there is an excitement and drive regarding season 6 as you question will Morgan stay, and Nurse Villanueva and Dr. Lim live, or will one or more characters be written off?
Highlights
Lea and Shaun are FINALLY Married
Shaun and Dr. Glassman Sharing A Moment
Asher Reconciling With His Dad
Disputable
The Tease Of Killing Off or Writing Off Characters