The Good Doctor: Season 2, Episode 14 "Faces" – Recap, Review (with Spoilers)
Guilt and regrets are prominent themes and emotions in "Faces" as old, and new, faces enter the characters' lives.
---
Network
ABC
Director(s)
Allison Liddi-Brown
Writer(s)
David Hoselton
Air Date
2/4/2019
Introduced This Episode
Robin
Elizabeth McLaughlin
Molly
Chloe Csengery
Shannon
Lilli Birdsell
The Girl I Love(d): Dr. Glassman, Shaun, Robin,
With Dr. Glassman having nothing to do but monitor his symptoms, at first, Shaun deciding to spend the day with him seems like it may exacerbate things. However, with Shaun getting Dr. Glassman some medicinal marijuana, the two have themselves a good time. It begins with playing golf in the house and evolves to them searching for a snack with a rather kind Uber driver. But, ultimately, it ends with Dr. Glassman taking a trip down memory lane and on a quest to find his high school crush, Robin. This leads to Dr. Glassman and the Uber Driver helping Shaun to discover not only does he have feelings for Lea, but he doesn't like Jake in her life. Not directly, but through listening to Dr. Glassman talk about Robin and the Uber Driver chiming in.
People Change: Dr. Lim, Dr. Melendez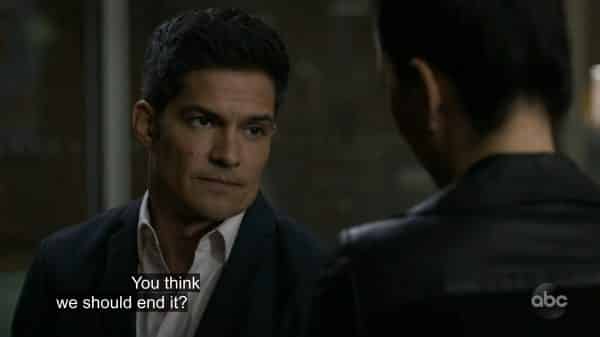 With Dr. Lim and Melendez now dating, it is complicating their work relationship. Primarily in Dr. Melendez being willing to challenge Dr. Lim's ideas and her decisions. Which, historically, has made her a better doctor for it forced her to defend the way she wanted to proceed. Because that isn't done, a patient, a 13-year-old girl, dies. Leading to Dr. Melendez trying to pass his guilt, Dr. Lim taking that in and it messing with her during a later surgery, and leading Dr. Melendez to wonder if maybe they should end it.
This is not something Dr. Lim wants, but it affirms that transitioning into something romantic will be complicated and both can see why it is frowned upon.
A Face Transplant: Claire, Molly, Shannon
Claire gets to return to her role as patient support as she helps a young girl Molly, whose face is disfigured due to misusing her father's gun. During the procedure, from prep to seeing her new face, Molly is wondering what life would be like, if she is worthy even, as the donor's mother, Shannon, deals with her guilt. For like Molly's father, there is this sense of responsibility as a parent to protect your child from the known dangers, and unknown dangers. So with her daughter dead, and Dr. Lim and Melendez not taking up the blame, Shannon blames herself.
But, with giving Molly a new face, a new lease on life, there is some solace. Yes, she is alone now since her daughter is dead, and her daughter's father, but a 16-year-old may actually live a normal life now.
Question(s) Left Unanswered
What Uber driver, nice or not, is going to drive from San Jose to Portland, and back?
Highlights
Shaun Realizing He Loves Lea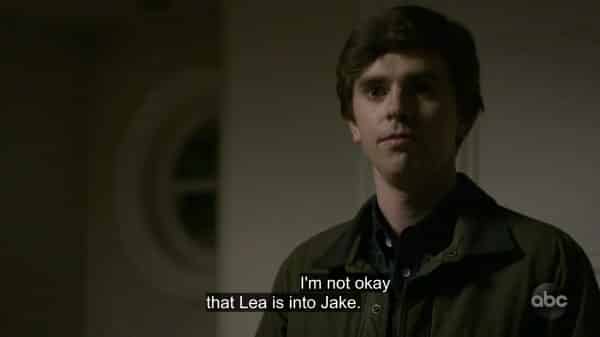 While Lea has kissed Shaun, and maybe played with his feelings a bit, let's remember that Shaun hasn't really experienced or seen romantic love. As a child, his parents weren't that close, the one foster parent he had didn't have anyone, and Dr. Glassman hasn't been shown to invest much in love either. Heck, looking at the hospital, Claire and Jared were a bit of a mess, and Dr. Melendez and Jessica kept things professional, mostly, and don't speak at all. And while, yes, there is Dr. Andrews and his wife, we rarely see them together so Shaun may see them even less.
So, taking that into consideration, and Shaun not much for TV, outside sports sometimes, what would be his example of what love is or how it should be? Making this wake-up call not surprising, even at Shaun's age, since he has lived a rather isolated life. But now comes the question, with the knowledge he has about his emotions, what will he do with it? Lea has someone and is having sex with them. Also, Shaun was warned before this all happened that Lea would probably end up seeing someone. Leading to the need to ask, can anything be done while Lea isn't single and could it be that Lea might only be a spark while someone else ends up the gasoline which keeps Shaun's flame lit?
Not to say Lea and Shaun can't be end game but, thinking about other shows, usually before the end game couple are finally together, there are many relationships in-between. The only question is, who will Shaun date and have we met them yet? Or, if we haven't met them, where will Shaun, who doesn't go anywhere besides home, work, and Dr. Glassman's, meet this person?
On The Fence
Dr. Lim and Dr. Melendez
One of the long term issues of The Good Doctor is that the supporting characters, especially those not close to Shaun, have inconsistent personal lives. For example, Dr. Melendez has a special needs sister that we have only seen him with one time. Dr. Lim has no life, outside of work, drinking and hooking up, and that has been her story. Now, combining Dr. Lim and Melendez is something a bit in flux.
On the one hand, it isn't like their history wasn't presented from the beginning. They were friends, rivals, and got along pretty well. However, it is hard to not feel their relationship is built on giving both characters something to do besides work and being some form of a mentor to Shaun and his peers. Which, for me, has made their relationship believable yet still a bit forced.
Claire Back To Being Patient Support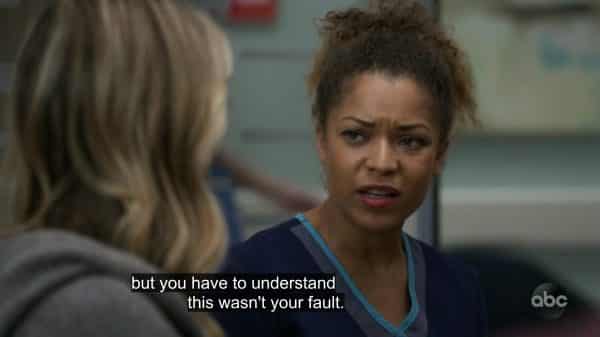 Putting a hopeful spin on how Claire is being handled, let's say this episode was about bringing her back to basics. While she has consistently played a supporting role to her peers and patients, it came to a point where she was a second thought. If not, as of late, barely a thought at all but on screen due to her actress' contract.
So, with taking things back to her playing a prominent role in patient consoling, maybe this could be about taking things back to square one. After all, Dr. Melendez is now with Dr. Lim, so that storyline which was bubbling in season 1, seemed possible earlier this season, is not going to happen. Her mom came back, but Morgan pretty much stole the show with that, so Claire is without a storyline and had to go to a clean slate.
Heck, even taking note of Dr. Andrews review of her, from earlier this season, that has calmed down immensely and is no longer an issue. It's like she has completely reverted back to her old self. Though it could just be that she hasn't been given a reason to speak up – yet.
Dr. Glassman's 40+ Year Overdue Apology
I get facing one's mortality brings on a sense of guilt but Dr. Glassman spending most of a day trying to reconnect with a girl he didn't date? Just who he had a crush on, barely spoke to, that was a bit much. I get, in the long run, it helped Shaun understand his feelings and may push him to say something to Lea, but it felt like such a roundabout way to get to the point. Never mind, even if the meter was running, what Uber driver is going to drive that damn far and work such a long shift over a high school crush? Never mind a crush that is over 40 years old, and we learned the woman was married!
Follow Wherever I Look on Twitter, Like us on Facebook and Subscribe to the YouTube Channel.
---
---
[ninja_tables id="26508″]