With Tess being alone in New York City, naturally she is seeking friendship. However, finding something, or someone, normal is becoming quite difficult.
---
Network
Starz
Director(s)
Cherien Dabis
Writer(s)
Stuart Zicherman
Air Date
5/13/2018
Actors Introduced
Ari
Eden Epstein
Sophia
Meaghan Bloom Fluitt
Nicky
Todd Gearhart
Heather
Jasmine Mathews
Santos
Rafa Beato
A Lonely Girl In The Big City: Tess, Jake, Simone, Howard
As you can imagine only really knowing yourself in a city like New York, filled with millions of people is quite lonely. Thus pushing the need to, with co-workers, street vendors, anyone really, to have some small talk. Problem is, since Tess is new to the restaurant, the only time anyone talks to her is to critique her or ask for something and they don't really seem to want to do small talk.
Luckily though, after forgetting her wallet at work and returning, she realizes a bit of an after-work party happens at the restaurant – that she never gets invited to. One which, upon showing up, no one but Nicky is even any semblance of friendly. That is, until Simone invites her for a drink and they sit and chat.
Nothing too deep but it is established by Simone, to a certain point, she enjoys being alone and also that there is some power game going on with Jake. But, being that Tess has this look of a newborn deer who found someone willing to be imprinted on, she just soaks up the time and attention. Especially since Simone gives her a bit of a fine wine lesson she says is but a conversation. One they can surely have more of at a later time. For when everyone leaves for some club, Simone walks home with Howard.
Commentary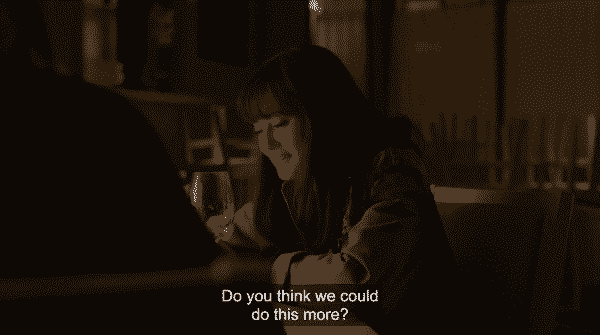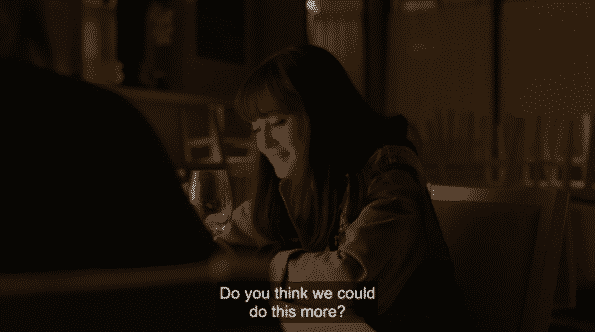 Anyone got the vibe that while Tess may have shared being alone as something she and Simone had, Tess has never liked being alone? I mean, the more we hear about Tess as a person, the more it makes it seem she left town not just to leave the monotony behind but because her life was just downright miserable. I mean, her dad didn't even celebrate birthdays growing up.
But that's a different story, what is curious here is Simone. She is touted as this ice queen, perhaps someone who may be trying to impress Howard? It's hard to tell and with shows like this. Though, it seems something about Tess she is just drawn to in a way. On one hand, maybe it is because she doesn't get why Howard hired her and thinks it was for something unbecoming? Maybe, with her coming from Cape Cod to New York City, there was a time she was just like Tess and wants to look out for her the best she can. Perhaps act like a big sister?
It's really hard to say since Simone, even when she appears to be friendly, because our minds have been poisoned about her, there is something sinister there. If not her simply sizing Tess up for reasons we may not know for some time.
A Past (W/L)ife: Sasha, Tess
With Simone gone, Tess chats up Nicky a bit before Sasha whisks her off because he needs a favor. He is trying to find his wife Ginger, who he brought him quite a bit of money for helping her get a green card. Problem is, he needs to know where she is from Sophia. This Amazon who Sasha can't talk to so he sets Tess up, literally, by having her ask about Sophia's old pimp. Someone from her past life.
This leads to Sasha, as Sophia wallops Tess, getting a number from her phone and Ari, of all people, giving Tess a bump (cocaine) and something to numb the pain. Which of course confuses Tess since, between her and Heather, neither have been that friendly. However, it seems Ari may have had a small crush on Tess, hence the kiss, and with Tess not being queer, while they are still cool, there might be the slightest bit of disappointment.
Commentary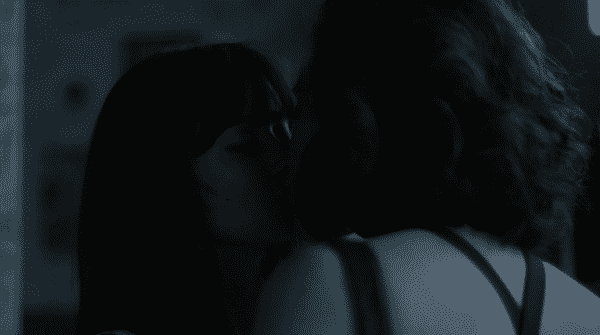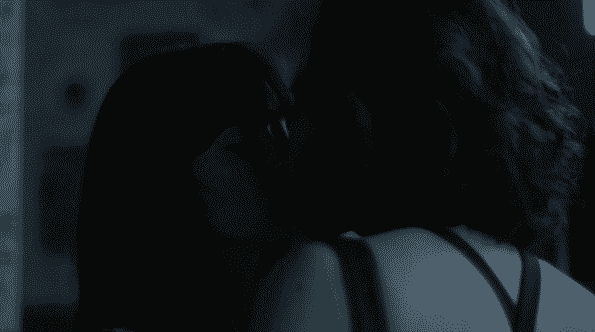 Sasha ain't s***. I mean, props to him for knowing at least three languages and having a bit of a network but, Tess is so green and setting her up like that was foul. Just note, she was the one who checked on him when he was crying while everyone else was kind of quiet about it. And I know, maybe after work he talked about it, but how do we know he isn't just seen as the flamboyant gay dude of the group? The one who everyone knows is down for a good time and might be a bit outrageous but is always fun? Thus making him, who I'm sure has his own insecurities, not willing or able to open up much to the crew?
That thought aside, I really wish I could understand Heather's beef with Tess. It isn't like she is getting monster tips, like how Jake or Will notes Simone can get $1000 tips. Also, when it comes to Ari, was she going along with it because Heather has a stick up her bum or because she had a lowkey crush and seemingly, her crushes don't often go anywhere so she was building up resentment in case of a rejection?
Though Things Might Be Bleak, The Future Looks Bright: Tess, Jake
After getting punched and some coke, Jake finds Tess and gets her some ice and tries to bring Tess in. There is even a moment when Tess gets to tell a story. One in which is about how she lost her faith in God because John Lennon didn't show up from the dead. It was weird and cringey, to say the least. However, after she got left behind, caught Jake making out and fingering the bartender, Ari's crush, she meets this new guy who seems friendly. Perhaps someone who won't use her and might actually be a friend.
Sort of like the street vendor who decided to give her free food.
Commentary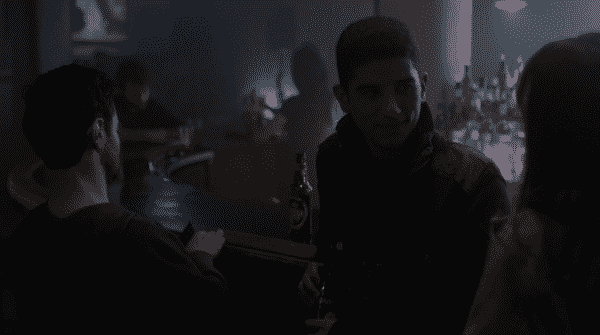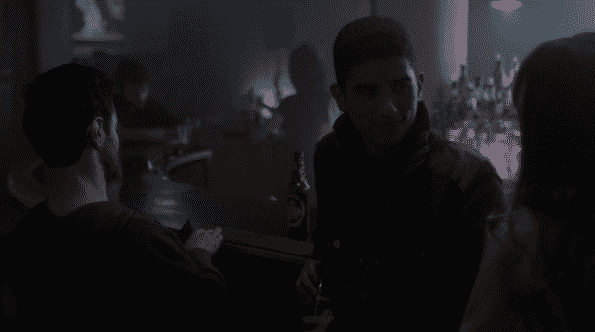 I fully recognize at this point the writing is setting us up to feel bad for Tess. Which they got me hook, line, and sinker. As noted in the premiere, those doe eyes of Purnell make her seem so innocent and lonely. Desperate for a real connection and with hearing about her dad, and having a need to run away, it really makes you wonder how her childhood might have been? Was it just as lonely as it appears now?
Also, taking note of this possible Spanish love interest, and how Tess seems a itsy bit ignorant, how diverse was where she came from? Because, just some of the things she said to Sasha this episode, like about him knowing Spanish, made it seem that as open as she may seem, she is still adjusting to people not fitting stereotypes she is familiar with.
Other Noteworthy Facts & Moments
The reason Jake and Simone have such a peculiar relationship is because they grew up together. I'm talking next door neighbors. Now, as for whether they were next door neighbors that have a brother/sister relationship or something intimate, that is a bit harder to say. If not maybe something which blurs the lines depending on the others mood.
Question(s) Left Unanswered
So, are we not going to figure out who Jesse is?
Um, so where is Tess' wallet?
Collected Quote(s) & .Gifs
[…] it's impossible for me to do anything without investing in it.
Highlights
Tess being naive, maybe a bit gullible, but surprisingly not annoying. Also, her being crafted to clearly be someone you are supposed to be sympathetic for, but it not feeling like, between the writers and Purnell, either is overdoing
Tess maybe having a love interest in that new Spanish guy.
The mystery which is the intentions of Simone.
Ari opening up to Tess.
Follow Wherever I Look on Twitter or Like us on Facebook.
---
Previous Episode's Recap
[visual-link-preview encoded="eyJ0eXBlIjoiaW50ZXJuYWwiLCJwb3N0IjoyMDYzMiwicG9zdF9sYWJlbCI6IlBvc3QgMjA2MzIgLSBTd2VldGJpdHRlcjogU2Vhc29uIDEvIEVwaXNvZGUgMSBcIlNhbHRcIiBbU2VyaWVzIFByZW1pZXJlXSAtIFJlY2FwLyBSZXZpZXcgKHdpdGggU3BvaWxlcnMpIiwidXJsIjoiIiwiaW1hZ2VfaWQiOjIwNjM4LCJpbWFnZV91cmwiOiJodHRwczovL3doZXJldmVyLWktbG9vay5jb20vd3AtY29udGVudC91cGxvYWRzLzIwMTgvMDUvU3dlZXRiaXR0ZXItU2Vhc29uLTEtRXBpc29kZS0xLVNhbHQtU2VyaWVzLVByZW1pZXJlLUVsbGEtUGlybmVsbC0xLnBuZyIsInRpdGxlIjoiU3dlZXRiaXR0ZXI6IFNlYXNvbiAxLyBFcGlzb2RlIDEgXCJTYWx0XCIgW1NlcmllcyBQcmVtaWVyZV0gLSBSZWNhcC8gUmV2aWV3ICh3aXRoIFNwb2lsZXJzKSIsInN1bW1hcnkiOiJUaGVyZSBpcyBhIGJpdCBvZiBhIGNoYW5nZSBpbiB0aGUgdXN1YWwgZ2lybCBmcm9tIG5vd2hlcmUgY29tZXMgdG8gdGhlIGJpZyBhcHBsZSwgYW5kIHdpdGggRWxsYSBQdXJuZWxsIGF0IHRoZSBoZWxtLCB0aGlzIGNvdWxkIHZlcnkgd2VsbCBnZXQgaW50ZXJlc3RpbmcuIiwidGVtcGxhdGUiOiJkZWZhdWx0In0="]