As Billy becomes a pawn to the Mind Flayer, Dustin helps integrate Robin into the crew. Also, El comes to Max about boy problems.
---
Network
Netflix
Director(s)
The Duffer Brothers
Writer(s)
The Duffer Brothers
Air Date
7/4/2019
Images and text in this post may contain affiliate links which, if a purchase is made, we'll earn money or products from the company. Affiliate links and external links have an upward facing, superscript, arrow.
Recap
Raving Rabid Rats: Nancy, Jonathan
With Nancy far from satisfied making coffee and getting lunch, she drags Jonathan to investigate a lead on local rats. Which, at first, is weird but seems like a dud. However, after uncovering one of the rats and seeing how it bounces about, the opinion changes. But, what Nancy and Jonathan don't see is the rat become goop and seemingly evolve into a Demogorgon.
Stupid Boys: Robin, Dustin, Steve, Max, El, Mike, Lucas
After Hopper scares the daylights out of him, Mike decides he shouldn't be spending that much time with El. This, as you can imagine, messes with El since Mike is pretty consistent. Not only that, after the events of the first two seasons, Mike became one of the people she trusts and loves the most. So, him suddenly becoming secretive and unable to hang out? Red flag. Leading to El turning to Max since it isn't like she has anyone else to talk to.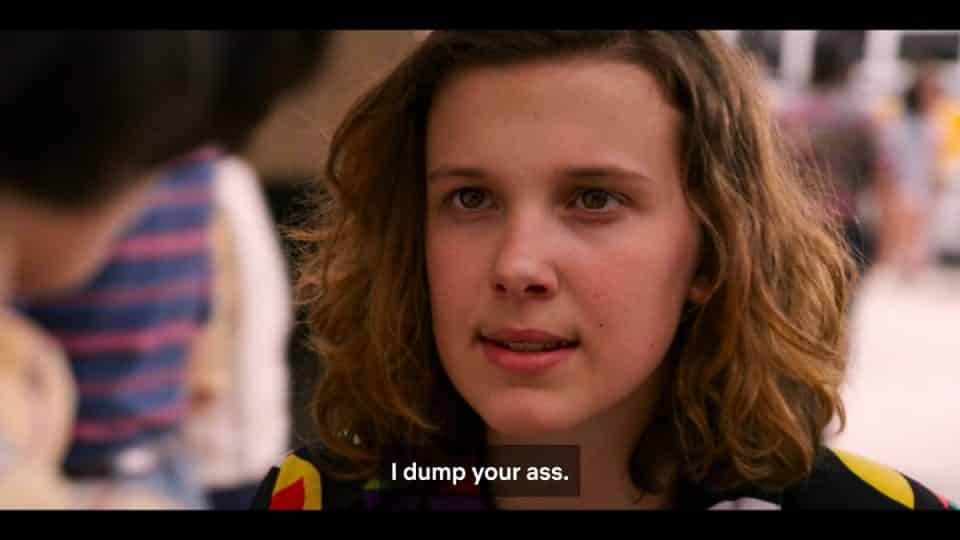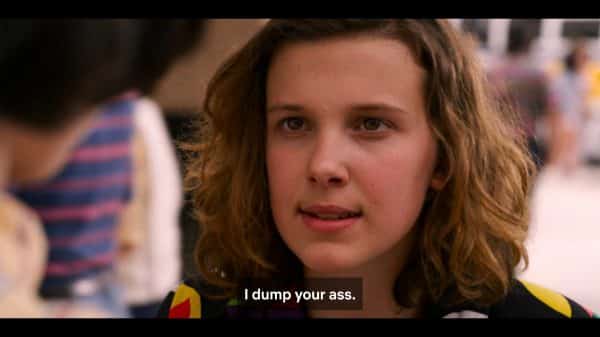 Problem is, when it comes to Max, she is off and on with Lucas so much she probably isn't the best one to go to for advice. But with El is disarray, Max considers that to be more than enough of a reason for them to go shopping. With whose money? I don't know. However, El gets some nice things, and after spending the day with Max, when she sees Mike, she dumps him when he can't answer her questions and tries to defend himself with lies. You know, rather than just saying Hopper threatened him.
And while there is drama in the group, Dustin is making the most of his time with Steve – his only true friend. Someone who joins him in trying to translate the Russian message but not without much difficulty. Making Robin helping immensely awesome, especially since it seems she is now part of the crew. Maybe even a potential love interest for Steve, after Nancy cheated on him.
It's Something I Needed To Do: Joyce, Hopper, Billy, Mr. Clark
Hopper is having a hell of a summer. On top of his daughter making kissy-face with some boy on a regular basis, he can't even get Joyce to commit to a dinner thing, not date, and show up. For with there being an issue with magnets, she instead decides to hang out with Mr. Clark, the local science teacher. Leaving Hopper embarrassed and this is after a day of cleaning up the mayor's petty mess.
But, you know who may really have it bad? Billy. Whether he thinks the devil is talking to him, or he is possessed, he finds himself unable to focus, even unable to flirt. So it seems, to calm that evil inside of him, he kidnaps his co-worker and offers her up to the Mind Flayer. Making it so the Mind Flayer will soon have the army it desires.
Question(s) Left Unanswered
Were Max and El spending Max's money since I don't think El was ever taught the concept of cash?
Does Billy think he is working with the devil, an alien, or what?
Highlights
How Essential Dustin Is To The Show
Perhaps it is just me, but it seems Dustin often gets the short end of the stick when it comes to the show. Yet, I'd submit he is the most essential character. Take note when new characters are introduced, usually, Dustin is involved with helping them get acclimated. Also, look at what he did with Steve. He turned Nancy's ex into a lovable babysitter.
Also, in terms of the weird things which happen on this show, outside of El, who was one of the first to usually experience and interact with such things outside of the upside-down? If this were a game show, Dustin would be the host and while, yeah, the contestants ranging from El and Will to Billy might have bigger storylines, but who is the one who gets things going? Much less, not only gets things going but makes them interesting?
The Diversity Of The Girls On The Show
From El to Robin, no two girls are the same on this program, and you gotta love it. Granted, most of them are on the thin side, we don't have a new Barb type, but at least they aren't all like Nancy right? Max, while a tomboy, still likes to be girly at times, as shown by her shopping/ mall day with El. Then with Robin, she is just different. You can't really box her for she, currently, doesn't fit an archetype. Robin is simply a person who happens to be a girl.
On The Fence
El & Mike Going Back And Forth
With Max having the influence she does, so comes El thinking going back and forth, in and out of a relationship, is normal. Which honestly is going to suck not in terms of shipping Mike and El, but because the point of the back and forth is to remind you these two are kids. Yet, who knows, maybe this could lead to someone new approaching El? If not us getting to actually see Max and Lucas as a couple more?
Plus, the big thing to think about here, if El is single that means she will get more girl time with Max. Leading to maybe them talking about life and having conversations the boys won't get. For, up until now, El has solely been surrounded by guys and formerly saw Max as a threat. So with that no longer being the case, it opens a whole new world. At least if Kali never comes around.
Heartbroken Hopper
Hopper is at his best when he is being put to use. So while it will take some time for him to get involved in Billy's mess, unfortunately, we'll likely be stuck with him moping about. Here is hoping, with only 8 episodes, things pick up for Hopper soon.
Nancy Drew
In my mind, Nancy is just boring, and with Jonathan being a lovesick puppy following her around, it doesn't help things at all. Heck, even considering she is likely to end up part of the season finale battle, there is no hype here. Nancy is just another character, similar to the parents of the kids, minus Joyce and Hopper, who don't feel essential but we get stuck with her more often than the rest.
Follow Wherever I Look on Twitter, Like us on Facebook and Subscribe to the YouTube Channel.
Stranger Things - Episode List
Season/ Episode
Synopsis
Episode Information
Topics & Focused Characters
Season 3, Episode 8 "Chapter Eight: The Battle of Starcourt" [Season Finale]
While the finale sets up a season 4, it makes clear that things won't be the same. Either because of what happens during the fight with the Mind Flayer or the decisions made after.

Director(s)
The Duffer Brothers
Writer(s)
The Duffer Brothers
Air Date
7/4/2019
Introduced This Episode
Suzie
Gabriella Pizzolo

A Battle To End All Battles: Murray, Dustin, Lucas, Will, Jonathan, Nancy, Mike, Max, Billy, El, Hopper, Joyce, Robin, Steve
This Is The End: Billy, Hopper, Max, Joyce, Suzie, Murray, Dustin, Mike, El, Grigori
3 Months Later: Hopper, El, Mike, Joyce, Max

Season 3, Episode 4 "Chapter Four: The Sauna Test"

We're halfway through the season and are treated to El's first fight with the Mind Flayer. Which happens to coincide with a new development when it comes to the Russians.

Director(s)
Shawn Levy
Writer(s)
Kate Trefry
Air Date
7/4/2019
Noted This Episode
Mayor Larry Kline
Cary Elwes
Mrs. Driscoll
Peggy Miley
Karen Wheeler
Cara Buono

A Woman Ahead Of Her Time:

 

Tom, Jonathan, Mrs. Wheeler, Nancy, Mrs. Driscoll
Starcourt Mall Controversy:

 

Larry, Joyce, Hopper, Robin, Dustin, Steve, Erica
Battle 1:

 

Billy, El, Mike, Max, Lucas, Will

Season 3, Episode 3 "Chapter 3: The Case of the Missing Lifeguard"

The Russians land in Hawkins, and alongside them, the Mind Flayer's plans begin to come to fruition.

Director(s)
Shawn Levy
Writer(s)
William Bridges
Air Date
7/4/2019
Introduced This Episode
Tom
Michael Park
Heather
Francesca Reale

The Way Things Used To Be:

 

Will, Lucas, Mike, Hopper, Joyce
The Investigation Continues:

 

Robin, Steve, Dustin, Nancy, Jonathan
There Is Something Strange About Your Brother:

 

El, Max, Billy, Tom, Heather

Season 3, Episode 5 "Chapter Five: The Flayed"

As the Mind Flayer shows both a weakness and strength, Hopper meets up with an old friend and Steve's crew make a grand discovery

Director(s)
Uta Briesewitz
Writer(s)
Paul Dichter
Air Date
7/4/2019
Introduced This Episode
Grigori
Andrey Ivchenko
Alexei
Alec Utgoff

A Wild Goose Chase To A Crazy Goose:

 

Grigori, Murray, Joyce, Alexei, Hopper
Below The Starcourt:

 

Robin, Steve, Dustin, Erica
The Contingency Plan:

 

Tom, El, Mike, Lucas, Max, Jonathan, Nancy, Will

Season 3, Episode 6 "Chapter Six: E. Pluribus Unum"

On top of learning why the Russians are in Hawkins, El ventures into Billy's past and discovers why he is the way he is – in more ways than one.

| | |
| --- | --- |
| Director(s) | Uta Briesewitz |
| Writer(s) | Curtis Gwinn |
| Air Date | 7/4/2019 |

Paging Dr. Owens:

 

Alexei, Murray, Joyce, Hopper
Catching Up On Old Times:

 

Erica, Dustin, Robin, Steve
A Mind Is A Terrible Place To Visit:

 

El, Billy, Mike, Max, Nancy

Season 3, Episode 7 "Chapter Seven: The Bite"

Two secrets are revealed, we experience the first notable death of the season, and the gang begins to converge as the Mind Flayer makes its first major move.

| | |
| --- | --- |
| Director(s) | The Duffer Brothers |
| Writer(s) | The Duffer Brothers |
| Air Date | 7/4/2019 |

Goodbye Comrade:

 

Alexei, Murray, Larry, Joyce, Hopper, Grigori

A Major Blow To El:

 

El, Mike, Max, Lucas, Nancy

The Gang Is, Mostly, All Here:

 

El, Erica, Steve, Robin, Dustin


Season 3, Episode 2 "Chapter 2: The Mall Rats"

As Billy becomes a pawn to the Mind Flayer, Dustin helps integrate Robin into the crew. Also, El comes to Max about boy problems.

| | |
| --- | --- |
| Director(s) | The Duffer Brothers |
| Writer(s) | The Duffer Brothers |
| Air Date | 7/4/2019 |

Raving Rabid Rats:

 

Nancy, Jonathan
Stupid Boys:

 

Robin, Dustin, Steve, Max, El, Mike, Lucas
It's Something I Needed To Do:

 

Joyce, Hopper, Billy, Mr. Clark

Season 3, Episode 1 "Chapter 1: Suzie, Do You Copy?" [Season Premiere]

It's the summer of love, and for those without someone warm to spend the cold nights with, desperation is sinking in. Also, the rats are starting to explode.

Director(s)
The Duffer Brothers
Writer(s)
The Duffer Brothers
Air Date
7/4/2019
Introduced This Episode
Robin
Maya Hawke

It's A Lonely Life:

 

Steve, Robin, Hopper, Joyce
To Be Young & In Love:

 

El, Mike, Hopper, Lucas, Max, Dustin
Something Is Going On:

 

Nancy, Billy, Will

Season 1/ Episode 2 "Chapter 2: The Weirdo on Maple Street"

As Eleven begins to freak-out Lucas and Dustin, the search for Will leads to weird situations. All the while, Nancy might lose more than her virginity.

Director(s)
Matt and Ross Duffer
Writer(s)
Matt and Ross Duffer
Notable Guest Stars
Lonnie
Ross Partridge

A Family In Tatters: Joyce, Jonathan
So, My Parents Won't Be Home: Steve, Nancy, Barbara, Jonathan
The Search Continues: Lucas, Dustin, Mike, Eleven, Sheriff Hopper

Season 1/ Episode 3 "Chapter Three: Holly, Jolly"

The truth about Eleven lurks about as something is contacting Joyce through lights.

Director(s)
Shawn Levy
Writer(s)
Matt and Ross Duffer

Notable Guest Stars

Nicole
Glennellen Anderson
Terry Ives
Aimee Mullins

Have You Seen Barbara?: Barbara, Nancy, Jonathan
What Happens In Hawkins, Stays In Hawkins: Dr. Benner, Eleven, Hopper
The Body In The Water: Joyce, Eleven, Mike, Lucas, Dustin, Hopper

Season 1/ Episode 4 "Chapter Four: The Body"

While one missing person we are given some hope for, it doesn't look good for the other one at all.

| | |
| --- | --- |
| Director(s) | Shawn Levy |
| Writer(s) | Justin Doble |

A Body Is Found: Mike, Joyce, Eleven
Looking for Barbara: Steve, Nancy, Jonathan
And The Lie Detector Test Determined, That Is A Lie: Joyce, Hopper, Will, Eleven, Mike

Season 1/ Episode 5 "Chapter Five: The Flea and the Acrobat"

It's the day of Will's funeral and while the fake body is being put into the ground, the search for the real Will intensifies.

| | |
| --- | --- |
| Director(s) | The Duffer Brothers |
| Writer(s) | Alison Tatlock |

Did You Ever Really Care?: Lonnie, Joyce
Don't Ever Underestimate the Hopper: Sheriff Hopper, Joyce
The Upside Down: Eleven, Nancy, Jonathan, Mike, Lucas, Dustin

Season 1/ Episode 6 "Chapter 6: The Monster"

As Hopper and Joyce meet Terry Ives, Dustin and Mike go on a search for Eleven. Also, Jonathan and Nancy grow closer.

Director(s)
The Duffer Brothers
Writer(s)
Jessie Nickson-Lopez
Newly Introduced Characters
Becky Ives
Amy Seimetz

Love Makes a Boy do Foolish Things: Nancy, Jonathan, Steve
Jane: Hopper, Joyce, Terry, Becky
The Search for Eleven: Lucas, Mike, Dustin, Eleven

Season 1/ Episode 7 "Chapter Seven: The Bathtub"

The penultimate episode of the season brings us one step closer to Will possibly being saved. But, with the way he looks, it seems time is running out.

| | |
| --- | --- |
| Director(s) | The Duffer Brothers |
| Writer(s) | Justin Doble |

The Bad Men Are Coming: Eleven, Mike, Lucas, Karen, Dr. Benner
Should I Stay Or Should I Go: Nancy, Jonathan, Hopper, Joyce, Mike, Lucas, Eleven, Dustin, Mr. Clarke, Will

Season 1/ Episode 8 "Chapter 8: The Upside Down" [Season Finale]

And so Season 1 comes to an end with a few touching moments but some eyebrow-raising events and a sacrifice.

Director(s)
The Duffer Brothers
Writer(s)
(Teleplay) The Duffer Brothers | (Story) Paul Duchter
Characters Introduced
Sarah
Elle Graham

Sarah & Will: Hopper, Joyce, Dr. Benner
The Hunt For The Demogorgon & Eleven: Jonathan, Nancy, Steve, Eleven, Mike, Lucas, Dustin, Dr. Benner
One Month Later: Will, Hopper, Mike, Dustin, Lucas, Joyce, Jonathan, Steve

Season 2/ Episode 1 "Chapter 1: MADMAX" [Season Premiere]

The boys are back and there is a new girl who may tear them apart. That is, if this thing Will sees doesn't get to them first.

Director(s)
The Duffer Brothers
Writer(s)
The Duffer Brothers
Characters Introduced
Murray
Brett Gelman
Max
Sadie Sink
Bob
Sean Astin
Dr. Owens
Paul Reiser
Kali
Linnea Berthelsen
Merril
Fenton Lawless

Less Than Eleven: Kali
What Is Normal?: Dustin, Max, Lucas, Mike, Will, Jonathan, Nancy, Dustin, Joyce
Gone But Not Forgotten: Hopper, Joyce, Dr. Owens, Murray, Mike

Season 2/ Episode 2 "Trick or Treat, Freak"

As Will confides in Mike, and Nancy gets tired of everyone acting like Barbara isn't gone, something is afoot with the local plant life.

Director(s)
The Duffer Brothers
Writer(s)
The Duffer Brothers
Characters Introduced
Erica
Priah Ferguson
Mrs. Sinclair
Karen Ceesay
Billy
Dacre Montgomery
Samantha
Shea Jones

How Eleven & Hopper Met Up: Eleven
It's Like Everyone Forgotten: Nancy, Steve, Jonathan
Welcome To The Party: Max, Lucas, Dustin, Will, Mike, Billy

Season 2/ Episode 3 "The Pollywog"

As Will continues to deal with his ability to go to the Upside Down, Dustin discovers what came out of Will last year. Alongside that, Eleven meets Max.

| | |
| --- | --- |
| Director(s) | Shawn Levy |
| Writer(s) | Justin Doble |

I Thought We Had a Deal?: Dr. Owens, Hopper
The Truth Has To Be Told: Steve, Nancy, Jonathan
You Don't Even Know What You Did: Will, Dustin, Eleven, Max, Mike

Season 2/ Episode 4 "Chapter Four: Will The Wise"

As Eleven shows she cannot be tamed or punished, Will reveals his truth and Nancy seeks to expose Hawkins' Labs.

| | |
| --- | --- |
| Director(s) | Shawn Levy |
| Writer(s) | Paul Dichter |

Raising a Child with Tekekinses & Who Hates Liars: Hopper, Eleven
We're Going To Burn That Place Down: Nancy, Jonathan, Dr. Owens
Telling Your Secrets Don't Always Lead To Answers: Max, Dustin, Mike, Lucas, Joyce, Will, Hopper

Season 2/ Episode 5 "Chapter Five: Dig Dug"

As three new people learn the truth of what happened last year and now, there comes the question of who will suffer the consequences.

Director(s)
Andrew Stanton
Writer(s)
Jessie Nickson-Lopez
Characters Introduced
Mr. Sinclair
Arnell Powell

The Return of Murray: Nancy, Jonathan, Murray
What Happened to Momma?: Becky, Terry, Eleven
Gain One, Lose One: Hopper, Joyce, Bob, Will, Mike

Season 2/ Episode 6 "Chapter Six: The Spy"

The first major battle goes down against the shadow monster's babies as new relationships, romantic and platonic, form.

| | |
| --- | --- |
| Director(s) | Andrew Stanton |
| Writer(s) | Kate Trefry |

Let's State The Obvious Here: Murray, Nancy, Jonathan
You Got A Friend In Me: Max, Lucas, Dustin, Steve
Face-Off: Will, Max, Lucas, Dustin, Steve, Mike, Dr. Owens

Season 2/ Episode 7 "The Lost Sister"

It's a completely Eleven (Jane) focused episode and honestly, it makes you wish they mixed in the other cast members.

Director(s)
Rebecca Thomas
Writer(s)
Justin Doble
Characters Introduced
Axel
James Landry Herbert
Dottie
Anna Jacoby-Heron
Ray
Pruitt Taylor Vince
Mick
Gabrielle Maiden
Funshine
Kai L. Greene

Sister: Eleven, Kali
The Divergent Paths: Kali, Eleven
No One Can Save Me, But I Can Save Them: Eleven, Kali

Season 2/ Episode 8 "Chapter Eight: The Mind Flayer"

Things get as bad as the last episode would make you think as you find yourself wondering how will the people of Hawkins, not just the cast, survive?

Director(s)
The Duffer Brothers
Writer(s)
The Duffer Brothers
Characters Introduced
Susan
Jennifer Marshall
Neil
Will Chase

The Apple & The Tree: Billy
Why Can't Joyce Have Nice Things?: Bob, Dr. Owens, Joyce, Hopper
The Mind Flayer: Will, Mike, Jonathan, Hopper, Eleven, Joyce, Nancy

Season 2/ Episode 9 "Chapter Nine: The Gate" [Season Finale]

Unlike a lot of shows, 

Stranger Things: Season 2

 

ends with giving you something to get hyped about, a bit of fan service, and presenting a calm before the storm.

| | |
| --- | --- |
| Director(s) | The Duffer Brothers |
| Writer(s) | The Duffer Brothers |

The Bench Players: Steve, Mike, Lucas, Dustin, Max, Billy
The Exorcism of Will Byers & Closing of the Gate: Will, Joyce, Jonathan
Hawkins Middle School 1984 Snow Ball: Nancy, Dustin, Steve, Joyce, Hopper, Max, Lucas, Eleven, Mike

Season 1/ Episode 1 "Chapter One: The Vanishing of Will Byers" [Series Premiere]
Stranger Things

 

begins with an odd monster lurking about a small town. One in no way prepared for its otherworldly powers.

Creator: The Duffer Brothers
How Essential Dustin Is To The Show - 89%
El & Mike Going Back And Forth - 75%
The Diversity Of The Girls On The Show - 90%