We're gifted a western theme to help remix things as Bridge and Nelson reconcile, and Mr. Daddy gets his.
---
Network
Showtime
Director(s)
Zach Strauss
Writer(s)
Frankie Shaw, Zach Strauss
Air Date
3/24/2019
Introduced This Episode
Mr. Daddy
Clark Gregg
Sloppy Seconds: Rafi, Nelson, Bridgette, Tutu, Larry
Like in actual Boston, in Bridgette's western Boston there are some issues between her, Tutu, and also Nelson. All of which find Larry in the middle. Why? Well, Tutu thinks Bridgette wants Larry to go to some fancy school because she is ashamed of them and Nelson? Well, with Bridgette thinking Nelson is taking Rafi from his kid, that is a major issue.
However, while Rafi doesn't get involved with the Tutu beef, which settles itself when Bridge and he can't afford the pre-school, he does help the Nelson situation. If just by pushing that Nelson has to accept Bridge is part of his and Larry's life and she has to try to make it work. Which, ultimately, she does.
Mr. Daddy: Nelson, Bridgette, Larry, Rafi, Tutu, Ally, Mr. Daddy
In this alternative reality of Boston, Mr. Daddy, Ally's now apparent ex, pretty much owns everything. As you can imagine, that is a problem in Bridgette's Boston since things are largely flipped. Making Mr. Daddy the last remnant of patriarchy in a largely matriarchal society. One which even is gender-flipped by men dolling themselves up and largely making up the sex worker population.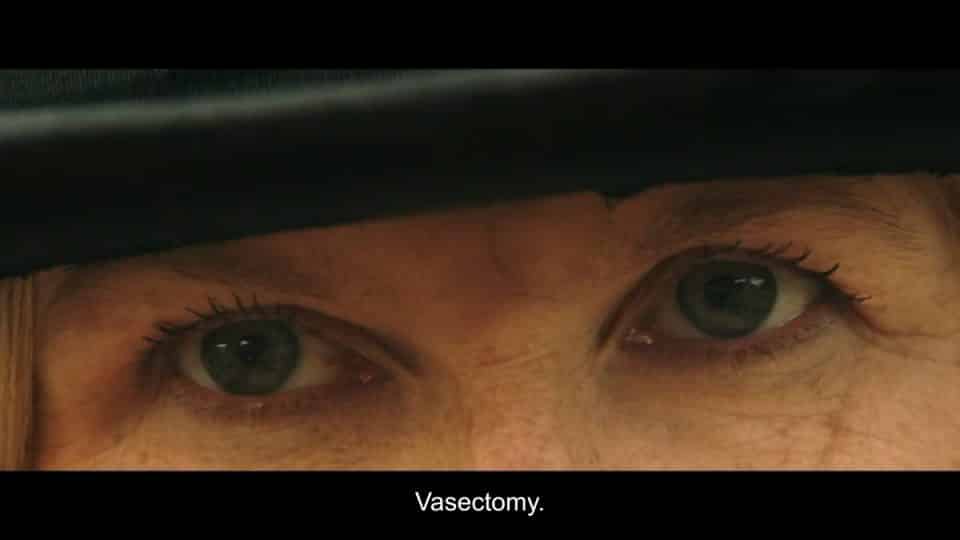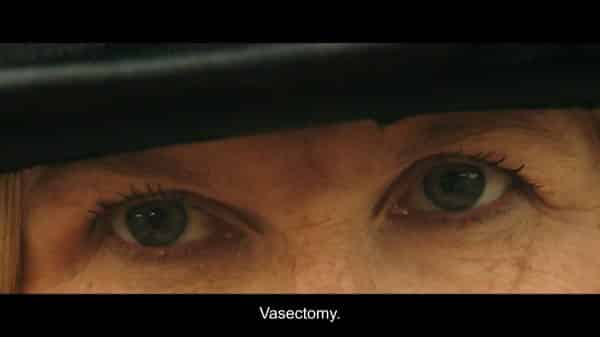 Yet, there comes the point when enough is enough, so the ladies face Mr. Daddy and have a shoot out. One which ends with Ally getting her revenge for being left with nothing by giving Mr. Daddy a vasectomy by a bullet. Thus bringing peace to Boston and an end to a rather weird episode.
On The Fence
It Shakes Things Up, But What's Canon?
Season 1 of Smilf also had a very out there episode which left you wondering what is just Bridge dealing with her stress and is legit? For example, are Ally and Mr. Daddy actually through? Also, has she no idea that Bridge has been stealing from her? Also, there is the Nelson question. Is she legitimately jealous of Bridgette and has, once again, made nice with her?
Don't get me wrong, I appreciate how Smilf is trying to shake things up. However being that it also leads you to question what is real and what's just part of Bridgette's coping mechanisms, it's a bit frustrating. Especially considering there won't be a 3rd season so we're coming up on what will be the series finale.
Follow Wherever I Look on Twitter, Like us on Facebook and Subscribe to the YouTube Channel.
---
---
Season/ Episode
Synopsis
Director, Writer, and Introduced Actors
Topics & Focused Characters
Season 2, Episode 9 "Single Mom Is Losing Faith"

We're gifted a western theme to help remix things as Bridge and Nelson reconcile, and Mr. Daddy gets his.

Director(s)
Zach Strauss
Writer(s)
Frankie Shaw, Zach Strauss
Air Date
3/24/2019
Introduced This Episode
Mr. Daddy
Clark Gregg

Sloppy Seconds:

 

Rafi, Nelson, Bridgette, Tutu, Larry
Mr. Daddy:

 

Nelson, Bridgette, Larry, Rafi, Tutu, Ally, Mr. Daddy

Season 2, Episode 7 "Smile More If Lying Fails"

In a pseudo-Eliza focused episode, we're reminded how well to do her family is as Bridgette is reminded how much of an outsider she is.

| | |
| --- | --- |
| Director(s) | Kerry Washington |
| Writer(s) | Frankie Shaw, Thembi L. Banks, Rochée Jeffrey |
| Air Date | 3/10/2019 |

Left Out:

 

Rafi, Nelson, Bridgette
The Outsider:

 

Eliza, Bridgette
You Got A Friend In Me:

 

Eliza, Bridgette

Season 2, Episode 8 "Sex Makes It Less Formal"

On top of possibly seeing the scene which led to 

SMILF

 being cancelled, we get a few moments that might make you cry.

Director(s)
Cate Shortland
Writer(s)
Emily Goldwyn
Air Date
3/17/2019
Introduced This Episode
Winnie
Claudia O'Doherty
Enid
Melanie Griffith

We're The Morons:

 

Jackie, Tutu
I'm Suffocating:

 

Winnie, Enid, Nelson
The Right Decision:

 

Bridgette, Rafi

Season 2, Episode 10 "Single Mom Is Looking (For) Family"

In the series finale, Tutu reveals something major as Rafi struggles with Larry's birthday and what should have been good news.

| | |
| --- | --- |
| Director(s) | Cate Shortland |
| Writer(s) | Zach Strauss, Halley Feiffer |
| Air Date | 3/31/2019 |

We're Fated:

 

Bridgette, Rafi
Same Ol' Mistakes:

 

Bridgette, Rafi, Nelson
Milo & The Girl Left Behind:

 

Tutu, Bridgette

Season 2, Episode 6 "Should Mothers Incur Loss Financially?"

Accountability is forced upon Bridgette, Tutu, even Rafi and each take the call and pursue different decisions. Some a bit drastic.

| | |
| --- | --- |
| Director(s) | Cate Shortland |
| Writer(s) | Frankie Shaw, Jessica Moore |
| Air Date | 3/3/2019 |

Losing The House:

 

Tutu, Jackie, Joe Jr.
Losing Dignity:

 

Tutu, Jackie, Bridgette, Larry
Losing Nelson:

 

Bridgette, Nelson, Rafi

Season 2, Episode 5 "Single Mom In Love Forever"

The days before and day of Larry's birth are relived – as well as the reason Colleen goes by Tutu and the beginning of the end for Rafi and Bridgette.

Director(s)
Cate Shortland
Writer(s)
Frankie Shaw
Air Date
2/24/2019
Introduced This Episode
Fiona
Ally Sheedy

2014:

 

Rafi, Bridgette, Tutu, Eliza
A Classy Mom:

 

Bridgette, Rafi, Tutu
The Healing Process Begins:

 

Tutu, Bridgette, Rafi, Fiona

Season 2, Episode 4 "So Maybe I Look Feminine"
It's Bridgette's first weekend without Larry, and she gets an offer to hang out with Nelson – what could go wrong?

Director(s)
Frankie Shaw
Writer(s)
Heather V. Regnier
Air Date
2/17/2019
Introduced This Episode
Himself
Kevin Bacon

A Day To Myself?: Larry, Bridgette, Rafi, Nelson

How The Other Side Lives: Nelson, Bridgette, Kevin Bacon

An Idle Mind Is The Devil's Playground: Bridgette, Larry, Rafi


Season 2, Episode 3 "Surrogate Mothers Inspire Loving Families"

Non-white women who live in Boston, two who work for Ally specifically, and one of the two's sisters are the focus of 

Smilf's

 latest episode.

Director(s)
Frankie Shaw
Writer(s)
Emily Goldwyn, Jess Lamour
Air Date
2/10/19
Introduced This Episode
Elsie
Numa Perrier
Mindy
Nhadya Salomon
Ida
Sisa Grey
Chloe
Mia Kaplan

You Know I Am Your Mother:

 

Ally, Ida, Chloe

A Birthday Gift For Us Both:

 

Ally, Mindy
At Beck and Call:

 

Ally, Mindy, Elsie

Season 2, Episode 2 "Sorry Mary, I'm Losing Faith"

It's one baby step forward, and two hops back as Bridgette continues to try to get her life together.

Director(s)
Frankie Shaw
Writer(s)
Frankie Shaw, Rachel Leavitt
Air Date
1/27/2019
Introduced This Episode
Joe Junior
Lucien Spelman
Jackie
Sherie Rene Scott
Hank
Dan Aid

Mourning Together:

 

Tutu, Jackie, Joe Junior

Derailment:

 

Hank, Bridgette, Ally

Something Has To Give:

 

Rafi, Bridgette

Season 1/ Episode 1 "A Box of Dunkies and Two Squirts of Maple Syrup"

Smilf, similar to Shameless, seems like the type of show which will gain a loyal fan base, but not the mainstream attention it may come to deserve.

Creator: Frankie Shaw

Season 1/ Episode 2 "1,800 Filet-O-Fishes & One Small Diet Coke"

Bridgette continues to reveal herself as someone who not only gets underestimated but probably underestimates herself.

Director(s)
Leslye Headland
Writer(s)
Frankie Shaw & Emily Goldwyn
Characters Introduced
Ryan
Joseph Winford Warren
Eliza
Raven Goodwin
Casey
Austin Abrams

Larry is Sick!: Rafi, Nelson, Bridgette, Larry
Smarter Than You Know: Ally, Bridgette, Casey
What's Up With Tutu?: Tutu, Bridgette

Season 1/ Episode 3 "Half a Sheet Cake & a Blue-Raspberry Slushie"

How does one bring dreams to reality? Much less, know when a dream is feasible? Those are the questions Bridgette faces this episode.

Director(s)
Leslye Headland
Writer(s)
Frankie Shaw & Jess Dweck
Characters Introduced
George
George Basil
Kit-Kat
Kimberley Crossman
Craig
Jeremy Shamos
Joe
Blake Clark

Money Is a Major Issue: Bridgette
Finding Your Niche: Eliza, Nelson, Bridgette
The Escorting Business: Bridgette

Season 1/ Episode 4 "Deep-Dish Pizza & a Shot of Holy Water"

After being assaulted, Bridgette is trying to reclaim her inner bad ass, but people refuse to let her be great and validated.

Director(s)
Leslye Headland
Writer(s)
Karey Dornetto
Characters Introduced
Ken
Matt Shively
Eddie
Mark Webber

Can I Get Some Validation Here? A Win?!: Eliza, Tutu, Bridgette
Reclaiming My Time & My Power: Bridgette
You Don't Respect Me At All Do You?: Rafi, Tutu, Nelson, Bridgette, Eliza

Season 1/ Episode 5 "Run, Bridgette, Run or Forty-Eight Burnt Cupcakes & Graveyard Rum"

Smilf sends us on some kind of trippy Groundhog Day scenario which leaves you wondering what of it all was canon?

Director(s)
Amy York Rubin
Writer(s)
Zach Strauss
Characters Introduced
Regina
Gabrielle Maiden
Phil
Gary Anthony Williams
Mo
Paula Pell

Groundhog Father's Day – Part 1: Ally, Bridgette, Rafi
Groundhog Father's Day – Part 2: Eliza, Regina, Bridgette, Phil
Groundhog Father's Day – Part 3 and 4: Rafi, Nelson, Tutu, Mo, Bridgette

Season 1/ Episode 6 "Chocolate Pudding & a Cooler of Gatorade"

Disappointments come all around and Bridgette finds herself being everyone's go-to person.

Director(s)
Amy York Rubin
Writer(s)
Sarah L. Jones and Mel Shimkovitz
Characters Introduced
Angie (Rafi's Mom)
Marabina Jaimes
Edmond
Donald Li

My Mother, My Weakness: Rafi
Seeing Edmond: Tutu
Searching For Purpose: Tutu, Bridgette, Ally

Epigenetics is the word of the day as Tutu, Bridgette, and maybe even Larry, have a bit of a bad day.

| | |
| --- | --- |
| Director(s) | Frankie Shaw |
| Writer(s) | Scott King |

Epigenetics: Tutu, Eliza, Larry, Bridgette
I Need A Win Here: Tutu, Eliza, Larry, Bridgette, Joe

In what some may find a triggering episode, Bridgette seeks to get to the root of some of her problems: the father who molested her – repeatedly.

Director(s)
Frankie Shaw
Writer(s)
Frankie Shaw
Characters Introduced
Richard
David DeBeck
Young Bridgette
Jordana Rose
Therapist
Stacey Moseley

My Dad Touched My Vagina: Bridgette, Tutu
Date With Daddy – Preparation: Bridgette, Tutu
Date with Daddy: Tutu, Bridgette, Nelson, Eliza

Season 2 of SMILF begins in tragedy, yet with death may come new life for Tutu and Bridgette.

Director(s)
Frankie Shaw
Writer(s)
Scott King
Air Date (Online)
1/3/2019
Introduced This Episode
Sheila
Mindy Sterling

Daddy Isn't Here: Bridgette
Goodbye Joe: Bridgette, Tutu, Joe, Larry
This One Is For You Ma!: Tutu, Bridgette
It Shakes Things Up, But What's Canon? - 70%