She's Gotta Have It: Season 2, Episode 4 "#NationTime" – Recap, Review (with Spoilers)
---
Community Rating: 0.00% (0) - No Community Ratings Submitted (Add Yours Below)
---
This post may contain affiliate links and spoilers. Please read our disclosure policy.
---
Nola leaves Brooklyn for a spell and reconnects with an old friend from Pratt. Unfortunately, though, she also reconnects with a d—-bag.
---
Network
Netflix
Director(s)
Spike Lee
Writer(s)
Radha Blank
Air Date
5/24/2019
Introduced This Episode
Ebon Cuddy
Brandon Victor Dixon
Dutch
Olivia Washington
Herself
Carrie Mae Weems
Olu
Michael Luwoye
Herself
Amy Sherald
Images and text in this post may contain affiliate links which, if a purchase is made, we'll earn money or products from the company. Affiliate links and external links have an upward facing, superscript, arrow.
Here Is To Old & New Friends: Ebon Cuddy, Dutch, Nola, Olu
With Opal still haunting her, this weeklong vacation from Brooklyn couldn't come soon enough. However, what makes this trip even more special is that it is to Martha's Vineyard – specifically the Oak Bluffs area. Somewhere Stokley wouldn't dare set foot in for he isn't fond of uppity negroes. Yet, with Nola a bit more relaxed with that ilk, she has no issues with the host, Ebon Cuddy, and his slightly bougie ways.
But, in general, there aren't people there who make Nola uncomfortable – besides Dean. For with her friend from Pratt, Dutch, being there, and some eye candy in Olu, it seems like she'll not only have a good time but productive time.
You Are Valid: Nola, Carrie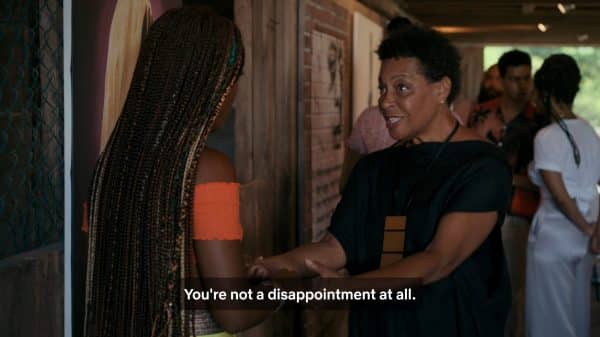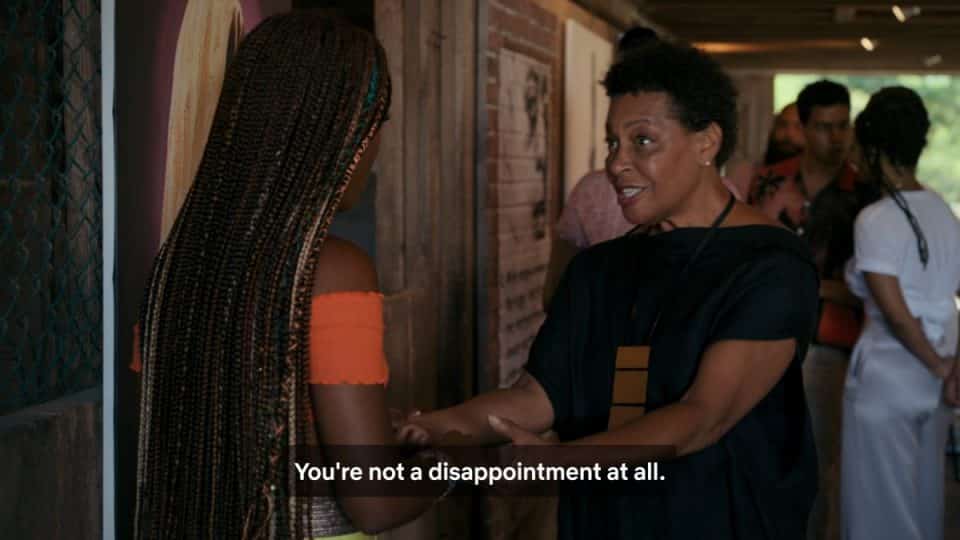 However, that ends up not being the case. Seeing Dean throws her off and withholding from sex also messes with her mojo a bit. So she tries to do a self-portrait, but it doesn't pop like her former work. Thus flaring up her imposter's syndrome.
Luckily, a famous real-life creator named Carrie Mae Weems reassures Nola that her talent is valid. In fact, Carrie has been looking out for Nola a while, and though she isn't a direct benefactor, she does seem to be pushing for Nola whenever she has the influence to do so. Making Nola feel a bit better about herself.
Talking Yourself Out Of A Blessing: Dean, Nola, Olu
With Dean stealing from Nola and revealing himself as the one who painted Gs all around Brooklyn, causing Divine to be arrested, she publicly goes off on him. For, so what if he has put money into the event, his presence goes against the mission of the retreat. But, while there is some support, no one really gives that much public support – besides Olu. Someone who, by the way, takes note of Nola since she is so bold and radical in a way. So her openly calling out Dean just gets him even more interested. And believe me when I say the feeling is mutual for when she saw him sculpting naked, she was about to lose her damn mind.
Oh, but one more thing when it comes to Dean. He takes to heart what Nola says about him being a bit of a culture vulture, putting his money into a Black event to buy access and all that, so he makes sure her $10K stipend goes to Spellman college. Not out of animosity but because Nola really did talk herself out of a blessing.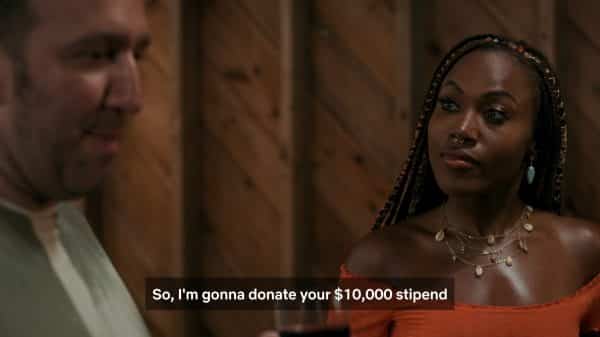 Question(s) Left Unanswered
Where was Dutch during season one and all those brunches Nola has had?
When Dean said his great grandfather fell out of a tower in the Holocaust, that meant said relative was a Nazi right?
Highlights
A Break From It All
While the lives of Mekka, Mars, and the rest don't overpower Nola's story in the slightest, it's nice to take a break from the side characters and just focus on Nola Darling. To be reminded of her core values in terms of her passion for art, Black empowerment, and to be reminded that her intelligence is in multiple areas. Not just in art, culture, but she can code switch, has historical knowledge, and has the social intelligence to carry a conversation. Pretty much, this episode was a reintroduction to who Nola Darling is, and it was needed.
Art Culture On Display
When it comes to Black art, music is the main form in which most are exposed. However, when we are talking about photography, paintings, and mediums of that ilk, the knowledge isn't as strong. So to see both the new and legendary, have their work shown, listening to Amy Sherald talk about painting for the Obamas, it's like a quick education. Enough to wet your whistle and make you want more since, from men to women, young to old, cis or trans, we get an array of artists to relate to work wise and look wise.
The Olu Segregation vs. Integration Conversation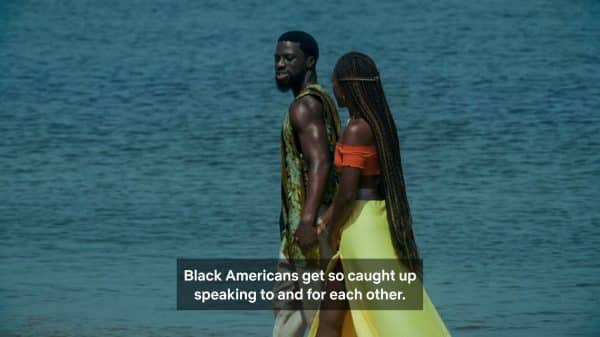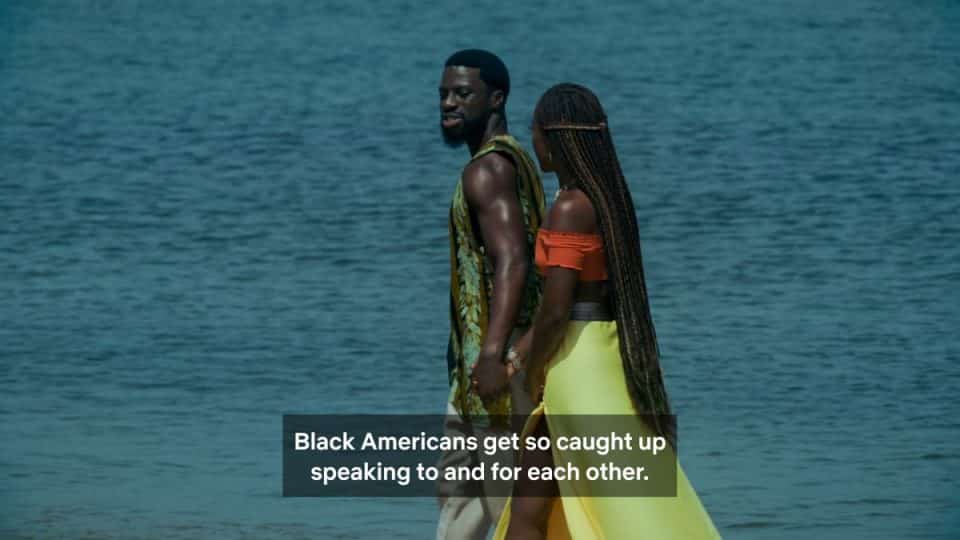 It's always interesting to listen to Black Americans and those either from the motherland or whose family immigrated to different parts of the world speak. It pushes you to realize how, even with the influence of European imperialism affecting us all, it did so differently and has affected our relationship with them in different ways. Take Olu finding integration, not a must but something worth pursuing and Nola countering that, as a Black American, by doing so we lost so much of what was for us by us to join institutions that didn't want us.
And while it isn't known if we may see Olu again, there is the need to wonder, in further discussion, where will they see eye to eye and when will they differ?
On The Fence
Dean's Investment (and Theft) In Black Art Conversation
While you have to love all that Nola said on Dean in terms of presenting him as a culture vulture, it is hard not to wish there was a conversation about his place amongst Nation Time. Particularly, taking note of Olu and Nola's conversation, having institutions for Black folk, by Black folk, and also financed by them primarily as well. Because clearly no one wanted to be around Dean and suffered his time and energy due to his money, sans Nola, so to hear how the actors, maybe the artists felt, could have expanded not just views of the art world but also Blackness.
Specifically, in the idea of how much monetary value of Black art, across the various mediums, relies on white buyers creating that value or being marketed to.
Follow Wherever I Look on Twitter, Like us on Facebook and Subscribe to the YouTube Channel.
[ninja_tables id="35599″]
A Break From It All - 80%
Art Culture On Display - 90%
The Olu Segregation vs. Integration Conversation - 91%
Dean's Investment (and Theft) In Black Art Conversation - 75%