She's Gotta Have It: Season 1/ Episode 2 "#BootyFull (SELF ACCEPTANCE)" – Recap/ Review (with Spoilers)
We have a proper introduction to Nola's friend Shemekka and see the trauma left by Nola's encounter with an overly aggressive guy. Previous Recap: Episode 1 "#DaJumpoff (Doctrine)" Community Rating: 0.00% (0) – No Community Ratings Submitted (Add Yours Below) Network Netflix Director(s) Spike Lee Writer(s) Radha Blank Characters Introduced Winny Fat Joe Shemekka Chyna…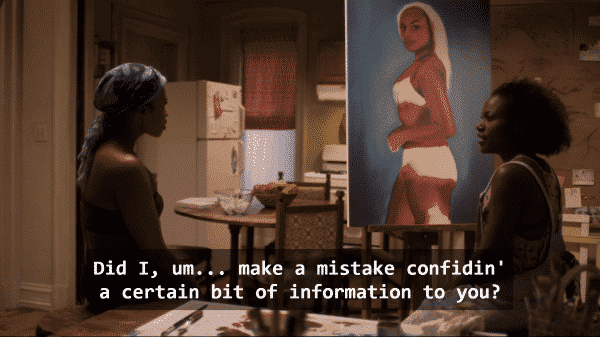 We have a proper introduction to Nola's friend Shemekka and see the trauma left by Nola's encounter with an overly aggressive guy.
---
---
Community Rating:
---
Network
Netflix
Director(s)
Spike Lee
Writer(s)
Radha Blank
Characters Introduced
Winny
Fat Joe
Shemekka
Chyna Layne
Bianca
Kim Director
Papo
Elvis Nolasco
Cheryl
Sydney Morton
Rachel
Elise Hudson
Septima
Joie Lee
Sonny (Stokes)
Thomas Jefferson Byrd
---
I Just Want To Be BootyFull: Shemekka, Clo, Nola
In order to win a Elizabeth Catlett grant [Official Website of Elizabeth Catlett to learn more – External] Nola has asked Shemekka to pose for her. With that, so comes Shemekka revealing as much as she maybe an around the way girl, she got feelings too. Such as her insecurity of being a Jamaican gyal but without the butt to match. Something which she feels not only holds her back at her job in Winny's Hot N Trot gentleman's club but in life.
As in her dating life and OOOOOO don't mention squats because all that does it kill any fat she has. But, it's not just her behind that's a problem but her hair. Leading to a conversation Nola has with her parents Septima and Sonny (referred to as Stokes by Septima). One in which it is questioned why in Nola's painting is Shemekka given what is clearly a weave? Well, Nola calls weave a form of armor, perhaps some kind of protection but all Septima sees is shame.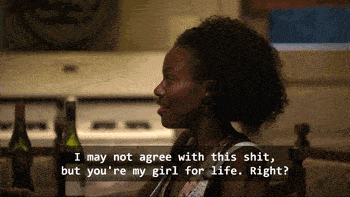 But, in the long run, it's Shemekka's decision and with the girls at the club and also girls like Clo around, who try to shame her for perhaps wanting enhancements, it's like she has no one on her side. Or if they are on her side, they are simply hearing her out as long as they need to give a proper rebuttal vs. listening to how this no ass life messes with her head.
Life with Clo: Clo, Nola
As Shemekka notes, Clo is bougie. Yet, what's wrong with having bougie friends? I mean, yeah, Clo is definitely into respectability politics to a point, but she is an art curator. Which may not do much for Shemekka but for Nola? That ends up being a good luck. Especially since Clo is getting this art gallery together with this artist named Baptiste, and Nola has been invited to include some of her stuff! THINK OF THE EXPOSURE!
But, while professionally things are cool, Nola is starting to unravel after that episode with that dude. Her putting up those posters are providing some form of cathartic release but they aren't helping with the trauma of the experience. Leading to Clo recommending therapy but Nola ain't for that. In fact, she looks into everything she can to avoid doing actual therapy.
The Men's Reaction to the Assault: Mars, Jamie, Greer, Nola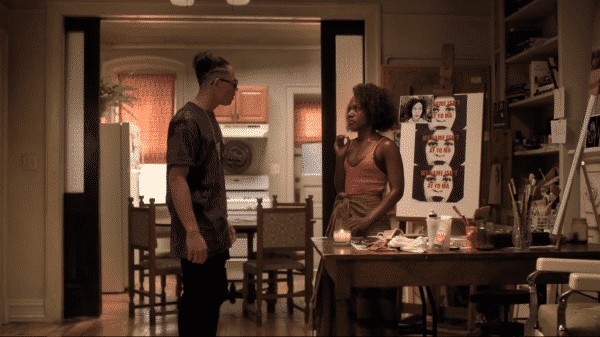 Of which, after a whole bunch of weird stuff, including seeing Mars' sister Lulu who is a Yoruba priestess, it seems she may just stick to painting as therapy. But, that doesn't keep the men from different means of showing they care. Well, Jamie shows perhaps the least since, with him still married to Cheryl, there isn't a whole lot he can do. Greer tries to give a personal Miss Congeniality self-defense class, and Mars? He just flips out.
Which ends up triggering Nola a little bit for when he gets aggressive, it scares her. Reminding us how deeply trauma can penetrate. Even to the point of someone who seems harmless putting you on your guard, despite you believing you know them.
Other Noteworthy Facts & Moments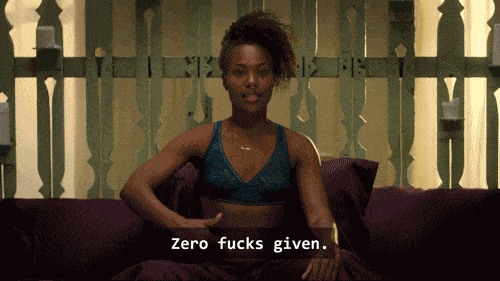 The Catlett Grant would be 15,000. Which, according to Nola, will be enough to pay 5 months of rent in advance. There are three people they can choose so it is possible.
Nola met Shemekka at the club and became friends after she bumped into her back in 2006.
Shemekka has a daughter named Nadia.
Nola's family has lived in their Brownstone since 1978
Joie Lee played Clo in the original She's Gotta Have It and now plays Nola's mom.
Highlights
Black Women's Insecurities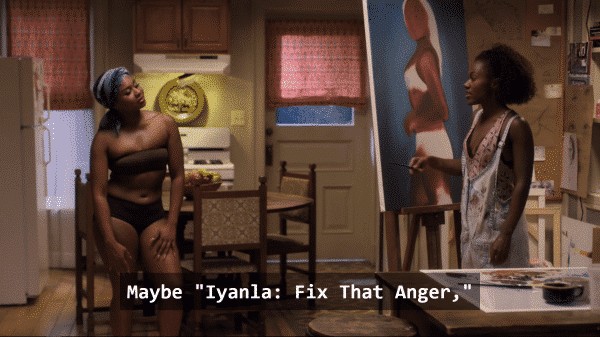 One of the things you have to love about Shemekka is that she is that around the way girl who barely gets seen unless she is one who is rich. You know, a Cookie Lyon from Empire type or Annaliese Keating from How To Get Away With Murder type. Which isn't to say Insecure doesn't compare, but the main idea here is having diverse depictions of Black women. The kinds like Shemekka who come off like your regular, shmegular girl from Crown Heights. Not just in the way she talks, but also the vulnerable side too. She is a woman who still kind of longs for her child's father and with her being a Jamaican woman without a big behind, it makes her insecure. Especially as she works at the Hot N Trot and sees these other women with nice behinds. Much less listens to Clo, with her having a lot of the look that Shemekka wants.
And it is in that exhibition of vulnerability that makes me so happy with how Chyna Layne is portraying her. For it really helps give She's Gotta Have It diversity and a showing that Black women aren't a monolith. We can have someone like Shemekka, Clo, Nola, and Septima all on the same show. Each showing a different perspective and piece of the culture. Be it being pro, against, or indifferent to surgical enhancements, varying opinions on weaves, and different comfort levels with their physical appearance. Surely speaking to an audience which often feels left out and with limited representation.
How One Moment Changes a Life and Relationships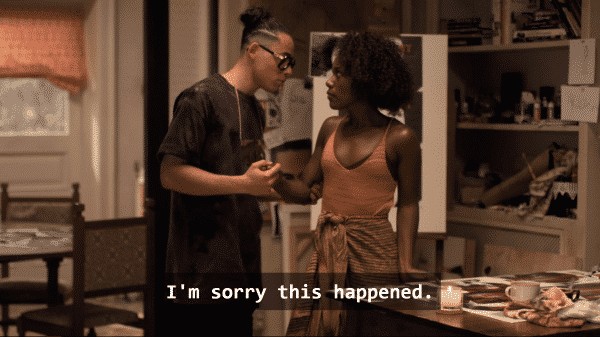 That man grabbing Nola changed everything and showing the effects of cat calling and him being aggressive has such a huge amount of importance. Take note of how paranoid, or perhaps better said, cautious, it has Nola now? A man tries to admire her work and she sprays him out of fear. Mars, a dude who seems pretty harmless, not him approaching Nola too aggressively puts her on edge and triggers her. Heck, this white custodian, who was being rude, asking for the keys to the place Clo is planning her gallery leads Nola to go all the way off on him.
All of this stemmed from one man forcing himself into Nola's space and trying to get in her life in the worse way possible. Something he probably doesn't realize he succeeded in doing. But rather than it being through getting her number, maybe some affection, or even a conversation, he got into her life by marking her with possibly permanent trauma.
Gentrification Examples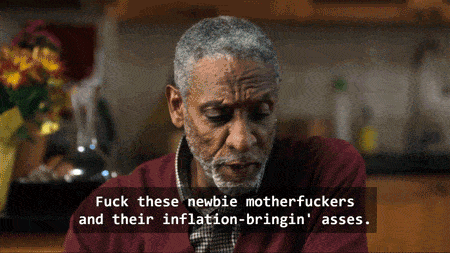 For those living in New York's urban boros, gentrification is nothing new. As the city tries to keep all the graduates from NY higher education institutions, maintain its status as the place to be, they have to fit these people somewhere and Manhattan can't have them all. So, they creep into Brooklyn, Queens, Harlem, and the Bronx. Areas which, because of housing prices, people of color have called home and built their own little communities. Of which include culture.
But then people like Bianca come about. People who don't believe in integrating or assimilation. Nah, you need to adapt to them. Thus pissing off people like Mars who lived in the area all their life but now have to deal with how quickly white privilege is trying to change things. Folks like Stokes now got to deal with prices raising since white folk bring price inflation and men like Papo, who have been staples of the community, they are made to feel uncomfortable. They are made to feel foreign in their own neighborhood. All because one local minority wishes to impose some form of cultural imperialism.
Catch Up or Follow Along: Here [Netflix – External]
Follow Wherever I Look on Twitter or Like us on Facebook.
---
Follow, Like, and Subscribe
Community Rating: 0.00% (0) - No Community Ratings Submitted (Add Yours Below)