On the season finale, family members are gathered, budgets explode, and the winner of season 1 of Rhythm + Flow is given $250,000 – with no strings attached.
---
Network
Netflix
Director(s)
Sam Wrench
Writer(s)
N/A
Air Date
10/23/2019
Images and text in this post may contain affiliate links. If you make a purchase, we may earn a commission or products from the company.
Recap
The First Eliminated: Troyman
The chances of Troyman winning were never that high. While he has been consistent and has shown growth, even set the bar by often going first, he was never talked about as someone who could win. In fact, as much as TI likens him to Will Smith, and Chance says he knows how to talk that talk, Cardi plainly says that while he makes good music, a lot of people make good music just like him. And it is that vibe that probably made him the person in 4th place.
The Second Eliminated: Londynn B
Londynn B presented us with three tracks and a massive performance. One that helps you understand why she is the sole woman who made it this far. However, it was clear when all the judges talked about was the money that could be made that Londynn B wasn't going to win.
Take note, very little was said about her rapping skills, it was all about her look, how people could relate, and how that could bring in cash. And while money has been a factor that has been a driving force on this show, with them trying to think of every facet needed to be at the top, just having that major one, and just being good with all else, it wasn't enough.
I mean, T.I made it clear when he said Londynn B needs the right team around her. That comment wasn't said about anyone else, not even Troyman. So with that in mind, you could tell she wasn't going to win since this competition has always been geared towards being self-sufficient.
There Can Only Be One: Flawless Real Talk, D Smoke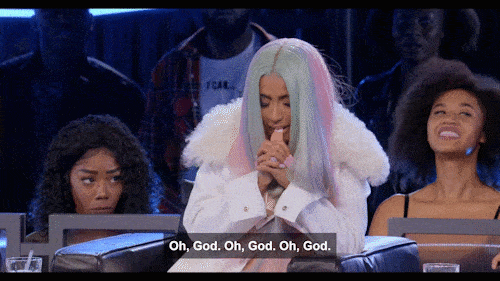 Choosing between the two is incredibly hard. Flawless Real Talk has been consistent, has shown range, both in his raps and personality, has an acceptable level of arrogance, and when you add him being a family man and attractive, what else can you ask for? But, the thing is, as much as his worth ethic is respected, him being articulate, and how he presents himself, D Smoke is on some other s***.
How? Well, let's consider all the attributes Flawless has with being bi-lingual, playing multiple instruments, being a conscious rapper who could have real commercial success in this landscape, and then his vision. I mean, while I enjoy performers who are storytellers, D Smoke was a hard sell to me throughout this whole thing. However, he grows on you, and with his song "Last Supper," I feel like that is the kind of song where, even if you mostly into mainstream rap, to not at least respect that song would mean this isn't the genre for you. For whether we're talking about him playing piano, the catchy hook, the message, and so much more, it's like, as fly as Flawless Real Talk is, he'll be fine.
After all, remember one of the best things this show does, beyond provide exposure, is give these contestants multiple opportunities to network. Hence why Tay Keith says he wants to do a tape with Troyman, London on Da Track wants to work with Londynn B again, Sounwave is in awe of D Smoke, and I'm sure Hitboy wouldn't mind seeing Flawless again. That right there, all those people they are now associated with, that will lead to features, mixtapes, and so much more. Especially since producers, like DJ Khaled, make their own albums and hits and could easily put them on in ways that will make Rhythm + Flow a stepping stone.
Collected Quote(s) & .Gifs
[…] you'd be surprised how much you provide for other people around you.
— Troyman
Review
---
Community Rating:
---
Highlights
Troyman & Londynn B's Relationship
I know this has very little to do with the competition, but considering how isolated everyone seemed, it was so beautiful to see these two bond. Especially on their own time and how their relationship seemed to be beyond peers in this competition. Like, you could imagine them collaborating on a song and having a lifelong friendship.
D Smoke's Performance
When it came to many of the performances, it felt like something you've seen before with a new artist. D Smoke, on the other hand, while The Last Supper has been used by many musicians as a backdrop, between the piano, the song, and just the vibe, it felt less inspired and more him. Like the kind of thing that he has probably been planning since day 1 and was just hoping they'd give him the budget needed to execute it the way he wanted.
The Process Of Elimination Made Sense
Since the beginning, I admittedly stanned Flawless Real Talk since he seemed like the total package. He looked and rapped hard enough for men to respect him, that whole family element made him respectable, he had that appeal that would make it so, if he didn't have two kids, with one on the way, he could definitely get a whole lot of panties, and he seemed commercial. Yet, him not winning made sense. Also, Troyman being eliminated first made sense.
In fact, as much as I might have been upset when Old Man Saxon was eliminated, among others, reflecting on it now, while I would have loved to see what he could do, I'm fine with the final result.
On The Fence
Londynn B's Performance Went A Bit Long
The main issue with Londynn B doing three songs is there were these pauses that made you wonder if she messed up again. Not to say the variety of the songs weren't appreciated but there is also that issue we got in her performance with Teyana where you felt, considering the song and energy which surrounds Londynn, she played it safe. Like she didn't let herself have too much fun because there was too much riding on what was happening. Making things a tad bit stiff.
[ninja_tables id="40686″]
Troyman & Londynn B's Relationship - 85%
D Smoke's Performance - 89%
The Process Of Elimination Made Sense - 86%
Londynn B's Performance Went A Bit Long - 75%