Pose: Season 2, Episode 4 "Never Knew Love Like This Before" – Recap, Review (with Spoilers)
---
Community Rating: 0.00% (0) - No Community Ratings Submitted (Add Yours Below)
---
This post may contain affiliate links and spoilers. Please read our disclosure policy.
---
While Pose has always kept it real to the hairline, it decides to get a bit too real, and you may not be prepared for what comes.
---
Network
FX
Director(s)
Ryan Murphy
Writer(s)
Ryan Murphy, Janet Mock
Air Date
7/9/2019
Introduced This Episode
Darnell
Danny Johnson
Vivica
Patrice Johnson Chevannes
Images and text in this post may contain affiliate links which, if a purchase is made, we'll earn money or products from the company. Affiliate links and external links have an upward facing, superscript, arrow.
Recap
AZT For You & For Me: Blanca, Pray Tell, Judy
AZT works when you got nothing better, but the side effects are killer. Hence Pray Tell preferring a pound of butter, among other things, to the pills. Yet, between Blanca, Judy, and the events of this episode, he takes those pills. For he finds himself at a funeral unlike the others he's been to, and it pushes him over that edge.
Sister, You Been On My Mind: Lulu, Candy, Blanca, Pray Tell, Angel, Darnell, Vivica
As long as we've known Candy, all she ever wanted was respect. That and a few trophies for something beyond Face. Yet, any time she tried to branch out, Pray Tell would cut her down like a cherry tree and throw her into the fire. Make her the laughing stock of the ball by reading her down to her draws. Yet, being the bad b***h she was, she'd show up again and again, trying to win his approval and get the same kindness Blanca and so many others got. Whether they deserved it or not.
So, as you can imagine, with Lulu and Blanca learning Candy was killed by a random John, he is one of the most devastated. For while Pray Tell was one of Candy's biggest haters, it was because he was also one of her biggest admirers. She was fierce, femme, bold, and lived her life as authentic as she could. Minus the silicone she got that one time. And Pray Tell couldn't deal since, even though he is a gay man and that meant he didn't have to face certain things trans women did, she didn't let society silence her or get her to tone it down. And for the way he treated her he might be haunted forever.
Though maybe not by the actual Candy. Someone who does show up and address a few people. Pray Tell is the first, since she couldn't move on before figuring out why he hated her so much. From there it was Angel, reminding her to not waste her tears on her for she has the job of opening doors. Doing as Candy did and foster. Then there is Lulu who, with the death of a friend looming over her head, only sees the dark times. Yet Candy reminds her even when cold and feeling alone, they had each other, and those memories meant the world to her and also to Lulu.
However, the biggest moment comes in the form of Candy's parents Darnell and Vivica showing up. For while Vivica was told she was given a boy, she had to bury a woman. And in death, all that struggle she had with Candy melted away for the outside didn't matter. All that mattered was Candy was her baby.
As for Darnell? He always knew or at least was more prepped for Candy than Vivica. Leading to a touching moment, unlike what we often see. One in which the father is sweeter than the mom and that turning on the waterworks.
10s Across The Board: Candy
With being the daughter of Elektra, of course, Candy can't exit a room, never mind life, without it being grand. She leaves during a ball, the first one to feature lip-syncing, and it is 10s across the board. And with a strut that would make the fishiest girl gag, Candy leaves our physical presence but cements her place in our hearts.
Review
Highlights
A Beautiful Send-Off
While Candy was never a big-time player, often just fodder for Pray Tell, she had her place. She was a staple of the show and almost felt like a representative of what Elektra once was before she became an icon. Yet, unfortunately, with shows like this, we have to be reminded as much as wit is a necessary part of survival, as much as passing, it sometimes isn't enough. There will always be those ashamed of themselves, and what they like, so they kill one of the few who know.
Thankfully, while the show gives us Candy's dead body, it spares us the actual murder. Much less graphic details in how Candy died and instead honed in on why she was a beloved character. Be it her telling things like it was, fiercely fighting for herself, putting Blanca to shame, or keeping Elektra's tongue sharp by dueling with her like a crown was on the line. It's unfortunate that Candy's moment in the sun came due to death, but she has set a precedent. One which hopefully no character is faced with trying to match or surpass since this was a lot.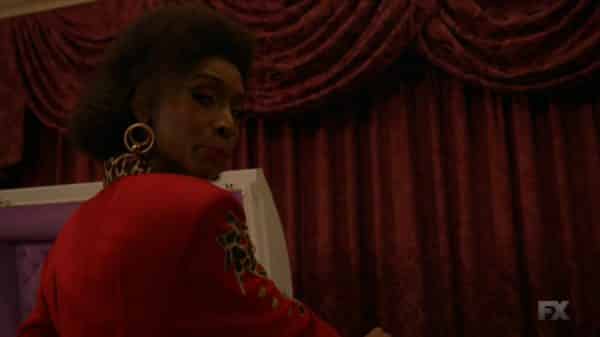 Seeing The Business & Organization Behind The Balls
While the grandeur of the balls is always shown, the planning of categories, the trophies, and the business end isn't really focused on. After all, that isn't what most people pay to see. So seeing Pray Tell and the others have a meeting reminded you that Balls, to a certain degree, are a non-profit business. One which, like any non-profit, requires love, time, and patience, for often those who are served don't always appreciate the services given to them. Yet, no matter how many fights and frustrations there are, when things are pulled off, and everyone is smiling, have a good ass time? It is so worth it.
Low Point
Elektra Couldn't Have A Moment?
I'm just saying. I get Candy's biological parents came, and that was a moment, but Elektra took her in when Vivica and Darnell either kicked Candy out or didn't support her transition. So you telling me she couldn't visit Elektra? Have one more back and forth with her? Her MUTHA?! That was such a missed opportunity.
Follow Wherever I Look on Twitter, Like us on Facebook and Subscribe to the YouTube Channel.
[ninja_tables id="36790″]
A Beautiful Send-Off - 95%
Seeing The Business & Organization Behind The Balls - 85%
Elektra Couldn't Have A Moment? - 69%