Picnic at Hanging Rock: Season 1/ Episode 1 [Series Premiere] – Recap/ Review (with Spoilers)
Picnic at Hanging Rock may, at best, be a slow burn of a show which hopes you'll stick around till the end rathen than judge its merits strictly on the first episode.
---
Network
Amazon Prime
Creator
Larysa Kondracki
Director(s)
Larysa Kondracki
Writer(s)
Beatrix Christian
Air Date
5/25/2018
Noted Actors
Mrs. Hester Appleyard
Natalie Dormer
Arthur
Philip Quast
Irma Leopold
Samara Weaving
Marion Quade
Madeleine Madden
Miranda
Lily Sullivan
Edith
Ruby Rees
Sara
Inez Currõ
The Introduction
Mrs. Hester Appleyard is a widow with a secret. One which may or may not have to deal with her dead husband Arthur. But, while the fate of her former husband and what life she once had is secret, her current affairs are not. She is the head of a college for young girls and they are of a bit of a variety. Whether you speak of well to do girls like Irma Leopold or Marion Quade, if not farm girls like Miranda or orphans like Sara, Mrs. Appleyard has a bit of diversity. However, one thing all the girls share is a slight distaste, if not fear, of Mrs. Appleyard.
Why? Well, never mind how stern she is but also she is capable of being quite cruel. Making an outing on St. Valentine's day, which she doesn't attend, seem like a blessing. However, with Sara being punished for something Miranda did, and something happening in the mountains which leaves one girl, Edith, screaming like she is mad, it seems the peaceful escape Mrs. Appleyard and the girls had might be over.
On The Fence
The Characters Are Only Vaguely Interesting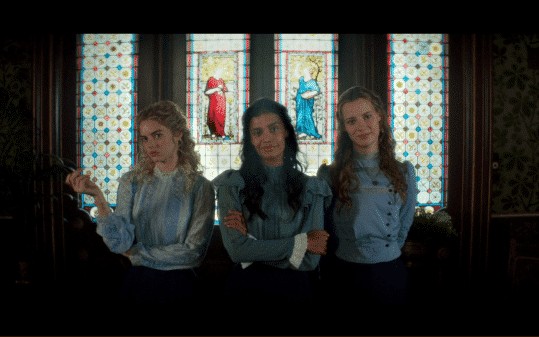 To varying degrees, you will find yourself wanting to know more and stick around with certain characters. Which, admitting my own bias, could solely stem from how familiar the actress is more than the character they play. Such is the case of wanting to know more about the mysterious Mrs. Appleyard. For I cannot truly argue Dormer is putting on the type of performance which will make you believe she is playing the hell out of the role. Yes, she gives you a bit of a smirk, seems cheeky at times, if not mean. Alongside a very basic form of mysterious, but a driving force? Something that will lead you to believe you should marathon all 6 episodes? I cannot say that with all honesty.
Then, as for the girls? The familiarity of Weaving from SMILF brings Irma some interest. However, like with Mrs. Appleyard, the interest is shallow and doesn't really go beyond the actor playing them. But, I will say when it comes to Miranda and Sara, there might be something there. Miranda, a country girl who seemingly was ever so lucky enough to go to finishing school, is a bit of a tomboy. The type of woman who, if she was allowed to own land and work it, probably would do as many a man do. Not wear cute dresses and worry about perspiring in them.
As for Sara? An orphan who seems to be a mix of Miranda's curiosity and whatever Mrs. Appleyard keeps hidden about herself? Simply put, the promise of what she could bring out of both characters is her hook. Not her directly, just, as many children do in shows like this, be some sort of trigger.
First Impression: Mixed (Stick Around)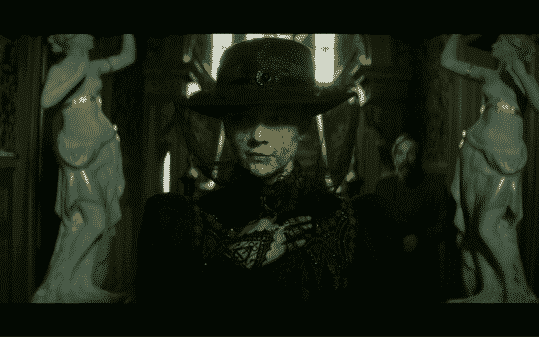 When it comes to Picnic at Hanging Rock, it begins as the type of show that, unless you love the source material, period dramas, or the actors involved, it'll be hard to convince someone to watch this. For while the costume design is lovely, Dormer does her little signature smirk, and the characters have the slightest potential – it isn't the kind of potential which will make you think this has to be a priority. If you don't have Amazon Prime, this isn't going to be something which tempts you to get a trial and while I'll probably watch more episodes, strictly because I'm a fan of two of the actresses, my expectations are low.
Hence the mixed label for, to be honest, I was hoping this would be like Anne with an E. That is, a show which, despite me knowing nothing about the source material, I'd be hooked because of the acting of new and familiar stars. Yet, that doesn't happen here. The mystery presented is given very little weight, since the characters barely have any foundation and it seems heavily reliant on the idea of three young girls disappearing will be good enough. Which it isn't. It just leaves you wondering why is it Amazon has an original series division when they sparsely can produce a quality show?
---
Follow Wherever I Look on Twitter, Like us on Facebook and Subscribe to the YouTube Channel.
---
Related Topics:
Beatrix Christian
,
Inez Currõ
,
Larysa Kondracki
,
Lily Sullivan
,
Madeleine Madden
,
Natalie Dormer
,
Philip Quast
,
Picnic at Hanging Rock: Season 1
,
Prime Video
,
Ruby Rees
,
Samara Weaving
,
Series Premiere