With Jasmine's help, Ruby tries to pursue normalcy as Oscar gives Monse an ultimatum.
---
Network
Netflix
Director(s)
Ryan Shiraki
Writer(s)
Christopher Encell
Air Date
3/29/2019
You've Got Options: Ruby, Jasmine, Monse, Monty, Julia
Despite all the chasing that Jasmine did in season 1, Ruby walks into school and learns she has 10 girls she wants to try to set him up with. All of them are pretty, probably the kind Ruby had wet dreams about. Yet, he picks Jasmine.
Now, before you can get giddy about that, he notes it is to win the dance but baby steps. As Ruby said to Olivia, they have their whole lives ahead of them.
But while Ruby's choice was easy, Monse has a much more difficult decision. One in which she is given the option to live with her mom in the suburbs, with her two younger siblings, or stay in Freeridge. A difficult decision for with her dad having no one but her, it would mean he has nothing to come home to. However, going to Brentwood means getting to know Julia, her siblings, and maybe going to a better school. Thus setting her up life to really be on the right path.
An Ultimatum: Cesar, Monse, Jamal
However, one major issue, besides Monty, is also Cesar. He has become a bit dependent on Monse, and it makes her wanting to leave feel like abandonment. For even though he is learning to deal with Jamal's eccentricities, seeing Monse, talking to her face to face, that is keeping him engaged and balanced. So, playing his hand, he gives her an ultimatum in which if she leaves, they are done. Leading her to decide to end their relationship and this leaves Cesar crying on Jamal's shoulder.
You've Got A Friend In Me: Ruby, Jasmine
Cesar isn't the only one left crying that night. While Ruby and Jasmine have a good time, with "Caution" playing, it triggers Ruby and sends him into a panic. Thus leading to him needing to get outside and while his friends try to help, Jasmine tags them out and consoles Ruby. Once again aiding him in trying to craft a new normal but not necessarily forcing him to accept he has to craft that yet.
Collected Quote(s) & .Gifs
You need to lean out of the frustration and into the gratitude.
— Monse
Highlights
Ruby Choosing Jasmine
You know how sometimes characters seem to have a change of heart but then backtrack the next episode? I'm glad that didn't happen with Ruby. Call it truly making Jasmine his friend or slowly falling in love with her, either way, I think he is taking notice that she is willing to do for him as he has done for others. I mean, over the course of a month, she found 10 girls who want Ruby, including sexually, paid for his tickets, and pretty much he'd just have to show up.
But here is the kicker: despite that, and the girls fitting what he likes on Instagram and what we've seen him ogle at, he wanted Jasmine. Supposedly for the dance contest but let's note that he kissed her on the lips after they won. Then, when she kissed him back for a longer period, he didn't push away, wipe his lips off, nothing. He truly chose her.
Which is important for a handful of reasons, but the main one that needs to be brought up is Ruby chose her because they were a good match. Yeah, the other girls were in line with what he has previously liked physically and probably was geared to want, but they don't match the love and drive Jasmine has to give. Pushing the idea that you should seek out who you have chemistry with, who is good to you, and you know you can be good to as well rather than chase the girl who looks like what most of us are programmed to like and be shallow.
Monse Likely Going To Live With Her Mom
Let me say, I don't want the crew to break up, but it's clear that they are evolving to the point that they aren't going to be as interconnected as they once were. Which, all things considered, is good for the crew. Monse wishes to be a writer and after being separated from her mom for a decade, and her dad away all the time, what better place to be than with her mom? After all, with Cesar no longer affiliated, that means Monse doesn't get protection by proxy. So with her dad not around, who is to say a Santo aware of the situation, or a Prophet even, wouldn't try something?
Add in she broke up with Cesar and puts her on the market and that could be dangerous for her. So better leave now than deal with thirsty guys or predators like Oscar who think age ain't nothing but a number and a short jail sentence.
On The Fence
Jamal and Cesar
I gotta admit, I'm worried about what Cesar can do without being attached to Monse. As noted in a previous recap, only certain characters have been made to click with others, and neither Jamal nor Cesar are versatile characters. Unlike Monse and Ruby, they can't have multiple characters they interact with and have good scenes. Either they seem lopsided or awkward for whatever reason. So here is hoping if Jamal and Cesar are becoming like brothers, due to a shared living space, will cause their relationship to grow stronger.
If not, taking things another way, we see Cesar enjoy that two-parent household situation and him tapping into that shows a different side to him. Since, clearly, Monse triggered his abandonment issues.
Follow Wherever I Look on Twitter, Like us on Facebook and Subscribe to the YouTube Channel.
---
---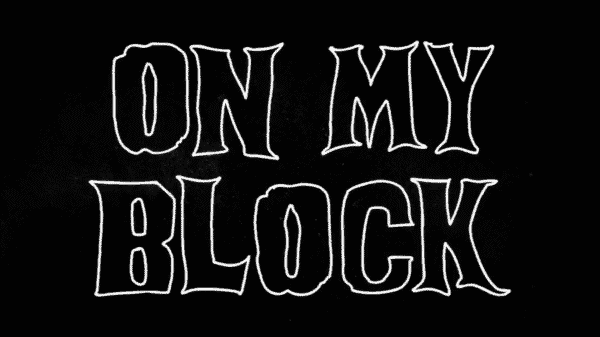 Cast & Characters
---
Season Reviews:
Season 1
Season/ Episode
Synopsis
Episode Information
Topics & Focused Characters
Season 2, Episode 10 "Chapter Twenty"

Like season 1, we're left on a cliffhanger, but that's just the icing to a rather gourmet cake.

| | |
| --- | --- |
| Director(s) | Lauren Iungerich |
| Writer(s) | Lauren Iungerich |
| Air Date | 3/29/2019 |

When The Adults Step In:

 

Oscar, Cesar
An Ultimatum:

 

Monse, Cesar, Ruby, Jasmine, Jamal
And Then There Was Darkness:

 

Monse, Cesar, Ruby, Jamal

Season 2, Episode 9 "Chapter Nineteen"

Cesar does what he believes he has to so that he'll stay alive, Monse is safe, and the rest of the crew aren't haunted by Prophet$ for the rest of their lives.

Director(s)
Lauren Iungerich
Writer(s)
Eddie Gonzalez, Jeremy Haft
Air Date
3/29/2019
Introduced This Episode
Ruben Sr.
Eric Neil Gutierrez

On The Run Again:

 

Latrelle, Cesar, Oscar
You Got To Move On:

 

Ruben Sr., Ruby, Geny
Desperate Choices:

 

Oscar, Ruby, Jamal, Cesar, Monse

Season 2, Episode 8 "Chapter Eighteen"

Chivo reveals the meaning behind his gnomes and with Latrelle's return, and the truce over, comes an increased fear of The Prophets.

| | |
| --- | --- |
| Director(s) | Ryan Shiraki |
| Writer(s) | Adam Starks |
| Air Date | 3/29/2019 |

A New Way To Protect Cesar:

 

Chivo, Jasmine, Monse, Cesar, Ruby, Jamal
Money Bunny:

 

Jamal, Jasmine, Monse, Jasmine, Ruby
Sometimes You Have To Make A Hard Choice:

 

Cesar, Ruby, Monse

Season 2, Episode 4 "Chapter Fourteen"

With Jasmine's help, Ruby tries to pursue normalcy as Oscar gives Monse an ultimatum.

| | |
| --- | --- |
| Director(s) | Ryan Shiraki |
| Writer(s) | Christopher Encell |
| Air Date | 3/29/2019 |

You've Got Options:

 

Ruby, Jasmine, Monse, Monty, Julia
An Ultimatum:

 

Cesar, Monse, Jamal
You've Got A Friend In Me:

 

Ruby, Jasmine

Season 2, Episode 5 "Chapter Fifteen"

Oscar tries to be the saint Ruby expects him to be, until Ruby says something to incite the Santos and Cesar makes a mistake.

Director(s)
Jeremy Haft
Writer(s)
Eddie Gonzalez, Jeremy Haft
Air Date
3/29/2019
Introduced This Episode
Angelica
Kendra Michelle
Rosario
Belita Moreno
Paula
Maleah Ann Goldberg

Someone Has To Worry About Your Health:

 

Jamal, Marisol (Abuelita), Rosario
It's Been A Month:

 

Paula, Cesar, Monse
The Return of Ruben – With The Big Mouth:

 

Ruby, Mario, Angelica, Oscar

Season 2, Episode 6 "Chapter Sixteen"

Monse's new life in Brentwood is comfortable, but does she want to stay permanently? Ruby and Jamal, as well as new friends, help her make a decision.

Director(s)
Erica Watson
Writer(s)
Lauren Iungerich
Air Date
3/29/2019
Introduced This Episode
Sahara
Dana Gaier
Jane
Brooke Sorenson

The End of the Truce:

 

Cesar, Dwayne, Monty
M.I.A.M.I:

 

Ruby, Marisol, Jamal
The Answer To All Your Problems:Monse, Jamal, Julia, Ruby, Monty, Cesar, Jasmine, Sahara, Jane

Season 2, Episode 7 "Chapter Seventeen"

Major and minor secrets are revealed as Amber's baby shower comes about. Also, an old problem resurfaces.

| | |
| --- | --- |
| Director(s) | Ryan Shiraki |
| Writer(s) | Sonia Kharkar |
| Air Date | 3/29/2019 |

I Want Her Back:

 

Chivo, Jamal
Baby Shower Drama:

 

Mario, Amber, Geny, Ruby, Jasmine, Monse, Cesar
Free From The Curse, But Still In Freeridge:

 

Abuelita, Jamal, Cesar

Season 2, Episode 3 "Chapter Thirteen"

For those who wondered about Jasmine's backstory, you have to watch Chapter Thirteen.

| | |
| --- | --- |
| Director(s) | Ryan Shiraki |
| Writer(s) | Jamie Uyeshiro |
| Air Date | 3/29/2019 |

Reunited & It Feels So Good:

 

Abuelita, Jamal, Cesar
Selena:

 

Julia, Monse
You Are Your Own Universe:

 

Jasmine, Ruby

Season 2, Episode 1 "Chapter Eleven"

It's New Year's Eve and months have passed since the tragedy in the season 1 finale. Leading to the question of how is everyone?

Director(s)
Lauren Iungerich
Writer(s)
Lauren Iungerich
Air Date
3/29/19
Introduced This Episode
Amber
Shoshana Bush

Mario Has Some News:

 

Amber, Mario, Geny
A Party With Very Little To Celebrate: Caesar, Oscar, Monse, Ruby, Jamal, Geny, Abuelita, Monty
What Could Have Changed It All:

 

Jamal, Abuelita, Caesar, Ruby, Monse

Season 2, Episode 2 "Chapter Twelve"

Ruby and Oscar, of all people, have a heart to heart, as Jamal tries to get his money back – from a cop.

Director(s)
Lauren Iungerich
Writer(s)
Eddie Gonzalez, Jeremy Haft
Air Date
3/29/19
Introduced This Episode
Office Hamill
Brent Werzner

Spending The Day With Oscar & Evening With Geny:

 

Oscar, Geny, Ruby, Amber
The Money and Explorer Program: Officer Hamill, Jasmine, Cesar, Monse, Jamal
Communication Is Key:

 

Monse, Cesar, Jamal, Dwayne, Coach, Jamal's Mom

Season 1/ Episode 10 "Chapter 10"

For the last few recaps I questioned whether the ending was going to be ideal or realistic and, well I got my answer… which ends up being both.

| | |
| --- | --- |
| Director(s) | Lauren Iungerich |
| Writer(s) | Lauren Iungerich |
| Air Date | 3/16/2018 |

Never Gonna Give You Up: Jamal, Chivo
Changing Places: Cesar, Ruby, Monse, Olivia, Jasmine
Bittersweet Tragedy: Latrelle, Cesar, Jamal, Ruby, Monse, Olivia

Season 1/ Episode 9 "Chapter 9"

The treasures of Rollerworld are finally found and just when Cesar needs them the most.

| | |
| --- | --- |
| Director(s) | Lauren Iungerich |
| Writer(s) | Eddie Gonzalez, Jeremy Haft |
| Air Date | 3/16/2018 |

In Search of Gold: Cesar, Olivia, Ruby, Monse, Abuelita, Jamal, Latrelle
Halves Cannot Revoke Wholes

Season 1/ Episode 8 "Chapter 8"

Cesar learns what it will take to keep having precious moments with his brother as Monse takes an opportunity to get to know Julia better.

| | |
| --- | --- |
| Director(s) | Steven Tsuchida |
| Writer(s) | Eddie Gonzalez, Jeremy Haft, Lauren Iungerich |
| Air Date | 3/16/2018 |

Dress Freakout: Monse, Cesar, Olivia, Abuelita, Ruby
In Pursuit of a Better Life: Cesar, Oscar, Jamal, Chivo
Is She or Isn't She?: Monse, Cesar, Julia

Season 1/ Episode 7 "Chapter 7"

Ruben continues to prove he is husband material for Olivia, despite her dating Cesar, as abuelita gets Jamal another clue which could lead to the money.

Director(s)
Steven Tsuchida
Writer(s)
Lauren Iungerich
Air Date
3/16/2018
Characters Introduced
Chivo
Emilio Rivera

Julia Whitman & The Boy Fresh Out of Prison: Monse, Cesar, Latrelle
Cesar Is Just My Placeholder: Ruby, Cesar, Monse, Olivia
The Gnome Holds All The Secrets: Jamal, Abuelita

Season 1/ Episode 6 "Chapter 6"

With the secret dropped, now comes the question of how to move forward. Though for Jamal, it becomes time to reveal his secret as well.

Director(s)
Ryan Shiraki
Writer(s)
Adam Starks, Francesca Gailes
Air Date
3/16/2018
Characters Introduced
Jamal's Mom
Raushanah Simmons
Coach
Rob Murat
Monty (Monse's Dad)
Reggie Austin

I Can't Live A Lie… Unless You Help Me: Ruby, Jamal, Olivia
Nobody Wins When The Family Feuds: Ruby, Jamal, Olivia, Cesar, Monse
Ending Things On Top: Jamal, Oscar

Season 1/ Episode 5 "Chapter 5"

Just as Monse is finally coming around to wanting to be official, this Olivia kiss could ruin everything. Will she find out and if so, because of who?

| | |
| --- | --- |
| Director(s) | Ryan Shiraki |
| Writer(s) | Jamie Uyeshiro |
| Air Date | 3/16/2018 |

Secrets Are Deadly: Jamal, Cesar, Ruby
My Girlfriends: Jasmine, Olivia, Monse
Lockdown: Oscar, Cesar, Olivia, Ruby, Jasmine, Jamal

Season 1/ Episode 4 "Chapter 4"

Jamal's relationship with Abuelita gets him one step further to Rollerwood fortune and with tagging along with Jamal, Monse sees a ghost.

Director(s)
Steven Tsuchida
Writer(s)
Eddie Gonzalez, Jeremy Haft
Air Date
3/16/2018
Characters Introduced
Rosé
Angela E. Gibbs
Julia
Lisa Marcos

Get You an Abuelita: Jamal, Monse, Ruby, Olivia, Cesar, Abuelita
Straight Outta Brentwood: Olivia, Ruby, Cesar, Oscar
Can You See Me?: Monse, Cesar, Ruby, Olivia

Season 1/ Episode 3 "Chapter 3"

Objectification is the issue of the episode and it ruins Ruby's chances with Olivia and might be the final straw for Cesar.

| | |
| --- | --- |
| Director(s) | Steven Tsuchida |
| Writer(s) | Robert Sudduth |
| Air Date | 3/16/18 |

Don't Worry, Abuelita Believes In You: Jamal, Abuelita
I Feel So Objectified: Cesar, Ruby, Monse, Olivia
This Isn't Fun Anymore: Cesar, Ruby, Monse, Olivia, Oscar

Season 1/ Episode 2 "Chapter 2"

As a fourth member is added to the squad, Monse has to deal with Cesar manipulating her and Ruby has a date with Oscar.

Director(s)
Lauren Iungerich
Writer(s)
Lauren Iungerich
Air Date
3/16/2018
Characters Introduced
Olivia
Ronni Hawk
Abuelita
Peggy Ann Blow
Geny
Paula Garces

The New Girl In Town: Olivia, Monse, Ruby, Cesar
Digging A Deeper Hole: Oscar, Cesar, Monse, Ruby, Jamal
Jealous?: Monse, Cesar, Olivia

Season 1/ Episode 1 "Chapter 1"
On My Block

 has an almost 

Friday

vibe to it. It's comedic yet, with its urban setting and gunshots, you know things can go left in any moment.

Creator(s)
Lauren Iungerich, Eddie Gonzalez, Jeremy Haft
Director(s)
Lauren Iungerich
Writer(s)
Lauren Iungerich, Eddie Gonzalez, Jeremy Haft
Air Date
3/16/2018
Noted Cast
Cesar
Diego Tinoco
Monse
Sierra Capri
Ruby
Jason Genao
Mario
Danny Ramirez
Oscar
Julio Macias
Dwayne
Eme Ikwuakor
Latrelle
Jahking Guillory
Jasmine
Jessica Marie Garcia
Jamal
Brett Gray
Ruby Choosing Jasmine - 90%
Monse Likely Going To Live With Her Mom - 89%