Insecure: Season 3/ Episode 5 "High-Like" – Recap/ Review (with Spoilers)
---
Community Rating: 0.00% (0) - No Community Ratings Submitted (Add Yours Below)
---
This post may contain affiliate links and spoilers. Please read our disclosure policy.
---
Tiffany, who is pregnant; Molly, who is stressed out from work; Kelli's crazy ass; and Issa take drugs at Coachella. What's the worse that could happen?
---
Network
HBO
Director(s)
Millicent Shelton
Writer(s)
Regina Y. Hicks
Air Date
9/9/2018
Images and text in this post may contain affiliate links which, if a purchase is made from those sites, I may earn money or products from the company. Most affiliate links contain an upward facing, superscript, arrow.
Still Trying To Prove Herself: Molly, Taurean
Therapy isn't an instant cure. Despite what Dr. Pine said in the last episode, Molly still going to fight to be the very best (insert the rest of the Pokémon song). Thing is, she isn't fighting smart and taking on big cases and accomplishments, she is fighting to be seen and that includes doing a lot of little stuff. Not to imply doing briefings is nothing but, isn't that what paralegals are for?
And just to show how far Molly is willing to go, she was willing to miss Beyoncé at Coachella. That's how serious she was about doing some briefing work for a damn thumbs up.
Commentary
I think I need a refresher on Molly's childhood. Her parents are well adjusted and seemed to be good to her, so what's with this massive insecurity? Especially now that she is working with Black folk? She don't got to be a shining example so she can hold the door open for someone else. All she really has to do is find her lane and cruise, speed if she must but stay in her lane.
But with this feeling like the most we focused on Molly's work life in a while, since we spent nearly an entire season watching her be a mistress, maybe this is part of her recovery? You know, the general coping mechanism of, "Yeah my personal life is in shambles, but I'm holding it down at work." Which Molly can't really say since she threw the Black women under the bus and in fully trying to compete with Taurean, it seems she is ready to be married to her job and sacrifice everything. While Taurean cruises right on by – unbothered.
I'm Too High For This: Kelli, Tiffany, Molly, Issa, Nathan
With Molly getting a new job and Tiffany probably a few months from birth, Coachella was supposed to be the group's last big hoorah! Problem is, between Nathan snatching up all of Issa's time, and one of his friends giving everyone Molly, except Tiffany of course – she pregnant, that ruins everything. They don't even get to see Beyoncé. All that happens is Issa gets a nice date, and gets to have sex on a Ferris wheel, and Kelli steals the show by beating up some white girl and getting tazed. Pissing on herself even.
And it doesn't get better when they return home. Molly sees that the work she thought was done needs more work, so she is typing jibberish, Kelli looking crazy after being tazed, and Tiffany? She is in the closet talking to Derek apologizing since she ate a pot brownie. Meanwhile, whatever high Issa had, apparently her tolerance makes her the most sober person in the house. So her great idea is everyone should just sleep it off. The heat is driving them crazy.
Commentary
This is just my feelings, Nathan is way too new to be taking drugs from him and his people. Especially since, outside of Kelli, who likes to party, have we seen any of these girls go beyond wine? They barely even touch weed. So taking a pill? Have they learned nothing from the Bill Cosby case? That could have been something to knock them out and then they'd have their way with them. Are we forgetting most women know their rapist?
But, I guess it was go big or go home. Even if it meant being violently tossed out and missing the return of Beyoncé. Never mind leaving you sort of vulnerable friend, Tiffany, in a position where you know she can't take care of ya'll, but is the only one sober enough, originally, to be able to.
Sober Thoughts: Issa, Tiffany, Lawrence
Everything is better in the morning, but with there being nothing but vodka in the fridge, and I guess California tap water being a no-no, Issa takes Tiffany to the store. In the parking lot, they have a rare talk – considering they never have been all that close. It deals with Tiffany fearing that having the baby means she'll be excluded and she worries about that. For it is clear she is entering a new stage in life and these ladies? They may not adapt to the expectations Tiffany has to take on. A moment Issa leaves Tiffany in the car to deal with since, well they ain't necessarily close like that for her to be able to reassure her.
But, while looking for some alkaline water, guess who she sees? Lawrence. He and his little friend are in the same store and we're left wondering what may come next.
Commentary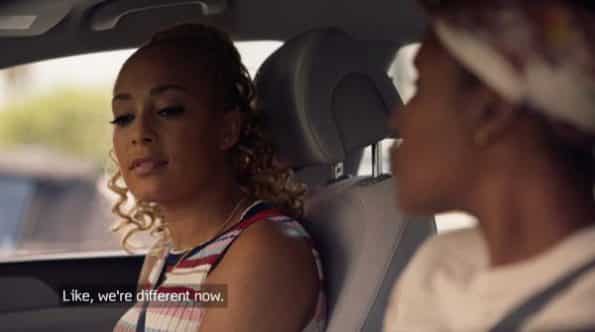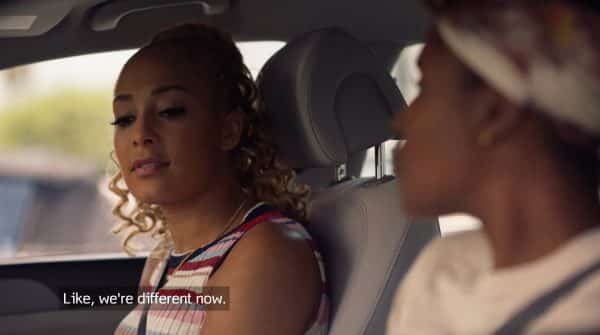 Let this Lawrence thing be a coincidence and that's it. After all Issa Rae has said about Issa moving on, how exes don't stay in your life forever, yadda yadda yadda, let's stick to that story. Let Lawrence just so happen to be there, Issa get her water, and that negro goes back to living his own life. Because, I honestly would prefer them dedicating any time they could use to catching us up on his life and give it to Kelli and Tiffany.
Tiffany especially since this episode was the first time things got real for her. Since the beginning, it felt with Tiffany and Kelli, they were solely comic relief or added opinions. They didn't get the same kind of moments we get with Molly and Issa when things happen to them which don't lead to a quick bounce back. When they get checked, when something happens to them, it's all jokes. Even Kelli being tazed this episode and peeing on herself was made into something funny.
However, Tiffany giving that real talk about transitioning to motherhood? It forces you to realize how scary that is for her. Not just the idea of being a mom, but it adds another layer that separates her and her friends. She is already married, but now starting a family while Kelli continues a ho phase and Molly and Issa barely have their lives together. It really does seem like she is coming to the point where she may just be outgrowing these ladies. Yet, perhaps, is hoping, despite being further along in life goals, it doesn't mean they can't still be cool and hang out.
And that's some real s*** right there.
Question(s) Left Unanswered
So we just not going to get an answer if Derek is the father?
Highlights
Tiffany getting to have a real moment that hasn't been afforded to her character or Kelli.
Low Points
Lawrence's return since we got closure and everything. Why is this negro back? Can it just be to say hi and go?
Follow Wherever I Look on Twitter, Like us on Facebook and Subscribe to the YouTube Channel.
---
[ninja_tables id="25650″]
---
---