While Insatiable still courts some serious awkwardness, it keeps trying to balance that out with the insecurities of its character – but not by much.
---
Network
Netflix
Director(s)
Andrew Fleming
Writer(s)
Kari Drake, Craig Chester
Air Date
8/10/2018
Actors Introduced
Stella Rose
Beverly D'Angelo
Roxy
Chloe Bridges
Brandi Lynne
Robin Tunney
Donald
Daniel Kang
Sister, You've Been On My Mind: Brandi Lynne, Coralee, Bob B, Bob A
All Coralee wants to do is finish what Bob A started. When he met her, she was a trailer girl living and acting out a trailer life. But, he turned her into the woman she is today and it appears she will forever be grateful. Hence why, no matter how often and how many people insult Bob A for being a bit feminine, she will defend him.
However, at first, Brandi Lynne doesn't get it. Coralee's sister, who came for money, doesn't see why she would want Bob A when Bob B comes around and looks toned and fit with his shirt off. That is until he implies, after watching Coralee and Brandi Lynne fight, they are trailer trash. Something Bob A has never called Coralee, seemingly wouldn't call Brandi Lynne either, so she gets it.
But it doesn't end there. On top of making her a woman that could be accepted by the likes of Bob B and his wife, he gave up going into sales to be a lawyer, so that Coralee could have the life she wanted. Which did lead to him having an affair but more on that later.
Commentary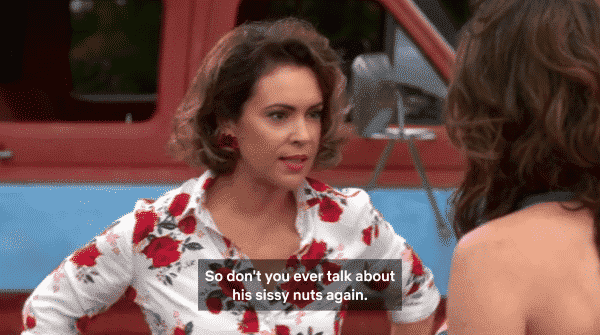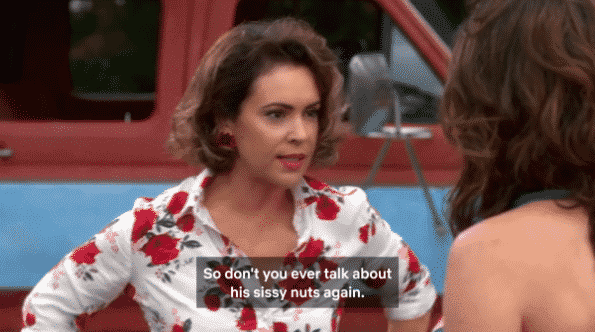 Kind of off topic but, is Brick even Bob A's son? When and how did Bob meet Coralee and what was her first take of him? For it seems clear there is a bit of homophobia where they are in Georgia so what made Coralee see past all that and not only marry this man but seem in love with him? Could it be, as Stella Rose says, later on, he knows how to prey on the vulnerable?
After all, on top of being a fat kid growing up, we saw how Bob's father was. So, who knows, maybe it wasn't so much Bob being a predator as Coralee being his only friend, someone his dad paid, or a slew of other things. All except being his beard.
Breaking In A Mare: Stella Rose, Bob A, Patty
All Bob wants to do is make a comeback. However, all Patty wants to do is break up his marriage at the bareback buckaroo and… well I won't go there – Remember, Patty is a minor. Which isn't a factor in her mind at all since, as she said in a previous episode, him maybe doing something with Dixie, in her mind, meant she had a better chance with him. But really, all he wants from her is to listen and make his job less hard. So, he goes to his mentor to try and help. Problem is, his former mentor was also his lover who didn't take the breakup well. Which she says is water under the bridge but seemingly it isn't.
Hence why she lets Bob self-destruct and treat Patty like trash. Something that, as shown by her still dealing with her insecurities, messes her up bad. After all, Bob is one of the few people who are generally nice to her.
Revenge & Reconciliation: Roxy, Bob A, Patty, Donald, Nonnie, Dixie, Stella Rose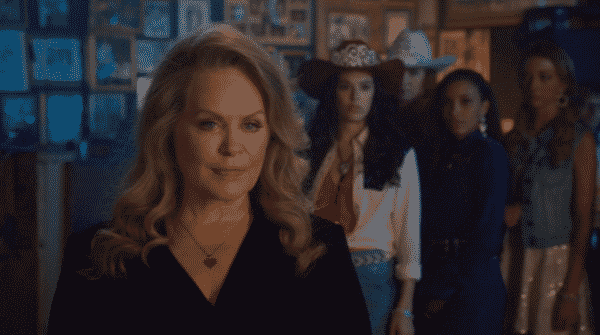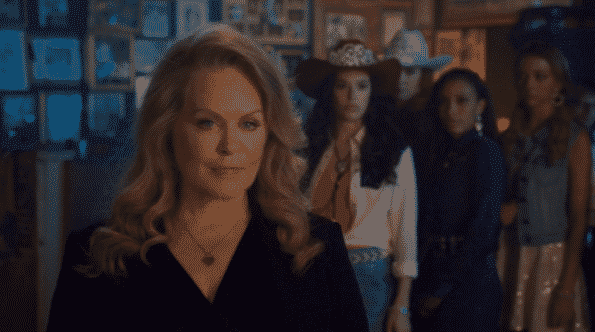 Which is how Stella Rose finds her in. With Bob being an ass, she starts breaking down that he is a narcissist, opportunistic, and wouldn't give a damn about her if she was fat. Which Bob says is true. He would have won her case and cleaned his hands of her. However, as for the other comments? Bob reminds her she is opportunistic too and that is as much a draw as it is also her problem. Particularly since the opportunities she goes for deal with trying to have sex with Bob, which he does not want.
But, it is something Dixie, after overhearing Nonnie and Donald talk, wants to catch on camera. Why? Who knows. Yes, she lost a competition but damn – really? As for why Donald is involved? Like Nonnie, it is just jealousy. Donald doesn't want Bob to get to her before he does and Nonnie doesn't want Patty to do something either she'll regret or Nonnie won't be able to get past.
In the long run, none of the children really present a real threat to Bob. More so it is Stella Rose. She and Bob had an affair when working together, proving this man truly is just flamboyant, and she misses him. Mostly because, he moved on and she didn't and she tried! I'm talking even visiting the other side of the fence to see if maybe Bob just ruined men for her. That didn't take though.
So, using this girl named Roxy, who plays Patty, she has readied herself to take Bob down and during all this, Patty ends up just a pawn. Luckily, Bob wins her back, by continuing to reiterate how they are just the same, and proving it by binge eating. The same thing Patty goes for when she is feeling down about being used.
Commentary
I do wonder if this was tweaked and Patty wasn't thin as she is now, but just toned up, could this show have sidestepped some of its controversy? Because, you can tell it wants to have depth and some heart by addressing that Patty hasn't truly changed her diet and still binge eats to feel better. That is, on top of dealing with the fact all this attention solely comes from her being thinner. This combination makes me wish this show, and Debby Ryan, would let Patty become naturally plumper. As in, no fat suit but Ryan becoming a slightly bigger girl. Which isn't going to happen but, for the character, it would be interesting to see her find a middle rather than live in this extreme opposite of what she once was.
Patty aside, was the Stella Rose affair just because of a mutually shared love for style and pageantry? Could it be, like how Patty sort of has a daddy complex, because she lacked a father figure in his life, maybe Bob was the same since, based off her absence, it seems his mom wasn't around? Should we take this whole, "I was like you growing up" as something which should apply for each and every situation?
Leaving Nonnie, Donald, and Dixie. Though I know it is a different show and different style, a part of me wishes Nonnie was written more in a Kenny way, from The War at Home
. Someone who is more comical about her crush and less, I'd tie her up in my basement to make sure no one else could have her. For a part of me wants to feel bad for Nonnie, but then I realize Nonnie is the female version of the nice guy persona. Bending over backwards, never saying what they truly want or feel, yet so frustrated about the fact they get passed over. All the while, sticking around knowing what they want will never happen. Which may lead you to bring you the fact they have been friends since they were 3. With that said, clearly, Nonnie's feelings are starting to get in the way of that friendship. So she might need to take a break.
As for Donald and Dixie? Thrown them both out. I get Dixie being this southern Asian girl, into rap music, is supposed to be funny but like most jokes on this show, while I will acknowledge they appeal to someone, they are hit and miss for me. Same goes for Donald. While you can see he is playing the same role we usually see some awkward white boy play, there is just the need to question if changing the usual race of that character really brought anything to the role? If not the question which needs to be asked: Where is the depth when it comes to these characters?
Question(s) Left Unanswered
What led to Bob A stopping his affair with Stella Rose?
What is Bob A's relationship with his mother like?
Is Nonnie strictly a lesbian or maybe just has a crush on Patty?

Did her crush change, at all, when Patty got skinnier?

Was Dixie treated differently at school after people thought Bob A touched her?
Did Bob A have friends growing up?
So, are we not going to get a new lip title card each episode?
Did Bob A ever offer to makeover Coralee's sister and family?
Highlights
Bob being shown as a flamboyant man who, because of how comfortable with himself he is, can bypass the expectations of being traditionally masculine. Yet, still holding some level of attraction to all kinds of women.
Coralee continuing to provide reasons her marriage to Bob A isn't about money or status, but because he loves her and gets her in a way.
Stella Rose's dirty jokes.
Low Points
Donald, Nonnie, and Dixie need to be more than jokes and awkwardness.
Follow Wherever I Look on Twitter, Like us on Facebook and Subscribe to the YouTube Channel.
---
Previous Episode's Recap
[visual-link-preview encoded="eyJ0eXBlIjoiaW50ZXJuYWwiLCJwb3N0IjoyNTIyOCwicG9zdF9sYWJlbCI6IlBvc3QgMjUyMjggLSBJbnNhdGlhYmxlOiBTZWFzb24gMS8gRXBpc29kZSAyIFwiU2tpbm55IElzIE1hZ2ljXCIgLSBSZWNhcC8gUmV2aWV3ICh3aXRoIFNwb2lsZXJzKSIsInVybCI6IiIsImltYWdlX2lkIjoyNTIzMiwiaW1hZ2VfdXJsIjoiaHR0cHM6Ly93aGVyZXZlci1pLWxvb2suY29tL3dwLWNvbnRlbnQvdXBsb2Fkcy8yMDE4LzA4L0luc2F0aWFibGUtU2Vhc29uLTEtRXBpc29kZS0yLVNraW5ueS1Jcy1NYWdpYy1UaXRsZS1DYXJkLmdpZiIsInRpdGxlIjoiSW5zYXRpYWJsZTogU2Vhc29uIDEvIEVwaXNvZGUgMiBcIlNraW5ueSBJcyBNYWdpY1wiIC0gUmVjYXAvIFJldmlldyAod2l0aCBTcG9pbGVycykiLCJzdW1tYXJ5IjoiV2hpbGUgdGhlIHRpdGxlIG9mIHRoZSBlcGlzb2RlIGRvZXMgcG9rZSB0aGUgYmVhciBhIGJpdCwgYmVjb21pbmcgc2tpbm55IG5vdCBmaXhpbmcgdGhlIHRyYXVtYSBQYXR0eSBleHBlcmllbmNlZCBpcyBhbHNvIGluIGZ1bGwgZWZmZWN0LiIsInRlbXBsYXRlIjoiZGVmYXVsdCJ9″]
---
---
---